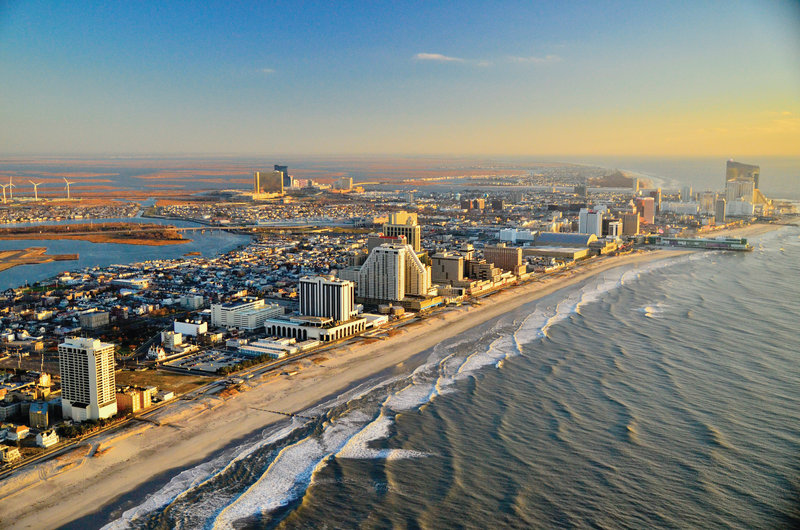 Atlantic City Tourism District
Introduction
Once a quiet fishing village, Atlantic City established itself as a beach resort in the 19th century, long before anyone had ever heard of Donald Trump. City dwellers came to the shore to promenade along the Boardwalk, take a sightseeing tour in a rolling chair and breathe the fresh ocean air. The first amusement pier was built here in 1882, and such attractions as Lucy the Margate Elephant and the Absecon Lighthouse drew countless tourists to the "Queen of Resorts." A 1935 board game named "Monopoly" made the local streets—Baltic, Ventnor, Park Place—household names.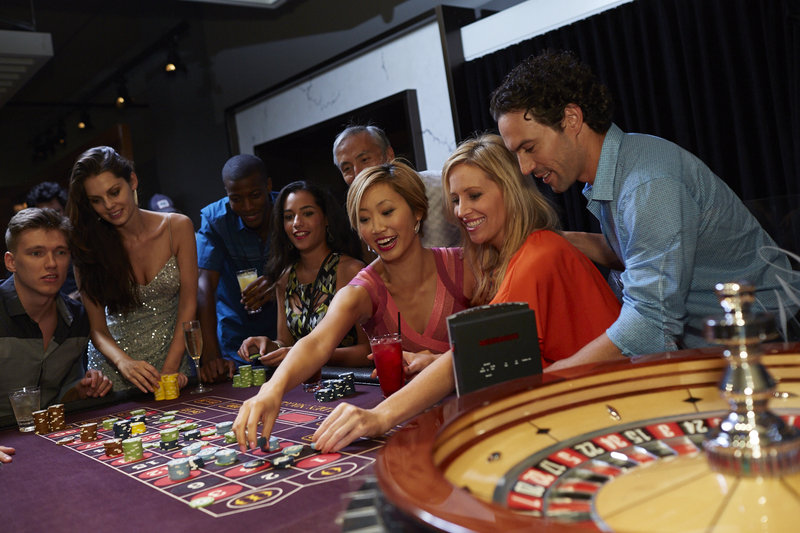 Atlantic City Tourism District
Falling on hard times after World War II, the city bet on casinos to boost its economy. A brief winning streak led to a dozen high-rise casinos and some 30 million annual visitors before luck changed again. Today, while several casino hotels remain, Atlantic City continues to search for its next hot hand, be it gambling—or gamboling with children. You see, family-friendly activities have always been popular and range from fishing and boating to miniature golfing. Then there are enticing local history landmarks and art museums. And everyone who visits Atlantic City should be sampling its signature treat, saltwater taffy, said to have been invented here in 1883.
In Depth
Atlantic City has had its ups and downs, but like the Comeback Kid, the scrappy city keeps on swinging. The beach resort's heyday came during the 1920s and early '30s Prohibition era when liquor laws were flouted and mobsters and crime ruled. The decadence of those golden days is re-created in the HBO television series "Boardwalk Empire."
This early 1900s playground of the wealthy still bears some of the scars of the economic downturn that hit in the 1950s, when air travel inspired curious travelers to seek adventure farther from home. Like an aged beauty queen, Atlantic City lapsed into sad decline, with abandoned buildings, poverty, disrepair and empty streets taking the place of grand hotels and promenading tourists dressed to the nines. Once the first casino, Resorts International, entered the picture in the late 1970s, the feisty beach town entered another profitable period.
Soon entertainment entrepreneurs like Merv Griffin, Donald Trump and Steve Wynn were on the scene, spurring casino development and creating an East Coast gambling hub. By the 21st century, several casino hotels occupied the Boardwalk, and while business might have been bustling inside these mega establishments, something was still not quite right outside. The city itself continued to languish.
When the Borgata casino hotel opened in 2003 to much fanfare, the occasion marked another transitory winning streak in the direction of a revitalized city. First-rate shops and restaurants sprouted and slowly but surely started to glam up the Boardwalk and marina areas.
The potential almost seemed realized—until the Great Recession, Superstorm Sandy in 2012 and the advent of casinos in nearby areas took their toll on tourism dollars. In 2014, Atlantic Club Casino Hotel, Showboat—The Mardi Gras Casino, Trump Plaza Hotel & Casino, and even newly built Revel announced in quick succession that they were folding. Then Trump Taj Mahal Casino Hotel closed in 2016.
But don't count out "America's Favorite Playground." Folks still come here for the challenge of mastering Lady Luck. They can also mingle at the latest martini or tequila bar and dance the night away in chic velvet-rope dance clubs reminiscent of Vegas.
With nighttime thrills aplenty, it's nice to know that you can also indulge in laid-back pursuits such as luxuriating in a spa or embarking on a relaxing ocean cruise. Beachcombers can sun themselves on a stretch of sand close to the hotels' tiki bars and live bands. The more active can join a friendly game of beach volleyball, escape to the jetties for saltwater fishing or consider a parasailing adventure. For some exercise along with a view, the ambitious tackle the 228 steps of the Absecon Lighthouse.
And what's more, Atlantic City is fun in a retro sort of way. Brimming with nostalgia, the Boardwalk lures casual strollers to "hit the boards" and take a trip down memory lane. You'll pass Boardwalk Hall, home of the Miss America Pageant, reminders of which are reflected in the lobby of the Sheraton Atlantic City Convention Center Hotel and by commemorative plaques cemented in Michigan Avenue's sidewalk. And the famous rolling chairs, which made their debut in the 1880s, can still whisk you to and fro on the Boardwalk—for a small fee, of course.
Despite redevelopment, some landmarks continue to withstand the test of time. Rediscover your inner kid by taking a roller coaster or Ferris wheel ride at Steel Pier, site of amusements and other diversions since 1898. Or amble over to White House Sub Shop, lauded for its uber-sandwiches sampled by the likes of the Beatles, Frank Sinatra and Elvis Presley.
Before you leave, don't forget to pick up that iconic Atlantic City souvenir—some saltwater taffy from Fralinger's or James' Candy, both satiating generations of patrons with their sugary concoctions since the late 1800s.
By Car
The city's principal gateway is the Atlantic City Expressway, a superhighway that connects with nearly all major mid-Atlantic highways. In the Philadelphia-Camden metropolitan area the expressway collects I-76 traffic from central Pennsylvania; I-95 from the Washington, D.C.-Baltimore-Wilmington corridor to the southwest and Newark-New York City to the northeast; I-295 between Wilmington and Trenton; and the New Jersey Turnpike.
A few miles west of Atlantic City the expressway intersects with the Garden State Parkway, a major coastal route linking Newark to the north and, via the Cape May-Lewes Ferry, Delaware and southern Maryland to the south. US 30 and US 40/322 also enter Atlantic City, arriving via Absecon Boulevard and Albany Avenue respectively. The Atlantic City Expressway is the preferred route.
Street System
As neatly gridlike as the Monopoly board on which some of its street names are perpetuated, Atlantic City's basic plan is easy to comprehend. Avenues parallel to the ocean are named for oceans or seas: Arctic, Mediterranean and Baltic. Some of these change names near the inlet or "downbeach"; for example, Baltic becomes Madison at its north end and Winchester at its south.
With a few exceptions, streets perpendicular to the ocean bear the names of states in an order roughly approximating the state's geographic position. New Hampshire and Vermont are at the northeast end of the island; Indiana and Illinois are about in the middle. Why Iowa Avenue is farther south than Texas and California avenues remains a mystery.
Numbers are in blocks of 100, increasing as they progress southward from Maine Avenue and inland from the Boardwalk. The few diagonal streets are mostly extensions of the roads that lead into the city.
Parking
Most businesses provide parking spaces near their premises, and most casino-hotels charge at least the state-mandated $5 fee for parking. That fee is valid at all Atlantic City casino-hotels for one day, with the proceeds earmarked for the revitalization of Atlantic City. Some casino-hotels may charge as much as $10 for parking, with the fee rising during special events. Although rare, parking rates have climbed as high as $50 for some big-name concerts.
Public parking lots are many and scattered throughout the city, and Boardwalk Hall at Mississippi Avenue and Boardwalk offers indoor parking. Daily rates—sometimes applied to any part of a 12-hour period—at privately owned lots generally range from $6 to $10 weekdays and from $10 to $20 weekends. Drivers should expect higher prices during special events.
Sales Tax
New Jersey's statewide sales tax is 7 percent; the county has a 10 percent lodging tax and $5 per day rental car surcharge.
Police (non-emergency)
(609) 347-5780
Hospitals
AtlantiCare Regional Medical Center, (609) 345-4000.
Newspapers
The Press of Atlantic City is published daily. Check the events section for entertainment offerings.
Radio
Atlantic City radio station WOND (1400 AM) offers news and weather reports; WHYY (89.7 FM), a member of National Public Radio, also offers news and weather reports.
Visitor Information
Boardwalk Information Center
Atlantic City Casino Reinvestment Development Authority 2314 Pacific Ave. ATLANTIC CITY, NJ 08401. Phone:(609)348-7100 or (888)228-4748
Air Travel
Atlantic City International Airport (ACY), 12.5 miles west of Atlantic City, is served by several airlines. Short-term (1- to 4-hour) airport parking costs $2 for the first hour and $1 per each additional hour; long-term parking costs $10-$20 per day. Cab service from the airport to Atlantic City averages $35.
Rental Cars
Hertz offers discounts to AAA members; phone (609) 646-7733 or (800) 654-3080.
Rail Service
New Jersey Transit travels from the rail terminal at 1 Atlantic City Expwy. to Absecon, Egg Harbor City, Hammonton, Atco, Lindenwold, Cherry Hill and Philadelphia. A valid rail ticket also can be used for free shuttle service from the terminal to casinos; phone (973) 275-5555.
Buses
Greyhound Lines Inc., (800) 231-2222, and New Jersey Transit, (973) 275-5555, operate from the terminal at Michigan and Atlantic avenues.
Taxis
Companies include Mutual Taxi & Limousine Service, (609) 345-6111; and Yellow Cab, (609) 344-1221. Base fare is $3.40, plus 60c per one-tenth mile. Maximum fare to any city destination is $13 for up to five people.
Public Transportation
The buses of New Jersey Transit operate along Atlantic and Ventnor avenues as far south as Longport. The fare is $1.60 each way; 75c (ages 5-11 and 62+).
Minibuses (jitneys) operate 24 hours a day. Route 1 runs from New Hampshire Avenue to Jackson Avenue via Pacific Avenue. Routes 2 and 3 go to the marina area, Harrah's Resort and the Golden Nugget Atlantic City; route 2 runs from Delaware Avenue to Pacific Avenue, and route 3 runs from Dr. Martin Luther King Boulevard to Inlet on Pacific Avenue. From 7 a.m. to 7 p.m. jitneys run on route 4 from Jackson Avenue to Indiana Avenue, with stops at the bus terminal, convention center and within two blocks of the rail terminal. Jitney fare is $2.25; 75c (ages 62+). Prepaid 10-ticket books are available for $20; $7.50 (ages 62+). Airport shuttles also are available with reservations. For more information phone (609) 344-8642.
Indulge in some casino gambling. With most casino hotels open around the clock—offering blackjack, craps, poker, roulette, slots and more—you're bound to find a good fit. If Lady Luck is on your side, spend your winnings in one of the hot nightlife venues, glitzy shops or pampering spas dotted throughout the casino hotels.
Talk a walk on the beach. Atlantic City's stretch of sand has free access and runs from Jackson to Maine avenues, with the Boardwalk lining a 6-mile section. Calm waters (warm during summer) lure swimmers, while surfers head to the beaches at Delaware, New Hampshire and Raleigh avenues.
Ride a jitney. These small 13-passenger buses are a great way to get around the city, stopping at tourist attractions, casino hotels, the NJ Transit Rail Terminal (Atlantic City Rail Line, 1 Atlantic City Expwy.) and other points of interest. Casino hoppers will be pleased to know that the jitneys run 24 hours a day for $2.25 per ride; 75c (ages 62+).
Shop until you drop. Bargain hunters head to Tanger Outlets (2014 Baltic Ave.). All the usual chains are represented, and you can refuel at one of the restaurants within the complex. Nostalgic shoppers will appreciate the Miss America plaques embedded in the sidewalk along Michigan Avenue.
Entertain yourself. The casino hotels host a vast array of enticing performances and events—magic and comedy acts, boxing matches and musical shows are typically part of the agenda. Boardwalk Hall serves as a key concert and sports venue.
Plan a day trip to Historic Smithville and the Village Greene (615 E. Moss Mill Rd.), a re-creation of a 1700s village. Here, you can browse charming shops displaying such wares as lace, crafts, quilts, candles and other collectibles, or grab a bite in a quaint inn or tavern.
Have fun at an amusement pier. Steel Pier (1000 Boardwalk) is the place to be if you want to go for a spin on the Ferris wheel, ride the Crazy Mouse roller coaster, brave the bumper cars or try your hand at some carnival games. Central Pier (1400 Boardwalk) features a game arcade along with a large go-cart track.
Shopping
As you might guess, Atlantic City's casino hotels lure their customers with numerous ways to spend their winnings, therefore providing the most lucrative hunting ground for shoppers—and entertainment hunters in general.
The Playground (1 Atlantic Ocean), once known as the Pier Shops at Caesars, includes a number of luxury retailers that includes Burberry, Gucci and Tiffany & Co.
The Quarter at Tropicana (2801 Pacific Ave.), a multilevel establishment with an Old Havana-inspired theme, also dazzles shoppers. An assortment of emporiums like Swarovski and White House/Black Market entices visitors, along with a collection of lively nightspots and restaurants ranging from casual to elegant. The Tropicana's Marketplace (Brighton Avenue and Boardwalk) is a smaller, more family-friendly shopping alternative that includes a food court and spills out onto the Boardwalk.
The Waterfront at Harrah's (777 Harrah's Blvd.) presents a handful of shops touting shoes, jewelry and apparel in a marbled galleria, while the contribution of Borgata (1 Borgata Way) to retail bliss is The Shoppes at the Water Club, a small yet sleek assembly of fine merchants including Hugo Boss and Just Cavalli.
The glitter of the casinos has not diminished the Boardwalk's older charms: You'll have fun trolling for kitschy souvenirs, beachwear and T-shirts emblazoned while you wait. And like a kid in a candy store, you'll be tempted by an amazing variety of old-time treats, especially those colorful dollops of saltwater taffy. Fixtures like Fralinger's Salt Water Taffy (1325 Boardwalk at Tennessee) and James' Candy (1519 Boardwalk at New York Avenue).
Tanger Outlets (2014 Baltic Ave.), a shopping, dining and entertainment complex, captivates shoppers with its impressive medley of national chains. You'll encounter all the usual suspects—Adidas, Banana Republic, Eddie Bauer and Gap, to name a few—along with some higher-end designer outlets to round out the mix.
Locals usually hit the shops downtown at the north end of Atlantic Avenue—mainly strip malls and groceries—or venture to one of the suburban shopping malls. These include the Central Square Shopping Center (199 New Rd.) in Linwood, with more than 70 specialty businesses; Hamilton Mall (4403 E. Black Horse Pike) in Mays Landing next to the former Atlantic City Race Course, with some 140 shops and amenities; and Harbor Square (6725 Black Horse Pike) in Egg Harbor Township.
Historic Smithville and Village Greene (615 E. Moss Mill Rd.), about a 25-minute drive, offers a family-oriented shopping experience in a re-creation of a 1700s coastal town with quaint cobblestone streets and a charming gazebo. Kids can ride the carousel and mini-train or play in the arcade while their parents peruse stores laden with handicrafts, antiques, Christmas ornaments and other treasures.
Nightlife
Whether you're inclined to sip a margarita at a laid-back beachside hamlet, nurse a martini in a sleek lounge or dance the night away in a high-energy club, you've come to the right place: The casino hotels deliver all of this, and then some. Almost all the hotels present some type of entertainment, many with varied venues catering to the whims of their guests. Be sure to inquire in advance regarding operating hours, cover charges and dress codes.
These casino hotels also are places to see and be seen, where superb nightspots add to the mix. Harrah's (777 Harrah's Blvd.) lures patrons to the circular X Bar and The Pool After Dark, complete with cabanas and bikini-clad waitresses. The Bar at Harry's at Bally's (1900 Pacific Ave.) is a comfortable spot with nine flat-screen TVs and a courtyard that overlooks the Boardwalk. Those looking for a watering hole with 24-hour access can amble up to the Western-themed Mountain Bar at Bally's Wild West Casino, featuring nightly acts during summer.
The Borgata Hotel Casino & Spa (1 Borgata Way) cultivates a lively, upscale DJ scene Friday through Monday night at its new Premier Nightclub. (Plan to dress up, as shorts, athletic wear, baggy clothing, hats and shoes like flip-flops, sandals, sneakers and work boots, are all prohibited.) Anyone who favors tequila will enjoy ordering a flight at the Gypsy Bar, but be forewarned—the rock music is loud. And the kind of audience you'll encounter at the Music Box, Borgata's venue for comedians and musicians, depends on who's performing.
Clubs at The Quarter (2801 Pacific Ave.) is the Tropicana's answer to entertaining the masses—visitors can suit their fancy by choosing from a dozen or so thriving nightspots. At Cuba Libre, salsa dancers mesmerize all walks of life at the weekend Late Night Latin Floorshow, and the rum bar makes a mean mojito. Karaoke aficionados have tons of fun at Planet Rose, a smallish lounge with flashy décor and a medley of nightly drink specials.
There are worthy venues removed from the hubbub of casino gambling. The Chelsea Hotel (111 S. Chelsea Ave.) and its fifth floor thrives with a range of nighttime opportunities sure to satisfy a variety of tastes. A DJ spins tunes amid lush greenery and poolside seating at the Chelsea's open-air, summer-only Cabana Club.
Boardwalk Tours
Atlantic City's highlight is its Boardwalk, which can be explored on foot or by bicycle. Another way of seeing the Boardwalk is in the legendary rolling chair, which resembles a huge wicker chair on wheels. Pushed by an attendant, the chairs seat up to three people.
The chairs generally operate daily 8 a.m.-1 a.m. (also Fri.-Sat. 1-4 a.m.), weather permitting. Fares for up to two people start at $5 for 5 blocks and fewer; otherwise may vary.