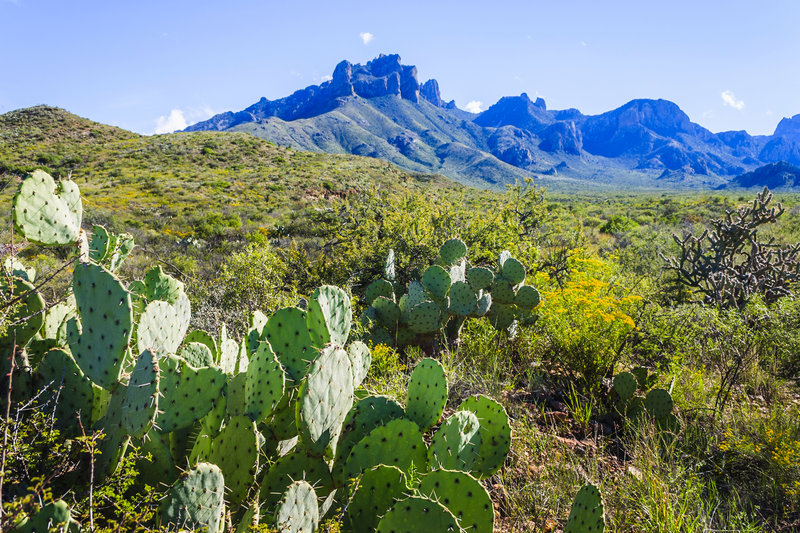 iStockphoto.com / David Sucsy

Big Bend National Park is southeast of Alpine on SR 118 and US 385. The park derives its name from a U-shaped bend of the Rio Grande bordering the park. This last great wilderness area of Texas offers mountain and desert scenery and a variety of unusual geological structures within its 801,163 acres.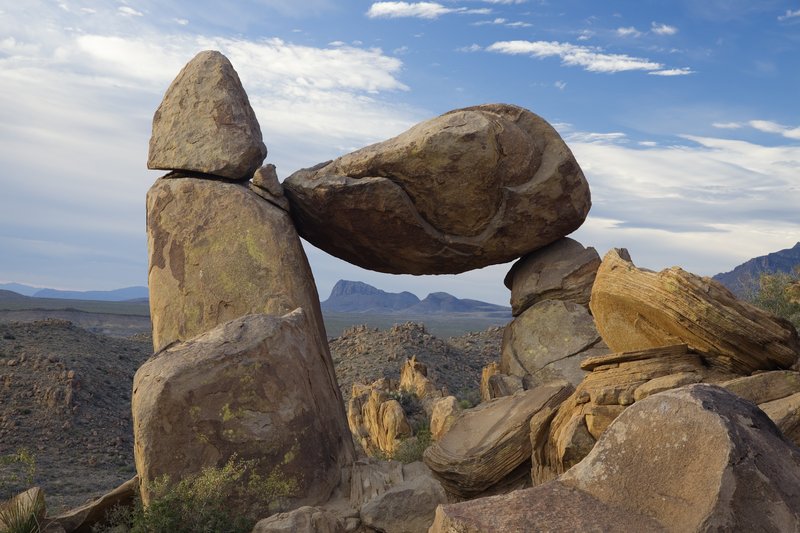 iStockphoto.com / David Hughes
Loccode:
The park encompasses the entire range of the Chisos Mountains. Three river canyons—Santa Elena, Mariscal and Boquillas—channel the Rio Grande as it forms the international border. Santa Elena Canyon's cliffs rise 1,513 feet above the river. The region is rugged, with volcanic rock formations, abrupt pinnacles, dry channels and deep-cut canyons. It was here that the fossilized bones of a pterosaur, a soaring reptile with a wingspan of 38 feet, were discovered in 1971.
When conditions are right, the lowlands bloom with desert flowers, shrubs and cacti. Piñon woodlands are found on the mountain slopes. High in the mountain canyons are forests of Arizona cypress, Douglas fir, juniper and oak.
Desert mule deer live in the area, and small white-tailed deer inhabit the Chisos Mountains. Coyotes, foxes and javelinas may be seen. More than 450 species of birds have been identified in the park.

Big Bend National Park is open all year. Summer temperatures in the desert are usually high and afternoon thunderstorms are frequent July through September, but the mountains are pleasant in summer.
A trip from Marathon by way of park headquarters at Panther Junction and the Chisos Basin to Alpine provides a scenic 187-mile circle tour of the park. Hard-surfaced roads lead to Santa Elena and Boquillas canyons.
Many miles of trails are available for hiking. One of the more interesting hikes is along the self-guiding nature trail to Lost Mine Peak. The round-trip hike lasts about 3 hours. Other trips include the South Rim, the Window and a variety of desert or river's-edge hikes.
Guided walks and interpretive programs are given throughout the park; information is available at visitor centers. Illustrated talks by park interpreters are given year round.
Visitors can get assistance and information about planning back-country trips from the Panther Junction Visitor Center at the park headquarters. The visitor center, which also has exhibits, is open daily 9-5 (9-1 on Christmas).
Reservations for accommodations at Chisos Mountains Lodge should be made well in advance; phone (432) 477-2291.
ADMISSION
ADMISSION (valid for 7 days) is $25 per private vehicle, $20 per person on motorcycle or $12 per person on bicycle or foot. The park is open daily 24 hours. Note: Motorists should fill their gas tanks before leaving US 90; service stations in the park are open roughly 7 a.m.-8 p.m., November through mid-May, and 8-6 the rest of the year.
PETS
PETS must be on a leash or otherwise physically restricted and are not permitted in public buildings, the river or on trails.
ADDRESS
ADDRESS inquiries to the Superintendent, Big Bend National Park, P.O. Box 129, TX 79834; phone (432) 477-2251.

Mountain and desert scenery supplement unusual geological structures in this outdoor adventurer's wonderland.