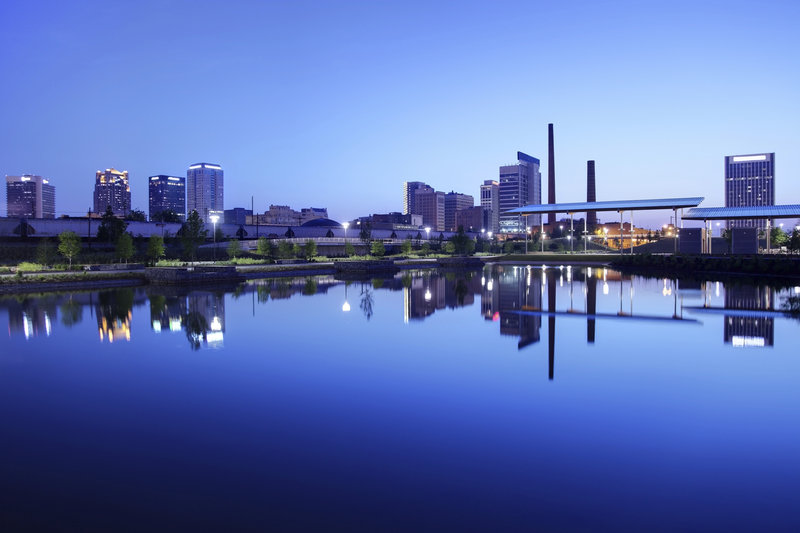 iStockphoto.com / DenisTangneyJr
Introduction
Birmingham is a city that embraces its past, celebrating the good and learning from the bad. Founded in 1871 as a railroad stop, it was chosen for its rich iron ore, coal and limestone deposits—all necessary ingredients for steel production. Much later, it was the site of some of the country's most violent racial conflicts. Today you'll find these phases of its history as well as a strong commitment to the arts reflected in its attractions.
The Vulcan Statue salutes the city's industrial heritage. This 56-foot-tall, 60-ton rendering of the Roman god of fire and inventor of metalwork was created for the 1904 Louisiana Purchase Exposition in St. Louis. Surrounding the statue is a 10-acre public park, where you can get a closer view of Vulcan from an open-air balcony in the observation tower.
Explore Birmingham and Alabama civil rights history at the Birmingham Civil Rights Institute. Exhibits recount the bus boycott in Montgomery during the 1950s, violence directed against Freedom Riders, and the Selma voting rights march that took place in 1965. Visit the Sixteenth Street Baptist Church, Birmingham's first black church and the embarkation point for many of the city's early '60s civil rights marches. The church overlooks Kelly Ingram Park, an assembly point for those participating in boycotts, sit-ins and marches to protest segregation.
More than 17,000 American and European artworks await you at the Birmingham Museum of Art. The Alabama Jazz Hall of Fame contains artifacts that belonged to legendary performers, and hosts performances March through November. And you can browse a collection of 19th-century decorative arts in the Arlington Antebellum Home and Gardens.
In Depth
Alabama's largest city also is one of its youngest. Since its founding in 1871, Birmingham has transformed itself from empty farmland in the Appalachian Mountain foothills to steel boomtown to major commercial and service center. Despite the bustle found in any metropolitan center, traditional Southern hospitality is still characteristic of the city's residents.
The Jones Valley's rare abundance of the essential ingredients for steel production—iron ore, coal and limestone—was known as early as the 1850s, contributing to the settlement's early growth. Small furnaces were erected during the Civil War to produce munitions for the Confederate Army. However, the lack of rail lines to move iron and steel products thwarted any major industrial effort. In 1871, when two railroad lines converged, plans for a larger settlement were drawn and capitalists rushed in to exploit the new city's resources. The fledgling city was named, fittingly enough, after England's major industrial hub, Birmingham. Within decades Birmingham was established as a major manufacturing center. The speed with which it grew and prospered earned it the nickname "Magic City."
This initial vigor paled after World War II. Cheaper and higher quality iron ore imported from abroad as well as diminished steel orders combined to close several factories, resulting in widespread unemployment. The smog and smoke accumulated from years of heavy industry further dimmed prospects for the "Pittsburgh of the South."
In the 1960s an even darker cloud formed over the city when the racial unrest that had been building across the South erupted in violence. In 1963 civil rights movement leaders sponsored sit-ins, marches and pickets to protest segregation and force local businesses to employ more African-Americans. Kelly Ingram Park (formerly West Park), occupying a square block, was the assembly point for participants in the Christian Leadership Conference's sit-ins, boycotts and marches.
The police response to the civil unrest during this period was swift and often brutal, including the use of police dogs and high-pressure hoses. Thousands were arrested, including Dr. Martin Luther King Jr. It was during his incarceration that he wrote his "Letter from a Birmingham Jail" essay. In June 1963 business and civil rights leaders reached an agreement, and Birmingham residents soon rallied around the common goal of peaceful resolution.
The Birmingham of the 21st century is strikingly different from the city of the past generation. Gone are the pollution-spewing smokestacks of manufacturers; the city's renovated central business district boasts a smog-free skyline.
Racial tensions have also dissipated, due partly to the opening of the Birmingham Civil Rights Institute, across from Kelly Ingram Park. The facility, which has given the city an outlet to tell its own story, has helped mend the injustices of the past and promote human relations in Birmingham and throughout America.
Having experienced the pitfalls of a single-industry economy, Birmingham has diversified to include medical, engineering, educational, financial and technological industries among its top resources. Medicine and medical research figure prominently in its future; the city has 21 hospitals.
While the largest single employer is the University of Alabama at Birmingham, one out of every 10 people in the workforce is involved in health care. The university's medical center specializes in open-heart surgery and diabetes treatment. The Kirklin Clinic at the University of Alabama at Birmingham, 2000 6th Ave. S., is a 430,000-square-foot health-care clinic designed by I.M. Pei.
Samford University is Alabama's largest private college and includes the Howard College of Arts and Sciences, the Cumberland School of Law and professional schools of pharmacy, nursing, business, music, education and divinity.
Birmingham's extensive public park system provides many recreation opportunities. Art lovers will find the murals and map collection at the Linn-Henley Research Library, 2100 Park Pl., worthwhile. The city's arts groups and cultural offerings add to the enjoyment this modern metropolis provides residents and visitors.
By Car
Several major highways intersect in Birmingham, providing easy access from all directions. North-south I-65 cuts straight through the city, affording direct routes from Montgomery and Nashville, Tenn. From Chattanooga, Tenn., and other points northeast, I-59 runs through the Appalachian foothills before merging with I-20, intersecting I-65 near the city center and continuing southwest into Mississippi.
I-459 branches off from I-59 just east of the city limits and loops southward to bypass downtown traffic, rejoining I-20/59 near McCalla. Approaching from due east, I-20 meets the I-459 bypass before merging with I-59 downtown.
Street System
Laid out in an orderly grid pattern, Birmingham is fairly easy to navigate. The downtown area is bounded by I-20/59 to the north, I-65 to the west and US 31, the Red Mountain Expressway, to the east. North-south thoroughfares are designated as streets, while east-west routes are avenues. Both streets and avenues are numbered, although some also have names, such as University Boulevard (Eighth Avenue South).
Unless otherwise posted, a right turn on red is permitted after a complete stop.
Parking
With numerous public and private lots, parking is not a problem in Birmingham. Garages generally charge from $5 to $10 per day; on-street metered parking is available downtown.
Sales Tax
State, county and city sales taxes total 10 percent in Birmingham. A lodging tax of 16.5 percent also is levied.
Police (non-emergency)
(205) 328-9311
Hospitals
Princeton Baptist Medical Center, (205) 783-3000; St. Vincent's Birmingham, (205) 939-7000; St. Vincent's East, (205) 838-3000; Trinity Medical Center, (205) 592-1000; UAB (University of Alabama at Birmingham) Hospital, (205) 934-4011; UAB Hospital-Highlands, (205) 934-3411.
Newspapers
Birmingham has one major newspaper, The Birmingham News. Smaller daily and weekly papers cater to the suburbs and special interests.
Radio
Birmingham radio station WERC (105.5 FM) is an all-news/weather station; WBHM (90.3 FM) is a member of National Public Radio.
Visitor Information
Greater Birmingham Convention & Visitors Bureau 2200 Ninth Ave. N. BIRMINGHAM, AL 35203. Phone:(205)458-8000 or (800)458-8085
Birmingham Business Alliance 505 N. 20th St. Suite 200 BIRMINGHAM, AL 35203. Phone:(205)324-2100
Air Travel
Birmingham-Shuttlesworth International Airport (BHM) is served by major domestic carriers and regional commuter lines. Most major hotels provide shuttle service, usually free, to and from the airport. Taxi fare from the airport to downtown is about $20 one way.
Rental Cars
One of the largest car rental agencies in the city, Hertz, (205) 591-6090 or (800) 654-3080, offers discounts to AAA members.
Rail Service
Amtrak trains destined for New York and New Orleans depart from the station at 1819 Morris Ave.; phone (205) 324-3033.
Buses
Greyhound Lines Inc., at 618 19th St. N., provides commercial bus service to and from the city; phone (205) 252-7190 or (800) 231-2222.
Taxis
Taxis are on the meter system. The typical charge is $4.50 initially and $2 for each additional mile. The two largest companies are American Cab Co., (205) 322-2222; and Yellow, (205) 252-1131.
Public Transportation
Birmingham-Jefferson County Transit Authority provides bus service around town and into the outlying suburbs. Basic bus fare is $1.25. The authority also manages DART, a system of vintage trolleys serving the downtown area; the fare is 25c. Exact change is required for both buses and DART. Phone (205) 521-0101 for schedule and route information.
Published with permission from AAA associate Ron Willis / NA
Essentials
Revisit Birmingham's age of heavy industry at
Sloss Furnaces National Historic Landmark
(20 32nd St. N.), one of the last places with a blast furnace in America. The factories and materials available for iron production made the city the South's industrial center for nearly 90 years. Its economy eventually diversified, but the city's moniker—named after the United Kingdom's industrial center—is a fitting tribute. It's also been called "The Pittsburgh of the South" and "The Magic City."
Experience the antebellum South at the
Arlington Antebellum Home and Gardens
(331 Cotton Ave. S.W.), which was built by Judge William S. Mudd, one of the 10 founders of the city. Birmingham's lone plantation includes beautifully manicured grounds and a Greek Revival home that was occupied by Union troops during the Civil War.
The
Ruffner Mountain Nature Preserve
(1214 81st St. S.) is a nature-lover's retreat. The grounds, once containing mines and quarries, now feature a boardwalk and trails traversing the Red Mountain ridge. The LEED-certified nature center will answer all your environmental questions, and you can learn about turtles, owls and other native wildlife on-site.
Brake for
Barber Vintage Motorsports Museum
(6030 Barber Motorsports Pkwy.) to admire early to modern motorcycles, Lotus race cars and everything involved in motorsports entertainment. The world-renowned collection is housed in a 740-acre park with a 2.38-mile racetrack.
Take in the views of the city with Vulcan, the god of fire and smithery, who continues to watch over Birmingham. Located on Red Mountain, the
Vulcan Park and Museum
(1701 Valley View Dr.) showcases the prominent statue first unveiled at the 1904 St. Louis World's Fair.
Stop by Pepper Place in the Lakeview Design District to experience how a once-industrial part of town transitioned to a shopper's paradise. Trendy stores put Birmingham's style on the map with attention-grabbing architectural details, antiques and colorful displays. But the farmers market (2829 2nd Ave. S.) is the main draw on Saturdays early April to mid-December; it boasts a variety of products grown within 100 miles.
Birmingham is increasingly called a must-visit foodie destination due to its fresh and flavorful cuisine. In the recent past the James Beard Foundation—aka the Oscars of the food world—has hailed
Hot and Hot Fish Club
's (2180 11th Ct. S.) chef as the best in the South and has recognized
Highlands Bar & Grill
(2011 11th Ave. S.) as a finalist for outstanding restaurant in the country.
Try at least one down-home dish during your visit. Despite the availability of creative and cosmopolitan fare, don't skip the biscuits, grits and typical "Southern" fare. A good place to start would be
John's City Diner
(112 Richard Arrington Jr. Blvd. N.), open since 1944 and home to one-of-a-kind coleslaw.
See a concert or go to a free fitness class at the 19-acre Railroad Park (1600 1st Ave. S.), which connects the downtown with Southside and the campus of University of Alabama at Birmingham. The site mixes industrial touches—recycled bricks and cobblestone—with water features, open lawns and more than 600 trees.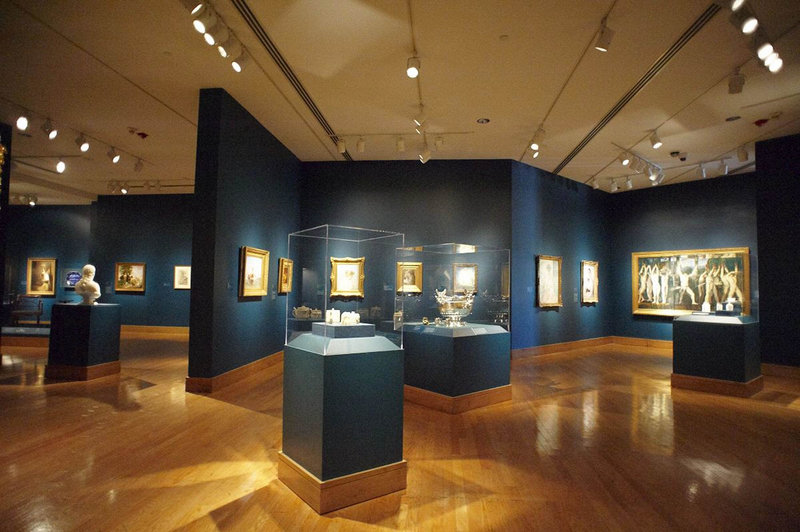 Photos Courtesy of the Birmingham Museum of Art
Spend hours at the
Birmingham Museum of Art
(2000 Rev. Abraham Woods Jr. Blvd.) with its numerous themed rooms. Reputedly one of the best regional museums in the nation, there are more than 24,000 paintings, sculptures, prints, drawings and pre-Columbian artifacts that visitors can see for free. The museum even has hands-on exhibits for children.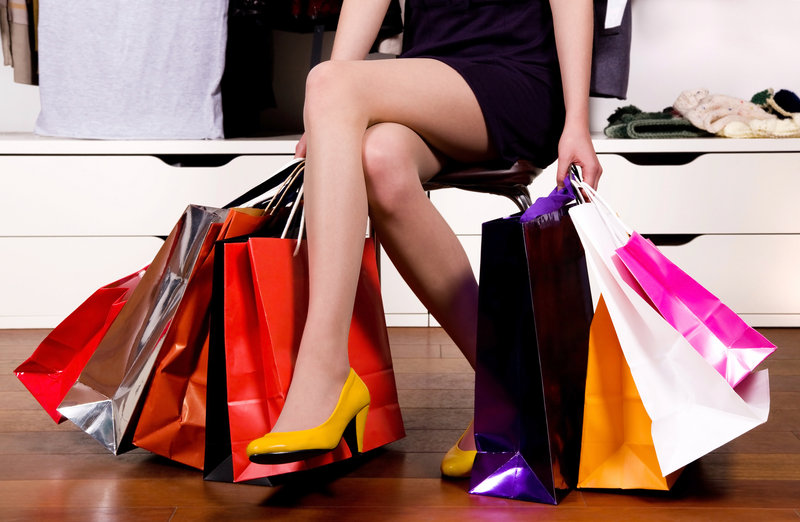 Downtown warehouses that once produced America's oldest soft drink, Dr Pepper, now comprise the upscale Pepper Place , which is one of the region's better-known interior design centers. Other retail centers include Brookwood Village , US 280E and Lakeshore Drive, with anchor stores Belk and Macy's; and The Summit , at US 280E and I-459, which has Belk and Saks Fifth Avenue as well as many upscale specialty shops. Window-shoppers and novelty hunters will want to visit the antique shops and trendy boutiques of Five Points South , off 20th Street S. and Highland Avenue.
Twelve miles south in Hoover, at I-459 and US 31S, is Riverchase Galleria ; it is the place to shop while you're in the Birmingham area. Topped by one of the largest glass skylights in the Western Hemisphere, the Galleria includes Belk, JCPenney, Macy's, Sears, more than 200 specialty stores, an office tower and a sizable hotel.
zaimoku_woodpile / flickr
Performing Arts
The University of Alabama at Birmingham Department of Theatre presents dramatic productions, special concerts, big-name entertainment and shows in the Alys Robinson Stephens Performing Arts Center late September through May; phone (205) 975-2787 or (877) 278-8457. The Terrific New Theatre, open year-round, features off-Broadway shows; phone (205) 328-0868. The Birmingham Children's Theatre, one of the largest professional children's theaters in the country, presents nine different shows throughout the year; phone (205) 458-8181. Contemporary and experimental dramas are hallmarks of the Birmingham Festival Theatre, which features new playwrights and local talent; phone (205) 933-2383.
The Virginia Samford Theatre, 1116 26th St. S., features two performance spaces in its late-1920s building; phone (205) 251-1206. Alabama Theatre, 1817 3rd Ave. N., is also a late-1920s venue. It's been restored and is an impressive place to see a movie or a live performance; phone (205) 252-2262. The Lyric Theatre, 1800 3rd Ave. N., goes back even earlier. It was built in 1914 as a Vaudeville venue, and it's still a destination for live events; phone (205) 216-3118.
zaimoku_woodpile / flickr
The Alabama Ballet stages most of its performances at the Samford University Wright Center; phone (205) 322-4300. Opera Birmingham sponsors performances throughout the year; phone (205) 322-6737.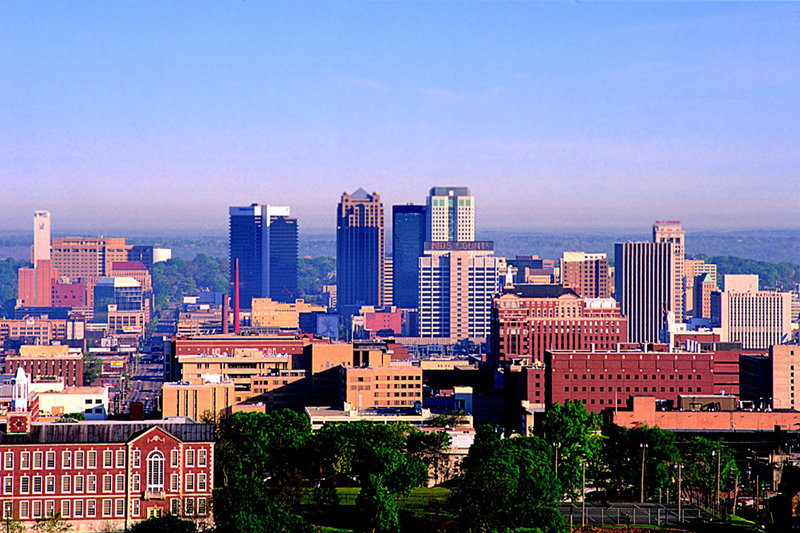 Courtesy of the Greater Birmingham Convention & Visitors Bureau
Walking Tours
Brochures detailing self-guiding tours of the Birmingham Downtown Historic District are available from the Greater Birmingham Convention and Visitors Bureau, 2200 Ninth Ave. N.; phone (205) 458-8000 or (800) 458-8085.