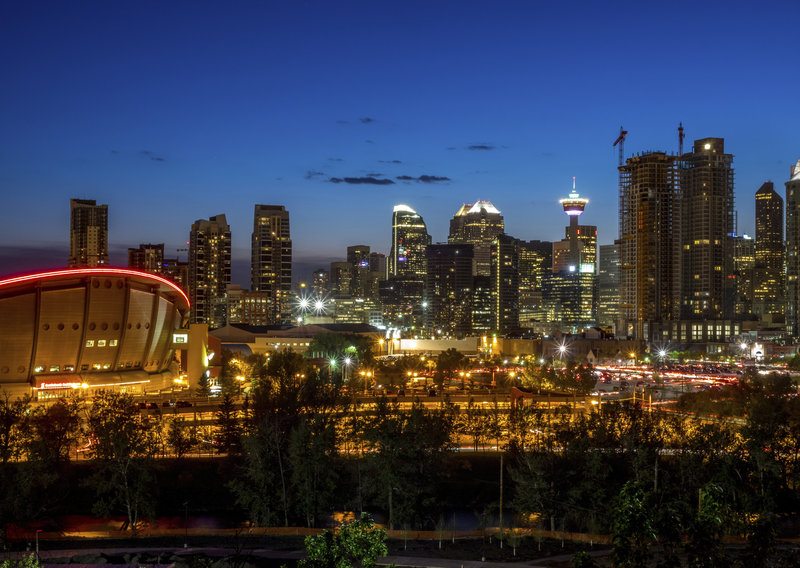 iStockphoto.com / jewhyte
Introduction
The discovery of oil near Calgary in the 1900s fueled a growth spurt that even today shows no signs of slowing down. This former cow town has evolved into a cosmopolitan city of skyscrapers, shopping complexes and contemporary housing. The bustling downtown district—including the Stephen Avenue Walk, a popular pedestrian mall that extends from Bankers Hall to the city municipal buildings—has been designed to accommodate crowds of shoppers even during winter, when below-freezing temperatures would normally inhibit commerce. Enclosed walkways (called "plus-15s" in reference to their being 15 feet above street level) connect almost half the downtown buildings.
High above the city streets, an observation deck and resolving restaurant atop Calgary Tower provide a panorama of the city and the nearby Rocky Mountains; a torch burned atop the tower for the 1988 Winter Olympic Games. At Canada Olympic Park, travelers can visit Canada's Sports Hall of Fame, an observation level for the ski jump and some of the facilities where Olympic-hopefuls train.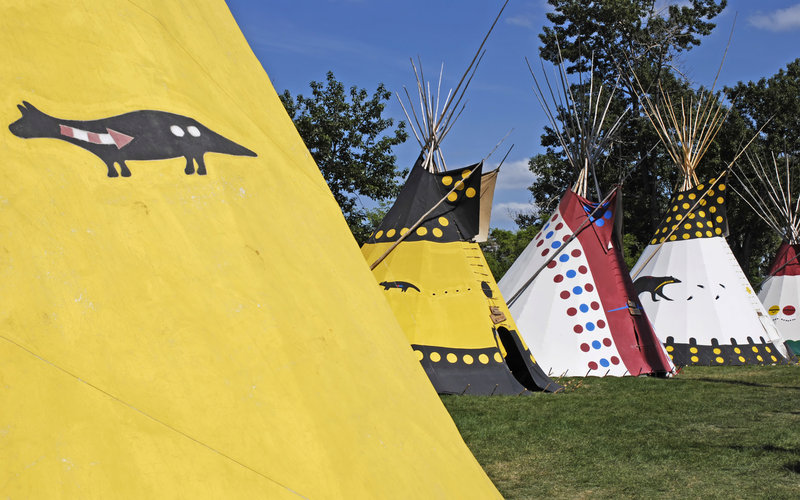 Of course, no discussion of Calgary would be complete without a nod to the city's most famous event: the Calgary Stampede. This 10-day Western extravaganza is billed as "The Greatest Outdoor Show on Earth" and is attended by more than a million residents and visitors.
In Depth
Calgary, once considered a cow town, now is one of Canada's fastest-growing cities, with skyscrapers, light-rail transit, shopping complexes and contemporary houses. The city's economy began with—and still includes—ranching and the subsequent meatpacking industry, but the discovery of oil just south of the city in 1914 and just north in 1947 fueled a spurt of growth that turned an agricultural community into a metropolis.
The city's modern skyline, jagged with skyscrapers, makes a dramatic appearance on the vast expanse of Alberta prairie. To the west, almost mirroring Calgary's silhouette, are the Canadian Rockies, jutting into the sky just over an hour's drive away. The Trans-Canada Highway, a major national east-west roadway, runs through the heart of the city; in Calgary the highway also is known as 16th Avenue.
The region's history of human habitation began almost 10,000 years before the first 19th-century fur and whiskey traders arrived. First Nations tribes chose the confluence of the Bow and Elbow rivers as a campsite; emerging as the dominant tribe was the Blackfoot. Their acquisition of horses allowed them to hunt buffalo and fight almost every other prairie tribe with great success. As European settlement increased, so did the friction between the natives and the newcomers.
An 1877 treaty calmed the rough waters, and relative peace among all factions has existed since. Several reservations, including the Tsuu T'ina Reserve south of the city, are near Calgary. Native North Americans have sought to assimilate themselves into Canadian culture while retaining their native heritage.
Chinese were recruited abroad in the late 1800s to build railroads; once the trains were running, however, immigration was restricted. Oil and money lured Americans who brought technology and investment funds needed to get Calgary's petroleum industry started. But many of those who came for the money enjoyed the area and stayed, becoming Canadian citizens.
Calgary's modern sophistication is offset by a romantic perception of the past—a past in which the city was established as a North West Mounted Police fort in 1875. The Calgary Stampede, a 10-day Western wingding, is attended by more than a million residents and visitors every July. Those days existed more than a century ago, after the North West Mounted Police—the forerunner of today's Royal Canadian Mounted Police—and the railroad brought law, order and homesteaders to a region previously settled by trappers, buffalo hunters and whiskey traders. The bustling downtown district was designed to accommodate a large amount of activity, even during winter when below-freezing temperatures normally would inhibit commerce. Enclosed walkways called "plus-15s" (since they are 15 feet above street level) connect almost half the downtown buildings, making it possible to eat, work, shop or visit neighbors without donning so much as a mitten.
The Stephen Avenue Walk, a brick pedestrian mall in the city center lined with restored late 19th- and early 20th-century buildings, trees, statues and benches, is an urban refuge from traffic as well as a nice place to people watch and enjoy lunch or a stroll in warm weather.
Nearby is Olympic Plaza, the site of the awards ceremonies during the 15th Olympic Winter Games, held in Calgary in 1988, and now a popular venue for events and festivals.
By Car
Two major highways pass through Calgary. Queen Elizabeth II Hwy. runs north and south through the city; Trans-Canada Hwy. provides access from the east and west. Hwy. 1A, which connects Calgary and Cochrane, also serves as an alternate route between Calgary and the towns of Canmore and Banff. Hwy. 8 connects Calgary with Bragg Creek.
Street System
Calgary is divided into quadrants, with Centre Street separating the east and west sectors and the Bow River and Memorial Drive delineating north and south. Streets run north and south, avenues east and west. All are numbered from the intersection of Centre Street and Centre Avenue, just north of downtown. Roads in suburban areas are numbered where they form grids and named where they do not.
The speed limit is 50 kilometres per hour (30 mph) or as posted. A right turn on red after stopping is permitted unless otherwise posted; U-turns are not. Other restrictions apply during rush hours in certain areas; be aware of signs, especially in school and playground zones. Pedestrian crosswalks are designated by "X" signs, and motorists must yield to pedestrians.
Parking
Parking is not permitted on major roads in the downtown core during rush hours, between 6:30 and 9 a.m. and 3:30 and 6 p.m. Downtown metered street parking usually is limited to 2 hours at a maximum cost of $4.76 per hour. Pay parking for extended periods is available at numerous locations. Rates for downtown parking lots range from $1.67-$3.81 per half-hour during the day.
Elevation
1,048 m/3,440 ft.
Sales Tax
The federal Goods and Service Tax is 5 percent and applies to most goods, food/beverages and services, including lodgings. Alberta does not have a provincial sales tax but does impose a 4 percent tourism levy on hotel rooms.
Police (non-emergency)
(403) 266-1234
Temperature
(403) 299-7878
Road Conditions
(877) 262-4997
Hospitals
Foothills Medical Centre, (403) 944-1110; Peter Lougheed Centre, (403) 943-4555; Rockyview General Hospital, (403) 943-3000.
Newspapers
Calgary's daily newspapers are the Calgary Herald and the Calgary Sun, both morning papers. The national newspapers are The Globe and Mail and the National Post. Calgary Metro is a free newspaper.
Radio
Calgary radio station CBC (1010 AM) is a member of the Canadian Broadcasting Corp.
Visitor Information
Tourism Calgary 238 11th Ave. S.E. CALGARY, AB T2G 0X8. Phone:(403)263-8510 or (800)661-1678
Air Travel
Calgary International Airport (YYC) is northeast of downtown off Hwy. 2 exit 266. Public bus transportation to and from the airport is offered by Calgary Transit via Route 300, with service to and from downtown for $9.05. Taxi service between the airport and downtown typically costs $38-$43. Limousine to or from airport $46.50. Many hotels also offer free shuttle service for their guests.
Rental Cars
Hertz, downtown or at the airport, offers discounts to CAA and AAA members; phone (403) 221-1676, (800) 654-3131.
Rail Service
The nearest VIA Rail stations are in Jasper and Edmonton; phone (888) 842-7245.
Buses
Greyhound Lines Inc. operates from the depot at 850 16th St. S.W.; phone (403) 218-3000 or (800) 661-8747. Red Arrow Express operates luxury motor coaches between Calgary, Red Deer, Edmonton, Fort McMurray and Lethbridge; phone (403) 531-0350 or (800) 232-1958.
Taxis
Taxi companies include Associated Cab, (403) 299-1111; Checker Yellow Cab, (403) 299-9999; and Mayfair Taxi, (403) 255-6555. Allied Limousine provides town car and limo service; phone (403) 299-9555. Rates begin at $3.20 for the first 120 metres (about .074 mi.) or portion thereof, plus 20c for each additional 120 metres (about .074 mi.) or portion thereof (unless departing from Calgary International Airport, where rates are $7.50 for the first 120 metres, then 20c for each additional 120 metres). Cabs can be hailed on the street, but phoning ahead is recommended.
Public Transportation
Calgary has both bus and light-rail transit (LRT) service; the latter, known as the CTrain, is free in the downtown core. Calgary Transit's office, 125 7th Ave. S.E., has schedules and maps and sells transit passes. Fare is $3.30; $2.30 (ages 6-17). A 1-day pass is $10.50; $7.50 (ages 6-17). Phone (403) 262-1000.
Essentials
Zip to the top of
Calgary Tower
(101 9th Ave. S.W.) via high-speed elevator to take in a fantastic 360-degree view of the city, a great way to get your bearings. Built to commemorate Canada's centennial, the tower has been a distinctive city landmark since 1968.
Pull on a pair of cowboy boots and celebrate all things wild and western during the
Calgary Stampede
, a rodeo-centered event attended by more than a million people. For 10 days every July, the Stampede puts on a tremendous show that not only includes barrel racing, bull riding and chuck wagon races, but also fireworks, parades, street parties, a carnival midway and a huge outdoor music festival.
Walk in the footsteps of Olympic greats from the 1988 Winter Games at
Canada Olympic Park
(88 Canada Olympic Rd. S.W.), a year-round sports complex offering miniature golf, a zipline and bobsleigh runs in summer and skiing, snowboarding and luge rides in winter.
Hop aboard a steam train or ride in a horse-drawn wagon as you explore nearly a century's worth of local history at
Heritage Park Historical Village
(1900 Heritage Dr. S.W.). You'll get a feel for life in the isolated prairie settlement that Calgary once was when you tour the historic buildings relocated to the park and chat with the costumed "townspeople" inside.
Listen to birdsong as you wander through the
Inglewood Bird Sanctuary
(2425 9th Ave. S.E.), a lovely bit of wooded parkland just minutes from downtown Calgary. And once your inner peace has been restored, explore nearby Inglewood, one of the city's oldest neighborhoods. It's a place known for boutiques, art galleries and antique stores, especially along 9th Avenue S.E.
At
TELUS Spark
(220 St. George's Dr. N.E.), get answers to such weighty questions as: What does it mean to be human? What natural forces have shaped our world? How can we harness energy for our use? The state-of-the-art science center is filled with high-tech displays that engage both children and adults. The two-level building houses exhibit galleries, the HD Digital Dome Theatre, learning labs, an interactive kids museum and more. The outdoor Brainasium, a .4-hectare (1-acre) park teaches young visitors about gravity and acoustics.
Discover the bravery of Canada's military heroes at
The Military Museums
(4520 Crowchild Tr. S.W.), showcasing the nation's army, navy and air force as well as four army regiments. Tanks and a fighter jet seem poised for battle outside the museum, while inside dramatic dioramas and displays of weaponry, medals and photographs bring Canada's military history to life.
Flip, fly and fall courtesy of thrill rides at
Calaway Park
(245033 Range Rd. 33), where the amusements range from tame to terrifying. The Adrenaline Test Zone, Chaos and the Vortex roller coaster are in the latter group, but there are plenty of rides designed for smaller children as well. Plus, with various carnival games on-site, the whole family can compete for plush prizes—and glory. The park also offers a miniature golf course, live shows and a 3-D theater.
Trek back through time to the age of the dinosaurs at the
Calgary Zoo, Botanical Garden & Prehistoric Park
(1300 Zoo Rd. N.E.), home to a collection of fierce-looking dinosaur replicas, to say nothing of the even more impressive collection of living, breathing animals from all over the world. Such creatures as gentoo penguins, grizzly bears, cougars, bison, mountain goats and wolves thrive within their particular re-created habitats.
Imagine rubbing elbows with one of 19th-century Calgary's wealthiest and most influential families when you enter
Lougheed House
(707 13th Ave. S.W.), their imposing sandstone mansion. Stroll through the formal gardens and you'll understand why the estate was named Beaulieu, French for "beautiful place."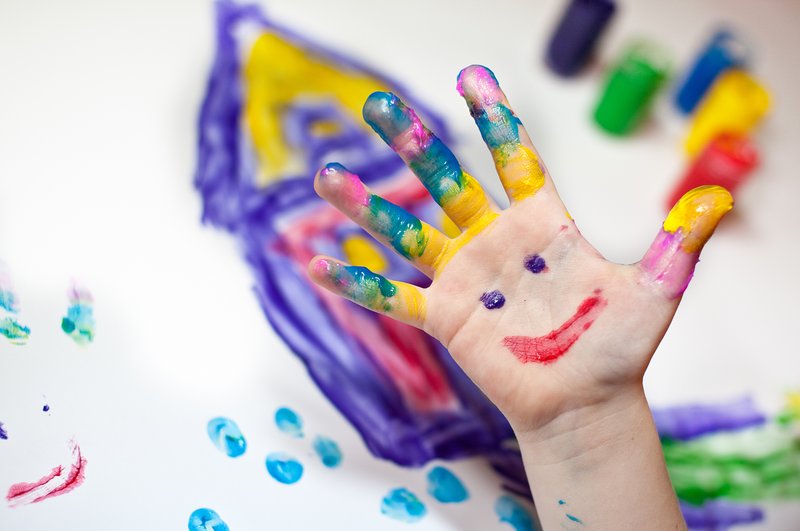 iStockphoto.com / nailiaschwarz
Under 13
Puppeteers, storytellers and theater troupes fill the city with imaginative fun during the
Calgary International Children's Festival
(205 8th Ave. S.E.), a summer event that has been providing family fun in Calgary for over 30 years. Dozens of ticketed performances—some in English and some in French—delight children with stories from all over the world. Free dance workshops, concerts and other fun activities for kids take place on the outdoor plaza.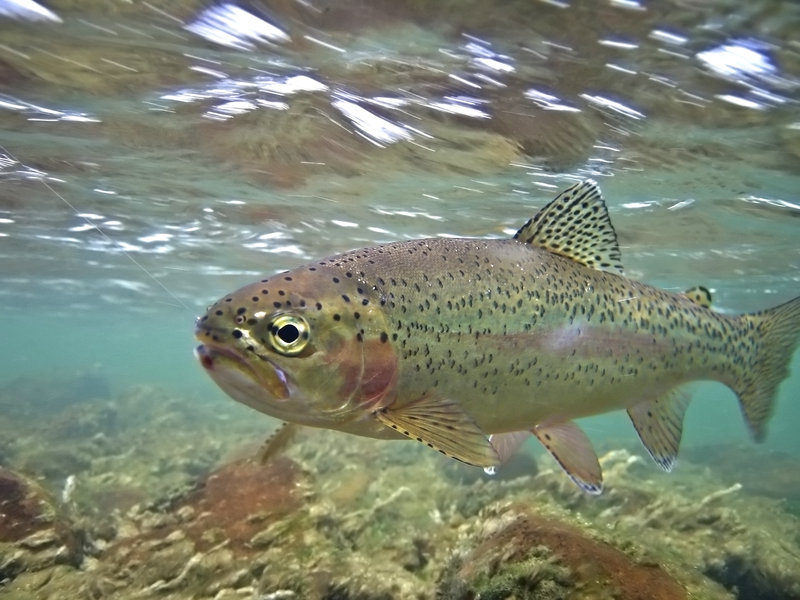 Kids can learn how to fish at
Bow Habitat Station
(1440 17A St. S.E.), where a stocked trout pond and rental rods are available during fishing season (mid-May to late Oct.). After learning the art of catch and release, explore wetland trails, a discovery center and a fish hatchery which raises more than 1 million trout every year.
Horse lovers can't beat a day at Spruce Meadows (18011 Spruce Meadows Way S.W.), an equestrian center just south of the city. On days when there are no show jumping events, visitors may wander the well-kept grounds for free and pet the horses in their stables.
Teens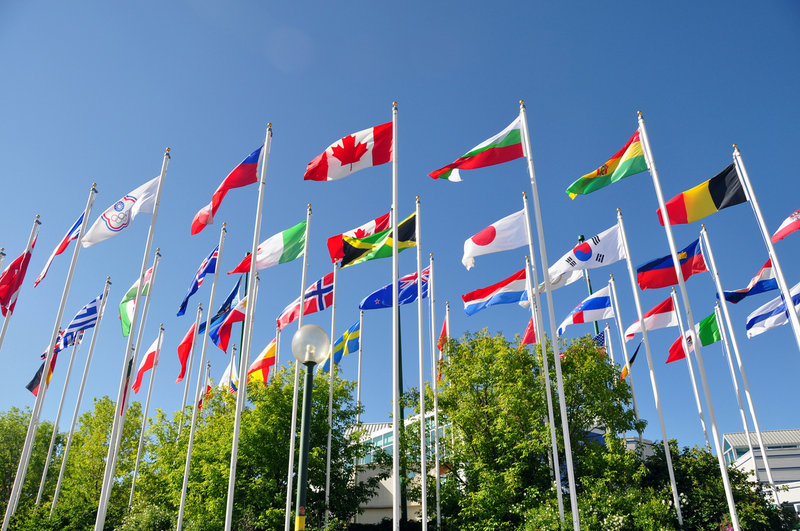 iStockphoto.com / jewhyte
Get your adrenaline flowing at WinSport's
Canada Olympic Park
(88 Canada Olympic Rd. S.W.). Originally built for the 1988 Winter Olympics, the sprawling facility now offers a variety of high-speed thrills year-round. The Skyline Luge is a must-try in summer; you'll take a chairlift up to the start of the track and then race downhill on a wheeled luge through more than 50 twists and turns. It's not for the faint of heart.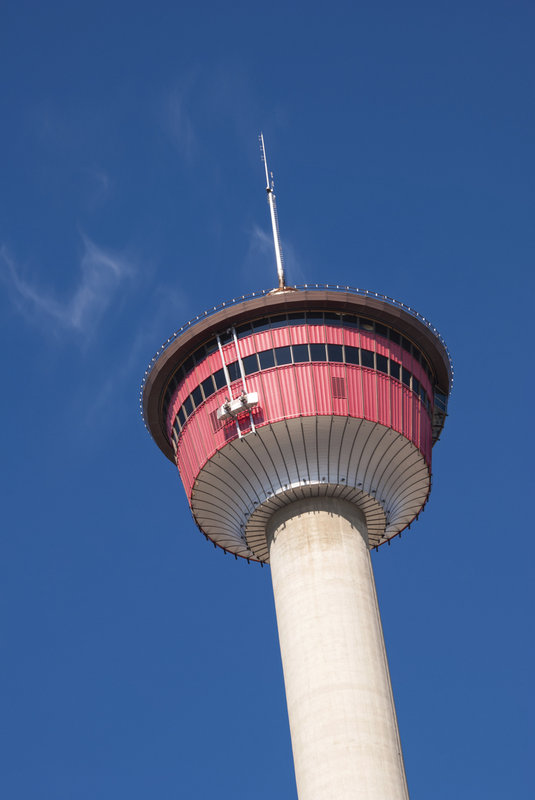 iStockphoto.com / FrankvandenBergh
Teens in pursuit of the perfect Instagram shot will find one at the top of the
Calgary Tower
(101 9th Ave. S.W.). A 1-minute elevator ride whisks you to the top, where an observation deck provides snap-worthy views from 161 metres in the air (about 626 feet). If you're brave enough, stand on the glass viewing floor to look straight down on the city streets below.
Those who speak the language of music will find plenty to ooh and aah over at
Studio Bell, Home of the National Music Centre
(850 4 St. S.E.). The architecturally striking building—opened in 2016 with a $191 million price tag—features interactive exhibits and memorabilia covering Canada's music history as well as vocal booths where you can test your singing abilities.
All Ages
Try traditional Dutch pancakes (called "pannenkoek") at the
Pfanntastic Pannenkoek Haus
(2439 54th Ave. S.W.), a local favorite that has appeared on the Food Network's "You Gotta Eat Here." Not your typical fluffy pancake, the Dutch variety is rolled thin like a crepe. Diners choose from all sorts of savory and sweet ingredients including ham, pineapple, smoked sausage and even ice cream.
Lemurs and tigers and dinosaurs—oh my! One of the most popular Calgary attractions is the
Calgary Zoo, Botanical Garden & Prehistoric Park
(1300 Zoo Rd. N.E.), which just so happens to be as fun for adults as it is for children. Don't miss the Prehistoric Park where dozens of life-size dinosaur models occupy the grounds.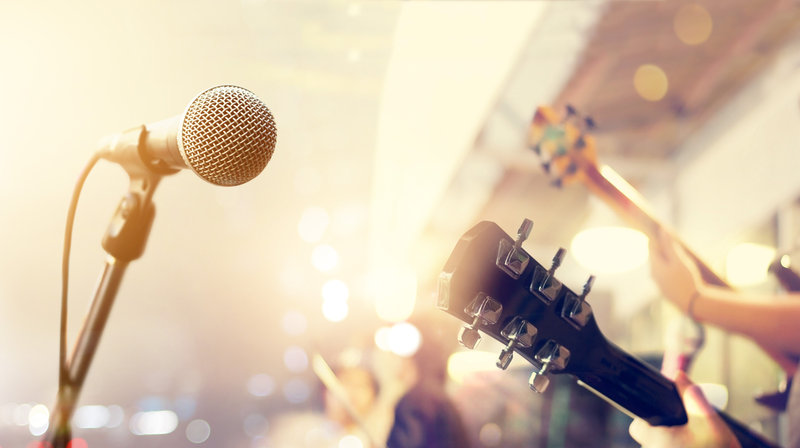 Pack some sunscreen and join throngs of Calgarians at the
Calgary Folk Music Festival
(698 Eau Claire Ave. S.W.), held in bucolic Prince's Island Park in July. Dozens of stage performances showcase all sorts of music genres, from folk and blues to country and indie rock. The festival is not only eco-friendly but family-friendly, too, with plenty of fun things to do with kids in the Family Zone.
iStockphoto.com / LauriPatterson
Welcoming football fans and families since 1979,
Nick's Steakhouse & Pizza
(2430 Crowchild Tr. N.W.) is a great spot to gather after a long day of sightseeing. A kids' menu offers the chance to try some of the house specialties like grade AAA Alberta beef and pizza with homemade dough.
See what all the fuss is about at Village Ice Cream, the dessert spot that consistently tops the lists of the "Best Ice Cream in Calgary." Their hand-crafted and locally sourced flavors are anything but boring; maple pecan, salted caramel, huckleberry, Earl Grey and dairy-free varieties are among the selections. Find three shop locations around the city.
Shopping
Stephen Avenue Walk, a downtown pedestrian mall, extends from Bankers Hall to the city municipal buildings. This popular spot for people watching features shops, galleries and restaurants housed within historic buildings. Also downtown, a five-block shopping complex linked by an indoor walkway includes the more than 200 boutiques, department stores and retail chains of The CORE - TD Square/Holt Renfrew (333 7th Ave. S.W.), Bankers Hall (315 8th Ave. S.W.) and Scotia Centre (225 7th Ave. S.W.).
Unique specialty shops, kiosks and restaurants are the draw at Eau Claire Market , adjacent to the Bow River and Prince's Island Park at 2nd Avenue and 2nd Street S.W.
The trendy Uptown 17th Avenue, a scenic neighborhood and upscale shopping district, features stylish fashion shops, antiques stores and eclectic craft boutiques. The Kensington district features smaller stores in new and old buildings. Originally Atlantic Avenue, Ninth Avenue S.E. now is lined with antiques and home-furnishings stores, bookstores and cappuccino bars.
Major department stores and a wide variety of chain and specialty stores occupy the city's shopping centers: Chinook Centre (6455 Macleod Tr. S.W.), Market Mall (3625 Shaganappi Tr. N.W.), North Hill Centre (1632 14th Ave. N.W.), Northland Village (5111 Northland Dr. N.W.), Southcentre Mall (100 Anderson Rd. S.E.), Sunridge Mall (2525 36th St. N.E.) and Willow Park Village (10816 Macleod Tr. S.E.).
Performing Arts
Four of Calgary's most illustrious theater and music companies perform in the Arts Commons at 205 8th Ave. S.E. The center is shared by Alberta Theatre Projects, Theatre Calgary, One Yellow Rabbit Performance Theatre, Calgary International Children's Festival, Downstage and the Calgary Philharmonic Orchestra. In addition to four theaters and a concert hall, it contains shops, a restaurant and a coffee bar. For information about performance schedules and ticket sales phone the Arts Commons box office at (403) 294-9494.
Southern Alberta Jubilee Auditorium, 1415 14th Ave. N.W., stages a variety of performing arts, including touring companies of Broadway musicals and presentations by Calgary Opera; for details phone the opera company at (403) 262-7286 or the auditorium at (403) 297-8000.
Loose Moose Theatre Company, 1235 26th Ave. S.E., performs adult comedy and drama as well as children's theater; phone (403) 265-5682. Pumphouse Theatre, 2140 Pumphouse Ave. S.W., gets its name from the 1913 former pump house that the city converted into two theaters; phone (403) 263-0079, ext. 100, for schedule and ticket information. Midday performances take place in the aptly named Lunchbox Theatre, at the base of Calgary Tower at 160 9th Ave. S.E.; phone (403) 265-4292, ext. 0.
A popular dinner theater that often showcases well-known performers in its productions is Stage West, 727 42nd Ave. S.E.; phone (403) 243-6642. Other theater, dance and music companies operate locally; check newspapers for performance schedules.
Bus, Train and Van Tours
Brewster Travel Canada offers trips around Banff, Lake Louise, Jasper and the Columbia Icefield; phone (403) 762-6700 or (866) 606-6700 for schedules and fares.
Rocky Mountaineer Vacations offers scenic vacation packages, including the Rocky Mountaineer, a 2-day, all-daylight, narrated rail tour between Canada's west and the Canadian Rockies. The Rocky Mountaineer tour departs mid-April to mid-October; phone (604) 606-7245 or (877) 460-3200.
Walking Tours
Free pamphlets detailing a self-guiding tour of Stephen Avenue, a heavily trafficked commercial thoroughfare, are available from the Calgary Downtown Association, 304 8th Ave. S.W., (403) 215-1570. A showcase for historical buildings, murals and sculptures, the mall extends along 8th Avenue S.W. between 1st Street S.E. and 4th Street S.W. and is open to pedestrians only from 6 a.m. to 6 p.m.