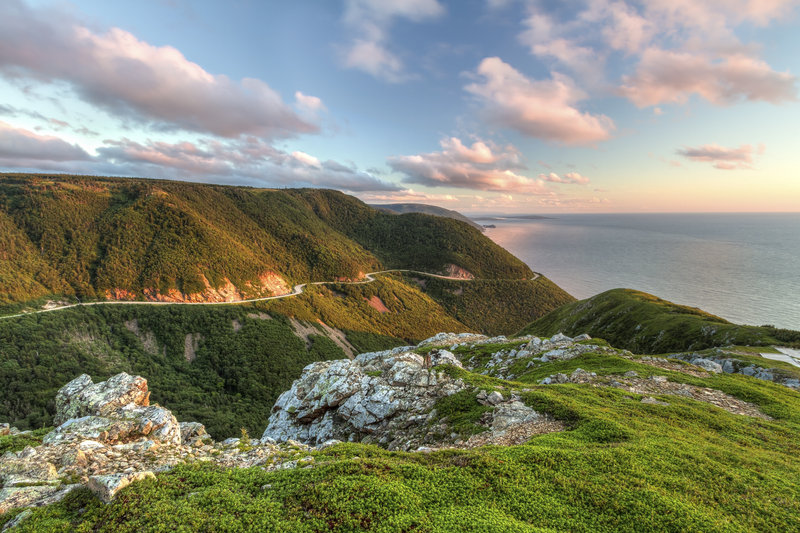 iStockphoto.com / lightphoto
Description
Cape Breton Highlands National Park has entrances on the Cabot Trail 5 kilometres (3 mi.) northeast of Chéticamp on the west side of the island and at Ingonish Beach on the east. The park is in the northern part of Cape Breton Island. Bounded on the west by the Gulf of St. Lawrence and on the east by the Atlantic Ocean, the park protects 950 square kilometres (366 sq. mi.) of highlands and coastal wilderness. The first national park in the Atlantic provinces, it bears a striking resemblance to coastal regions of Scotland.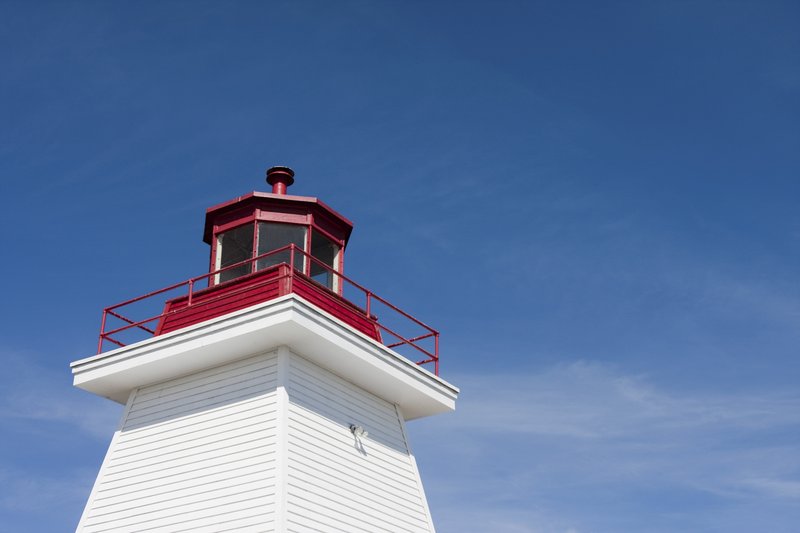 iStockphoto.com / Dustin Hall
Along the western shore, steep hills reaching a height of more than 335 metres (1,100 ft.) rise sharply to a broad plateau covering most of the park area. The eastern shore also is rocky, indented with numerous coves and sandy beaches at the mouths of valleys.
Less frequented by visitors, the interior high plateau of the park is similar to subarctic regions, containing heath bogs, stunted spruce forest and dry, rocky barrens. Along the seacoast headlands the trees are stunted and twisted into grotesque shapes. The rest of the park is covered with a typical Acadian mixed forest of conifers and hardwoods, with almost pure sugar maple stands in river canyons.
The park, a wildlife sanctuary, protects a variety of animals, including black bears, foxes and snowshoe hares. Motorists are advised to drive with care. Moose often are seen along trails and highways. Among the 200 species of birds commonly seen are the bald eagle and red-tailed hawk. Whale-watching is popular both from land and by boat tours offered in nearby communities.
The Cabot Trail, a circle tour of the eastern and western shores of Cape Breton Island and the picturesque Margaree Valley, winds along the edge of the park's rugged, forested slopes, providing a scenic 300-kilometre (186-mi.) drive. Motorists are advised to drive with care.
General Information
Though open all year, full visitor services only are offered mid-May to mid-October, including washrooms and roadside exhibits at viewpoints. Information centers are maintained at the park's entrances at Chéticamp and Ingonish. The Chéticamp Visitor Centre has a 10-minute slide show and exhibit about the park and a children's corner. Interpretive events are presented during July and August. An entry permit is required for park use, including Cabot Trail sightseeing.
The park offers a wide range of activities, including camping at its six campgrounds, hiking, swimming, wildlife and bird-watching, tennis, bicycling and fishing. Highland Links, within the park, is a world-class 18-hole golf course. Changing facilities, tennis courts and a picnic area are provided at the Ingonish Beach Day Use Area. The main beach is the only land separating the surf from a quiet freshwater lake; supervised swimming takes place during July and August. Picnic facilities and unsupervised swimming are available at Black Brook, La Bloc, North Bay Beach and Warren Lake.
Pilot whales are a fairly common sight offshore, while minke, finback and humpback whales can be seen periodically as well. Whale-watching, snorkeling with whales and deep sea fishing excursions depart from port towns near the park.
Hiking trails lead from the Cabot Trail to the interior or along the shore. The 26 trails, ranging from short, easy strolls to challenging mountain hikes with panoramic views, are described on the park map. Bicycling is permitted on designated trails only. Fall foliage is at its best from late September to mid-October.
ADMISSION
ADMISSION to the park is $6.78 per day; $5.91 (ages 65+); free (ages 0-17 and persons of Mi'kmaq descent with valid vehicle sticker from band offices); $17.04 (family, up to seven people arriving in a single vehicle).
PETS
PETS are permitted in the park except on swimming beaches and the Skyline Trail. They must be on a leash at all times.
ADDRESS
ADDRESS inquiries to Cape Breton Highlands National Park, Ingonish Beach, NS, Canada B0C 1L0. Phone (902) 224-2306 weekdays for information and camping reservations.
GEM_DESCRIPTION
Reminiscent of the Scottish settlers' homeland, these rugged slopes are home to moose, eagles and one of the world's most scenic drives—the historic Cabot Trail.