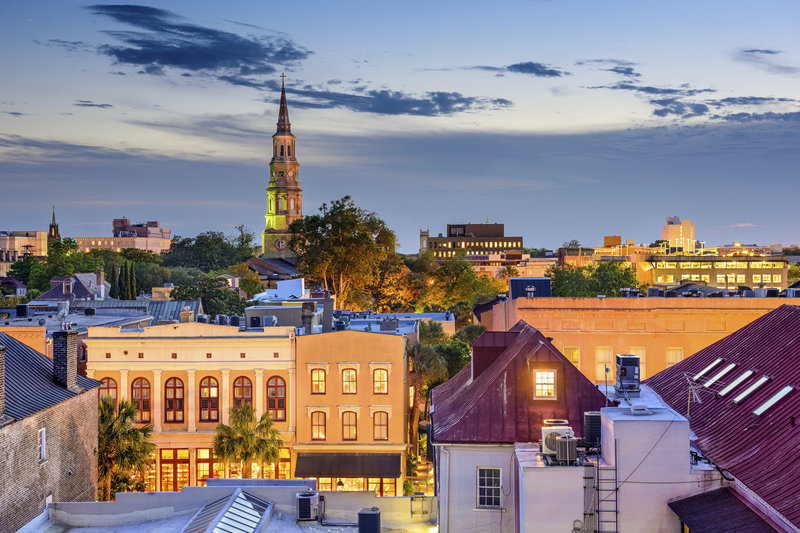 iStockphoto.com / Sean Pavone
Elegant and cultured, Charleston is one of the South's most romantic places. Timeworn cobblestone streets, battered Civil War fortifications and picturesque plantations trigger imaginings of another era, while upscale hotels and restaurants in impeccably restored landmarks offer 21st-century luxuries that keep guests grounded in the present.
iStockphoto.com / MarkVanDykePhotography
Charleston's oldest neighborhoods serve as galleries for a remarkable collection of architectural finery. The Preservation Society of Charleston counts more than 4,800 historic structures within the extensive Old and Historic District, from Colonial-era churches to pastel-hued rowhouses to statuesque mansions. House museums offer intimate glimpses into the lifestyles of early planters, merchants, statesmen—the Charleston elite—and historic inns pamper guests as if they were.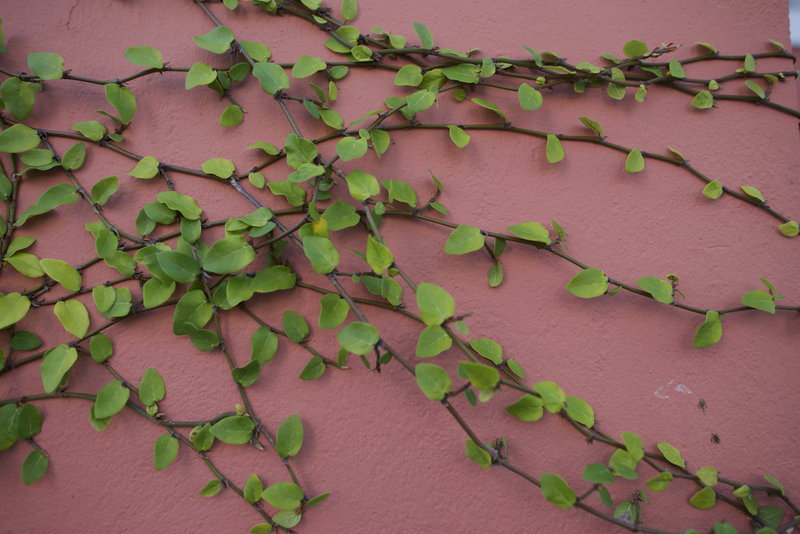 Next to its architecture, gardens are Charleston's pride. Everybody has one, whether it's a simple curbside patch or a grand statuary showplace. Public squares and parks bloom with color year-round, and if you're lucky enough to be in town for a spring or holiday tour, you can see the secret world behind iron gates and garden walls. The city that epitomizes Southern gentility receives visitors graciously and treats them like old friends. Hospitality here is genuine and infectious. By the time you leave Chawl-ston, you'll be talking with a Southern accent and moving at a pace slower than a stroll. And there's nothing wrong with that, ya'll.
In Depth
Charleston can be summed up in two words: classic elegance. It's easy to imagine a bygone era, with fashionably dressed ladies carrying parasols, arm-in-arm with well-heeled gents, promenading along The Battery. Today, tourists snapping photos, families resting on benches and residents walking dogs take their place. The same grand mansions overlooking the waterfront continue to proudly hold court, withstanding the test of time.
In the Charleston City Market, folks shop for trinkets, exotic spices and housewares, just as they did in the early 1800s. Charleston is for the romantic—not for the lover of skyscrapers and subways but of horse-drawn buggies and cobblestone lanes. In a sense, the natural barriers of the Ashley and Cooper rivers preserved Charleston's character by isolating it. Change was slow to come, and many agree that's a good thing.
Charlestonians take pride in their history, and you'll find them well-versed on the subject. They'll point you to attractions and historic sites where you can gain a sense of the town's storied past. Capture the essence of Colonial life by visiting Charles Towne Landing State Historic Site, where English settlers came ashore in 1670. Explore Fort Moultrie, where American troops emerged victorious over the British forces in a brutal, 9-hour battle during the Revolutionary War. Board a tour boat and sail out to Fort Sumter, where the first shot of the Civil War rang out in 1861.
In addition to war, Charleston has endured destructive natural disasters. Although the great earthquake of 1886 lasted only about a minute, nary a building escaped cracks, damage or outright collapse, coupled with a significant loss of life. Hurricane Hugo struck in 1989, damaging the majority of the city's treasured historic homes and pounding the adjacent coastal areas. Yet, as you'll witness today, Charleston has rebounded well.
Preservation efforts are taken seriously in Charleston, as reflected in the immaculately restored structures in the historic district. An intriguing mix of styles is represented, including Colonial, Georgian, Adamesque, Greek Revival and Italian Renaissance Revival. Interestingly, it's not high-rises that dot the city's skyline but steeples. Charleston has earned the nickname of "Holy City" thanks to an impressive assortment of churches—from St. Michael's Church, where President George Washington worshiped, to St. John's Lutheran Church, whose design is attributed to prominent Charleston architect Frederick Wesner, to Emanuel African Methodist Episcopal Church, aka "Mother Emanuel," the oldest AME church in the Southern United States.
As you stroll throughout the historic area, you'll happen upon several architecturally significant pockets. There's the French Quarter, site of the 1859 Old Slave Mart (now an African-American history museum) and the 1736 Dock Street Theatre, reputedly where American theater was launched. It's also home to the Gothic Revival French Huguenot Church, organized in 1681 by refugees escaping religious persecution in France. On East Bay Street you'll pass Rainbow Row, a collection of houses colored in pretty pastels. Although Cabbage Row, 89-91 Church St., is now mostly inhabited by boutiques, it served as the inspiration for DuBose Heyward's novel "Porgy" and the Gershwin opera "Porgy and Bess."
Charlestonians also deserve bragging rights when it comes to gardening—the elaborate medleys of shrubs and flowers you'll see adorning yards and other plots of land are nothing short of magnificent. And any trip to Charleston should include a tour of one of the plantations on Ashley River Road—these sites have been featured in movies and television shows seeking to capture the culture of the antebellum era.
While Charleston upholds its traditions, it also has managed to keep up with the times. One of the South's key cultural centers, the city hosts the Spoleto Festival USA, a 17-day tribute to the performing arts. The Charleston Symphony Orchestra keeps Charlestonians classically entertained the rest of the time, as do a plethora of acting companies. Culinarily speaking, Charleston has made a name for itself in the genre of Lowcountry cuisine. Don't leave town without sampling such delights as she-crab soup, shrimp and grits, hoppin' John and Huguenot torte.
By Car
The major approach from the north and south is US 17, which angles into the city proper over the Arthur Ravenel Jr. Bridge from the north and the Ashley River bridges from the south. US 17 cuts directly across the heart of Charleston and provides easy access to all parts of the city. US 17 links with I-526 to bypass the city.
I-26 approaches from the west, terminating at US 17 near the center of Charleston. It provides a link with several important routes, including I-95, another major north-south highway.
SR 61 is a scenic approach paralleling the Ashley River on the west and giving access to several historic plantations. Other important approaches include US 52, which parallels I-26 immediately west of Charleston; SR 41, which traverses the Lowcountry to the north and terminates at US 17 northeast of the city; and US 701, also from the north, which merges with US 17 and terminates in Charleston.
Street System
Crowded as they are onto a narrow peninsula, most Charleston streets are parallel or perpendicular, and many are narrow or one-way. While a rough grid is evident, the angle of the grid shifts along the dividing line of Beaufain and Hasell streets in the lower part of town.
Several major north-south streets traverse the city. King Street (US 78), one-way heading south below Calhoun Street, and Meeting Street (US 52), a two-way street one block east, run through downtown and the historic districts. E. Bay Street (US 52A) branches off from Meeting Street in the north and winds down the east side, becoming E. Battery Street and then Murray Boulevard as it swings around The Battery. Ashley and Rutledge avenues, a block apart and going one way north and south respectively, connect with the western end of Murray Boulevard.
Major east-west streets that cross all of the above thoroughfares south of the US 17 artery include Calhoun and Broad streets, both going two ways, and Tradd Street, one way eastbound. The speed limit is 30 mph unless otherwise posted.
Unless otherwise posted, a right turn on red and a left turn from a one-way street onto a one-way street are permitted after a complete stop.
Parking
Metered parking at 25 cents for 20 minutes can be found on downtown streets. Downtown meters also accommodate SmartCards, available for purchase from the Charleston Visitor Center at 375 Meeting St. or the Revenue Collections Parking Division office at 180 Lockwood Blvd. SmartCards serve as an alternate form of payment for parking meters. Patrons pay a one-time fee of $5 for the card and can then purchase and charge meter time onto the card. Metered spaces are free after 6 p.m. and on Sundays and official city holidays. Parking garages also are available throughout the area; fees are $1 per half-hour (the maximum daily fee is $16) and may be paid in cash or with a credit card.
Sales Tax
South Carolina sales tax is 6 percent. Charleston sales tax is an additional 2.5 percent. There is an admissions tax of 2 percent on most amusements and a 2 percent accommodations tax. The Charleston area has a lodging tax of 14.5 percent and a rental car tax of 13.5 percent.
Police (non-emergency)
(843) 577-7434
Hospitals
Bon Secours St. Francis Hospital, (843) 402-1000; MUSC (Medical University of South Carolina), (843) 792-2300; and Roper Hospital, (843) 724-2000.
Newspapers
The major daily newspaper in Charleston is The Post and Courier. The area also is served by several local weekly newspapers.
Radio
Charleston radio station WTMA (1250 AM) is an all-news/talk station; WSCI (89.3 FM) is a member of National Public Radio.
Visitor Information
Charleston Area Convention and Visitors Bureau 375 Meeting St. CHARLESTON, SC 29403. Phone:(843)853-8000 or (800)868-8118Self-guiding tour maps, brochures, performance schedules and information about events are available. The center is open daily 8:30-5 (also 5-5:30 during DST); phone (843) 853-8000 or (800) 868-8118.
Air Travel
Most major carriers serve Charleston International Airport (CHS), 12 miles west on I-526.
Rental Cars
Hertz, (843) 767-4550 or (800) 654-3131, is at the airport and offers discounts to AAA members.
Rail Service
The Amtrak train station, (800) 872-7245, is at 4565 Gaynor Ave. in North Charleston.
Buses
Service is provided by Southeastern Stages and Greyhound Lines Inc., (843) 744-4247 or (800) 231-2222, at 3610 Dorchester Rd.
Taxis
Cab companies include Safety Cab, (843) 722-4066; and Yellow Cab, (843) 577-6565. The fare is $5 for all trips that pick up and drop off on the peninsula. A $2 surcharge is added for each additional passenger. Outside of the peninsula, the fare for the first 2 miles is $4 and 35c for each succeeding one-fifth mile. A $1 surcharge is added for each additional passenger. Cabs must be ordered by phone.
Public Transportation
Bus service is provided by Charleston Area Regional Transit Authority (CARTA); phone (843) 724-7420 for information about routes and schedules.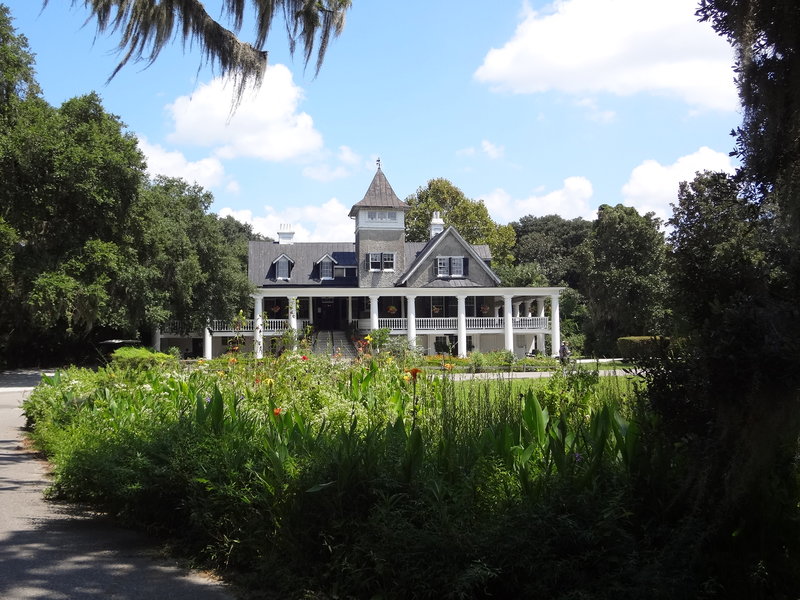 Essentials
Before you set out to explore the old walled city, visit
Charles Towne Landing State Historic Site
(1500 Old Towne Rd.), the location of the original 1670 settlement, and learn how Charleston became one of America's most prosperous colonies.
Walk on the wild side through cypress-and-tupelo black-water swamps at
Cypress Gardens
(3030 Cypress Gardens Rd. in Moncks Corner ).
View native flora and fauna from a flat-bottomed boat or a well-marked nature trail and learn about swamp-loving amphibians, fish and reptiles in the "Swamparium."
When in the Lowcountry, eat shrimp and grits at least once. Most restaurants serve an interpretation of this concoction of shellfish in a creamy sauce piled atop a mound of grits.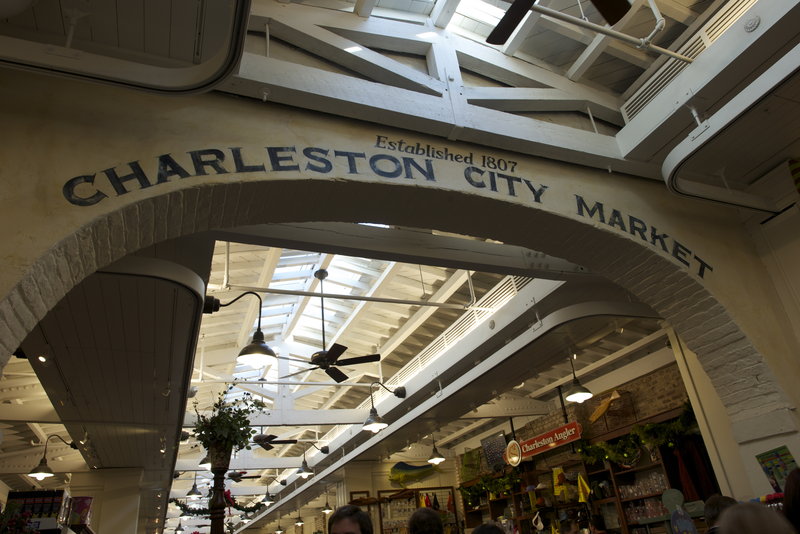 Select a sweetgrass basket for your Lowcountry souvenir. Gullah women practice traditional African basket-making skills and sell their creations on sidewalks near
Marion Square
(337 Meeting St.) and in the open-air sheds at Charleston City Market (188 Meeting St.).
Take a scenic boat cruise to Fort Sumter National Monument , a brick fortification on an island at the entrance to Charleston Harbor. Here, Confederate forces under the command of Gen. P.G.T. Beauregard discharged the opening shots of the Civil War on April 12, 1861. The Confederates blitzed the stronghold for 34 straight hours until the Union surrendered it; when it was regained 4 years later, its 50-foot-tall, 5-foot-thick brick barriers had basically been reduced to smithereens.
Find out how long you can keep the credit card holstered when you're browsing the upscale shops between Broad and Spring streets on King Street , Charleston's premier downtown shopping destination. This is the place to hunt for fine European antiques, unique apparel or a novel by bestselling author and onetime Charleston resident Sue Monk Kidd.
Befriend a green moray eel at the
South Carolina Aquarium
(100 Aquarium Wharf). It's one of the few fish on the planet that can swim both forward and backward.
Trace Charleston's cultural development at
Gibbes Museum of Art
(135 Meeting St.) as you admire paintings, portraits, photographs and sculpture representative of the Colonial, Charleston Renaissance and Contemporary periods.
Under 13
Geared toward kids ages 10 and under, the
Children's Museum of the Lowcountry
(25 Ann St.) features nine galleries full of fun and engaging exhibits. Youngsters can create masterpieces in The Art Room, dress up like a knight or a princess in the Medieval Creativity Castle or search for buried treasure in the Pirates! room.
The
South Carolina Aquarium
(100 Aquarium Wharf) is probably best suited for grade-schoolers, though, in our opinion, you're never too old for a staring contest with a nurse or sand tiger shark. Pint-size visitors will love being able to handle sea creatures like horseshoe crabs and sea urchins at the Touch Tank area, and The Coastal Plain exhibit's albino alligators will undoubtedly elicit a few excited squeals. The centerpiece of the waterfront attraction—the two-story, 385,000-gallon Great Ocean Tank—is teeming with several species of fish and also houses green moray eels and a loggerhead sea turtle named Caretta.
Running alongside the Cooper River, Waterfront Park (1 Vendue) is one of the city's loveliest urban greenspaces. Pack a picnic basket or just relax and take in the parade of sailboats and ships navigating Charleston Harbor. Besides plenty of grass for kids to run around on, the 12-acre park boasts two fountains, one of which is inspired by—a pineapple! Wading is permitted in both fountains.
A water taxi is an enjoyable way to get to Mount Pleasant , across the Cooper River from downtown Charleston. During the quick trip, the 'rents can take in views of the cable-stayed Arthur Ravenel Jr. Bridge while the brood keeps on the lookout for playful dolphins.
Teens
Most teens will want to pick up a few vacation keepsakes before heading home. In this town, the best place to shop for distinctive souvenirs and handcrafted merchandise is the historic Charleston City Market (188 Meeting St.), where vendors sell everything from charm bracelets to hand-painted iPhone cases.
An entertaining evening option for teenagers is a ghost tour of Charleston, the oldest city in South Carolina. Paranormal experiences abound at local institutions like
Poogan's Porch
(72 Queen St.), an elegant Lowcountry restaurant said to be haunted by a spinster schoolteacher, and the phantom-friendly
Dock Street Theatre
(135 Church St.). Several tour companies operate in the vicinity.
All Ages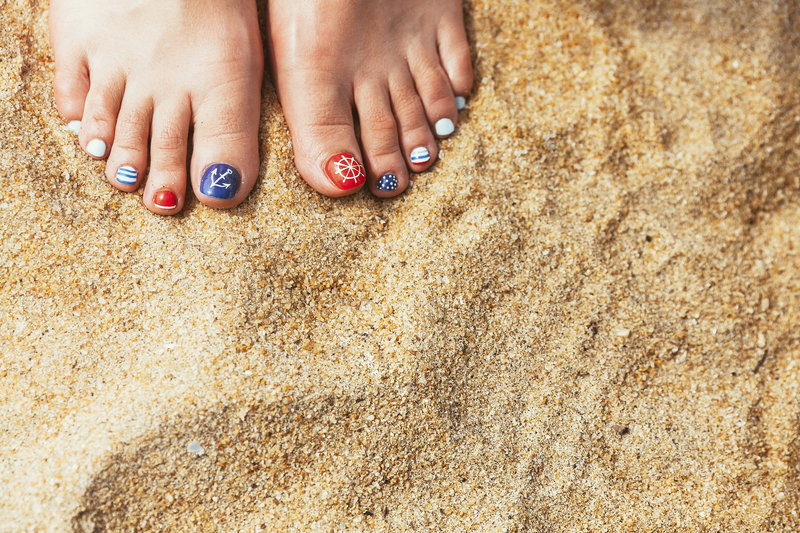 iStockphoto.com / Stakhov-Yuriy
It's probably a no-brainer, but when you're traveling with a mix of toddlers, tweens and teenagers, hit the beach! Enjoy a leisurely day of sand castle art and water play on Isle of Palms , a 7-mile-long barrier island less than 15 miles east of Charleston. Or, get some sun at top-rated Beachwalker Park (8 Beachwalker Dr. on Kiawah Island ).
There's a little something for everyone at
Magnolia Plantation and Gardens
(3550 Ashley River Rd.). In addition to themed gardens and historic structures, the 500-acre estate boasts bicycle trails as well as various guided tour options, such as boat and train tours. A petting zoo and nature center features animals ranging from pygmy goats to bobcats.
At the
Patriots Point Naval and Maritime Museum
(40 Patriots Point Rd. in Mount Pleasant ), the main draw is the USS Yorktown; built during World War II, the 872-foot-long aircraft carrier draws young military buffs with interactive displays, weapons and vintage war planes.
When hunger strikes, share a 19-inch, New York-style pie at
Andolini's Pizza
(414 W. Coleman Blvd. in Mount Pleasant). Graffiti pop art covers the walls of the casual dining area, which is almost always crowded with local families.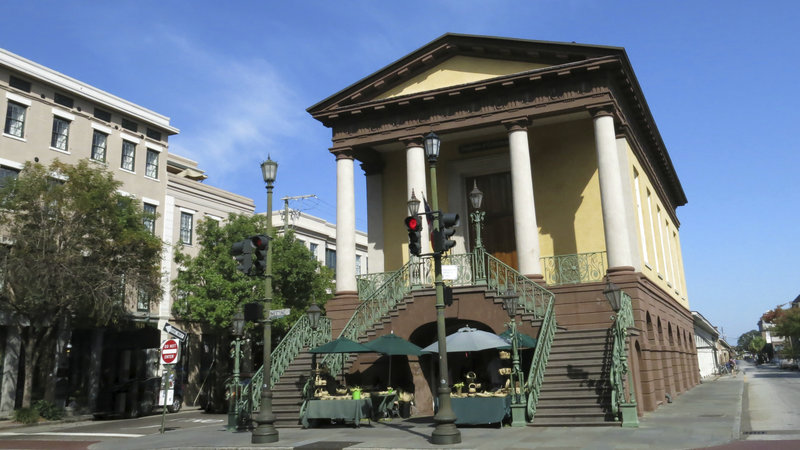 iStockphoto.com / shyflygirl
Shopping
Charleston delights with its intriguing mix of open-air markets and charming boutiques. Shoppers will not go home empty-handed, and that proudly acquired antique or sweetgrass basket will likely be a conversation piece for years to come.
Meeting Street, above Broad Street, offers a few interesting stops that shoppers should definitely peek into. This is where you will find The Shops of Historic Charleston Foundation (108 Meeting St.), which tantalizes souvenir seekers with books on the city's culture and architecture, high-quality reproduction mahogany furnishings, jewelry or even a historically accurate paint color featured in a 19th-century property.
But, most importantly, Meeting Street leads to a shopping haven that has been satisfying retail whims since the early 1800s, the Charleston City Market . Touristy yet fun, this colorful cornucopia of open-sided buildings, boutiques and craft booths was deeded to the city by the owners, who stipulated that it always must remain a public market. The Greek Revival-style Market Hall serves as the proud centerpiece, with an enormous portico and stately columns—vendors are tucked within open-air "sheds" at the hall's rear. This is a fantastic place to shop for spices and other local food items as well as arts and crafts, jewelry and clothing. Gullah women, locally referred to as "basket ladies," present beautiful yet functional Lowcountry creations expertly woven by hand, a skill passed down by their antebellum-era descendants—you can observe them busily weaving.
If you're after a more elegant, refined shopping experience, head to small yet upscale The Shops at Belmond Charleston Place (205 Meeting St.), where upper-crust retailers like Gucci and Louis Vuitton hold court alongside mid-range options.
The renovated cotton warehouses on East Bay Street, bordering the waterfront at the market's east end between Market and Broad streets, hold many treasures ripe for exploration. Along this stretch of East Bay you'll also encounter eateries, art galleries and nightspots.
As you stroll along Church Street south of the Charleston City Market, you'll be immersed in French Quarter charm as you happen across a hodgepodge of stores sporting trendy clothing, collectibles and knickknacks. The Pink House Gallery (17 Chalmers St.) not only has a great selection of prints and photographs, but presents an opportunity to poke around an enchanting historic structure that once served as a 1690s tavern. Continuing on Church south of Broad, a little off the beaten path, look for eclectic galleries and shops scattered here and there, including those nestled in Cabbage Row/Catfish Row (89-91 Church St.). The section of Broad Street in the historic area also houses some high-end galleries and worthy retailers.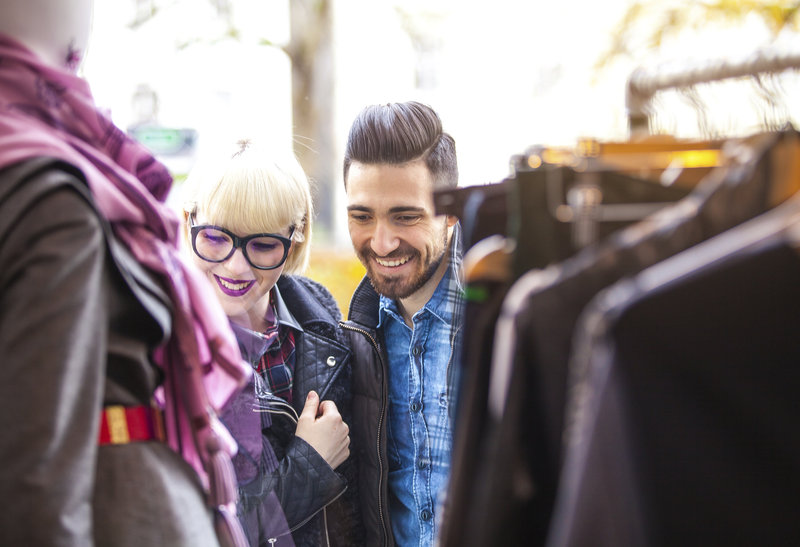 iStockphoto.com / funstock
When it comes to retail mania, King Street packs a diverse punch—it's everything a downtown shopping area ought to be, with exquisite home furnishings, all the best-loved chains and a mini antique district. Upper King Street, roughly from Marion Square to Mary Street, is considered a design district of sorts, with shops touting cutting-edge furniture, home decor and funky jewelry; fashionable bistros and happening nightspots lend a bohemian feel to the scene.
The area of King Street extending down to Broad is known as Lower King Street, a target-rich environment inhabited by hip boutiques, art galleries and locally owned specialty stores sandwiched between popular chains. Antique hounds may discover a showpiece they can't live without along Antique Row, the portion of Lower King between Beaufain and Queen streets. A standout is Geo. C. Birlant & Co. (191 King St.), purveyor of English antiques and crafter of the reproduction benches lining the Charleston Battery.
By no means are antique finds restricted to the area along Lower King Street. As you might guess, individual dealers dot the Charleston map in numbers too numerous to list. Those willing to venture outside the historic district should consider visiting 17 South Antiques (4 Avondale Ave.). You'll have a good time roaming through Charleston Auction House (311 Huger St.), where undiscovered trinkets may await those willing to roll up their sleeves and dig a little
If you'd like to wander through a mall, the Charleston vicinity has a few to choose from. Citadel Mall (2070 Sam Rittenberg Blvd.) and Northwoods Mall (2150 Northwoods Blvd. in North Charleston) both house the usual assortment of specialty retailers. Neighboring Mount Pleasant offers Mount Pleasant Towne Centre (1218 Belk Dr.), where a medley of shops resides in a picturesque village. Bargain hunters might choose to explore Tanger Outlet Center (4840 Tanger Outlet Blvd. in North Charleston), for savings on designer fashions, sporting goods and more.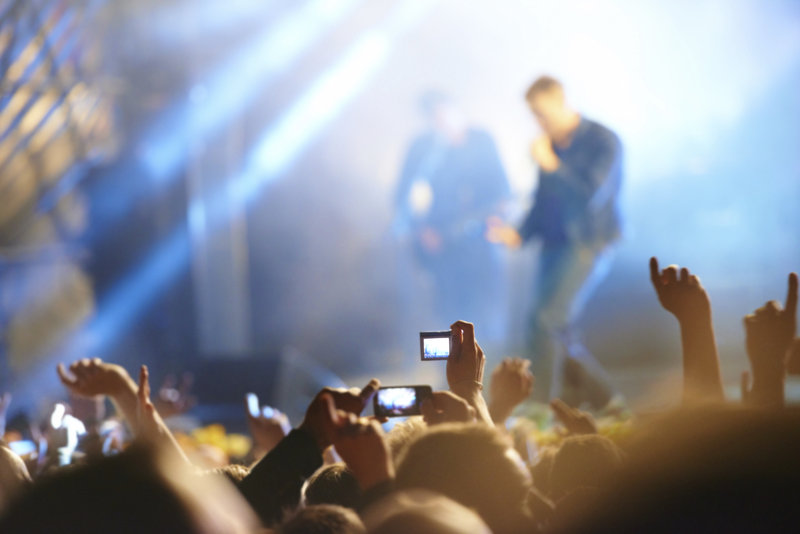 iStockphoto.com / PeopleImages
Nightlife
Folks in Charleston like to live it up, but they also appreciate laid-back casual spots where they can sip a libation and chat with friends. Nighttime entertainment options are mainly concentrated in the downtown historic district, running the gamut from live music venues to refined restaurant bars to cozy little neighborhood pubs. Clubs providing entertainment may include cover charges; to avoid surprises, phone ahead and confirm prices, opening hours, scheduled acts and dress codes.
Those in search of live music usually land at the Music Farm , 32 Ann St. This revamped train station hosts a variety of musical styles, so you might encounter college kids or a 30 to 40ish crowd depending on the talent, which can range from alternative to country; phone (843) 577-6969. There's nothing like a healthy dose of Irish tunes to get your adrenaline going, and families, couples—you name it—all join in the merriment and sing along at
Tommy Condon's Irish Pub
, 160 Church St., (843) 577-3818. While you're at it, order up an authentic Irish coffee or ale.
Jazz enthusiasts in the know head to the upscale yet casually comfortable lounge at the
Charleston Grill
on King Street. It's a special place to have a cocktail and relish the sounds of the restaurant's talented performers; phone (843) 577-4522.
Charlestonians enjoy lingering over an inventive cocktail and socializing in one of the town's classy lounges. First Shot Lounge , tucked inside Meeting Street's
The Mills House Wyndham Grand
, is named for the first shot fired during the Civil War. Touches like a grand piano and a view of the pretty courtyard contribute to an aura of understated Southern elegance; phone (843) 577-2400. At the swanky Peninsula Grill Champagne Bar , adjacent to the
Planters Inn
on Market Street, mostly middle-aged connoisseurs of bubbly indulge in intriguing appetizers along with their Dom Pérignon or other champagnes by the glass or bottle; phone (843) 723-0700. For an inspiring view of Charleston Harbor and the historic district—or to catch a glorious sunset—head up to The Rooftop , a cocktail bar at
The Vendue
(19 Vendue Range St.) offering live music, decent bar food and an affable wait staff to boot. Phone (843) 577-7970.
Oenophiles should have no trouble finding a cozy nook that suits their style. At Social Wine Bar , 188 E Bay St., you can taste wines by the half-glass or try a flight of three to discover what pleases your palate. Prices are reasonable and the assortment is impressive at this hip spot, which, by the way, has some mighty fine wood-fired pizzas, tasty sliders and other top-notch snacks. Phone (843) 577-5665.
iStockphoto.com / -lvinst-
Plenty of laid-back digs entice those seeking a more casual night on the town. A hodgepodge of locals, tourists and young professionals throw darts, watch their favorite sports teams on the tube, and order up brews and pub grub at
The Griffon
, a friendly neighborhood English-style tavern at 18 Vendue Range; phone (843) 723-1700.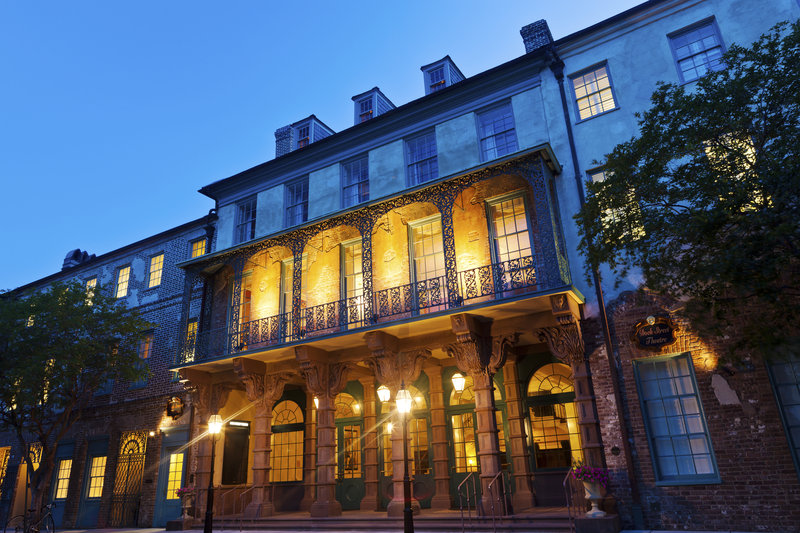 iStockphoto.com / traveler1116
Performing Arts
Charleston's cultural heritage goes back a long way. By the late 1730s the city had a music society and the Dock Street Theatre, said to be the first building in the Colonies designed solely for theatrical performances. Today Charleston Stage performs at Dock Street Theatre at Church and Queen streets.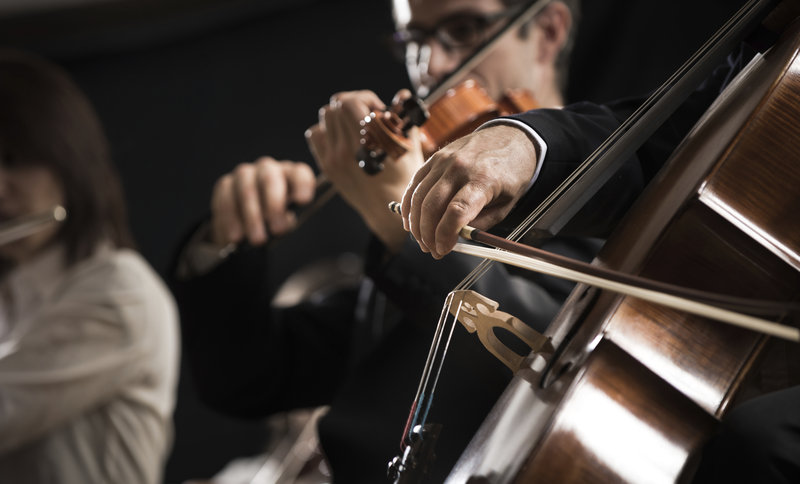 iStockphoto.com / cyano66
Inspired by Europe's great opera houses, the Gaillard Center, 95 Calhoun St., features an orchestra level, three balcony tiers and box seats; phone (843) 724-5212. The Charleston Symphony Orchestra performs here; phone (843) 723-7528. The 2,300-seat Performing Arts Center in the Charleston Area Convention Center complex, 5001 Coliseum Dr. in North Charleston, offers concerts and a variety of theatrical productions; phone (843) 202-2787.
A good place to begin your exploration is at the Charleston Visitor Center, 375 Meeting St. "Forever Charleston," a multimedia presentation shown continuously at the center, provides an introduction to the city and its people. Self-guiding tour maps and brochures also are available.
Two of the most prominent features of the historic area are the two major architectural styles: the double house and the single house. The front doors of the double house face the street, with one room to each side. The typical single house is only one room wide with the narrow gable end turned toward the street. To one side is a door that opens onto a porch, and gardens or courtyards are beside or behind the house.
No one knows why there are so many single houses in Charleston, but past speculation, which is now often discounted, claimed that the design might have been prompted by taxes levied according to how many feet of a house faced the street. Similar houses were built during the 18th- and early 19th centuries in New Orleans for this reason. The more likely explanation is that this design made the most of summer breezes and blocked the interior from the most intense sun during the day.
Many of Charleston's old houses have solid shutters on the first floor windows and louvered shutters on the windows of the floors above. The solid shutters helped keep the noise and dirt from entering the early houses, which had walls that rose from the edge of the street.
Perhaps the most common sight in Charleston is not a thing, but a color. Charleston green, such an extremely dark shade that it is almost black, is seen on everything from shutters to front doors to piazza trim. The color is said to have been devised during Reconstruction, when only black paint was available in quantity. Residents mixed in a small amount of yellow pigment and were able to use colored paint.
Routes for horse-drawn carriage tours are selected randomly; therefore, each company cannot guarantee which sites will be included on any trip since the guide doesn't find out until right before the tour departs.
You'll want to take a piece of Charleston home with you, so head over to N. and S. Market streets and let the souvenir browsing begin at bustling Charleston City Market. From handwoven baskets (observing the so-called "basket ladies" at work can be mesmerizing) to touristy tees to Southern spices, there's something within the arts-and-crafts stalls and charming boutiques for everyone. And there always will be, as the proprietors who ceded the site to the city stipulated that it must forever serve as a public market.
Walk a few steps to the southeast corner of Meeting and Cumberland streets, where a plaque showing Charleston's original layout will help you get your bearings before you kick off your jaunt through the "walled city." Give yourself sufficient time to visit one of two exceptionally fascinating buildings (mentioned below) along the course.
It was in this Palladian-style structure's cellar that notable patriots pressed shackled hands against steel bars during the Revolutionary War, and it was in its Great Hall that South Carolina ratified the Constitution in 1788. If you're a history buff, you won't want to miss this place—expect to learn a thing or two the 500-pagers and TV specials didn't cover.
Although the compact city lends itself wonderfully to independent exploration, guided tours provide an excellent introduction to history, architecture and culture. Ghosts, gardens, Gullah, graveyards—you name the topic and there's a walking tour to cover it. Two of the most romantic ways to savor charming Charleston are by horse-drawn carriage and an evening harbor cruise. In addition to providing a climate-controlled environment for city sightseeing, motorized tours usher passengers to the outlying plantations in comfort.
Charlestonians uphold Southern culture and traditions, and nowhere is this more evident than in the culinary arena. Now, as in Colonial times, Lowcountry cuisine makes creative use of abundant ingredients from coastal waters, marshes, farms and fields. World-class chefs take Southern comfort food to sophisticated levels and consistently garner industry acclaim for Charleston's finest restaurants. As a major culinary destination, Charleston is the New Orleans of the Lowcountry.
Heritage Passport
Charleston Heritage Passport offers savings to those who plan to visit Charleston's historic and cultural attractions. Valid for 7 days from purchase, the passport covers the price of admission to eight sites: Aiken-Rhett House, Charleston Museum, Drayton Hall, Edmondston-Alston House, Gibbes Museum of Art, Heyward-Washington House, Joseph Manigault House, Middleton Place (gardens and stable yard only) and Nathaniel Russell House.
The passport may not be combined with any other discount and is not valid for admission during special events.
The passport can be purchased at the Charleston Visitor Center, 375 Meeting St., for $72.95. A 3-day pass is available for $62.95, and a 2-day pass is available for $52.95. For more information phone (843) 853-8000 or (800) 774-0006.
The Gullah Culture
The Sea Islands, a string of barrier islands off South Carolina and Georgia, have been home to the Gullah people for centuries. The Gullahs are descendants of West African slaves shipped to North America on the notorious Middle Passage slave trade route. In the 1700s, the majority of Africans imported to the British colonies entered through Sullivan's Island near Charleston and were dispersed to Lowcountry plantations.
The word Gullah may be a derivation of Angola, one of the countries frequented by slave traders. To communicate among themselves and with plantation overseers, slaves devised pidgin, a hybrid of various West African dialects and the informal English spoken by colonists. This Gullah language, as it came to be known, employs phonetic interpretation of English words (children/chillun) and idiomatic expressions (Tek'e foot een 'e han, meaning run) and is spoken with distinctive lyrical intonations that might be compared to the Jamaican language.
Early in the Civil War, Union troops forced plantation owners out of the Lowcountry. With the help of transition camps and schools, freed slaves became independent and had the opportunity to purchase land; many chose to remain on familiar ground—the sea islands where they had toiled as captives.
As a community, the Gullah people became self-sufficient, largely due to inherent farming, hunting and fishing skills. Because they were autonomous, Gullahs were able to practice and preserve their African ways, including storytelling, religious worship, food preparation and craftsmanship. Today it is quite common to see Gullah women making and selling artistically coiled sweetgrass baskets—traditionally woven for use in African rice fields—in downtown Charleston and along US 17 in Mount Pleasant.
Except for small-boat commerce, Gullahs remained isolated from the mainland until the first bridges were constructed in the 1950s. Intrusion proved inevitable, however, and some of the coastal land owned by Gullahs was eventually sold and developed into resorts. The Gullah people maintain a strong presence in the Lowcountry, as their ancestors do in the annals of American history. To learn more about the Lowcountry's Gullah culture, visit
Avery Research Center for African American History and Culture
in Charleston.