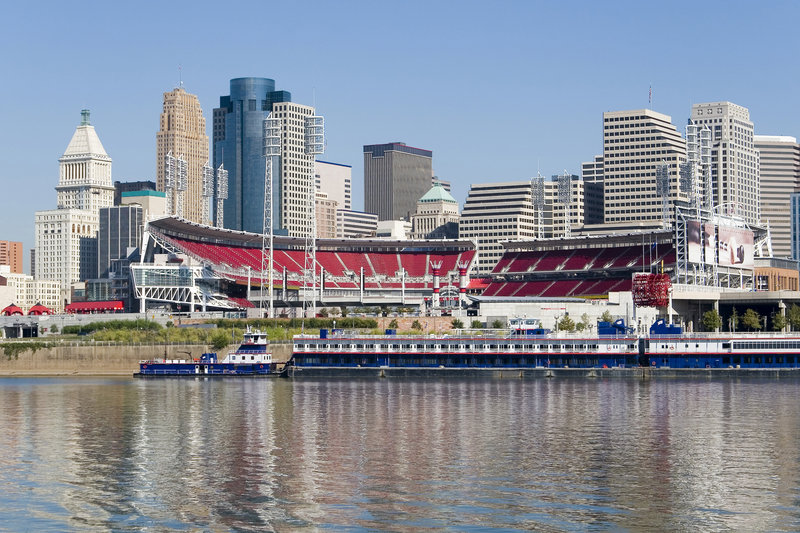 Introduction
Cincinnati has worn many hats, including riverboat city, Underground Railroad stop and pork-packing center. Today it nods to its past while striving to become even more diverse. The Ohio River is alive with riverboat tours. Western & Southern/WEBN Fireworks at Riverfest, the city's largest annual celebration, pays homage to the great waterway with air shows, cruises and fireworks.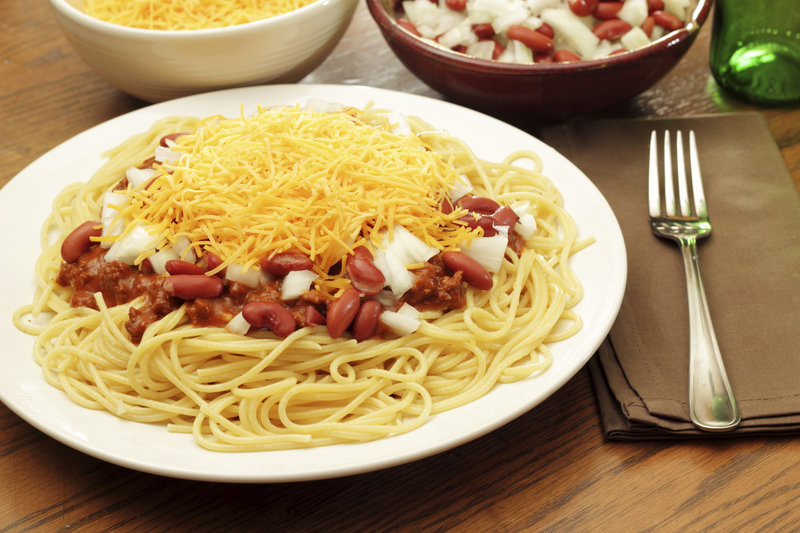 iStockphoto.com / wsmahar
On the riverbank, the curving building of the National Underground Railroad Freedom Center is filled with displays and interactive exhibits chronicling 300 years of slavery in North America, with a focus on the Underground Railroad. And while the city lost its foremost position in the pork industry long ago, it hasn't given up its devotion to food. More than 4,000 restaurants serve every kind of cuisine imaginable—including, of course, Cincinnati-style chili and goetta.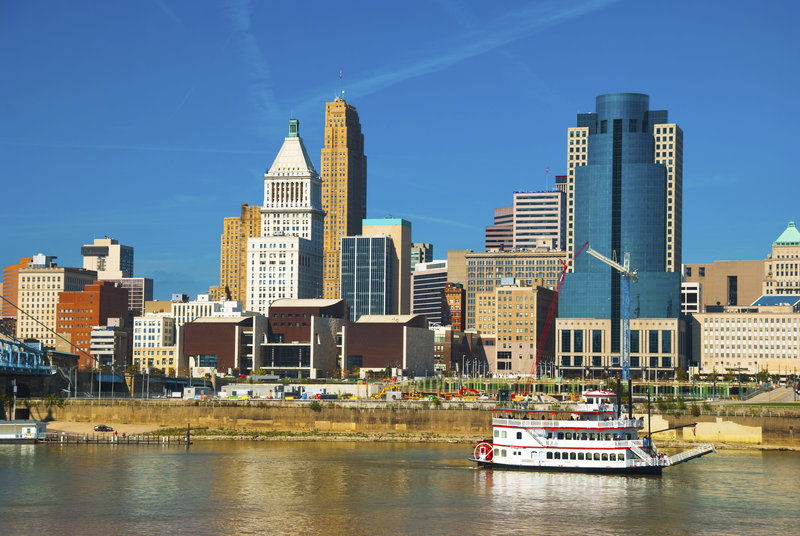 iStockphoto.com / Davel5957
Catch the Cincinnati Reds, the first professional baseball team, at the Great American Ball Park. At Kings Island conquer The Beast, the longest wooden roller coaster in the world, then splash around Soak City, the largest waterpark in the region. And visit Fountain Square, Cincinnati's entertainment hub, in mid-September for North America's biggest Oktoberfest, celebrating the city's vivacious German heritage.
In Depth
Winston Churchill called Cincinnati "the most beautiful of America's inland cities." Its location has much to do with its aesthetic appeal and stable business community. On the Ohio River's north shore, the downtown section is in a basin surrounded by hills.
Cincinnati was platted in 1788 by three land speculators. In 1789 Fort Washington was built to protect the settlers from the Native Americans, but the area only became open for further settlement with the defeat of the Ohio Indians at Fallen Timbers in 1794. Cincinnati's accessibility increased in 1811 with the arrival of the New Orleans, the first steamboat to reach its shores.
The construction of the Miami and Erie canals in the late 1820s provided farmers with transportation to the city where they could market their produce. Businessmen created new industries to process raw products into marketable whiskey, pork and flour. Plagued by religious and political conflicts, many Germans immigrated in the 1830s, followed in the 1840s by Irish driven from their country by the potato famine.
By 1850 Cincinnati was the world's largest pork-packing center, a status that brought the nickname Porkopolis. The South became the city's major market. This caused residents' loyalties to be divided with the approach of the Civil War, but the city eventually supported the Union forces. For a long time it had been a major stop on the Underground Railroad.
Following the war, Cincinnati experienced another burst of prosperity as the resumption of trade between North and South created heavy river commerce. In the 1870s Cincinnati businessmen arranged for the building of a railroad to reach their southern markets.
Modern Cincinnati attracts many companies, including many corporate headquarters and Fortune 500 companies. Fountain Square is the hub. Centered on the historic 1871 Tyler Davidson Fountain, which tops a large underground garage, the square is surrounded by modern office buildings and hotels.
Cincinnati is also home to the 44,000-student University of Cincinnati, founded in 1819, and 7,000-student Xavier University, founded in 1831.
It's not all business in Cincinnati, though. Washington Park offers abundant green space and performance areas. The riverfront is a great destination for recreation or a leisurely stroll.
Bicentennial Commons at Sawyer Point
features playgrounds, a skating pavilion, and tennis and volleyball courts as well as two performance venues and plaques relating tidbits of Cincinnati history. Yeatman's Cove is adorned with the Serpentine Wall, which runs along the river. A 30-foot steamboat paddle wheel that blows steam and plays music is a monument acknowledging the city's riverboat heritage.
The Newport Southbank Bridge, known as the Purple People Bridge thanks to a distinctive paint choice, is a pedestrian bridge linking the Cincinnati riverfront with Newport, Ky., and a nice place to watch river traffic. Smale Riverfront Park enhances the riverfront's recreational and scenic value with a promenade, playground, carousel, gardens, interactive fountains, an event stage and a monument to the Black Brigade.
There are many options for indoor entertainment, too, including the complex of museums at the Cincinnati Museum Center at Union Terminal. One stop offers history, science and children's museums.
A trio of sports venues parallels the Ohio River. Great American Ball Park is home to the Reds, football's Bengals revel in the state-of-the-art Paul Brown Stadium and U.S. Bank Arena features hockey and other events.
By Car
Cincinnati straddles I-75, one of the nation's major north-south routes, shuttling traffic from the Canadian border to the north and Florida's Gulf Coast to the south. A shorter artery, I-71, angles through the city, providing a fast route from Louisville, central Ohio and Lake Erie cities.
Both routes join in the Kentucky suburbs to cross the river via the Brent Spence Bridge. From the north they follow separate alignments to the river but are connected across Ohio suburban areas by the Norwood Lateral Expressway (SR 562) and the Ronald Reagan Cross County Highway (SR 126).
I-71 and I-75 provide good access from I-70, a major transcontinental route that bisects Ohio some 55 miles north of the city, and each interchanges with primary city streets.
US 50 and scenic US 52 funnel east-west travelers to the city from the Indiana and Ohio countrysides; these older roads accommodate mostly local traffic. US 52 offers a scenic trip along the Ohio River east of Cincinnati.
I-74 is the principal link from the west, collecting traffic from some of the nation's busiest thoroughfares, I-80 and I-70, as well as highways from the Chicago area. SR 32 (Appalachian Highway) is a good route from rural areas east of the city.
I-275 (Circle Freeway) swings in a full orbit through the Ohio, Kentucky and Indiana environs. It provides a complete bypass of the city proper and interchanges with all major intersecting routes for easy access to downtown. I-471 offers an additional spur from the Kentucky portion of this circumferential highway into downtown via the Daniel Carter Beard Bridge (colloquially known as the Big Mac Bridge).
Street System
With the aid of a good city map, driving in Cincinnati is relatively easy. The downtown area is laid out in a grid pattern with streets running either north-south or east-west. The numbered streets run east-west beginning with 2nd Street near the Ohio River; named north-south streets intersect them. East-west address numbers start at Vine Street.
Unless otherwise posted, the speed limit on most streets is 25 or 30 mph. Rush-hour traffic, 7-9 a.m. and 3-6 p.m., should be avoided. Right turns on red are permitted unless otherwise posted.
Parking
Metered parking is found on many downtown streets; be sure to check signs and meters for restricted times and limits. There are several commercial garages and lots, and most hotels provide parking for guests. Municipal garage rates vary but generally are $2 for the first 2 hours, $1 for each additional hour up to $15 per day.
Sales Tax
The Cincinnati area has a 7 percent sales tax. A lodging tax of 13.5 percent is applicable in Hamilton County. There is a 12 percent rental car tax with an additional 9 percent recoupment tax. The northern Kentucky lodging tax is 11.24 percent.
Police (non-emergency)
(513) 765-1212
Fire (non-emergency)
(513) 765-1212
Time and Temperature
(513) 721-1700
Hospitals
The Christ Hospital, (513) 585-2000; Good Samaritan Hospital, (513) 862-1400; The Jewish Hospital, (513) 686-3000; Mercy Health Anderson Hospital, (513) 624-4500; Mercy Health West Hospital, (513) 215-5000; UC Health Academic Medical Center, (513) 584-1000.
Newspapers
The major newspaper is the Cincinnati Enquirer. CityBeat is a free weekly detailing the city's events, attractions and nightlife. Cincinnati Business Courier is a weekly newspaper featuring local business stories. They are distributed at hotels, restaurants, shops and sidewalk boxes.
Radio
Cincinnati radio station WLW (700 AM) is a news/talk/weather station. WNKU (89.7 FM); WGUC (90.9 FM); and WVXU (91.7 FM) are members of National Public Radio.
Visitor Information
Cincinnati USA 50 E. Rivercenter Blvd Suite 810 COVINGTON, KY 41011. Phone:(859)581-2260 or (800)543-2613The visitor center is on Fountain Square at 511 Walnut St. and is open Thurs.-Sun. 11-5.
Air Travel
Most major passenger airlines serve the Cincinnati/Northern Kentucky International Airport (CVG). Long-term airport parking costs $8 per day, with free shuttle service to the terminals. AutoPort Terminal Garage is $15 per day and Terminal 3 curbside valet is $24 per day. The Airport Taxi Association offers cabs with fixed fares from the airport to downtown (fare is metered from downtown to the airport). The fixed fare is approximately $30 (one to five passengers). Many hotels provide courtesy car service.
Rental Cars
Hertz offers discounts to AAA members; phone (859) 767-3535 or (800) 654-3080.
Rail Service
The Amtrak station, (800) 872-7245, is at 1301 Western Ave. inside historic Union Terminal.
Buses
Greyhound Lines Inc., (800) 231-2222, 1005 Gilbert Ave., is the major company serving the city. Megabus, (877) 462-6342, offers routes to several cities.
Taxis
Taxis are metered and charge $4 for a pickup and $2 per mile. There is no charge for additional passengers. Taxis can be hailed at downtown hotels or ordered by phone. Companies include Cincinnati Taxi Inc., (513) 666-2184, and Towne Taxi, (513) 761-7700.
Public Transportation
Metro operates buses throughout the metropolitan area. The base fare is $1.75. Exact change is required, and zone and transfer charges are additional. Signs at many bus stops list the numbers of the routes that stop there. For route and schedule information phone (513) 621-4455, Mon.-Fri. 6:30 a.m.-6 p.m. Information also is available at Mercantile Way Arcade, 120 E. Fourth St., Mon.-Fri. 7-5:30; phone (513) 632-7699.
Essentials
Clip-clop through downtown on a horse-drawn carriage ride offered by one of the companies stationed near Fountain Square (Fifth and Vine sts.), Cincinnati's entertainment hub. Don't forget to snap some photos of the iconic 1871 Tyler Davidson Fountain before or after your tour.
Meet all sorts of fascinating creatures—from Bengal tigers to horned puffins to dart frogs—in a beautiful garden setting at the
Cincinnati Zoo and Botanical Garden
(3400 Vine St.). Be sure to check the schedule for the always-amusing shows and feedings, and if you happen to be visiting during the holiday season, don't miss the spectacular PNC Festival of Lights event.
See a Reds—the world's first pro baseball team—ballgame or go on
Great American Ball Park Tours
' (100 Joe Nuxhall Way) guided behind-the-scenes tour of the Reds' 42,271-seat stadium.
Reflect on Cincinnati's role in the fight for freedom at the
National Underground Railroad Freedom Center
(50 E. Freedom Way). Interactive exhibits, professional displays, special-effects films and a children's gallery portray the history of slavery in North America, focusing on the secret network followed by thousands of fugitive slaves seeking liberty.
Shop 'til you drop, then linger over food or drinks in Mount Adams (just north of downtown), one of Cincinnati's most exclusive residential and business districts. Reminiscent of San Francisco, this hip, architecturally stunning hilltop community features narrow streets and an eclectic mix of eateries, bars and specialty stores. Many restaurant decks afford panoramas of downtown, the Ohio River and parts of Kentucky.
Explore Eden Park (950 Eden Park Dr.), a lovely 186-acre green space linked to Mount Adams by the Art Deco-style Ida Street Viaduct. Walk or jog along worn paths and soak up views of the lakes, gardens, memorial tree groves and other landmarks; peruse 6,000 years' worth of captivating art and artifacts at the
Cincinnati Art Museum
(953 Eden Park Dr.); enter greenhouses filled with tropical and desert plants, orchids and bonsai at
Krohn Conservatory
(1501 Eden Park Dr.); or watch a modern American or European drama at Playhouse in the Park (962 Mt. Adams Cir.).
Get tickets to see a show at either the Aronoff Center for the Arts (650 Walnut St.) or Music Hall (1241 Elm St.)—stylistically different but equally lovely buildings. The pair houses many of the city's music, theater and dance companies.
Eyeball some world-class pieces at the
Taft Museum of Art
(316 Pike St.). Displayed in an 1820 Palladian mansion that's a work of art in itself, the museum's outstanding collection includes sculpture, Chinese porcelains, old masters paintings, European decorative arts, antique watches and more.
Brave The Beast and the Diamondback, two roller coasters guaranteed to make you scream, or perhaps the Banshee, the world's longest inverted roller coaster.
Kings Island
in nearby Mason (6300 Kings Island Dr.) thrills families not only with hair-raising rides but also with live stage shows, animatronic dinosaurs, a Peanuts-themed kiddie area, and a water park featuring slides, wave pools and tropical lagoons.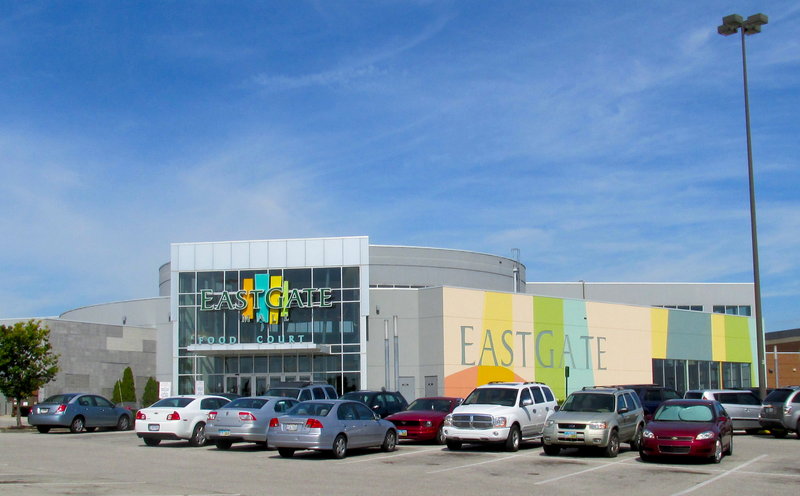 Aesopposea / Wikimedia Commons
Shopping
Whether you are looking for designer fashions or clothing from grandmother's attic, it can be found in Cincinnati's array of department stores, boutiques and specialty shops. Downtown offers Brooks Brothers, Macy's, Saks Fifth Avenue and Tiffany & Co.
Trendsetters must visit Mount Adams, a San Francisco-style hillside shopping and dining area. Novelty shops and fashion boutiques are scattered among restaurants, nightspots and parks. Collegiate-style attire is found in Clifton, where many shops cater to University of Cincinnati students.
Consumer frenzy also can be satisfied at shopping malls, including Eastgate Mall , I-275 exit 63B; Florence Mall , in Florence, Ky.; Kenwood Towne Centre , off I-71N exit 12 or I-71S exit 11 at 7875 Montgomery Rd.; Northgate Mall , I-275 exit 33; and Tri-County Mall , I-275 exit 42. Rookwood Commons & Pavilion, off I-71 exit 6, houses around 45 upscale shops, and Crestview Hills Town Center in Crestview Hills, Ky., offers 300,000 square feet of shops and eateries.
Bargain hunters will love the Cincinnati Premium Outlets only 30 miles north of downtown. Die-hard discount shoppers can travel 60 miles northeast to Tanger Outlets in Jeffersonville, Ohio (8000 Factory Shops Blvd.).
Findlay Market , Race and Elder streets, is an open-air marketplace that is a Cincinnati tradition. In operation since 1852, it offers a variety of ethnic foods within an old world atmosphere.
Performing Arts
The city's arts and entertainment centerpiece is the Aronoff Center for the Arts, 650 Walnut St. between 6th and 7th streets; phone (513) 721-3344 or (513) 621-2787 for tickets. The center's three theaters present more than 10,000 exhibits and performances throughout the year, including Broadway shows and children's theater. In addition, the center is the main performance hall for the Cincinnati Ballet; phone (513) 621-5219 for information or (513) 621-5282 for tickets.
Other professional theaters include Playhouse in the Park, (513) 421-3888, with its two theaters, the Robert S. Marx and the Thompson Shelterhouse, on Mount Adams Circle in Eden Park. These stages present modern American and European plays September through June.
The Ensemble Theatre of Cincinnati, (513) 421-3555, downtown at 1127 Vine St., presents live theatrical shows from September through May. Performances of new plays and well-known modern works are given Tuesday through Saturday evenings and Sunday afternoons.
The Cincinnati Shakespeare Company, at 719 Race St., performs eight to nine classic plays as well as some free traveling performances throughout the summer months; phone (513) 381-2273 for additional information.
Music Hall
, 1241 Elm St., was built by philanthropic leaders in 1878 and is fondly referred to as the Grand Dame of the Queen City. The interior of the red brick edifice is adorned with crystal chandeliers. The hall is a fitting home to the Cincinnati Pops Orchestra and the Cincinnati Symphony Orchestra; phone (513) 381-3300. The Cincinnati Opera, America's second oldest opera company, also performs in Music Hall; its mid-June to late July season includes grand operas, operettas and musicals. Phone (513) 241-2742 for more information.
The University of Cincinnati's College-Conservatory of Music at Jefferson Avenue and Corry Boulevard makes impressive contributions to the area's music scene. A prominent music school, the 1,400-student college offers a variety of performing arts entertainment, ranging from opera and musical theater to dance and drama. There are more than 1,000 performances a year and many of them are free; phone (513) 556-4183 for schedule and ticket information.
Concerts by popular entertainers and groups are often held at the Riverbend Music Center, (513) 232-6220, the summer home of the Cincinnati Symphony and the Cincinnati Pops Orchestra. The Cincinnati Gardens, (513) 631-7793, and the U.S. Bank Arena, (513) 421-4111, also play host to many entertainment and sporting events.
Boat Tours
A river view of Cincinnati is possible aboard the vessels of BB Riverboats and Ride the Ducks, which operate out of nearby Newport, Ky.
Carriage Tours
A guided tour is a good way to become familiar with the city. For those who would like to navigate the downtown area in 18th- and 19th-century style, horse-drawn carriage tours leave from Fountain Square (Fifth and Vine streets).