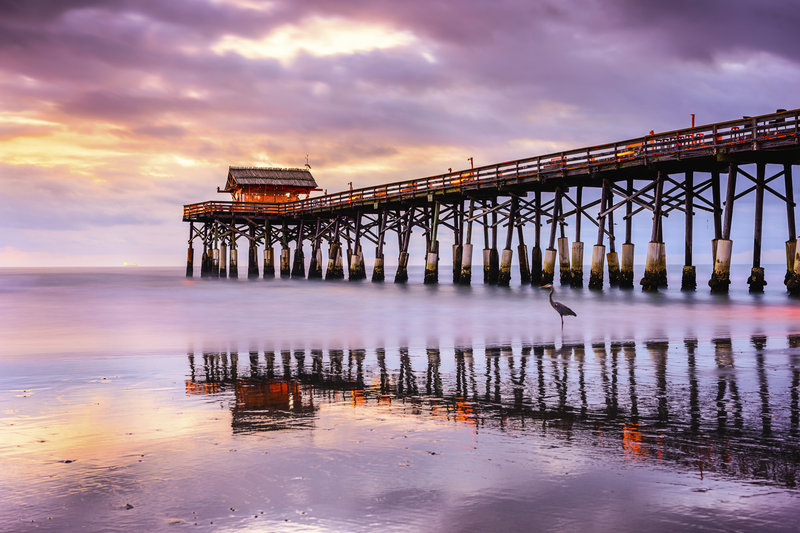 iStockphoto.com / Sean Pavone
Description
Long a popular spot with locals, Cocoa Beach also is known for its location at the heart of the Space Coast. Cocoa Beach Pier extends 800 feet into the Atlantic, affording opportunities for fishing, surfing, dining and dancing.
Visitor Info
Florida's Space Coast Office of Tourism—Cocoa Beach 430 Brevard Ave. Suite 150 COCOA, FL 32922. Phone:(321)433-4470 or (877)572-3224
Shopping
When in Cocoa Beach, a stop at Ron Jon Surf Shop, 4151 N. Atlantic Ave., is definitely a requirement. From bikinis, beach toys and boards to sandals, sunscreen and tiki décor, this multilevel megastore of surf holds everything you need for the beach and the beach lifestyle. Even non-surfers won't feel out of place here, and no one should leave without picking up the ultimate Cocoa Beach souvenir: a Ron Jon T-shirt. Phone (321) 799-8888.
How about a saber cat fossil or a dinosaur egg as a souvenir? While a shop that specializes in dinosaur paraphernalia isn't the first thing you'd expect to find by the beach, The Dinosaur Store, 250 W. Cocoa Beach Cswy., is a happy surprise (unless you have ornithoscelidaphobia, i.e., a fear of dinosaurs). Dig into the assortment of dinosaur-related merchandise, which includes everything from fossils and shark-tooth necklaces to toy triceratops and museum-quality pieces; phone (321) 783-7300.