Description
Crater Lake National Park is on the crest of the Cascade Range, 76 miles east of Medford off I-5 to SR 62; or, from Klamath Falls, take US 97 north 21 miles, then west on SR 62 for 29 miles. The park also can be reached from Roseburg by taking I-5 to SR 138E.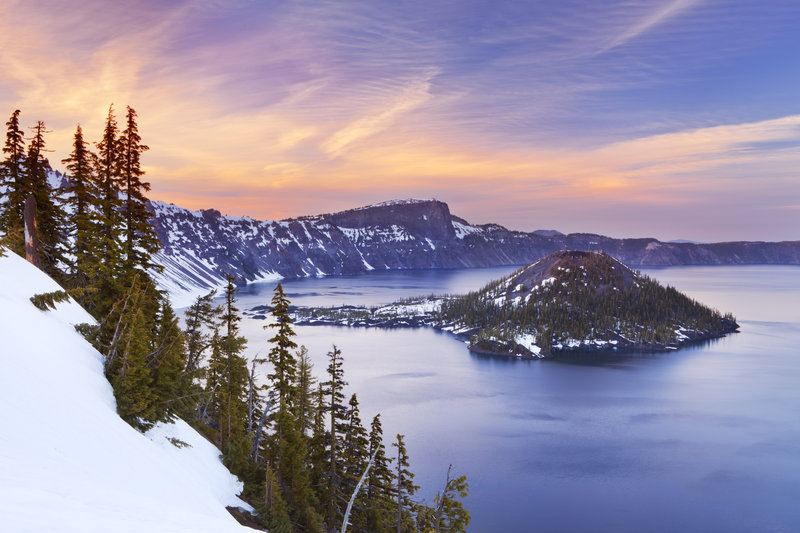 iStockphoto.com / Sara Winter
The park's centerpiece is Crater Lake, noted for its brilliant blue water. The lake is 6 miles long, 4.5 miles wide and 1,943 feet deep. Its 22-mile shoreline is encircled by lava cliffs that rise 500 to 2,000 feet. For much of the year snow covers the mountains and peaks that encircle the lake.
Until about 7,700 years ago, Mount Mazama, a 12,000-foot volcano, occupied the site of Crater Lake. Eruptions emptied the magma chamber beneath the mountain and caused the mountaintop to collapse, creating the caldera that now contains the lake. As volcanic activity slowed, springs, snow and rain began to fill the caldera, resulting in the formation of the nation's deepest lake.
Embracing three zones of vegetation, the park has about 680 species of plants and a variety of trees, including several types of hemlock, fir, pine and spruce. The park also is known for its wildflowers.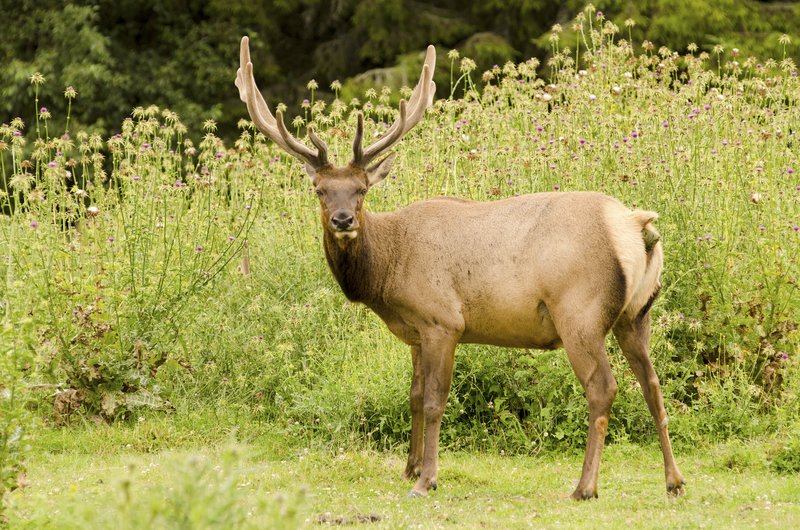 iStockphoto.com / tfoxfoto
Small game is abundant; among the large mammals are black bears, elk and mule deer. More than 200 species of birds have been identified. It is forbidden to feed, tease or in any way molest bears or other wildlife, as they are potentially dangerous and feeding them harms the animals in the long run.
General Information
The park is open daily 24 hours (weather permitting). Except during years of very heavy snowfall, the northern entrance road opens in mid-June; Rim Drive opens in early July. Both remain open until the first heavy snowfall (generally in mid- to late October or early November). Visitors to the park are advised to prepare their cars for snowy conditions from October through June.
The park has two visitor centers, each of which have natural history displays and information about conducted trips, road conditions and points of interest. All-weather roads are open to Steel Visitor Center, 4 miles north of SR 62 from the south park entrance at park headquarters; phone (541) 594-3000. It is open daily 9-5, mid-Apr. to early Nov.; 10-4, rest of year. Closed Christmas.
All-weather roads from the south entrance also are open to Rim Village, on the south side of the lake, via SR 62. Rim Village Visitor Center is open daily 9:30-5, late May-late Sept. (weather permitting). It is the focal point of park activities and the starting point of several trails.
Accommodations at Mazama Village, 7 miles south of Rim Village, and gasoline are available from late May to mid-October. Food is available year-round. The historic, renovated 1915 Crater Lake Lodge at Rim Village also is open mid-May to mid-October. For reservations phone (888) 774-2728.
There are more than 90 miles of maintained trails within Crater Lake National Park—snow usually blocks them from October to July. Mountain trails lead to the summits of several of the high points above the rim and down 764 feet to the lake. The Wizard Island Tail to the rim ascends richly forested slopes that rise high above a lava plateau.
Near park headquarters is Castle Crest Wildflower Trail. The 1-mile Cleetwood Trail, a trail leading to the lakeshore, begins along Rim Drive 11 miles north of Rim Village Visitor Center. The Sinnott Memorial Overlook provides a view of Crater Lake.
Backcountry permits are required for overnight trips and are available free of charge at the visitor centers. Winter snowmobiling is allowed on the north entrance road only. No snowmobile facilities or ski tows are available. Picnicking is permitted.
ADMISSION
ADMISSION to the park is $20 (per private vehicle for a 7-day pass); $15 (per person arriving by motorcycle); $12 (per person arriving on foot or by bicycle). Fares are charged for boat tours.
PETS
PETS must be restricted at all times, either in vehicles or by leash, and are not allowed in public buildings or on trails.
ADDRESS
ADDRESS inquiries to the Steel Visitor Center, Crater Lake National Park, P.O. Box 7, Crater Lake, OR 97604. Phone (541) 594-3000 for visitor information and current road and weather information.
GEM Description
Crater Lake National Park offers scenic drives, hiking trails and the brilliance of its namesake body of water.