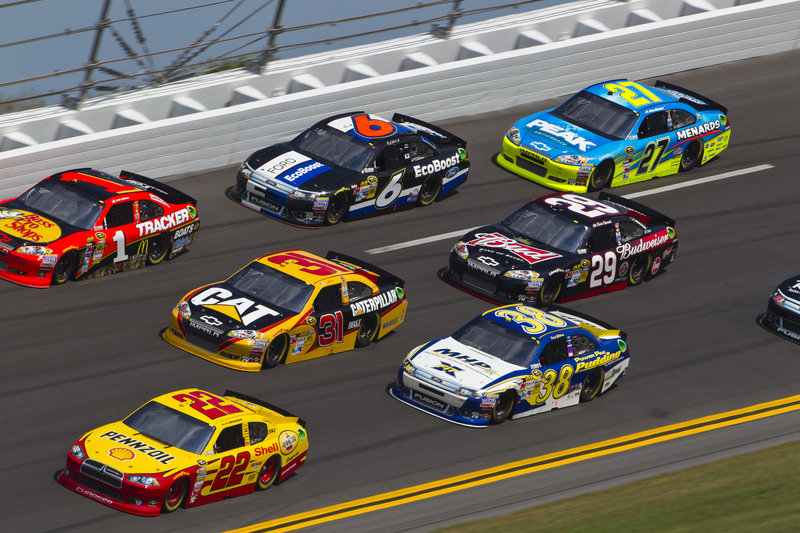 Action Sports Photography / Shutterstock.com
Description
Daytona Beach has been a popular family vacation destination for more than a century. But it was more speedway than beach in the early days of the automobile. Between 1903 and 1935 some 15 speed records were set on the beach racecourse by Barney Oldfield, Sir Henry Segrave and Sir Malcolm Campbell. The racing tradition continues at Daytona International Speedway.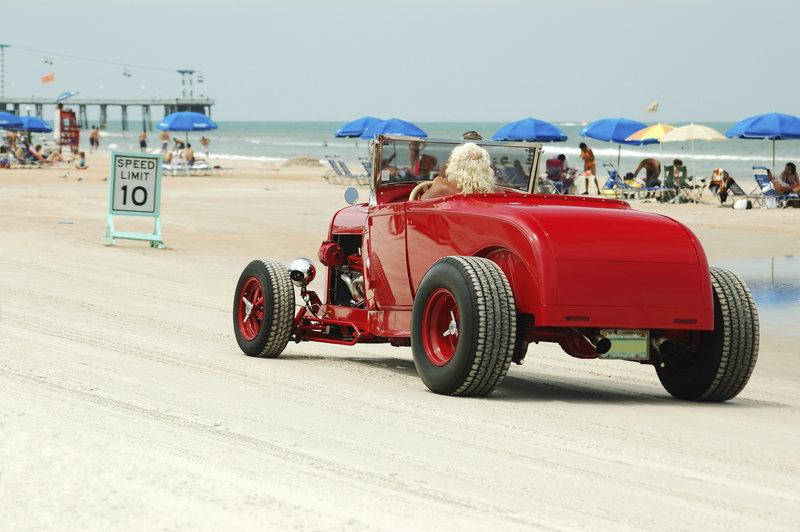 iStockphoto.com / Todd Aarnes
During the day cars may be driven on designated sections of the 23 miles of the hard-packed sand. For safety, beach driving should be done during a low or outgoing tide and never in the water, however shallow. The speed limit on the beach is 10 miles per hour. Drivers should heed all signs, including those indicating conservation areas, where vehicles are prohibited. Overnight parking or camping on the beach is not permitted. Pets are not permitted; this law is strictly enforced.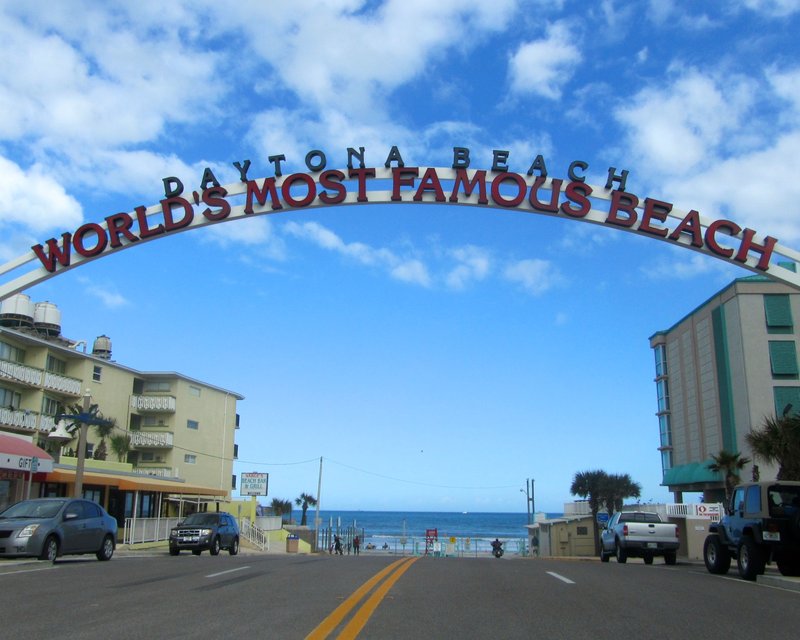 The beach is not open to motor vehicles between Seabreeze and International Speedway boulevards; south of Emelia Avenue in Daytona Beach Shores to Beach Street in Ponce Inlet; at Lighthouse Point Park in Ponce Inlet; between Millsap Avenue and Andy Romano Park; or north of Granada Boulevard in Ormond Beach. A daily beach access toll of $10 per vehicle; tollbooths are at each approach. For beach information phone (386) 239-7873.
Published with permission from AAA associate Diana Beyer
A wide promenade along the ocean is the center of an amusement area anchored on the south by the Daytona Beach Pier. The Daytona Beach Bandshell at the north end of the promenade is the setting for concerts and events, and an entertainment complex provides dining and shopping options.
A scenic portion of SR A1A extends along the ocean from Ormond Beach north to Fernandina Beach, a distance of 110 miles.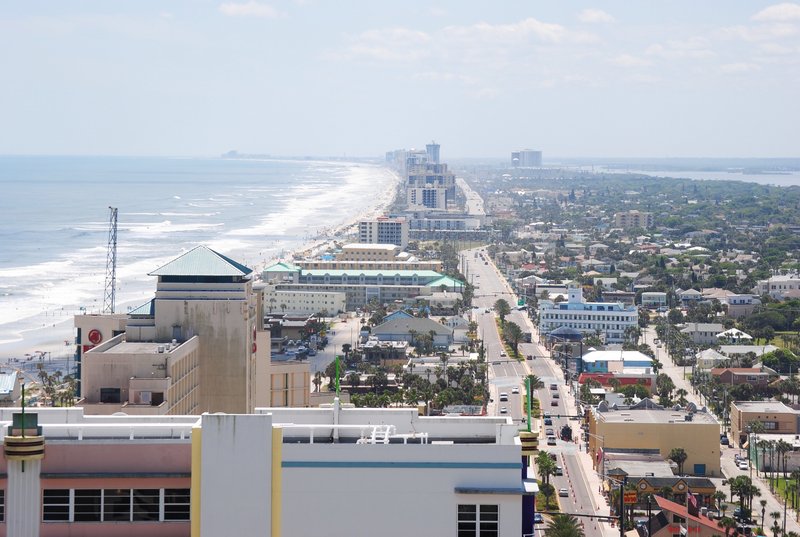 Ocean lovers enjoy sailing, surfing and riding personal watercraft; the Halifax River is a favorite for scenic boat tours as well as boating, fishing, kayaking and sailboarding.
Mary McLeod Bethune founded
Bethune-Cookman University
for the training of African-American women in 1904; it later became an accredited coed college. The campus, off International Speedway Boulevard, includes Bethune's home and gravesite, early buildings and the Dr. Mary McLeod Bethune Performing Arts Center.
Visitor Info
Daytona Beach Area Convention and Visitors Bureau 126 E. Orange Ave. DAYTONA BEACH, FL 32114. Phone:(386)255-0415 or (800)854-1234
Shopping
Visitors who need a break from the sun and sand will discover several unique shopping areas beyond the expected. You can easily find tourist trinkets like a hanging mobile made of hundreds of tiny seashells, a souvenir T-shirt and beach gear galore, but Daytona Beach's trendy clothing boutiques, antique shops, art galleries, flea and farmers markets and a shopping mall will satisfy any of your other shopping needs.
For a taste of old Florida, park your car on the palm tree-lined Beach Street, where you can window shop and pop in and out of quaint shops and cafés at Riverfront Shops of Daytona Beach. Follow the cobblestone sidewalks into such wonderful little emporiums as Arlequin Antiques and Art Work, 122 S. Beach St., where the French-accented proprietress cheerfully explains the stories behind such beautiful pieces as one-of-a-kind Art Deco jewelry, Vargas paintings, religious statuettes and European antiques; phone (386) 252-5498. Viva la France! Take a tour at Angell & Phelps Chocolate Factory, 154 S. Beach St.; the shop sells preservative-free chocolate made on the premises. The chocolate-covered potato chips and pecan brittle should not be missed; (386) 252-6531.
On Saturday mornings from 7 a.m. to 1 p.m., stop at the Farmers Market off Magnolia Avenue on downtown's City Island to stock a picnic basket for your day at the beach. Choose from fresh fruits, vegetables, breads and desserts as well as herbs, seafood and plants.
Join the flip-flop and shorts-clad crowds on North Atlantic Avenue (SR A1A), where a smattering of shops sells every type of souvenir imaginable, including silk-screened T-shirts and the aforementioned seashell mobiles.
Maui Nix Surf Shop is Daytona's quintessential beach shop, carrying a wide selection of all types of apparel necessary for the beach, including surfboards, bathing suits, sandals, hats, tote bags, sunglasses and T-shirts. If you've forgotten to pack any beach attire, you can buy it here. Maui Nix has three locations: at 635 N. Atlantic Ave.; in the Volusia Mall, 1700 W. International Speedway Blvd.; and in the Ocean Walk Shoppes, 250 N. Atlantic Ave.
Motorcycle aficionados who were born to be wild flock to the portion of Main Street between Halifax and Ocean avenues, not only for the biker bars, but also for the retailers dealing in motorcycle parts and leather apparel. If the latest biker fashions are on your shopping list, try Hot Leathers, 801 Main St., for such items as leather jackets and chaps or rhinestone-studded tank tops.
Make a pit stop at The Pit Shop, THE place in town for diehard NASCAR fans, located at Daytona International Speedway. Fervent devotees of stock car racing will find plenty of merchandise to get their motors runnin', including driver medallions, limited edition souvenir programs, die-cast collectible cars and children's onesies emblazoned with the names of their favorite drivers.
Daytona Flea & Farmers Market , 1 mile west of Daytona International Speedway at the junction of I-95 and US 92 at 1425 Tomoka Farms Rd., is a great place to spend a rainy day, as most of the vendors are indoors or under covered booths. Open Friday through Sunday, the market contains more than 1,000 vendors hawking traditional flea market wares; about 100 merchants offer antiques and collectibles for sale. Bring home unconventional souvenirs such as hand-carved tikis, tropical art or golf clubs.
Get your mall fix at the Volusia Mall, 1700 W. International Speedway Blvd. The bright, modern interior includes anchors Dillard's, JCPenney, Macy's and Sears as well as more than 120 specialty shops such as American Eagle Outfitters, Buckle, Gymboree, Sunglass Hut and Victoria's Secret.