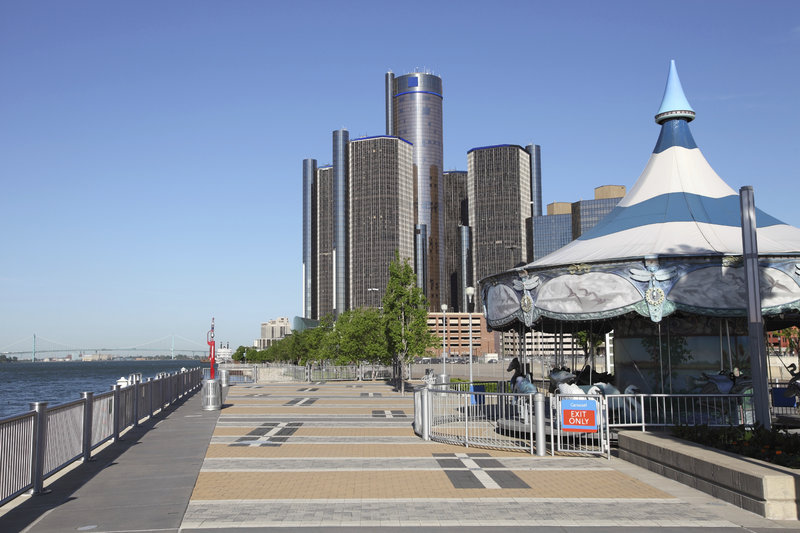 iStockphoto.com / DenisTangneyJr
About the City
AAA editors suggest these activities for a great short vacation experience.
Introduction
In one sense, Detroit's story can be likened to the life cycle of a mythical bird. Before it died the phoenix, so the legend goes, built a nest of twigs that then ignited, reducing both nest and bird to ashes; from those ashes a young phoenix arose, reborn.
iStockphoto.com / Ivan Cholakov
You could say the same thing about Michigan's metropolis. Founded in 1701 by a French explorer, Detroit steadily progressed from fur-trading settlement to major river port to manufacturing giant. By 1920 it was the nation's fourth-largest city; by the midpoint of the 20th century it was the automotive manufacturing center of the world. In the 1960s and '70s a dramatic relocation of residents to the suburbs gave the city a hard-to-shake reputation as a symbol of urban decay. But in recent years downtown Detroit has pulled off an admirably phoenix-like renaissance.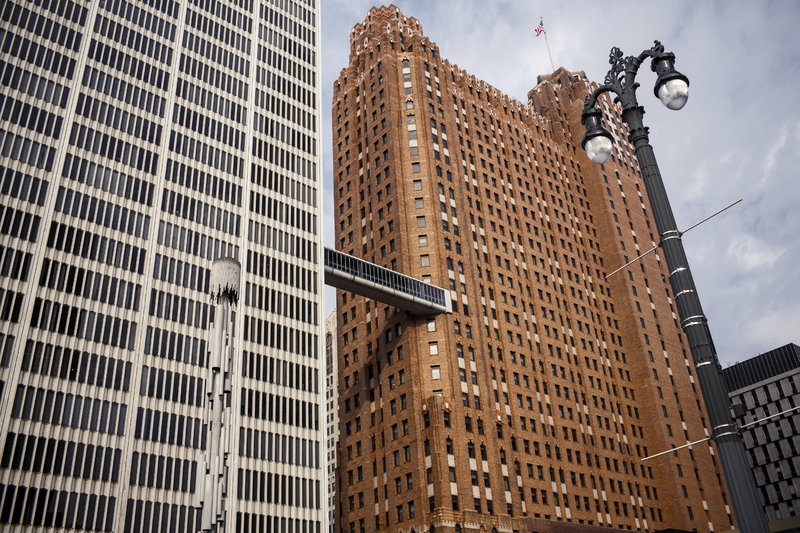 iStockphoto.com / duha127
This is especially evident in gleaming office complexes like the GM Renaissance Center, which happens to be the global headquarters of General Motors. The Detroit RiverFront is a spruced-up pedestrian promenade lined with parks and green spaces where you can stroll along the waterfront in the company of cruise ships and jet skiers, frolic in a fountain and view rotating exhibits of public art. Explore 300 years of American history—and the beginnings of an automotive dynasty—at The Henry Ford. Witness the roots of a musical revolution at the Motown Historical Museum. Tempt Lady Luck at the Greektown Casino. Whatever your pleasure, the Motor City's got you covered.
In Depth
The Mustang. The Four Tops. The Focus. The Supremes. When you're talking about Detroit, it often comes down to two things: cars and music.
In 1701 a fort and missionary outpost was built by the French and given the rather unwieldy name Fort Pontchartrain du Détroit, or the "city of straits," a reference to the Detroit River connecting lakes Erie and St. Clair. This 32-mile-long waterway forms part of the border between the United States and Canada.
A strategic location made the remote settlement a focus of several major tactical campaigns during the seesaw struggle for supremacy between the French and the British. During the French and Indian War British troops not only gained control but shortened the name. The Jay Treaty finalized the transfer of Detroit to the United States, a process begun by the Treaty of Paris in 1783. And when the first steam vessel was launched on the Great Lakes in 1816, it sparked an expansion of industry (shipbuilding in particular).
Flash forward to 1899, when the yet-to-be Motor City was still primarily manufacturing stoves and carriages. Industrialist Henry Ford built the city's first automobile factory, and business rivals General Motors, Chrysler and American Motors soon followed suit. In 1903 the Ford Motor Company was established, and in 1908 Ford introduced the Model T. A practical vehicle propelled under its own power, it was simple to drive and easy to repair. Sales skyrocketed, which led to the development of mass-production assembly lines and a revolution in both American industry and transportation.
The growth of the automobile industry busted the town right out of its river-hugging confines. European immigrants—as well as Southern whites and African-Americans—flooded into the city, looking for work. Auto manufacturing plants sprang up. Labor unions proliferated. Mansions were built. Skyscrapers rose. By 1950 Detroit was the nation's fifth most populous city.
It was an auto-worker-turned-professional-songwriter who was directly responsible for Detroit's second momentous 20th-century contribution. Founded by Berry Gordy Jr. in 1959 with a small family loan and the urging of friend and fellow songwriter Smokey Robinson, Motown Records, aka "Hitsville U.S.A.," was a black-owned business that produced hit after hit and introduced a nation to Marvin Gaye, Stevie Wonder, Diana Ross, Michael Jackson and other artists—many of them locals.
The Motor City's fortunes have bounced up and down since then. Ford lost millions of dollars when American car buyers failed to warm to the Edsel. Riots in 1967 wreaked inner-city havoc. Gordy left town, relocating Motown to Los Angeles in 1972. The construction of freeways facilitated an exodus from the city to the suburbs; by 2009 Detroit's population had shrunk to half of what it had been six decades earlier.
In recent years even the seemingly recession-proof auto industry has struggled, with a sluggish economy forcing both Chrysler and General Motors to file for Chapter 11 bankruptcy protection in 2009. That crisis was short-lived, however, and the annual North American International Auto Show, where automakers unveil their new models, is a reminder that Detroit is still the auto industry's headquarters.
One delightful result of downtown's revitalization is the Detroit RiverWalk, a waterfront promenade extending for more than 3 miles that features parks and green spaces. You can stroll, jog, bike and fish. There are lovely views of the Ambassador Bridge and the Windsor skyline across the water in neighboring Ontario. Kids love the old-fashioned carousel. Cruise ships depart from the passenger terminal at Hart Plaza, which is also the scene of summertime festivals. Detroiters know that there's more to this city than factory assembly lines.
By Car
I-75 passes through central Detroit from the south (via Toledo, Ohio) and the north (via Flint). I-94 approaches from the west, skirts the northern part of downtown and continues northeast to the Ontario border. I-96 also approaches from the west via Grand Rapids and Lansing.
From the east, Canada Hwy. 3 crosses the Detroit River from Windsor, Ontario, via the Ambassador Bridge, providing access to I-96, I-94 and I-75. Canada Hwy. 401 becomes Ouellette Avenue in downtown Windsor, then enters the Detroit-Windsor Tunnel, providing a direct link to downtown Detroit, SR 10 (John Lodge Freeway) and I-75 northbound. The bridge toll for automobiles is $5. The tunnel toll for automobiles is $4.50 from Windsor to Detroit; $5 from Detroit to Windsor.
Street System
Most of Detroit is laid out in a basic grid pattern. However, the central downtown area—where many tourist attractions are located—is confusing to negotiate, especially for first-time visitors. Many streets are one-way; make sure you have a detailed map. Avoid rush-hour traffic, generally 7-9 a.m. and 4-6:30 p.m.
Jefferson Avenue, paralleling the downtown riverfront, is a major east-west thoroughfare; Cass and Woodward avenues are major north-south thoroughfares. I-375, I-75, I-94, I-96 and SR 10 (John Lodge Freeway) all provide access to more outlying parts of the city as well as the surrounding suburbs of the Detroit metropolitan area.
Parking
Metered parking is minimal in downtown Detroit; most of the more than 8,000 meters are in the fringe areas. To compensate for this, Detroit has many municipal and privately operated parking lots and garages. Rates range from approximately $2.50 to $5 for the first hour and average 50c to $1 for each additional hour. Daily rates run $10-$20 depending on the venue. Parking is free at all casinos.
Public Transportation
The first phase of the planned intercity rail service between Detroit and Ann Arbor is the QLINE streetcar service, a 6.6-mile line (12 stops) along Woodward Avenue. Fare is $1.50 for a 3-hour pass and $3 for an all-day pass. Streetcars arrive about every 15 minutes Mon.-Thurs. 6 a.m.-11 p.m., Fri. 6 a.m.-midnight, Sat. 8 a.m.-midnight and Sun. 8 a.m.-8 p.m. The Detroit-Metro Airport-Ann Arbor Commuter Train is several years away.
The Detroit People Mover elevated light-rail system includes 13 stations along the 2.9-mile route; it's a convenient way to get to popular tourist destinations like Greektown and Renaissance Center without driving. Many of the stations also feature displays of art; snaking tubes of multicolored neon stretch across the sides and windows of the Greektown station.
People Mover trains operate Mon.-Thurs. 6:30 a.m.-midnight., Fri. 6:30 a.m.-2 a.m., Sat. 9 a.m.-2 a.m., Sun. noon-midnight. Hours are extended during major sports and other events. The fare is 75c; free (ages 0-4). Exact change is required; tokens also can be purchased. Free maps of the system are available at the stations. For more information phone (313) 224-2160 or (800) 541-7245.
The Detroit Department of Transportation (DDOT) provides bus service throughout the city. The base fare is $1.50; 75c (Medicare cardholders and students with a DDOT ID); 50c (ages 65+ and disabled passengers); free (up to three children under 44 inches tall with an adult). Transfers cost 25c; 10c (ages 65+, Medicare cardholders and students). Multiday and monthly passes also are available. For schedule and route information phone (313) 933-1300, or (313) 834-3434 (TTY).
The Rosa Parks Transit Center at Michigan and Cass avenues serves as a 24-hour connection hub for DDOT, SMART and Transit Windsor bus routes as well as People Mover traffic. The three-story, glass-and-steel building is equipped with distinctive, flowing white fabric canopies that are not only a downtown landmark but also provide protection from the elements for boarding passengers.
Sales Tax
Detroit has a 6 percent lodging tax; a 5.9 percent tax is levied on automobile rentals.
Police (non-emergency)
(313) 267-4600
Hospitals
Detroit Receiving Hospital/University Health Center, (313) 745-3000; Harper University Hospital, (313) 745-8040; Henry Ford Hospital, (313) 916-2600; St. John Hospital and Medical Center, (313) 343-4000; and Sinai-Grace Hospital, (313) 966-3300.
Newspapers
The two daily newspapers—The Detroit News and Detroit Free Press—are supplemented with a variety of weekly papers.
Radio
Detroit radio station WWJ (950 AM) is an all-news/weather station; WDET (101.9 FM) is a member of National Public Radio.
Visitor Information
Detroit Metro Convention & Visitors Bureau 211 W. Fort St. Suite 1000 DETROIT, MI 48226. Phone:(313)202-1800 or (800)338-7648Maps, brochures, calendars of events, lists of sightseeing companies and hotel location maps are available from the visitors bureau.
Air Travel
The major Midwestern hub for Delta, Detroit Metropolitan Wayne County Airport (DTW) is about 21 miles west of downtown off I-94 exit 198. Major commercial and international airlines offer regularly scheduled flights. Allow at least 45 minutes' travel time between the airport and downtown Detroit. Most taxi fares are on a meter system. The fare between the airport and downtown averages about $50; fuel surcharges may apply. Taxi services include Metro Airport Taxi, (800) 745-5191, and Metro Cab, (734) 997-6500.
Metro Cars, (734) 946-5700 or (800) 456-1701, offers luxury sedan service from the airport to downtown Detroit, Dearborn, Grosse Pointe, Troy and other suburban locations. Fares range from about $50 for Dearborn to $115 for Auburn Hills; fuel surcharges may apply.
Rental Cars
Car rental companies may be found at the airport. Hertz, (800) 654-3080, offers discounts to AAA members.
Rail Service
Amtrak stations are at 11 W. Baltimore Ave. in the New Center area and in Dearborn at 21201 Michigan Ave. in the John D. Dingell Transit Center. Train service to various parts of the country is provided; phone (800) 872-7245.
Buses
Greyhound Lines Inc. serves Detroit. The terminal is at 1001 Howard St.; for information about fares and schedules phone (800) 231-2222.
Taxis
Taxis operate on a meter system. The basic charge is $2.50, plus $1.60 per mile (no extra charge for additional riders). The largest companies are Checker Cab, (313) 963-7000; City Cab, (313) 833-7060; and Metro Cab, (734) 997-6500.
For many Detroiters, shopping for fresh fruits, veggies, flowers, baked goods, homemade jams and specialty foods from nuts to honey at Detroit's Eastern Market (just off the I-75 Mack Avenue exit) is a Saturday morning ritual. From June through September the market also operates on Tuesday, and the Sunday Street Market features local artists, musicians and food trucks. Six blocks of Russell Street are lined with vendor stalls, and farmers from as far away as Ohio come here to sell their specialties.
The beloved Detroit Tigers play home games at Comerica Park (2100 Woodward Ave.), where you can salute former greats Ty Cobb, Al Kaline and Willie Horton (their statues, along with those of other players whose numbers have been retired, stand at the left center field concourse). For ticket and schedule information, phone (313) 962-4000 or (866) 668-4437.
Shopping
The closest thing to mall-type shopping in downtown Detroit is at the GM Renaissance Center, where the two dozen or so retailers cater to businesspeople. A bonus: Shoppers can wander around the RenCen's five-story atrium and enjoy views of the rejuvenated downtown waterfront. The usual rock 'n roll memorabilia is on display in the store inside the Hard Rock Cafe Detroit, 45 Monroe St. (just north of Campus Martius Park).
For heavy-duty malling, head to the city's northern suburbs. The Somerset Collection, 2800 W. Big Beaver Rd. in Troy, has an elegant look and major anchor stores (Nordstrom and Macy's on the north side of Big Beaver Road, Neiman Marcus and Saks Fifth Avenue on the south side). Among the more than 180 additional stores and boutiques are standbys like Ann Taylor, Louis Vuitton and The North Face.
The Village of Rochester Hills, 104 N. Adams Rd. in Rochester Hills, has some 50 shops and restaurants in a residential setting complete with parks and tree-lined sidewalks. At Great Lakes Crossing, 4000 Baldwin Rd. in Baldwin Hills, you can shop and get some exercise at the same time; this enormous outlet mall is laid out in one big oval. Drop the kids off at the play area in the food court and then do some serious bargain hunting at the Brooks Brothers Factory Store, H&M, Levi's Outlet Store, Victoria's Secret Outlet and many others.
For more suburban shopping, head to Royal Oak. Specialty shops are sprinkled along S. Washington Avenue (2 blocks west of Main Street).
Scout (508 S. Washington Ave.) has lots of things—decorative glass jars, extravagant candles, miniature terrariums—that you don't need but will want to own anyway. It's eye candy for browsers, as most items are on the pricey side. For classic clothing—1920s dresses, groovy '60s pea coats, '70s leisure suits—Lost and Found Vintage (510 S. Washington Ave.) is where it's at. There are more racks of items for women than men, although guys can hunt for T-shirts, custom belt buckles and awesome ties.
Downtown Detroit has more than its share of stores that stock the interesting and unusual. Duck into City Bird (460 W. Canfield St.) and browse for jewelry, coffee mugs and lots of Detroit-themed gifts—the store's owners spotlight the work of local artists.
Visitors looking for that special souvenir should be able to find it at Pure Detroit (500 Griswold St., a block west of Woodward Avenue). In addition to T-shirts, hoodies, tote bags, caps, Faygo soda pop (a much-beloved local brand that comes in more than 50 flavors) and cookies in the shape of cars, there's a selection of locally produced Pewabic Pottery. The store is in the lobby of the historic Guardian Building, a beautifully restored Art Deco building once nicknamed "the Cathedral of Finance." There's another Pure Detroit location at 3011 W. Grand Blvd. and a third at the Renaissance Center.
Support local artists by making a purchase at the Spiral Collective (4201 Cass Ave.). Several vendors share the communal space, selling art, gifts and books, many with a Detroit-centric twist. Audiophiles will definitely want to check out Peoples Records (1464 Gratiot Ave.), where boxes decorated with cool paint jobs are filled with vinyl albums and 45s—'50s and early '60s rock 'n roll, jazz, Motown, classic soul, country and blues. The staff is friendly and, if you're searching for something specific, very knowledgeable. A second location is at 20140 Livernois Ave.
Many Detroit foodies make a weekly pilgrimage to the Eastern Market, which has been in business since 1891. On Saturdays, more than 200 stalls set up in Victorian buildings and huge open-air sheds along Russell Street. That means a bounteous supply of seasonal fruits and veggies, notably Michigan-grown apples in the fall. There's an exceptional variety of homemade jams and jellies (Mountain Dew jelly is one of the intriguing choices), maple syrup, honey, cider, baked goods and specialty foods. A Sunday Street Market featuring local artists, musicians and food trucks takes place June through September. During that same June-through-September period the market also operates on Tuesdays. It's located about a mile northeast of downtown off the I-75 Mack Avenue exit. First-time visitors might want to stop by the market welcome center at 1445 Adelaide St., between Sheds 2 and 3.
And if you're in the neighborhood (W. Willis Street, 2 blocks west of the Wayne State University School of Medicine), Avalon International Breads is worth a stop for fresh-baked loaves, good hot coffee and yummy treats like cherry-walnut scones and a chocolate-y vegan granola bar. There's hardly any seating at this tiny bakery, so get your goodies to go.
Performing Arts
Ever since the Detroit Symphony Orchestra gave its first concert in 1887 at the Detroit Opera House, audiences have been treated to outstanding performances and such eminent guest artists as Igor Stravinsky, Marian Anderson and Sergei Rachmaninoff. Under music director Leonard Slatkin, the orchestra performs classical, pops, jazz and young people's concerts from September through June at Orchestra Hall, 3711 Woodward Ave. The venue is noted for its superb acoustics. Concertgoers under the age of 37 should take advantage of 37eleven membership; tickets that normally cost as much as $125 can be purchased for just $11. Phone (313) 576-5111 for the box office.
The Michigan Opera Theatre performs classics like "The Nutcracker" and "Swan Lake" at the Detroit Opera House, 1526 Broadway St. Touring dance company productions as well as other musical and comedy shows also take place at the 2,700-seat venue. Phone (313) 237-7464 for the box office.
When it comes to ornate decoration, Detroit's crown jewel is the Fox Theatre, 2211 Woodward Ave. This is one of five original movie palaces (the others are in Atlanta, Brooklyn, St. Louis and San Francisco) built in the late 1920s by motion picture mogul William Fox. The gorgeously restored interior is a feast of eye candy, from the sprawling lobby—six stories high, with a terrazzo tile floor inlaid with brass—to the enormous crowned and gilded elephant head ensconced above the stage.
Everything about the Fox smacks of a special occasion, right down to the cinnamon-roasted almonds sold at the concession stand. The calendar includes touring Broadway shows, pop music stars and seasonal events; phone (313) 471-6611 for information. Next door, at 2115 Woodward Ave., is The Fillmore Detroit (formerly the State Theatre), smaller and not quite as ornate, with a lineup of mostly rock, pop and hip-hop concerts. Hint: While there isn't a bad view in the house, get mezzanine seats if you'd rather not stand on the frequently rowdy main floor. Phone (313) 961-5451 for the box office.
The Masonic Temple, 500 Temple St., is a huge building that has more than 1,000 rooms and two stunning ballrooms—the oval Fountain Ballroom and the chandelier-filled Crystal Ballroom—that are frequently used for lavish wedding receptions. Music concerts and special events take place in the Masonic Temple Theatre; phone (313) 832-7100 for show information, (313) 638-2724 for the box office.
Adorned with marble, walnut paneling and bronze accents, the Fisher Theatre (3011 W. Grand Blvd.) is a favorite venue for traveling Broadway shows. Phone (313) 872-1000 for ticket information. The Music Hall Center for the Performing Arts, 350 Madison St. (just south of Comerica Park and Ford Field), offers a variety of live performances, from Broadway veterans to the National Acrobats of China; phone (313) 887-8501 for the box office.
For more than half a century the community-based Detroit Repertory Theatre has championed the work of up-and-coming African-American playwrights. Four major productions are staged annually at this intimate 194-seat space, each running approximately 8 weeks. The theater is off the John Lodge Freeway/SR 10 Glendale exit (northbound) or Elmhurst exit (southbound), following signs to 13103 Woodrow Wilson St.; phone (313) 868-1347 for ticket information.
The Hilberry Theatre, 4743 Cass Ave. (on the campus of Wayne State University), presents six productions—a mix of classic and modern plays—in rotating repertory from October to mid-May. Also on campus is the Bonstelle Theatre (3424 Woodward Ave., a block south of Mack Avenue); the undergraduate company at this 1,200-seat, Broadway-style theater presents four shows a year, from Shakespeare to hip-hop adaptations. Phone (313) 577-2960 for the Bonstelle box office, (313) 577-2972 for the Hilberry box office.
The Majestic Theatre, 4140 Woodward Ave., was built in 1915 and has functioned as a movie palace, vaudeville house, church and photographic studio, all the while retaining its Art Deco facade. These days alternative, indie rock and hardcore punk bands play the venue, which is standing room only. The White Stripes, a Detroit garage rock band that achieved notable success over the course of a decade before breaking up in early 2011, got their start at the Magic Stick, a smaller venue complete with pool tables. The Majestic complex also includes a bowling alley with 16 glowing lanes and a soundtrack of DJ-spun rock, punk, soul and funk records. Phone (313) 833-9700.
Little Caesars Arena, 2645 Woodward Ave., is a brand-new sports and entertainment arena that is home to the Detroit Pistons and Red Wings teams. The events calendar encompasses a wide array of sports, shows and concerts. Phone (313) 471-7000.
The DTE Energy Music Theatre, 7774 Sashabaw Rd. in Clarkston (follow signs off I-75 exit 89), is a 15,000-seat amphitheater that offers a summer schedule of concerts. Similar, but on a smaller scale, is the Meadow Brook Amphitheatre, 3554 Walton Blvd. in Rochester Hills. This outdoor venue enjoys a scenic wooded setting and has covered pavilion seating as well as a sloping lawn area. For ticket information regarding either facility, phone (248) 377-0100.