Description
Eight miles northwest of Watrous on SR 161 (off I-25 exit 366), ranks of chimneys are stark reminders of the days when Fort Union was one of the largest military posts on the Southwestern frontier. From 1851 until 1891 Fort Union was the chief quartermaster depot for all garrisons throughout the region as well as the primary station for troops assigned to protect settlers and Santa Fe Trail travelers.
The site was well chosen, for the two branches of the Santa Fe Trail—the Mountain Branch and the Cimarron—pass through the Fort Union Valley. In addition, the remote location put the soldiers closer to the tribes and farther from towns that might distract them from their duties.
A group of log buildings west of Wolf Creek constituted the first Fort Union. For a decade it served as a way station on the Santa Fe Trail and as a headquarters for battling the Utes, Jicarilla Apaches, Comanches and Kiowas.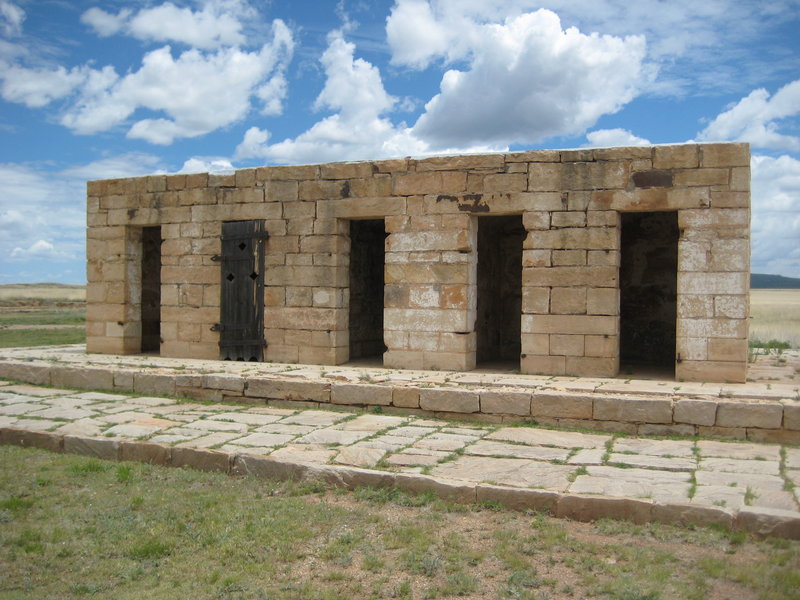 The outbreak of the Civil War abruptly turned the Army's attention away from these conflicts. The second Fort Union, an earthwork defense bastion, was built east of the creek in late 1861. It was constructed by local volunteers just before Confederate forces from Texas, eager to control Colorado's mineral resources and Fort Union's supplies, swept up the Rio Grande Valley. After their supply train was destroyed in the Battle of Glorieta, the Confederate troops retreated and headed for home.
The third fort dates from the mid-1860s; its garrison, quartermaster depot and arsenal still stand today. For the next 15 years the Indian wars occupied the military, while tons of goods flowed through the depot. Gradually local tribes were subdued. The Santa Fe Railway reached New Mexico in 1879, making travel safer. Fort Union was abandoned in 1891.
Interpretive signs relay the history of the fort and the local area. A self-guiding 1.25-mile interpretive trail explores 100 acres of adobe ruins. A half-mile trail also is an option. A visitor center containing a museum relates fort history. Living-history demonstrations and other events are offered during summer. Daily 8-5, Memorial Day-Labor Day; 8-4, rest of year. Closed Jan. 1, Thanksgiving and Christmas. Free. Phone (505) 425-8025.