Description
Gettysburg National Military Park virtually surrounds the town of Gettysburg; the main entrance is at the Museum and Visitor Center at 1195 Baltimore Pike. The park comprises the Gettysburg battlefield, where one of the most important and hotly contested battles of the Civil War was fought July 1-3, 1863. It also was the bloodiest battle of the war, resulting in 51,000 wounded, captured or killed.
iStockphoto.com / Dwight Nadig
The Federal Army of the Potomac, under Major Gen. George Meade, met the Confederate Army of Northern Virginia, under Gen. Robert E. Lee. Some 168,000 soldiers were at Gettysburg. The battlefield covers 25 square miles.
After his victory at Chancellorsville, Va., Lee invaded Pennsylvania, hoping to draw the Union Army away from Richmond. On the morning of July 1 two Confederate brigades attacked Gen. John Buford's cavalry division. Fierce fighting followed, and the Union forces were driven back to the heights south of town, known as Cemetery Hill, Cemetery Ridge and Culp's Hill. That night the armies moved into battle position. Confederate assaults on both Union flanks gained some ground late the next day in some of the heaviest fighting of the battle.
On the third day, after a heavy 2-hour artillery barrage, a Confederate force advanced on the center of the Union line in the face of deadly fire that shattered their ranks. They retreated on the evening of July 4, ending the last major offensive of Lee's army and presaging the war's outcome 22 months later.
On Nov. 19, 1863, President Lincoln dedicated Soldiers' National Cemetery on the battlefield, delivering his most famous speech, the Gettysburg Address.
There are now more than 1,300 monuments and memorials, three observation towers and 31 miles of marked avenues.
On Cemetery Ridge, Meade, commander of the Union forces, is depicted on his horse. His headquarters on Taneytown Road is preserved. In the spring, summer and fall there are interpretive walks to the National Cemetery as well as to other battlefield sites.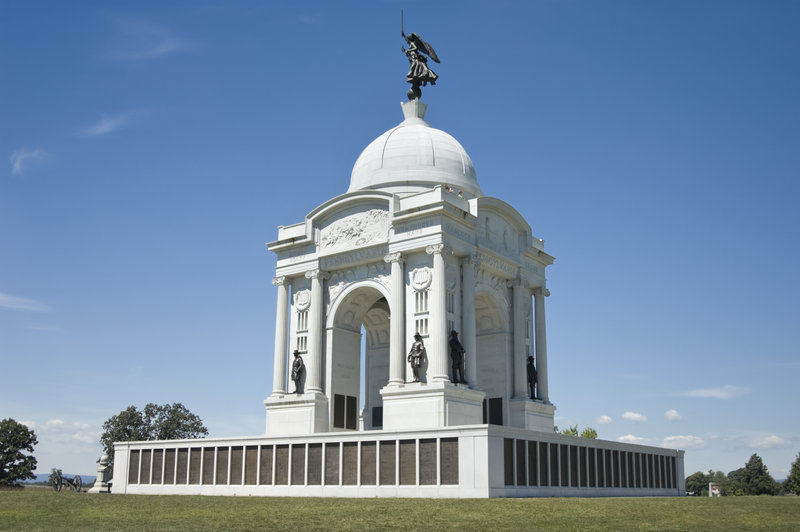 iStockphoto.com / catnap72
Many states have erected monuments in the park. The Virginia memorial is surmounted by a statue of Lee, and the North Carolina memorial was designed and carved by Gutzon Borglum, sculptor of Mount Rushmore.
The park roads are open daily 6 a.m.-10 p.m., Apr.-Oct.; 6 a.m.-7 p.m., rest of year. Phone (717) 334-1124, or (877) 874-2478 for advance ticket purchases.
Eisenhower National Historic Site
GEM Description
Between July 1 and July 3, 1863, some 168,000 men fought here to determine the course of American history.