Description
Harpers Ferry National Historical Park is on US 340 at the scenic confluence of the Shenandoah and Potomac rivers. The 3,823-acre park is comprised of several areas: the Lower Town, Maryland Heights, Loudoun Heights, Bolivar Heights, Cavalier Heights, Short Hill, Virginius Island, Murphy Farm and School House Ridge North and South. Maps and guides are available at the park visitor center on Cavalier Heights, about 1 mile west of the Shenandoah River bridge.
Congress authorized a national monument here in 1944, and the area was declared a National Historical Park in 1963. Shuttle buses connect the visitor center with the Lower Town, the site where George Washington persuaded the federal government to construct a national armory and arsenal and where John Brown led his famous raid in 1859.
Park exhibits and museums in more than two dozen restored 19th-century buildings, including John Brown's fort, John Brown Museum, the Provost Marshal office, Civil War Museum, Industry Museum and Restoration Museum, reflect the diverse historical events that shaped the region: the first successful application of interchangeable manufacture; the arrival of the first successful American railroad; John Brown's attack on slavery; the largest surrender of Federal troops during the Civil War; and the education of former slaves at Storer College, one of the earliest integrated schools in the United States.
John Brown's Fort, on Arsenal Square, was the scene of Brown's capture. The 1848 brick armory firehouse was dismantled and moved to Chicago after the Civil War; the building was later moved to the Murphy Farm then Storer College campus before being restored to a site 150 feet east of its original location. The granite John Brown Monument marks the original site of the firehouse where Brown and his men made their stand.
The 1782 Harper House is the oldest surviving structure in Harpers Ferry. The lower level of this home exhibits an armory worker's apartment.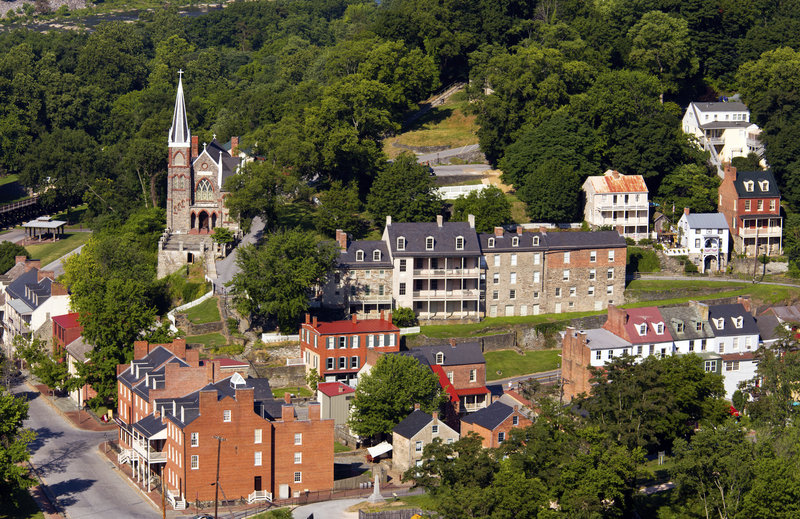 iStockphoto.com / BackyardProduction
Guided tours are available throughout the summer. Hiking trails lead to Maryland Heights, 1,448 feet above the rivers, where remnants of Civil War fortifications and campsites are visible. A walking tour of Virginius Island on the banks of the Shenandoah River reveals the ruins of a once-thriving industrial community. The foundries, mills and factories that survived the war were leveled by record floods in 1870 and 1889.
The park and visitor center are open daily 9-5; closed Jan. 1, Thanksgiving and Christmas. Admission (valid for 3 days) is $10 per private vehicle carrying up to 7 passengers; $5 for individuals (ages 16+) arriving by foot or bicycle. Credit cards are only accepted at Cavalier Heights entrance. Phone (304) 535-6029.
GEM Description
Exhibits and museums in more than two dozen restored 19th-century buildings reflect historical events, including legendary abolitionist John Brown's arsenal raid.