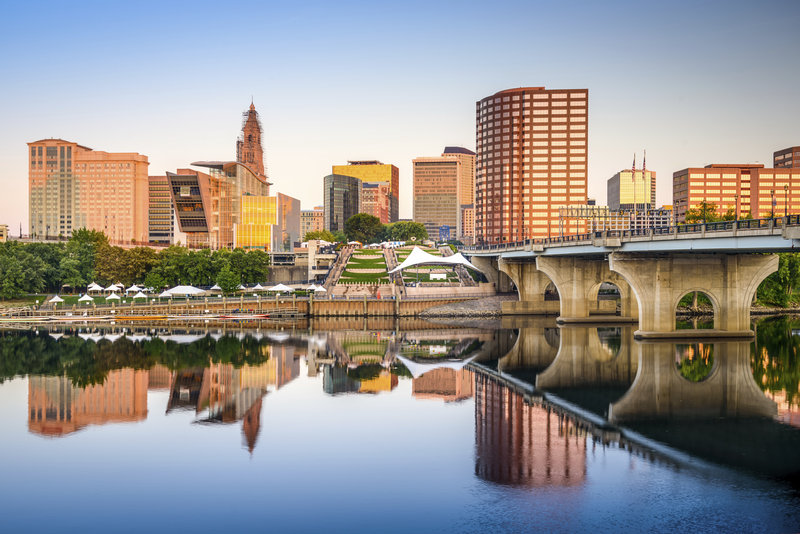 iStockphoto.com / Sean Pavone
Introduction
When merchants formed the Hartford Fire Insurance Co. in 1810, Hartford began its transition from trading center to insurance capital of the world. Today many of the country's biggest insurance companies are headquartered or have a significant presence in the city, and the original group, now known as the Hartford Financial Services Group, still operates there.
But Hartford has a varied history and a wide range of other contributions. It boasts the Wadsworth Atheneum Museum of Art, the oldest public art museum in the United States. Founded in 1842, the Wadsworth Atheneum has a permanent collection of more than 45,000 works and it continues to grow, with plans under way for office relocation that will free up additional gallery space.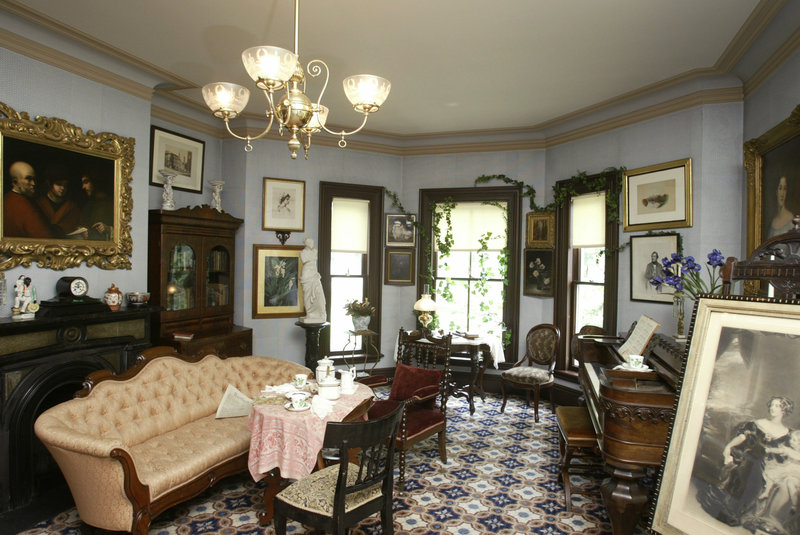 Courtesy of Harriet Beecher Stowe Center, Hartford, CT
In the Nook Farm community of Hartford, Samuel Clemens wrote of adventures on the Mississippi River, and Tom Sawyer and Huckleberry Finn were born. Harriet Beecher Stowe lived across the lawn from Clemens, and both of their homes—hers gray and unadorned, his whimsically decorative—now house exhibits and are open to the public.
Not far away in West Hartford, Elizabeth Park Rose Garden is the country's first municipally owned rose garden. Each year a weekend festival in June marks the blooming of its 15,000 rosebushes in hundreds of varieties. And for faster-paced outdoor entertainment, Lake Compounce Theme Park, the nation's oldest continuously operating amusement park, offers heart-stopping thrills and family attractions in nearby Bristol.
In Depth
Contemporary Hartford is a dynamic blend of the past and future—its Ancient Burying Ground is only blocks away from the boat-shaped headquarters of Phoenix Life Insurance Co., while Bushnell Park, the nation's oldest public park, sits across from Union Station, the city's bustling transit hub.
Although much of Hartford's reputation rests on the creation and collection of insurance premiums, this state capital can claim a boisterous history. Hartford grew from a Dutch trading post in 1633 into an English settlement founded 1636 by the Rev. Thomas Hooker and Samuel Stone. Its name derives from Stone's birthplace in Hertford, England.
Hartford was the site of one of the first Colonial efforts to resist English rule. In 1687 Sir Edmund Andros, the English governor, demanded that Hartford's citizens relinquish a 25-year-old charter granted by King Charles II that gave the colony its independence; the colonists hid the charter in the trunk of a large oak tree for about 3 days. A round stone marker on Charter Oak Place marks the spot where the oak stood until a storm brought it down in 1856.
By the 1870s Hartford had the highest per capita income in the country, and philanthropists and world literary figures made their homes here. Mark Twain and Harriet Beecher Stowe were neighbors in the lovely and exclusive Nook Farm area. The newspaper they read, The Hartford Courant, was founded in 1764 and today has the oldest continuous name and circulation of any newspaper in the country.
Hartford's path to insurance capital of the world began with the establishment of the Hartford Fire Insurance Co. in 1810; eventually insurance companies expanded both in number and in scope of coverage until they formed today's multibillion-dollar industry. And they're an architecturally interesting lot. The 527-foot Travelers Tower is the city's second-tallest building (and was the seventh tallest in the world when it was completed in 1919).
Brownstone, red brick and a gold dome characterize the design of Aetna's corporate office on Farmington Avenue. The Colonial Revival building was modeled after Connecticut's Old State House. The green-tinted headquarters of the Phoenix Life Insurance Co. at Constitution Plaza is known as the "Boat Building" because of its distinctive two-sided shape; it incorporates early 1960s Modernist design features that also turn up in New York City's United Nations Building and Lincoln Center (all three were designed by the same architect).
Education always has been important to Hartford. Founded in 1823, Trinity College, 300 Summit St., has some fine examples of collegiate Gothic architecture on its 96-acre campus. The interior of the chapel has many carvings in stone and wood. The Austin Arts Center features changing exhibitions and theatrical and musical performances. The University of Connecticut School of Law is on 20 picturesque acres near Elizabeth Park Rose Garden.
An ongoing effort to reconnect downtown Hartford with the Connecticut River has resulted in a rejuvenation of the riverfront district. Once a prime part of the city's economy, the river is now used mainly for recreational pursuits. A combination of new and restored riverfront parks on both banks of the river provide boat launches, river walks, fishing access and picnic areas. Each park has its own assortment of other amenities, including playgrounds, a volleyball court, a rowing facility, bicycle and nature trails, amphitheaters and sculptures; festivals, concerts, outdoor movies and boat races take place May through October. Contact Riverfront Recapture for more information; phone (860) 713-3131.
Expert not just at innovating, Hartford also adopts and adapts. In a creative variation on Yankee hospitality, the city has stationed in downtown the Hartford Guides, roving on-street ambassadors of goodwill in blue uniforms and baseball caps. Assisting visitors, workers and residents, these professionals offer insights into the city's history and information about its amenities, facilities and events.
By Car
Looking at a map, it almost seems as if all roads lead to Hartford. The major north-south highway into the city is I-91, while I-84 runs northeast-southwest. Signage is good with generally adequate warning for exit ramps. Avoid the 7-9 a.m. and 3-6 p.m. rush hours.
Street System
A good map is an absolute necessity for negotiating the Hartford vicinity. At some major intersections downtown traffic is stopped in all four directions and pedestrians may cross on the diagonal. Colorful directional street signage to area attractions help visitors explore downtown.
Parking
Parking downtown is readily available in the numerous garages and lots. Rates range from $8 per day in city-operated lots to as much as $5 per hour in privately owned garages. City-operated garages offer low evening and weekend hourly rates with a maximum of $6.50. Metered on-street parking is ample with spaces available within one block of most destinations and is free after 6 p.m. and on weekends.
Sales Tax
Connecticut sales tax is 6.35 percent. Room occupancy tax in the greater Hartford area is 15 percent. The car rental tax is 9.35 percent with an added $1 per day tourism tax.
Police (non-emergency)
(860) 757-4000
Fire (non-emergency)
(860) 757-4500
Hospitals
Hartford Hospital, (860) 545-5000; Saint Francis Hospital and Medical Center, (860) 714-4000.
Newspapers
Founded in 1764, The Hartford Courant is the morning daily newspaper.
Radio
WTIC (1080 AM) and WDRC (1360 AM) are all-news/talk/weather stations; WNPR (90.5 FM) is a member of National Public Radio.
Visitor Information
Connecticut Office of Tourism One Constitution Plaza 2nd Floor HARTFORD, CT 06103. Phone:(860)256-2800
Air Travel
Bradley International Airport, 12 miles north on I-91 in Windsor Locks, is serviced by domestic and international airlines; phone (860) 292-2000. Less than 5 minutes from downtown is Brainard Field, a favorite of private aircraft pilots.
Public bus transportation is provided daily from the airport into downtown by CTTransit's Bradley Flyer; phone (860) 525-9181, or TTY (860) 727-8196.
Rental Cars
Hertz, at the airport and at several downtown locations, offers discounts to AAA members; phone (860) 627-3850 or (800) 654-3080.
Rail Service
The Amtrak station, (860) 727-1776 or (800) 872-7245, is downtown in the Union Station Transportation Center at 1 Union Pl.
Buses
Greyhound Lines Inc., (860) 724-7080 or (800) 231-2222, Peter Pan Bus Lines/Bonanza Bus, (800) 343-9999, and other intercity buses operate out of the Union Station Transportation Center at 1 Union Pl. Taxis and CTTransit buses also are available.
Taxis
Taxis hired at the airport taxi stand charge $45 to downtown (for up to four people). Cab companies include United Cab Co., (860) 547-1602; and Yellow, (860) 666-6666. Base fare (for up to four people) is $3.00 for first one-ninth mile, then 30c per each additional one-ninth mile.
Public Transportation
The buses of CTTransit, (860) 525-9181 or TTY (860) 727-8196, run on more than 30 routes servicing Hartford and its surrounding towns. The buses operate daily, with reduced schedules weekends and holidays. Regular fare $1.75; all-day pass $3.50.
CTTransit's free dash Shuttle connects many downtown attractions, hotels and restaurants. Buses operate Mon.-Fri. 7-7 and depart every 15 minutes from the Connecticut Convention Center. Additional service may be added on weeknights and weekends during major downtown events.
Settle into your seats at The Bushnell Center for the Performing Arts (166 Capitol Ave.) and take in a Broadway show. The glamorous Art Deco theater, designed by the architects credited with New York City's Radio City Music Hall, features the country's largest hand-painted mural suspended from the ceiling. If your schedule permits, take the free 45-minute behind-the-scenes tour—you'll get to check out the theater's green room as well as a 14-foot glass chandelier designed by Dave Chihuly.
If smaller venues and off-beat productions are more your style, check the event calendars at Hartford Stage (50 Church St.) or TheaterWorks (233 Pearl St.). Both venues are highly regarded in the local arts community.
Shopping
The outdoor Old State House Farmers Market , 855 Main St., offers food and locally grown seasonal produce Tuesday and Friday 10-2, mid-June through October in downtown Hartford.
In the Farmington area is Westfarms , on New Britain Avenue off I-84 exit 40 (SR 71). The mall contains more than 130 shops and is anchored by JCPenney, Lord & Taylor, Macy's and Nordstrom; phone (860) 561-3024. The Shoppes at Buckland Hills , I-84 exit 62 at 194 Buckland Hills Dr. in Manchester, offers more than 100 stores, including Dick's Sporting Goods, JCPenney, Macy's and Sears; phone (860) 644-1450.
Old Wethersfield offers shops, restaurants and museums in preserved antebellum houses, warehouses, carriage houses and barns. Old Avon Village , on SR 44 in Avon, offers more than 30 shops and eateries. Riverdale Farms Shopping , off I-84 exit 39 in Avon, is on a restored, landscaped 19th-century dairy farm; phone (860) 677-6437. Dozens of galleries, shops and boutiques can be visited at West Hartford Center, along Farmington Avenue in West Hartford.
Performing Arts
The Tony Award-winning Hartford Stage Company, (860) 527-5151, presents classics and contemporary experimental productions at 50 Church St. TheaterWorks, (860) 527-7838, at 233 Pearl St., presents off-Broadway productions all year. In addition to presentations by local companies, offerings at the 1930s Art Deco Bushnell Center for the Performing Arts include visiting orchestras, plays direct from or on their way to Broadway, lectures and performances by well-known entertainers; phone (860) 987-5900. A behind-the-scenes tour takes guests backstage at The Bushnell; phone (860) 987-6033.
The Hartford Symphony Orchestra, (860) 244-2999, performs at The Bushnell Center for the Performing Arts. The University of Connecticut's Jorgensen Center for the Performing Arts in Storrs presents Broadway musicals, symphony orchestras, popular music concerts and cabaret acts September through April; phone (860) 486-4226. At XFINITY Theatre, (860) 548-7370, enjoy live music performances by current big names in every genre. Infinity Music Hall & Bistro, 32 Front St., is another hotspot for live music; phone (860) 560-7757.
Bushnell Park is the site of jazz concerts and other entertainment events in the spring and summer. Nearby West Hartford's Elizabeth Park Rose Garden, the nation's first municipally owned rose garden, also is the site of summer concerts. Mortensen Riverfront Plaza plays host to concerts, festivals and performances.