Description
Hovenweep National Monument lies in both Colorado and Utah and can be reached from either state. There are two Colorado entrances to the monument. One is the Pleasant View turnoff 18 miles north of Cortez on US 491; the other is the McElmo Canyon Road accessible south of Cortez on US 160.
The Utah approach begins by turning off US 191 onto SR 262 midway between the towns of Blanding and Bluff. Go 14 miles to Hatch Trading Post and continue 16 miles to the Square Tower unit and visitor center.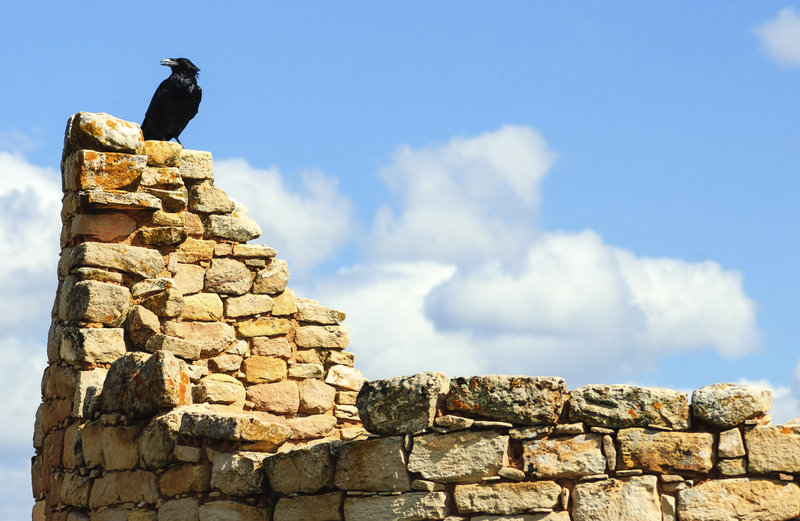 iStockphoto.com / zrfphoto
The name Hovenweep, a Ute Indian word meaning "deserted valley," seems well-suited for the remote mesas and canyons north of the San Juan River. The presence of many standing, structured and tumbled piles of masonry—the remains of many-roomed pueblos, small cliff dwellings and towers—and scattered refuse over canyon slopes tells the story of the sizable population that once lived in this now desolate country.
The early inhabitants of Hovenweep were part of the large group of Ancestral Pueblo Indians who once occupied the Four Corners region of Utah, Colorado, Arizona and New Mexico. For centuries they lived in small villages as peaceful and secure farmers, hunters and gatherers.
Extended droughts in the 12th and 13th centuries gradually reduced their resources. Erosion, failing crops, diminishing water supplies, and perhaps warfare forced the people to abandon their homes by A.D. 1300 and move south and east, never to return.
The Hovenweep National Monument consists of six separate prehistoric village sites: In Utah there are Square Tower, the best preserved and most impressive, and Cajon. Colorado sites include Holly, Hackberry Canyon, Cutthroat Castle and Horseshoe. These landmarks are all noted for their square, oval, circular and D-shaped towers.
The Square Tower visitor center offers interpretive displays as well as maps and brochures for self-guiding tours. With the exception of Square Tower, all the sites are difficult to locate; obtain directions at the visitor center before attempting to find them. Rangers give presentations about the monument May-September (phone visitor center for current schedule).
The monument is open year-round. Trails are open daily dawn-dusk. The visitor center is open daily 9-5. The visitor center is closed Jan. 1, Thanksgiving and Christmas. For more information phone (970) 562-4282, ext. 10.