Essentials
Take a leisurely drive around the lake—a total of 72 miles via US 50 and SR 28. Cross Fanny Bridge, take the tunnel through Cave Rock and enjoy a multitude of scenic views along the way.
Embark on a sightseeing trip aboard
The MS Dixie II
and appreciate the region's beauty from the vantage point of the water.
For a breathtaking elevated view, hike a bit of the Tahoe Rim Trail, which follows the mountain ridges that encircle the lake for a total of 165 miles. There are nine trail segments; two of the most accessible trailheads are at Tahoe Meadows and Echo Lakes.
Drive, chip and putt your way through 18 holes on one of more than 40 stellar golf courses in the region. The Edgewood Tahoe Golf Course, in Stateline off US 50, offers gorgeous scenery. Test your mettle on the challenging fairways of the course at the
Resort at Squaw Creek
.
Tahoe is well known for skiing. Pack your skis and or snowboard and hit the lifts at Squaw Valley Alpine Meadows or the
Heavenly Mountain Resort
.
Go ice-skating at the Olympic Ice Pavilion at Squaw Valley Alpine Meadows. You can get there by taking the
Squaw Valley Tram
.
After a hard day of playing, pamper yourself at the
Hyatt Regency Lake Tahoe Resort, Spa and Casino
in Incline Village. Soak up the lovely lake view while luxuriating in a High Altitude Body Wrap or an Alpine Meadows Ritual.
Spend an afternoon in Truckee . Miners once frequented the town's rowdy streets; today, sightseers stroll along Commercial Row's galleries, boutiques and cafés.
Watch a parade of kokanee salmon swimming upstream during spawning season. Even if you can't be here in October, visit the Taylor Creek Visitor Center for its aquarium-like look at the creek's underwater environment. The center is adjacent to
Tallac Historic Site
.
Antti T Nissinen / flickr
Hit the tables at a casino in South Lake Tahoe . The surroundings range from high kitsch to fabulously chic, and there's enough variety to suit high rollers, nickel slot aficionados and everyone in between.
The state park borders Donner Lake, known as the "Gem of the Sierra" for its clear water and high mountain scenery. Walk the beach, launch a canoe or swim in a warm, shallow lagoon in the summer, or participate in a ranger-led campfire program. In winter, cross-country skiers navigate around bare trees in the midst of a snow-covered landscape.
High above Lake Tahoe, Desolation Wilderness covers more than 100 mountainous square miles dotted with glittering lakes—the ultimate destination for serious hikers. The most accessible trailhead is on the South Shore at Eagle Falls, where three successive waterfalls tumble into Emerald Bay. It begins on the west side of SR 89 (across from Vikingsholm); cross the footbridge and climb this steep, marked trail to Eagle Lake, where the wilderness begins. Permits are required for day hikes and back-country camping; they can be obtained at the Lake Tahoe Visitor Center (north of Camp Richardson on SR 89) or the Taylor Creek Visitor Center (just past Tallac Historic Site).
The Faire is returning June 3-4, 10-11, 2017. I will create a new record in COE and supply a new COE ID # when more details are available. SS 8/10/16.
Going to the Chapel
The Nevada side of Lake Tahoe was once known as the divorce capital of the world. In the 1939 movie "The Women," leading ladies Joan Crawford, Rosalind Russell and Norma Shearer headed west for quickie divorces. Nevada offered some of the country's most liberal divorce laws, along with a short residency requirement—only 6 weeks. Hence, "divorce dude ranches" sprang up to serve as temporary homes for the soon-to-be-unwed while they waited for their papers to come through.
The same laws that made divorce easy also made marriage a snap—no waiting period. During World War II, GIs came to Tahoe's myriad wedding chapels for lightning-fast nuptials. The wedding boom soon overtook the speedy divorce craze.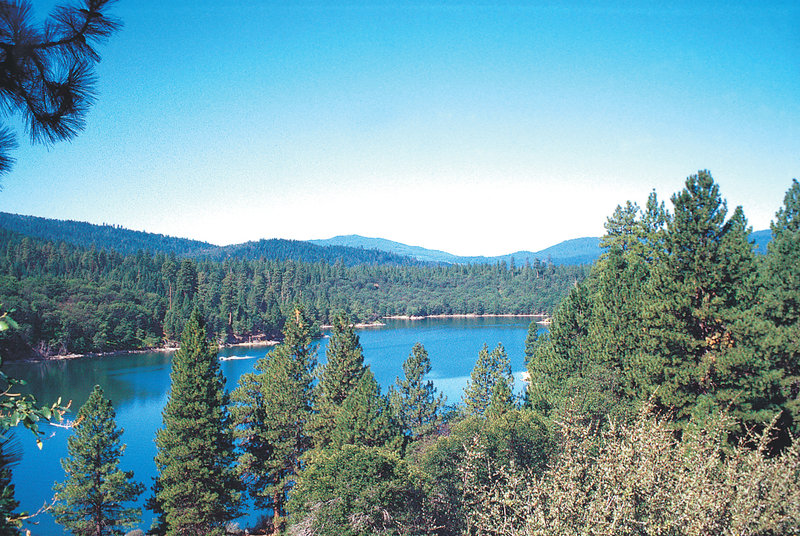 Lake Tahoe's wedding industry still thrives today. The area's natural beauty and range of scenic backdrops give couples their choice of romantic settings. Many hotels have in-house wedding chapels and full-service reception facilities. There's an option for every taste, from an elegant wedding aboard a boat to a sporty exchange of vows on a ski slope to a quiet service in a country church. You can even have a campy ceremony with neon lights and an Elvis impersonator.