Description
Accessible via SR 36, 9 miles east of Mineral, Lassen Volcanic National Park covers 106,372 acres in northeastern California where the Cascades join the Sierra Nevada. In addition to Lassen Peak (10,457 ft.) and Cinder Cone (6,907 ft.), the park boasts Prospect Peak (8,338 ft.) and Mount Harkness (8,048 ft.), two shield volcanoes topped by cinder cones with trails leading to their summits. Other features include smaller volcanoes and lava flows, fumaroles, boiling springs, boiling lakes and mudpots.
For a period of several thousand years Lassen Peak was quiescent; then in the spring of 1914 a series of relatively small eruptions began. After reaching its peak in 1915, the activity continued until about 1921.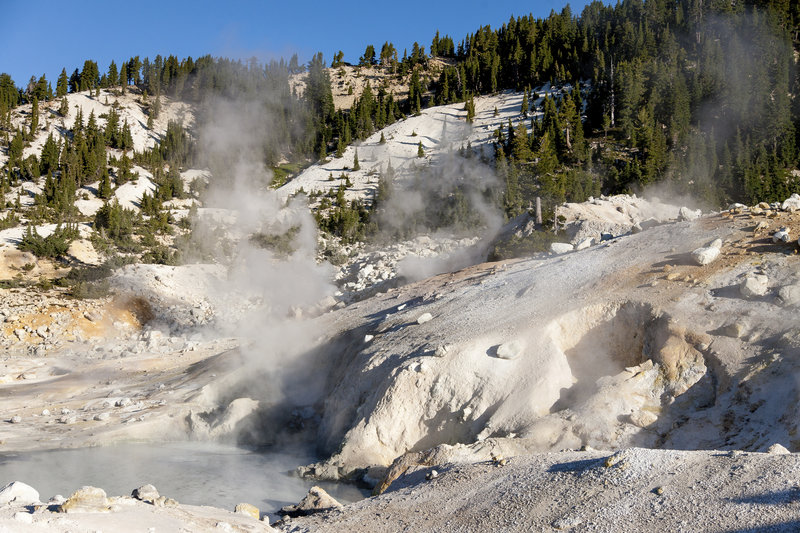 iStockphoto.com / AvatarKnowmad
A plug dome volcano, Lassen Peak once protruded from the north flank of ancestral Mount Tehama. This great stratovolcano was destroyed by glaciers, hydrothermal activity and erosion by East and West Sulphur creeks and other water. Park Highway winds around Lassen Peak, affording views of the volcano and evidence of its destructive might.
In the southern half of the park gurgling mudpots and roaring fumaroles contribute to the unusual atmosphere. The eastern sector encompasses a splendid chain of lakes, extending from Juniper Lake at the northern base of Mount Harkness to Butte Lake near the eastern base of Prospect Peak.
iStockphoto.com / Art Wager
SRs 36 and 44 border the park and provide scenic forest and mountain views. Park Highway traverses the park 30 miles from north to south.
General Information
Although the park is open all year, heavy snows render most sections inaccessible from late October to mid-June. Winter roads are maintained from the northern gate to Loomis Ranger Station (about 1 mile) and from the southwest gate to the southwest area. Although this is a backcountry experience with no ski lift, cross-country skiing is usually possible from early December to late spring. Mountain bikes are not permitted on trails in the park.
Some of the park's many lakes and streams contain trout. A state fishing license is required, and catch limits and regulations are posted. Wilderness permits issued by the park are required for backcountry camping; phone the park headquarters for information. Gates are open 24 hours daily, but the hours they are attended vary. Motorists entering the park when the stations are unattended must self-register their entrance.
Maps, information and bulletins can be obtained at the visitor center year-round or at Loomis Museum in the summer. Interpretive and evening programs, guided nature walks and self-guiding trails are available during the summer; snowshoe walks are offered in winter.
Kohm Yah-mah-nee Visitor Center, the park's main visitor facility, is on SR 89 near the southwest entrance. Kohm Yah-mah-nee, the Mountain Maidu name for Lassen Peak, translates as "Snow Mountain." A 21-minute film provides an overview about the park, and exhibit panels focus on its geology and natural and cultural history. The visitor center is open daily 9-5, Apr.-Oct.; Wed.-Sun., rest of year. Closed Thanksgiving and Christmas. The visitor center vestibule is open daily 24 hours. Phone (530) 595-4480.
Note: Stay on established trails at all times in boiling springs and thermal areas; small children should be kept under strict control. Ground crusts that appear safe can be dangerously thin.
ADMISSION
ADMISSION to the park is $20 per private vehicle (mid-Apr. through Nov. 30), $15 per person per motorcycle, $10 per person arriving by other means and to all Dec. 1 to mid-Apr.) Entrance fees are good for 7 days, with a receipt.
PETS
PETS are permitted in the park only if they are on a leash, crated or otherwise physically restrained at all times. Pets are not allowed on trails or in buildings.
ADDRESS
ADDRESS inquiries to the Superintendent, Lassen Volcanic National Park, Box 100, Mineral, CA 96063. Phone (530) 595-4480.
GEM Description
Four types of volcanoes as well as lava flows, boiling springs and lakes, fumaroles and mudpots are among the uncommon sights in this national park.