Description
Northeast of Bowling Green, northwest of Park City and 10 miles west of Cave City via SR 70, Mammoth Cave National Park occupies 52,830 acres. Much of the park is in its natural state, providing shelter to a large variety of birds and other wildlife.
A tributary of the Ohio River, the scenic Green River traverses this well-forested, rugged terrain for 25 miles. More than 80 miles of back-country trails, all of which can be used for hiking and some available for horseback riding and mountain biking, run along the river's bluffs, ridges and valleys. Biking trails also are available. In the northwestern section of the park is the 7-mile-long Nolin River. Several scenic driving tour routes wind through the park.
Within the park is Mammoth Cave, which has yielded archeological evidence of humans approximately 5,000 years ago. During the War of 1812 the cave furnished saltpeter used to manufacture gunpowder.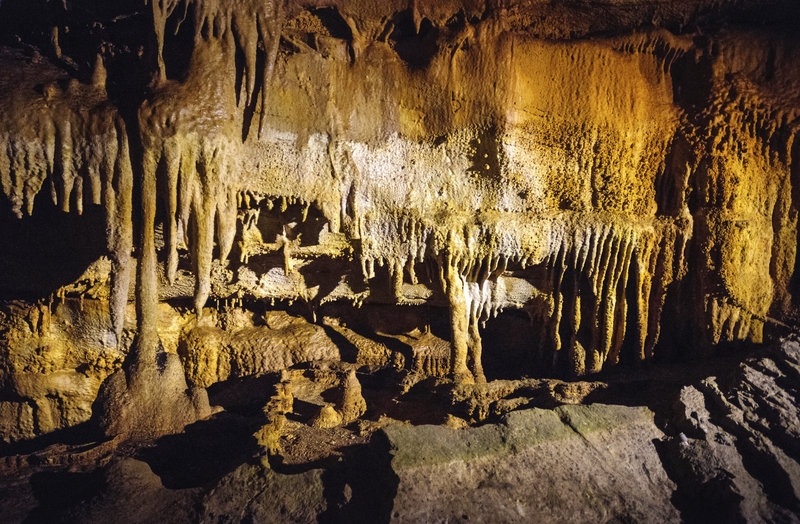 iStockphoto.com / zrfphoto
Mammoth Cave contains more than 400 miles of underground passages charted on five levels. Said to be the longest cave system known, it was hollowed out by the seepage of ground water and the flow of underground streams. The cave contains diverse passageways, some of which contain remnants of 5,000-year-old stick cane torches, woven sandals and names written on the cave walls by guides during the 19th century using candle smoke.
General Information
Informal campfire programs are held at the amphitheater nightly during the summer and as scheduled in the spring and fall. During the summer and other months of heavy visitation, park interpreters conduct nature walks. The Green and Nolin rivers provide 31 miles of fishing and canoeing waters.
Camping and picnicking facilities are near the visitor center and at Houchin Ferry. Free permits for back-country camping can be obtained at the visitor center. Food is available at the camp store.
The park and self-guiding nature trails are open year-round. The visitor center is open daily 8-6:30, June-Aug.; 8:30-4:30, rest of year. Closed Christmas. Phone (270) 758-2180 daily 9-4:15.
ADMISSION
ADMISSION to the park is free. Fees are charged for cave tours and camping.
PETS
PETS are permitted in the park only if leashed, crated or otherwise physically restricted at all times. No pets, with the exception of designated service animals, are allowed in the cave or visitor center; kennels are available.
ADDRESS
ADDRESS inquiries to the Superintendent, Mammoth Cave National Park, Mammoth Cave Pkwy., P.O. Box 7, Mammoth Cave, KY 42259.
GEM Description
While the world's longest cave is the main attraction, don't overlook the rugged bluffs and scenic valleys surrounding this natural wonder.