Introduction
Despite being Wisconsin's biggest city, Milwaukee has a decidedly small-town feel—it's more like a series of neighborhoods linked together as opposed to a typical booming metropolis. While the 19th century brought an influx of immigrants from some 30 European countries, Germans were in the majority, and you'll notice their heritage reflected in cozy cafes and beer gardens. But, you can grab some Italian, Polish and Irish specialties along with the bratwurst and sauerbraten, experiencing a wonderful array of cuisines.
Wash down all that fabulous food with the suds that made Milwaukee famous—names like Pabst, Miller and Schlitz were instrumental in the city's industrial development. To experience a first-hand look, take a guided tour of the Miller Brewery Tour & Visitor Center and visit the Pabst Mansion, a testament to the Gilded Age. While you're in Milwaukee, there are several must-see attractions for your sightseeing itinerary. Explore the Milwaukee Art Museum, with collections ranging from the Old Masters and German Expressionists to folk and Haitian art. If your interests lean toward the world's human and natural history, check out the Milwaukee Public Museum, where the wonders range from exotic butterflies to a life-size replica of Tyrannosaurus rex. Flora and fauna are the stars at the Milwaukee County Zoo and the Mitchell Park Horticultural Conservatory, where natural wonders abound.
For a taste of nostalgia and a hint of German heritage, head to Old World 3rd Street, where specialty stores in 19th-century buildings include such favorites as Usinger's Famous Sausage, Mader's and the Wisconsin Cheese Mart.
In Depth
During the 19th century immigrants from more than 30 European countries flocked to Milwaukee, bringing with them their skills, arts and cuisines. Germans were the largest group; as the decades passed their gemütlichkeit (hospitality) assumed Italian, Polish, Scandinavian, Irish and other national overtones.
Milwaukee's watery surroundings, while a boon to its eventual development as a river port, posed a few problems during its early years. A fierce rivalry developed over the question of payment for the Milwaukee River bridges that connected the villages of Juneautown and Kilbourntown. The Great Bridge War was settled by the legislature in 1845, but not before both factions angrily had torn down every bridge and the residents of Juneautown had trained a loaded cannon on Kilbourntown.
The new city of Milwaukee witnessed the arrival of the Forty-Eighters, refugees from unsuccessful revolutionary movements against German monarchies in 1848. This intellectual minority launched the city into new cultural and political directions, endowing the city with theaters, music societies, athletic clubs and Freethinker groups. They also established a reform tradition that later gave rise to Milwaukee's distinctive brand of socialism.
During the last half of the 19th century, the reference to Milwaukee as the German Athens was hardly an exaggeration. Only the Polish and Irish populations came close in number. English was almost never heard in some neighborhoods, especially on the northwest side. By the late 1870s Milwaukee had six daily newspapers published in German.
Public schools zealously enforced their requirement that German be taught from kindergarten on. Ever-popular were family picnics at such open-air beer gardens as the Schlitz Palm Garden. By the end of the century, however, German cultural allegiances had begun to fade. The decision of the Stadt Theater, pride of Milwaukee's German culture, to alternate plays in German and English was an indisputable sign of changing times.
In reality Milwaukee's northern European heritage never disappeared. Its influence survived, despite such setbacks as World War I's repressive effect on the German community and Prohibition's nearly fatal blow to the city's brewing industry. The period following World War II brought massive development.
Today, Milwaukee is the largest city in Wisconsin, and while formerly known as the "machine shop of America," the service and technology sectors have experienced the most rapid growth in recent years. Some companies that call Milwaukee home include Harley-Davidson, Johnson Controls, Northwestern Mutual and Rockwell Automation.
But what really has made Milwaukee famous is beer. Though other industries have dethroned the king since 1889, the brewing industry remains synonymous with the city. Milwaukee's beer heritage can be explored at Pabst Mansion, the Miller Brewery Tour & Visitor Center and smaller microbreweries in the city. Lakefront Brewery, 1872 N. Commerce St., and Sprecher Brewing Co., 701 W. Glendale Ave., offer tours and tastings; phone (414) 372-8800 and (414) 964-2739, respectively. While City Hall and the ornate Pabst Theater, built in the 1890s in the Flemish Renaissance style, reflect Milwaukee's European heritage, the city's newest icon is the Milwaukee Art Museum expansion with its unusual wings that open and close over a sunlit atrium on Lake Michigan's shore.
The 90-acre lakefront park area also boasts the science and technology museum Discovery World at Pier Wisconsin , and the 75-acre Henry Maier Festival Park, home to numerous ethnic festivals. In the heart of the city, visitors can stroll along the three-mile-long RiverWalk to restaurants and microbrew pubs. Stop at Wells Street along the river for a look at the life-sized statue of Fonzie – one of television's favorite characters from the show "Happy Days."
By Car
From the north, I-43 provides controlled access into downtown Milwaukee. I-94 affords direct access to the downtown area from Chicago and other southern points. From the west, I-94 is the controlled-access highway into the city. Bypassing the metropolitan area to the south and west, I-894 provides the best connection for the I-94 through corridor. Lake Express offers 2.5-hour car-ferry trips from Muskegon, Mich., to Milwaukee; phone (866) 914-1010 for rates and schedule.
Street System
Lake Michigan flanks the city on the east, and Wisconsin Avenue is the main downtown east-west thoroughfare. The Milwaukee River divides the downtown area into approximately equal east and west sections; I-94 is the approximate dividing line between north and south street addresses. Streets are numbered in ascending order west of the Milwaukee River and continue well into the suburbs to the Milwaukee County line.
The official, unposted speed limit is 25 mph; other limits are posted. Rush hours are 7-9 a.m. and 3:30-6 p.m. Right turns are permitted on red unless otherwise posted.
Parking
Private commercial lots are scattered throughout the downtown area and near the airport. Lot rates are $3-$5 per hour and $7-$15 for all-day parking. Private lots within four blocks of the Wisconsin Center and BMO Harris Bradley Center provide parking for functions at the centers.
Sales Tax
The sales tax in Milwaukee is 5.6 percent. In addition there is a 9.5 percent tax on hotel rooms, a 3 percent tax on car rentals and a .5 percent tax on food and beverage purchases.
Police (non-emergency)
(414) 933-4444
Hospitals
Aurora St. Luke's Medical Center, (414) 649-6000; Aurora Sinai Medical Center, (414) 219-2000; Columbia St. Mary's Hospital, (414) 585-1000; Froedtert Hospital, (414) 805-3666; and Wheaton Franciscan Healthcare-St. Francis Hospital, (414) 647-5000.
Newspapers
The morning daily Milwaukee Journal Sentinel is Milwaukee's major newspaper.
Radio
Milwaukee radio station WTMJ (620 AM) is an all-news/weather/sports station; WUWM (89.7 FM) is a member of National Public Radio.
Visitor Information
VISIT Milwaukee Administrative Center 648 N. Plankinton Ave. Suite 425 MILWAUKEE, WI 53203-2501. Phone:(414)273-3950 or (800)231-0903The <a href="Mention" target="POI" title="0195">VISIT Milwaukee Visitor Center</a> is downtown at the Wisconsin Center, 400 W. Wisconsin Ave. The center is open daily 9-5; phone (800) 554-1448.
Air Travel
General Mitchell International Airport (MKE), 8 miles south via I-94 East to 5300 S. Howell Ave., is served by several major domestic and international passenger carriers. Transportation to and from the airport by GO Riteway shuttle or by taxi takes about 20 minutes. One-way fares range from $15 to $38 by shuttle and $24 to $32 by taxi. Phone (800) 236-5450 for GO Riteway. The Milwaukee County Transit System operates buses to and from the airport from all points on its system via transfers from 5 a.m. to 12:30 a.m.; the fare is $2.25, $1.10 (ages 6-11, ages 65+ and disabled persons with ID). Exact fare is required. Phone (414) 344-6711.
Rental Cars
Hertz, at the airport, (414) 747-5200 or (800) 654-3080, offers discounts to AAA members.
Rail Service
Amtrak, 433 W. St. Paul Ave. at the Milwaukee Intermodal Station, provides railroad passenger service to the city; phone (414) 271-9037 or (800) 872-7245 for reservations.
Buses
The Greyhound Lines Inc. terminal is at 433 W. St. Paul Ave. at the Milwaukee Intermodal Station; phone (414) 272-2156 or (800) 231-2222.
Taxis
All taxis in Milwaukee use the meter system. The fare is $5 for the first mile, $2.25 for each additional mile and $1 for each additional person. Taxis can be ordered by phone or hired at taxi stands at most major hotels. American United is the city's major taxi service; phone (414) 220-5000.
Public Transportation
The Milwaukee County Transit System, 1942 N. 17th St., operates 22-hour service throughout Milwaukee County and eastern Waukesha County. The fare is $2.25; $1.10 (ages 6-11, ages 65+ and disabled persons with ID). Exact fare is required. For schedule and route information, phone (414) 344-6711 daily Mon.-Fri. 6 a.m.-7 p.m., Sat.-Sun. 8-4:30 or TTY (414) 937-3299 Mon.-Fri. 8-4.
Sulfur / Wikimedia Commons
Shopping
In the heart of Milwaukee, legacy cobblestone streets and ethnic specialty shops blend gracefully with the skywalks and covered malls that characterize the modern emporiums. The city's centerpiece is The Shops of Grand Avenue , a three-block multilevel marketplace at 275 W. Wisconsin Ave. between N. 4th Street and the Milwaukee River that incorporates the historic Plankinton Arcade. It is anchored by Boston Store and encloses more than 60 shops and eateries.
Such modern shopping malls as The Shops of Grand Avenue have not displaced Milwaukee's traditional shopping areas. Old World Third Street, just north of Wisconsin Avenue between Wells and Juneau, is known for its cobblestone street and late 19th-century buildings housing pubs, specialty stores and eateries. Shops include Usinger's Famous Sausage, the Wisconsin Cheese Mart and The Spice House.
Across the Milwaukee River in East Town, the elegant shops along Jefferson Street include George Watts & Son's china and crystal as well as shops offering antiques, furnishings and other items. Two other colorful east-side neighborhoods are Brady Street, between Farwell Avenue and Marshall Street, where Old World tradition meets a trendy Bohemian lifestyle, and Downer Avenue, between E. Webster and E. Park, home to students and faculty of the University of Wisconsin-Milwaukee.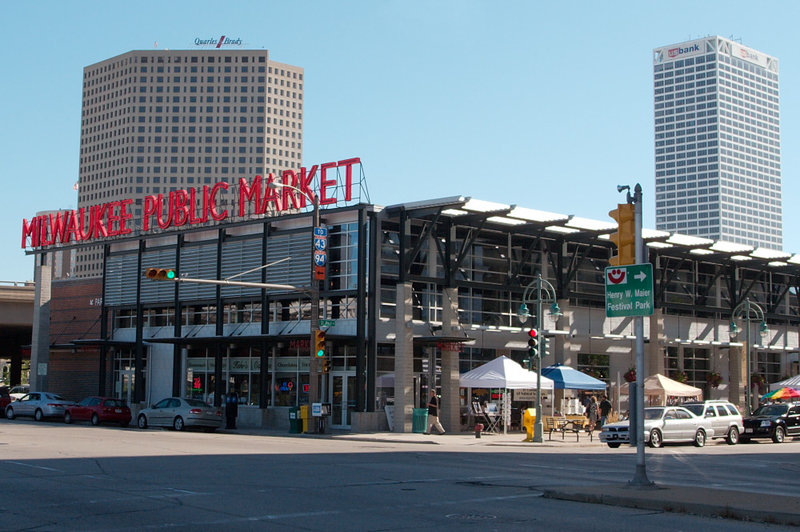 An archway welcomes shoppers to the Historic Third Ward, the city's original commercial district and now Milwaukee's "SoHo," aka Milwaukee's Arts and Fashion District. Three blocks south of downtown, renovated warehouses and factories now house art galleries, antiques stores, restaurants, specialty shops and performing arts centers along streets lined with old-fashioned streetlights. Anchoring the Ward is the Milwaukee Public Market at 400 N. Water St., a year-round enclosed market selling fresh produce, meats, cheeses, spices and ethnic foods. The Milwaukee River, E. St. Paul Avenue and I-794 form the boundaries for the Third Ward's 17-block shopping area.
Housed in a restored 1864 wool mill, Cedar Creek Settlement , N70 W6340 Bridge Rd. in Cedarburg, holds nearly 25 retail establishments and restaurants, including Cedar Creek Winery, and offers a delightful step back in time in a rustic setting.
Shopping centers in the metropolitan area are Bayshore Town Center , 5800 N. Bayshore Dr. in Glendale; Brookfield Square , 95 N. Moorland Rd. in Brookfield; and Southridge Mall, 5300 S. 76th St. in Greendale. Mayfair Mall , 2500 N. Mayfair Rd. in Wauwatosa, is anchored by Boston Store, Macy's and Nordstrom along with eateries and an 18-screen theater.
Performing Arts
Milwaukee boasts several nationally acclaimed performing arts companies. The Marcus Center for the Performing Arts, 929 N. Water St., is home to many of these, including the Black Arts Think Tank, Florentine Opera Company, Milwaukee Ballet Company, First Stage Children's Theater, Milwaukee Symphony Orchestra, and the Milwaukee Youth Symphony. The orchestra's regular season is early September through June; phone (414) 273-7206 or (888) 612-3500.
Among Milwaukee's free outdoor summer concerts are River Rhythms on Wednesday evenings at the riverside Pere Marquette Park and Jazz in the Park on Thursdays at Cathedral Square. The county parks department also sponsors free concerts at various parks during the summer; phone (414) 257-7275.
The Milwaukee Repertory Theater performs a variety of dramatic productions at The Milwaukee Center at 108 E. Wells St. from early September to mid-May; phone (414) 224-9490. The splendidly restored late 19th-century Pabst Theater at 144 E. Wells St., presents theatrical, jazz and modern music productions; phone (414) 286-3663.
The Helfaer Theatre, (414) 288-7504, 525 N. 13th St. on the Marquette University campus, presents quality theater and concert offerings. The Milwaukee Theatre, (414) 908-6001 or (800) 745-3000, at 500 W. Kilbourn Ave., presents touring Broadway shows and musical artists. Marcus Amphitheater, (414) 273-2600, in Henry W. Maier Festival Park at 200 N. Harbor Dr., and the Milwaukee Riverside Theater, (414) 286-3663, at 116 W. Wisconsin Ave., feature nationally known touring bands.
Musicals and operettas are staged by the Skylight Music Theatre, which performs at the Broadway Theatre Center, 158 N. Broadway in the Historic Third Ward; phone (414) 291-7800. The Broadway Theatre Center also is home to the Milwaukee Chamber Theatre, which stages both classical and contemporary works, and the cutting edge Renaissance Theaterworks; phone (414) 291-7800. The Next Act Theatre, 255 S. Water St., offers contemporary works; phone (414) 278-0765.
The events section of the city's newspaper carries current information about local cultural activities. Visitors also can contact VISIT Milwaukee for an update; phone (800) 554-1448.
Michael Pereckas / flickr
Bus and Limousine Tours
Several public and private charter transportation companies offer sightseeing tours that explore the city. Customized tours devoted to Milwaukee's industrial, cultural, civic and residential sights are available, often complemented by lunch or dinner.
Carriage Tours
Horse-drawn carriages offer a memorable mode of transportation through downtown and along the shores of Lake Michigan. Milwaukee Coach & Carriage, (414) 272-6873, provides nightly service (weather permitting).
Driving Tours
A scenic drive extends from the downtown area at Lincoln Memorial Drive, north to SR 32 through beautiful parks and past the lakeside mansions of the early brewers to Brown Deer Road. North Lake Drive along the bluffs is particularly attractive.
Walking Tours
Brochures outlining historic walking tours of Milwaukee's east, west and south sides are available at the VISIT Milwaukee walk-in office . Campus tours are available at the University of Wisconsin-Milwaukee, (414) 229-2222, and at Marquette University, (414) 288-7302.
From June through October Historic Milwaukee Inc. offers six 1.5-hour guided walking tours concentrating on the city's historical and architectural heritage. The Historic Third Ward Tour highlights the area's Irish roots and transformation of the local warehouses, while the Historic Milwaukee's Downtown Tour focuses on Milwaukee's varied architecture. The Riverwalk Tour explores the history of the Riverwalk and the buildings along the river. The Bay View Tour spotlights the history of the Kinnickinnic Avenue area. The Brady Street Tour details the neighborhood's Polish and Italian roots while the North Point Mansions Tour offers a glimpse of mansions in this oldest and upper-class residential neighborhood. Brochures are available at businesses throughout the city. Phone (414) 277-7795.