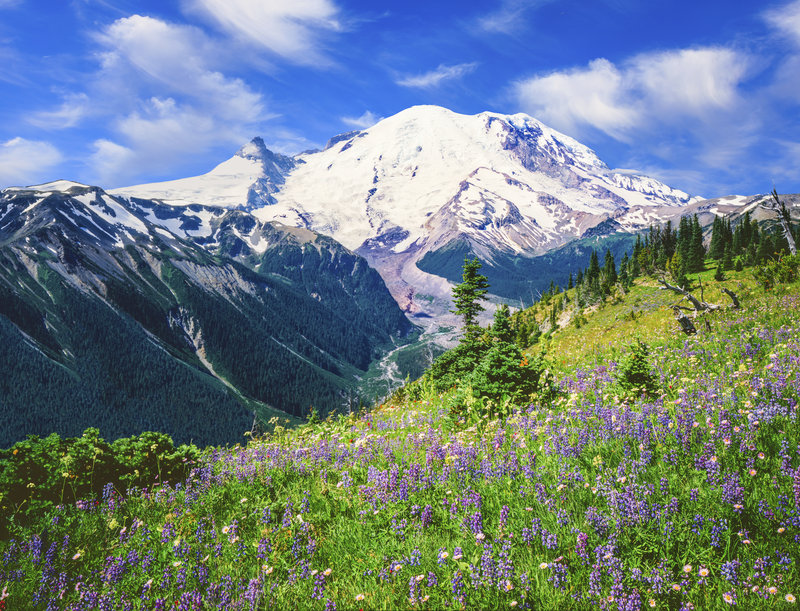 iStockphoto.com / Ron Thomas
Description
Mount Rainier National Park has four entrances: the Nisqually, off SR 706 in the southwest; the Carbon River, on Carbon River Road in the northwest (which is closed indefinitely to vehicles due to flood damage; access is by foot or bicycle only); the White River, on White River Road off SR 410 in the northeast (open seasonally); and the Stevens Canyon Road entrance in the southeast (open seasonally).
Mount Rainier, a towering, ice-clad volcano rising 14,410 feet, is a striking Pacific Northwest landmark. The cap of glacial ice that conceals all but a few crags and ridges makes it doubly impressive. Mount Rainier belongs to the composite class of volcanoes, much like recently awakened Mount St. Helens, and quite conceivably could one day erupt in a similar manner.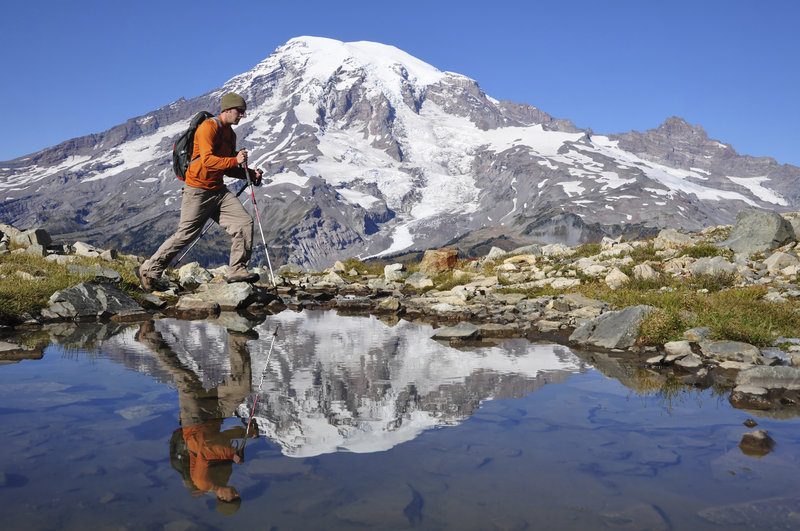 iStockphoto.com / thinair28
Although mere remnants of their former size, Rainier's 35 square miles of glaciers constitute the largest single-peak glacial system in the contiguous United States: 25 glaciers extend down the mountainside. Six of them—Nisqually, Ingraham, Emmons, Winthrop, Kautz and Tahoma—originate in the summit ice cap. Other glaciers are born of snows in valley heads, or cirques, between 10,000 and 12,000 feet; the most notable of these are the Cowlitz, Carbon, Russell, North and South Mowich and Puyallup glaciers.
Forests cover the mountainsides up to 5,000 feet, where subalpine meadows of wildflowers and grass contrast with masses of ice at higher elevations. The timberline is at about 6,500 feet. Deer, bears and mountain goats inhabit the forests, meadows and ridges. Park animals, regardless of size, should not be fed; all food should be kept locked up or out of the reach of wildlife.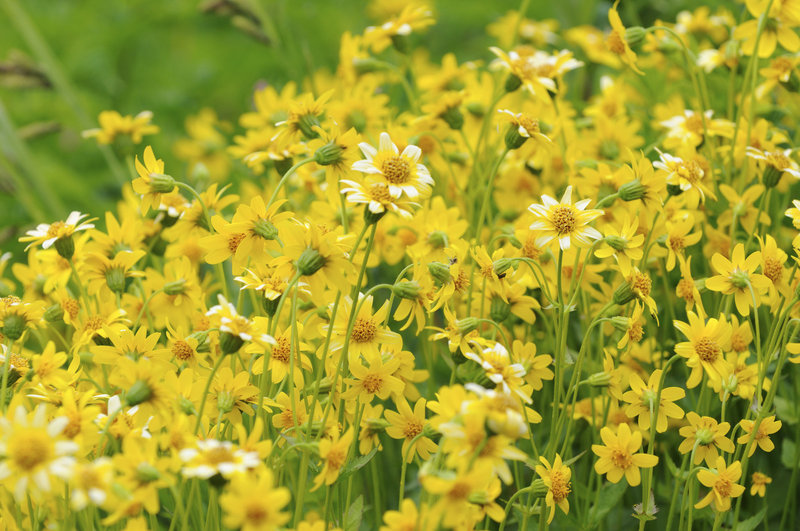 iStockphoto.com / aimintang
Flowers in the high meadows typically bloom from mid-July to mid-August. Huckleberries, vine maple and mountain ash grow throughout the park late summer through early fall; fall colors peak from late September to early October.
More than 100 miles of roads and 270 miles of trails are open to the public. Trail maps are available at all visitor centers. Permits are required for back-country camping. Road opening and closing dates vary from year to year depending on snow conditions.
General Information
The park is open daily. Only the Nisqually (southwest) entrance and Nisqually-Longmire-Paradise Road are open all year, unless storms or avalanches threaten passage. All other roads are closed from late October or the first snowfall, whichever comes first, to somewhere between late April and early July, depending upon the occurrence of snowfalls. Cayuse Pass, between the park's northern boundary on SR 410 to Ohanapecosh, is usually closed from early December to early May. The road between Chinook Pass and Cayuse Pass is closed from mid-November to late May.
Naturalists conduct free guided and illustrated talks from late June through Labor Day at Longmire, Paradise, Sunrise and Ohanapecosh; schedules are posted at visitor centers. Snowshoe walks are conducted at Paradise from late December to late March. Self-guiding nature trails and wayside exhibits are found throughout the park. Wilderness information centers are at Longmire and White River.
Sightseeing flights can be arranged through private operators in Seattle and Puyallup and at nearby airports. Information concerning roads, camps and programs can be obtained by contacting the Park Superintendent's office. For information about the park's inns contact Rainier Guest Services, phone (360) 569-2275 or (360) 569-2400.
Special regulations apply to climbers; details are available from the Park Superintendent. Climbing schools and seminars as well as guided climbs are conducted by Rainier Mountaineering Inc. in Ashford, phone (360) 569-2227 or (888) 892-5462; International Mountain Guides in Ashford, phone (360) 569-2609; and Alpine Ascents International in Seattle, phone (206) 378-1927.
Fishing is permitted without a license in most lakes; check at a ranger station for special regulations. Hunting is prohibited. Winter sports, a snow play area and ranger-led snowshoe walks are available at Paradise (weather permitting). Snowmobiles are permitted only on designated roads.
ADMISSION
ADMISSION to the park is by weekly pass that costs $25 per private vehicle, $20 per motorcycle or $10 per person on foot or bicycle. Annual passes, valid for 1 year, cost $50 per vehicle. Campground fees are $20 per private vehicle.
PETS
PETS are permitted only if they are on a leash or are otherwise physically restrained at all times. Pets are not permitted on the trails, in the backcountry areas or in buildings.
ADDRESS
ADDRESS general inquiries to the Longmire Museum, Mount Rainier National Park, 55210 238th Ave. E., Ashford, WA 98304; phone (360) 569-2211 or TTY (360) 569-2177.
GEM Description
A landmark in the Pacific Northwest, ice-clad, volcanic Mount Rainier is covered by 26 glaciers; forests, meadows and ridges add to the alpine scenery.