Description
Muir Woods National Monument, 12 miles north of the Golden Gate Bridge on the southwestern slope of Mount Tamalpais, can be reached via US 101 and SR 1. Named for Scottish-born American conservationist and Sierra Club founder John Muir, 560-acre Muir Woods preserves a stand of Sequoia sempervirens, or coast redwoods—trees that once blanketed coastal valleys in much of northern California. A very tall evergreen (some specimens reach more than 250 feet in height), the coast redwood also can live to be more than 1,000 years old.
Muir Woods is a world unto itself. Situated along a canyon floor—part of a coastal valley traversed by Redwood Creek—it's a refuge of cool dampness and deep shade. Animals and birds are elusive (environmental conditions contribute to a lack of food), and there's a serene silence. This region never experienced the depredations of logging, so living redwoods of all ages thrive among dead giants still standing, rotting logs and an exuberant undergrowth of trees, ferns and other plants adapted to the moist, low-light conditions.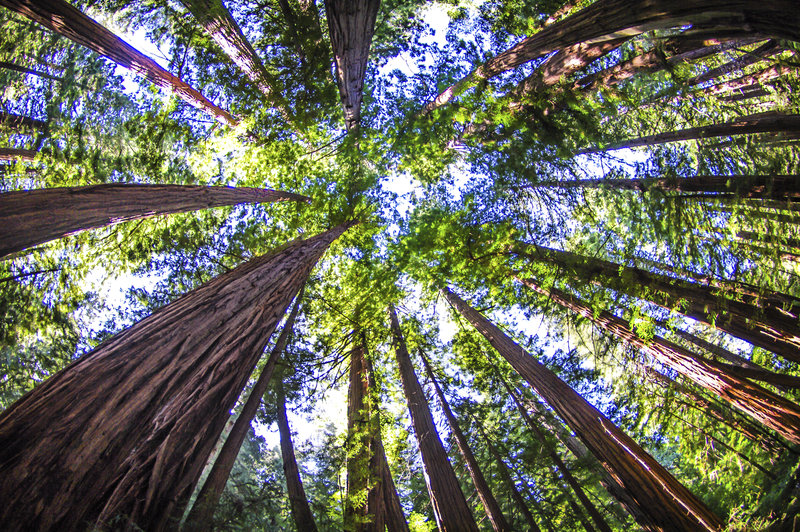 iStockphoto.com / ShaheenK
Although coast redwoods dominate, Douglas fir, maple, oak and bay laurel also thrive. Paved trails for hiking and exploring range from a half-mile to 2 miles long. One loop trail is divided into half-hour, 1-hour and 90-minute segments, all providing plenty of opportunities to marvel at the giant redwoods. If you don't feel like going on a long hike, Cathedral Grove, a short walk from the entrance, has some particularly large trees and a hushed quiet that seems to envelop the forest. Longer trails cross over into adjoining Mount Tamalpais State Park, near Mill Valley.
Picnicking and camping are not permitted, and bicycles and pets are not allowed. Vehicles longer than 35 feet are not permitted on steep, winding SR 1, the main route to Muir Woods, and adverse weather conditions can cause delays.
Public transportation does not stop at Muir Woods, but various tour companies offer sightseeing trips that include transportation. Marin Transit provides shuttle service from Sausalito and Marin City to Muir Woods daily, late June to mid-Aug.; Sat.-Sun. and holidays, early Apr.-late June and mid-Aug. to late Oct. Round-trip fare $5; free (ages 0-15). For additional information phone (415) 226-0855.
Food is available. Walking trails open daily 8-8, mid-Mar. to mid-Sept.; 8-7, mid-Sept. to mid-Oct.; 8-6, late Jan. to mid-Mar. and mid-Oct. to early Nov.; 8-5, rest of year. Visitor center opens at 8 and closes 30 minutes before Muir Woods.
Note: Muir Woods can get very crowded during the summer months and on weekends at any time of year, and you may end up having to park along the approach road and hike to the entrance. To avoid crowds and secure a parking space, plan on arriving early (before 10) or after 3. The park is cool, shaded and damp year-round; rainy weather is a possibility from November through May.
Admission $10; free (ages 0-15). For additional information contact the Site Supervisor, Muir Woods National Monument, 1 Muir Woods Rd., Mill Valley, CA 94941-2696; phone (415) 388-2595, or TTY (415) 556-2766.
GEM Description
Named for noted conservationist John Muir, Muir Woods is one of the most beautiful spots in the country—and just might be the most peaceful. This protected grove of majestic coast redwood trees, laced with paved walkways and hiking trails, is a very special place indeed.