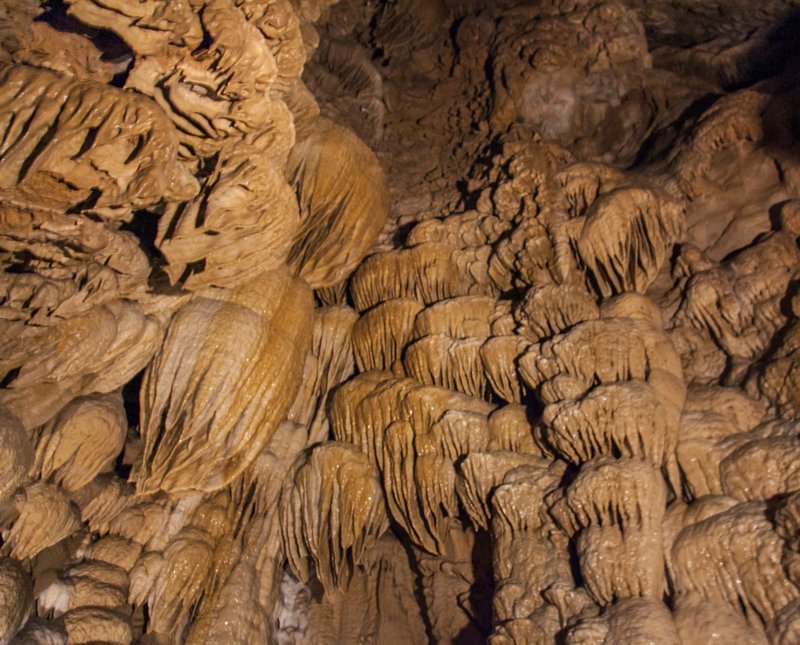 iStockphoto.com / fdastudillo
Description
Oregon Caves National Monument & Preserve is in the Siskiyou Mountains, 20 miles east of Cave Junction on SR 46 (Caves Highway). Its access road winds through the dense forests that are southwest Oregon's trademark. Due to narrow roads and ice and snow concerns, drivers of trailers and large recreational vehicles are discouraged from traveling the Caves Highway but can park at the visitor center in Cave Junction and drive smaller tow vehicles to the caves.
Note: The 20-mile drive from Cave Junction to the monument and preserve can take 45-50 minutes. A stop at the visitor center in Cave Junction is recommended to obtain a map containing parking and cave information as well as a diagram outlining the steepness of the climb in the cave.
In the heart of Mount Elijah at the 4,000-foot level, nature has carved and decorated the "Marble Halls of Oregon." Columns, stalactites and canopies of calcite line passageways and hang from the vaulted domes of the cavern's many galleries.
Paradise Lost has calcite flowstone and drapery formations on the walls of a room 60 feet high. The largest room, about 250 feet in length, was created by underground streams. A 7-foot calcite column, some large flowstone cascades and a fault line imprint resembling a whale's spine are a few of the cave's features.
There are marked trails at the monument for day hikers; connecting trails lead into nearby Rogue River-Siskiyou National Forest. It is best to check trail conditions with park rangers before hiking in winter and spring.
The 90-minute cave tour is mildly strenuous with more than 500 stairs, which are uneven and wet, and with low passageways that require bending and twisting while walking; visitors must be accompanied by a guide. Comfortable hiking shoes and protective clothing are recommended, as the year-round temperature inside the caves is 44 F. Pets are permitted on paved surfaces within the monument and preserve's boundaries and on adjoining forest service land. Cameras with a flash are allowed inside the cave, however, no tripods, flashlights or backpacks can be brought inside.
Tours are offered at regular intervals with a maximum of 15 people per tour. For safety reasons, children must be over 42 inches tall; they may not be carried through the cave. For families with children shorter than 42 inches, a sneak peek into the cave may be possible. Candlelight and off-trail tours also are offered during summer months.
Park open year-round; snow can temporarily close park roads during winter months. Tours depart daily 9-6, Memorial Day weekend-Labor Day; daily 9-4, day after Labor Day to mid-Oct.; daily 10-4, mid-Oct. to early Nov.; Thurs.-Mon. 10-4, mid-Mar. to Fri. before Memorial Day. Visitor center open while tours are offered. Park free. Cave tours $10; $7 (ages 0-16). For further information and to verify the tour schedule, phone (541) 592-2100.
GEM Description
Located in southwestern Oregon's Siskiyou Mountains, these caves feature impressive formations carved by Mother Nature.