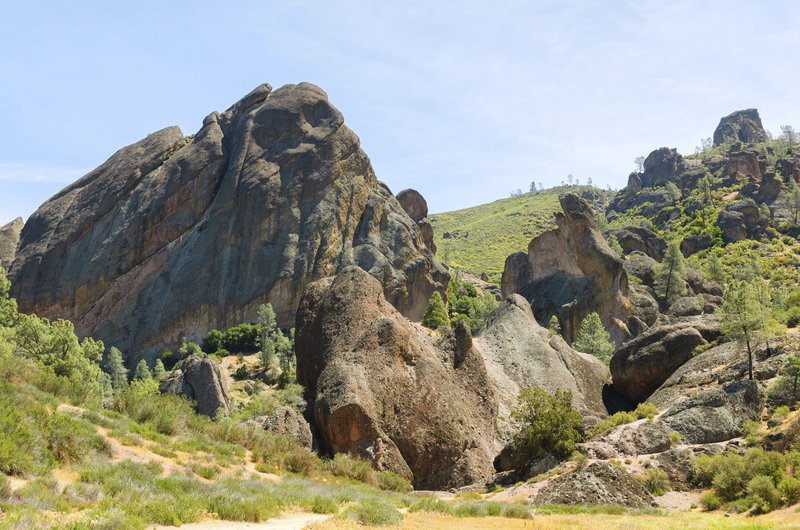 Description
Entered from the east via SR 146, 35 miles south of Hollister via SR 25, or 35 miles north of King City via CR G13, the park also can be approached from the west via SR 146, off US 101 in Soledad. Pinnacles National Park embraces about 24,000 acres of precipitous bluffs, spires and crags of colorful volcanic rock and a series of caves underneath the formations. The forces of heat, cold, water and wind have worn the contours of the rocky terrain.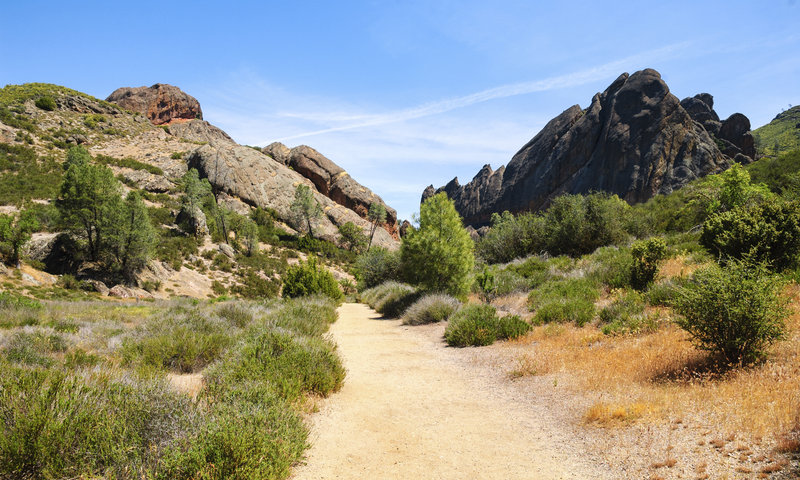 The east entrance to the park is open daily 24 hours. The Pinnacles Visitor Center, in the campground at the east entrance to the park, is open daily 9:30-5, with possible extended hours in summer; phone (831) 389-4485. Bear Gulch Nature Center, accessible by car from the east entrance, is open daily 10-4, June-Dec.; Sat.-Sun. 10-4, rest of year (when staff is available). The west entrance, open 7:30 a.m.-8 p.m., has a ranger station; the entrance road is winding and narrow. Trailers and motor homes are advised to use the east entrance. No roads connect the east and west districts.
Pinnacles is strictly a hiking park, although some major formations can be seen from the roadway. The best viewing by car is from the west side. Hiking trails range from easy 1-mile treks to strenuous hikes of more than 10 miles. It also is popular with rock climbers, whose favorite spots include the Balconies and High Peaks.
The park is bisected from north to south by a 1,000-foot-high ridge. Most of the spire-shaped formations, some more than 600 feet high, are located on or alongside the ridge. This central backbone has been cut in two places by streams; huge fragments of rock have fallen into the resulting deep clefts, creating caves. Bear Gulch Cave and Balconies Cave require visitors to carry flashlights. Bear Gulch Cave is generally closed mid-May to mid-July and may be partially closed at other times; phone ahead for schedule.
Note: Neither pets nor bicycles are permitted on the trails. In parking lots, roads and picnic areas, pets must be kept leashed and under physical control; they cannot be left unattended in vehicles. Beware of poison oak.
In addition to geological and scenic interest, the park has an abundant deer and bird population and offers a vibrant display of spring wildflowers. The plant and animal species are characteristic of a coast range chaparral ecosystem. Picnic facilities are available. Admission is $15 per private vehicle or $10 per person for walk- or bike-in visitors (both fees are valid for 7 days). Parking areas fill up early on weekends and during spring, the busiest season. Phone (831) 389-4486.
GEM_DESCRIPTION
Jagged crags and stark spires that serve as remnants of an ancient volcano rise above a countryside rich with flora and fauna.