Description
Prince Edward Island National Park can be reached from six entrances along hwys. 6, 13, 15 and 25. With an area of about 26 square kilometres (10 sq. mi.), the park extends 40 kilometres (25 mi.) along the island's northern shore along the Gulf of St. Lawrence. It offers long stretches of sandy beaches, sweeping sand dunes, ponds and woodlands, and salt marshes that abound with waterfowl and shore birds, including the great blue heron.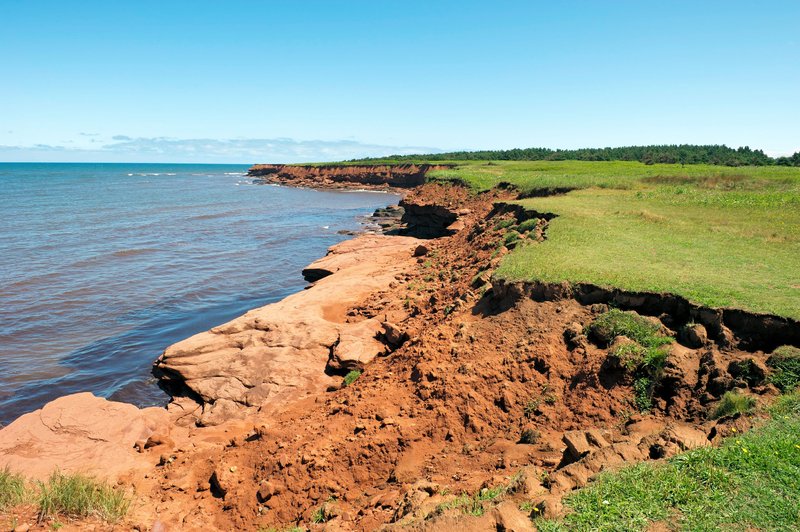 Many years of wind and wave erosion have carved the park's sand dunes, beaches and red sandstone cliffs. Greenwich, east on Hwy. 2 to Hwy. 313 at St. Peters, shelters a rare and relatively undisturbed parabolic dune, a migrating wave of sand that has swept through forests, leaving skeletal trees in its wake. Sharp-eyed hikers may glimpse a variety of wildlife throughout the park, including the red fox.
General Information
The park is open daily year-round, but only limited services are available September through June. Camping is available at Cavendish and Stanhope from early June to mid-October; there is a camping fee. Vehicles (including motorcycles and minibikes) must stay on designated roadways and are not allowed on the sand dunes, beaches or trails.
Prince Edward Island's north shore offers an abundance of water sports and recreational activities in July and August. Lifeguards supervise beaches at Brackley, Cavendish, Cavendish Campground, Greenwich, North Rustico, Ross' Lane and Stanhope Lane. Anglers can charter boats at nearby harbors for deep-sea fishing. A national park fishing license is required to fish in the ponds and streams within the park. A number of small lakes and ponds have brook trout, but motorboats are not permitted on these ponds.
The park also has facilities for golf and tennis. For cyclists and hikers, an array of multiuse trails crisscross the park, including a paved trail that runs along the scenic Gulf Shore Parkway and a beginner's mountain biking technical trail at Robinson's Island. A regular schedule of interpretive activities is offered daily July through August.
Park information is available Monday through Friday year-round by calling Parks Canada; phone (902) 566-7050. The Cavendish Visitor Information Centre, at the intersection of hwys. 6 and 13, and the Dalvay Building, located in the park, offer park information mid-June through Labour Day.
ADMISSION
ADMISSION free. Entrance station open daily 10-6, July 1-Labour Day; 10-4, mid-June through June 30.
PETS
PETS are allowed in most areas except on beaches or in public buildings. Animals must be leashed or otherwise physically restrained at all times.
ADDRESS
ADDRESS inquiries to Parks Canada, 2 Palmers Ln., Charlottetown, PE, Canada C1A 5V8. Phone (902) 566-7050 or (877) 737-3783 for camping reservations.
GEM Description
Red foxes, waterfowl and shore birds populate this park replete with sandy beaches, sweeping sand dunes, ponds, woodlands and salt marshes.