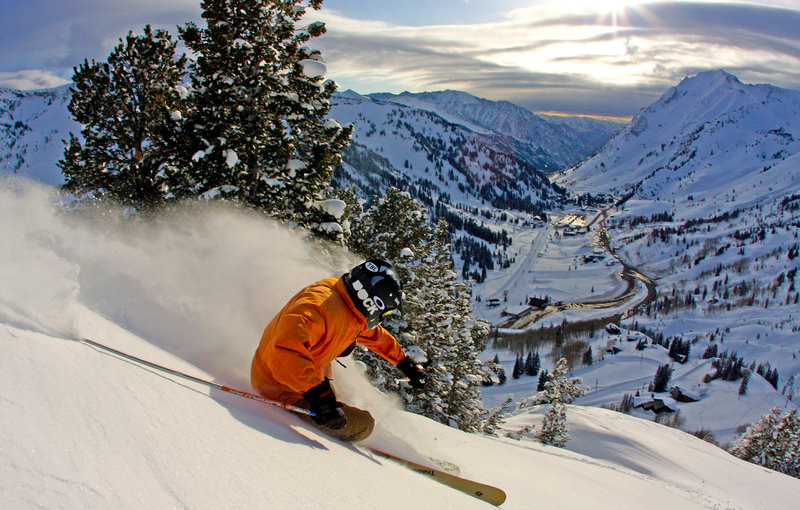 Courtesy of Visit Salt Lake / NA
Introduction
Salt Lake City is Utah's capital and serves as an all-purpose gateway to the state's scenic national parks and recreational areas. You couldn't ask for a more impressive natural setting—Great Salt Lake spreading out to the northwest, the forbiddingly beautiful Great Salt Desert beyond and the snowcapped Wasatch Mountains towering in the background. It's no surprise that Salt Lake City hosted the 2002 Winter Olympic Games, or that athletes as well as more casual sports enthusiasts flock here to take advantage of the excellent recreational facilities.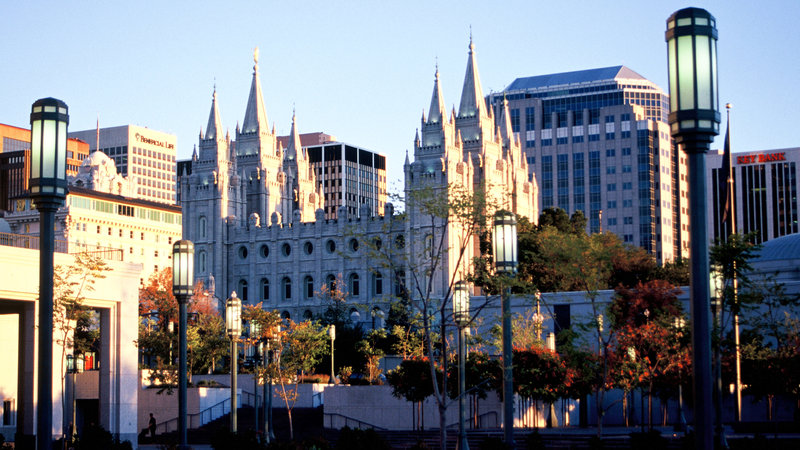 Courtesy of Visit Salt Lake / NA
An easy and popular way to see the downtown area is to take a carriage ride beginning at Temple Square. The square contains several monuments in addition to the Salt Lake Temple and the Salt Lake Tabernacle of the Church of Jesus Christ of Latter-day Saints. You also can pick up self-guiding walking tour brochures recommended by the Utah Heritage Foundation at the Salt Lake City Visitor Information Center in the Salt Palace, the city's cultural jewel. While you're there, visit the Utah Museum of Contemporary Art or take in the Utah Symphony.
In Depth
Founded by Mormons in 1847, Salt Lake City—today the cultural and ecclesiastical as well as the political capital of Utah—lies in a spectacular setting at the foot of the Wasatch Mountains, with the Great Salt Lake visible to the northwest and the Great Salt Lake Desert to the west.
Like many earlier American settlers, adherents of The Church of Jesus Christ of Latter-day Saints (who often are referred to as Mormons) traveled across the country in search of a place where they could practice their religion without persecution. As these Mormon pioneers approached the Salt Lake Valley for the first time, their leader, Brigham Young, proclaimed, "This is the right place."
In 1850, following a failed petition by the settlers for their "State of Deseret" to be recognized by the U.S. government, Congress established the Utah Territory, with Salt Lake City later named as its capital. A few years after Utah joined the Union in 1896, the decorous Corinthian-style State Capitol was built. Set on a lush site showcasing plants native to the region, the seat of government spotlights Utah's history, people and values in its masterful design.
Still, many of the city's finest buildings are ecclesiastical, and some of its most striking houses were once occupied by Young and his family. With streets designed to be "wide enough for a team of four oxen and a covered wagon to turn around," Salt Lake was laid out in a grid pattern fanning out from what is now known as Temple Square.
The three-block area is home to the most prominent LDS Church edifices. Today, both clued-in and inexperienced sightseers have this square on their list of must-sees, as evidenced by the two visitor centers located here. Most trip itineraries include a tour of the dome-shaped Salt Lake Tabernacle on Temple Square. Outside the Salt Lake Temple, amateur photographers snap pictures of this dazzling multispired edifice, an active and highly revered place of worship (the interior is closed to the public).
South Temple Street has a large concentration of 19th- and early 20th-century designs, including the Gothic-style Cathedral of the Madeleine, completed in 1909, and the 1901 Thomas Kearns Mansion. Architectural evidence of Salt Lake City's mining wealth around the turn of the 20th century can be seen during guided tours at the latter, now the governor's mansion; phone (801) 538-1005.
The Brigham Young Monument, a tribute to the second president of the Mormon Church and the first territorial governor of Utah, is on the corner of South Temple and Main streets. On its north face, a bronze plaque lists the Mormon pioneers who arrived here on July 24, 1847; their predecessors, Native Americans and enterprising fur trappers, also are commemorated with two bronze figures at the monument's base.
One of Salt Lake City's most interesting structures is the Eagle Gate, erected in 1859 as the entrance to Young's private farm. Spanning State Street in front of the Beehive House, the giant four-legged arch is surmounted by a 4,000-pound bronze statue of an eagle with a wingspread of 20 feet. The gate has been remodeled several times; the original copper-plated eagle, which has a wingspread of 16 feet, is in the Pioneer Memorial Museum on Main Street.
A more modern architectural showpiece is the Salt Palace, an integral part of the city's cultural scene. Officially the Calvin L. Rampton Salt Palace Convention Center, the complex at 90 S. West Temple St. includes Abravanel Hall, the home of the Utah Symphony, and the Utah Museum of Contemporary Art.
By Car
Salt Lake City is sometimes called the "Crossroads of the West" due to its easy access. I-15 runs, north-south, I-80 east-west. I-215 provides a loop around all but the city's northeastern quadrant. US 89 (State Street) is a major north-south thoroughfare, with the State Capitol as its northern end. An alternate east-west route is 2100 South Street.
Street System
Downtown streets are based on a grid system; Temple Square is the center of the grid and the point at which all numbering begins. Most addresses incorporate two separate numbers; the local AAA office, for example, is at 560 East 500 South, meaning that it's 5 blocks south of the temple and slightly more than 5 blocks east. Addresses are also stated 560 East on 500 South. Locals tend to drop the last two zeros when giving directions; thus 500 South becomes 5th South. Some streets have a name as well as a number, but most have numbers only.
Parking
Metered parking is available throughout the city, with a 2-hour limit at most meters. After 8 p.m. metered parking is free. Parking is available at the Firestone Building, 175 West 200 South and through Ampco System Parking at various locations; phone (801) 364-7275. Fees range from $3-$5 (hourly rate) to $5-$10 (daily rate).
Sales Tax
The sales tax in Salt Lake County is 6.85 percent. There also is a 4.75 percent tax on lodgings in Salt Lake County, 9.5 percent levied on automobile rentals and a 1 percent restaurant tax.
Police (non-emergency)
(801) 799-3000
Hospitals
LDS Hospital, (801) 408-1100; St. Mark's Hospital, (801) 268-7111; Salt Lake Regional Medical Center, (801) 350-4111; University of Utah Health Care-University Hospital, (801) 581-2121.
Newspapers
The Salt Lake Tribune and the Deseret News are the city's daily morning newspapers.
Radio
Salt Lake City radio station KSL (1160 AM/102.7 FM) is an all-news radio station; KCPW (88.3 and 105.3 FM) and KUER (90.1 FM) are members of National Public Radio.
Visitor Information
Salt Lake City Visitor Information Center 90 S. West Temple SALT LAKE CITY, UT 84101-1406. Phone:(801)534-4900 or (800)541-4955
Air Travel
Salt Lake City International Airport (SLC), 7 miles west of the downtown area, is accessible from I-80. Driving time is approximately 10 minutes. Most Salt Lake City hotels offer free shuttle service to and from the airport. Average taxi fare from the airport to the city is $20; limousine fare averages $79 per car. Salt Lake City's light rail system, TRAX, now provides service from the airport to downtown on its green line. The one-way fare is $2.50; $1.25 (ages 65+).
Canyon Transportation provides car and van service from Salt Lake International Airport to hotels and resorts in Alta, Brighton, Park City, Sundance and other destinations throughout the Salt Lake Valley; phone (801) 255-1841.
Rental Cars
Hertz, 775 N. Terminal Dr. at the airport, offers discounts to AAA members; phone (801) 575-2683 or (800) 654-3080.
Rail Service
The Amtrak station is at 340 South 600 West; phone (800) 872-7245.
Buses
The Greyhound Lines Inc. terminal is at 300 South 600 West; phone (801) 355-9579 or (800) 231-2222 or TTY (800) 345-3109.
Taxis
Taxis are on the meter system. Cab companies include City Cab, (801) 363-5550; Ute Cab, (801) 359-7788; and Yellow Cab, (801) 521-1862.
Public Transportation
Utah Transit Authority (UTA) provides bus service for Salt Lake City as well as transportation to nearby ski areas. Salt Lake City's light rail system, TRAX, also is operated by UTA. The Blue Line runs from downtown south to Draper. The Red Line connects downtown with Jordan and the University of Utah campus. The Green Line connects downtown with West Valley City and the airport. TRAX arrives at stations within 10-30 minutes. In addition, the FrontRunner commuter rail line connects downtown with Ogden, and a high-speed MAX bus links the Millcreek TRAX station with the town of Magna.
One-way fare, valid on buses and light rail, is $2.50; $1.25 (ages 65+); free (ages 0-5). Round-trip fare is $5; $2.50 (ages 65+). A 1-day pass is $6.25. A round-trip group pass is $15 (up to four people). All fares include a fuel surcharge. Exact change is required.
When traveling within the Free Ride Zone, located downtown from North Temple to 500 South and 400 West to 200 East and including the TRAX library station and the bus stops between 200 East and 300 East on 400 South, passengers may use either the buses or light rail for free, but boarding and unloading must occur within the defined area. Phone (801) 287-4636 for information about either system.
Published with permission from AAA associate Carl Olson / NA
Essentials
Encompassing three city blocks in the heart of downtown Salt Lake City,
Temple Square
contains nearly 20 points of interest relating to the Mormon religion and Utah pioneer history. If you're a first-time visitor, take one of the regularly scheduled guided tours led by missionaries and volunteer docents.
The massive, six-spired, neo-Gothic
Salt Lake Temple
, the worldwide icon of The Church of Jesus Christ of Latter-day Saints, was constructed over a 40-year period by Mormon pioneers who sacrificed time, labor and material goods to create a symbol of their faith and devotion. Only church members may enter, but you can stroll around the grounds and admire the building's sheer scale and stunning exterior workmanship.
The
State Capitol
overlooks Salt Lake Valley from the vantage point of Capitol Hill. Marvel at the interior ceiling of the building's dome, which soars 165 feet above the floor and is painted with a large mural depicting seagulls flying among clouds—a reference in Mormon folklore to the miraculous 1848 arrival of California gulls that proceeded to devour insects destroying the first crops planted by pioneers.
Brigham Young and his followers first entered the Salt Lake Valley at Emigration Canyon, where the Mormon leader allegedly declared that "This is the right place."
This Is The Place Heritage Park
commemorates their arrival with a bronze sculpture of Young and two fellow colleagues. Learn about 19th-century pioneer life at the park's
Heritage Village
.
Across from Heritage Park is
Utah's Hogle Zoo
, a great family destination. Kids love riding the horses, bears and other beasties on the Conservation Carousel and watching as nature's largest land mammals have their toenails trimmed during Elephant Encounter. In summer the Wildlife Theatre Bird Show features performing eagles, hawks, owls and parrots.
Great Salt Lake is one of the saltiest bodies of water on Earth (only the Dead Sea has a higher saline content). Take a day trip to
Antelope Island State Park
, where you can test the water's incredible buoyancy—even the most committed landlubbers will easily float—go for a hike or tour the state's oldest ranch.
Courtesy of Red Butte Garden and Arboretum / NA
Utah is famed for rugged mountains and stark landscapes, but there also are greener pleasures like
Red Butte Garden and Arboretum
. Pack a picnic lunch and enjoy nature at one of the "wayside" resting areas; the spring show of color, courtesy of daffodils, lilacs and blooming crab apple trees, is lovely.
Meet Chilean flamingos, trumpeter swans, turquoise tanagers and Storm the red-tailed hawk at the
Tracy Aviary
, where you can learn lots of cool stuff about our feathered friends via informal, up-close bird encounters.
Hearing the glorious collective voice of the Mormon Tabernacle Choir is an inspirational experience. Attend one of the choir's free weekly performances at the
Salt Lake Tabernacle on Temple Square
, where the superb acoustics heighten the glory.
A twinkling wonderland awaits during the Christmas Lighting of Temple Square, when hundreds of thousands of white lights cover trees and buildings the day after Thanksgiving through December.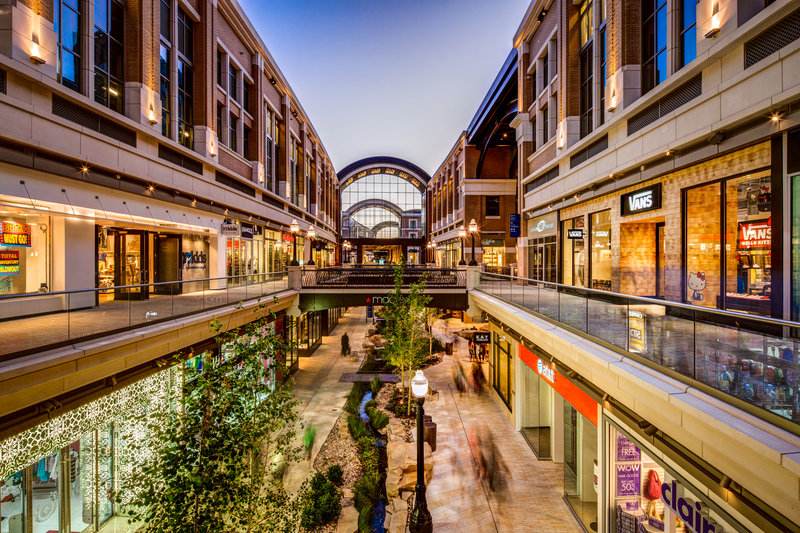 Courtesy of City Creek Center / NA
Shopping
Pedestrian-friendly City Creek Center , 50 Main St., is noted for its retractable glass roof and open-air design. Other highlights include a foliage-lined creek that runs throughout the site and a pedestrian skyway. In addition to anchors Macy's and Nordstrom, it has more than 100 other stores.
The Gateway , located along North 400 West, features a restored 1908 Union Pacific Depot with French Renaissance architecture and original artwork. In addition to more than 130 stores and restaurants, the area also offers the "dancing waters" of the Olympic Snowflake Fountain at the Olympic Legacy Plaza.
The historic cabins and homes that comprise Gardner Village , 1100 West 7800 South in the suburb of West Jordan, house shops offering furniture, accessories and collectibles. A restaurant and country store are located in the former Old Gardner Mill.
Trolley Square , on 700 East between 500 and 600 South streets, is in a 1908 trolley barn built by railroad magnate E.H. Harriman. Trolley cars, stained-glass windows and antique lighting fixtures create a nostalgic atmosphere. Shops, restaurants and theaters line the mall; some of the businesses are housed in refurbished trolley cars, while the exteriors of others resemble Victorian mansions.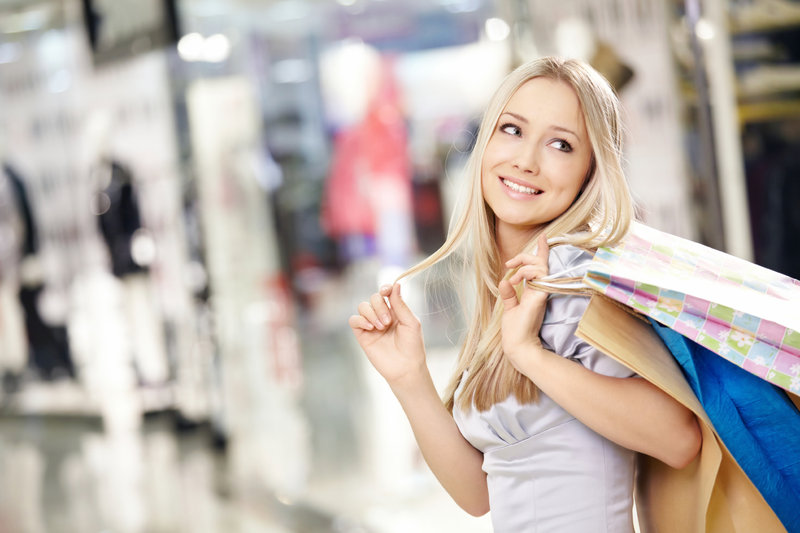 iStockphoto.com / Deklofenak
Mall it at Fashion Place , 6191 S. State St. in nearby Murray. It has some 110 stores and restaurants along with anchor Nordstrom. South Towne Center , 10450 S. State St. in Sandy, has 130 stores, including Dillard's, JCPenney and Macy's, and also a carousel. The 100 retailers at Valley Fair Mall , 3601 South 2700 West, include JCPenney and Macy's.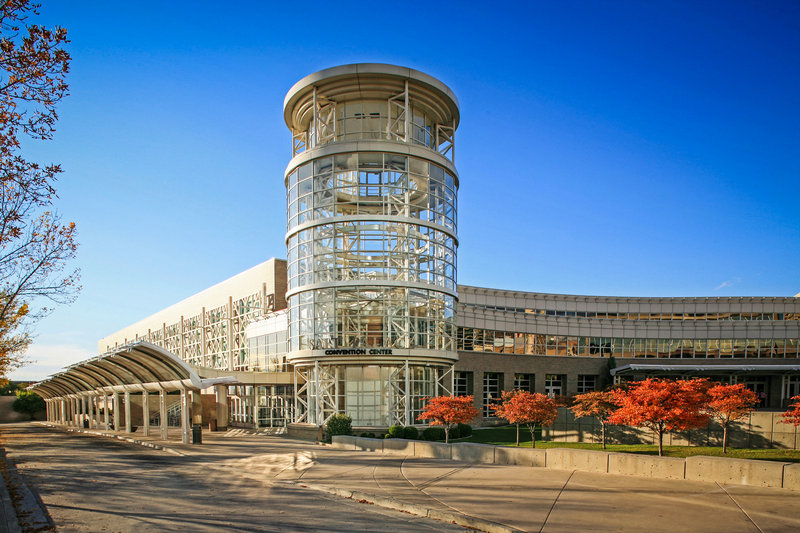 Courtesy of Visit Salt Lake / NA
Performing Arts
The Salt Palace (officially the Calvin L. Rampton Salt Palace Convention Center), 90 S. West Temple, is known for its striking architectural elements, including delicate snowflake chandeliers and a circular, glass-walled entrance tower framed by HSS (Hollow Structural Steel). For event and schedule information phone (801) 534-4900.
The brand-new George S. and Dolores Doré Eccles Theater, 131 S. Main St., opened in October 2016 and is another facility that boasts striking architectural features—in this case a dramatic six-story lobby with retractable glass walls. Touring Broadway shows and concerts by popular entertainers take place in the 2,500-seat theater, while the Black Box is the scene of smaller, innovative productions featuring local talent. For ticket information phone ArtTix at (801) 355-2787 or (888) 451-2787.
Performances of the Utah Symphony, (801) 533-6683, are held in Abravanel Hall, located within the Salt Lake County Center for the Arts complex at 123 W. South Temple. The Capitol Theatre, nearby at 50 West 200 South, is the home of Ballet West, which stages both classical and modern works. The theater, which is restored to its original turn-of-the-20th-century opulence, also is the home of Utah Opera productions. For symphony, ballet or opera tickets phone ArtTix at (801) 355-2787 or (888) 451-2787.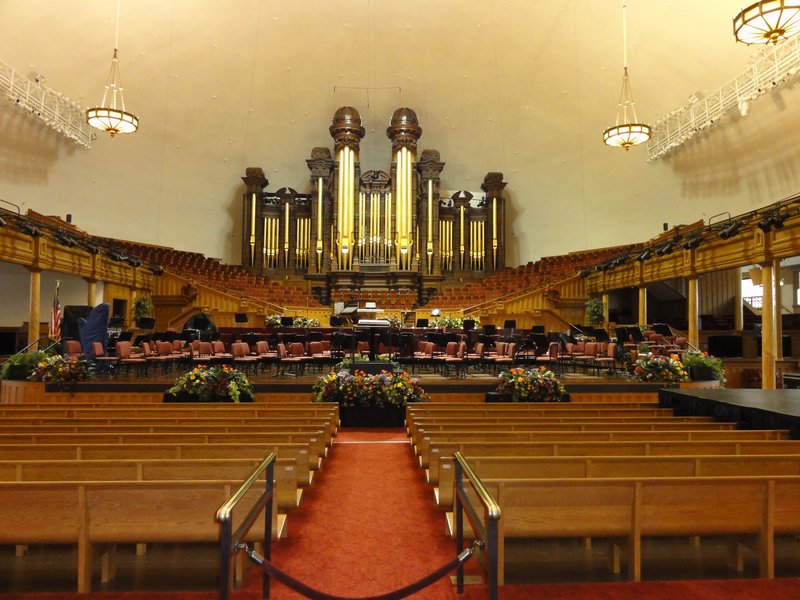 The Mormon Tabernacle Choir presents free weekly performances of inspirational music in the acoustically renowned Salt Lake Tabernacle on Temple Square.
Pioneer Theatre Company, Utah's resident professional theater, is located on the University of Utah campus. The company presents musicals as well as classical and contemporary plays; for ticket information phone (801) 581-6961.
Dance in Salt Lake City is represented by the Repertory Dance Theatre, which stages American modern dance classics and contemporary masterpieces at the Rose Wagner Performing Arts Center, 138 West 300 South. The Ririe-Woodbury Dance Company performs at the Rose Wagner Performing Arts Center and also at the Capitol Theatre. For tickets phone the Repertory Dance Theatre at (801) 534-1000, or ArtTix at (801) 355-2787 or (888) 451-2787.
Carriage Tours
Carriage rides, which begin at Temple Square, are a popular way to see the downtown area. Reservations are suggested; inquire at your hotel for recommendations.
Walking and Driving Tours
A free brochure covering self-guiding walking and driving tours is available at the Salt Lake City Visitor Information Center and at major area hotels and motels. The Utah Heritage Foundation also provides information about self-guiding tours of the area; phone (801) 533-0858.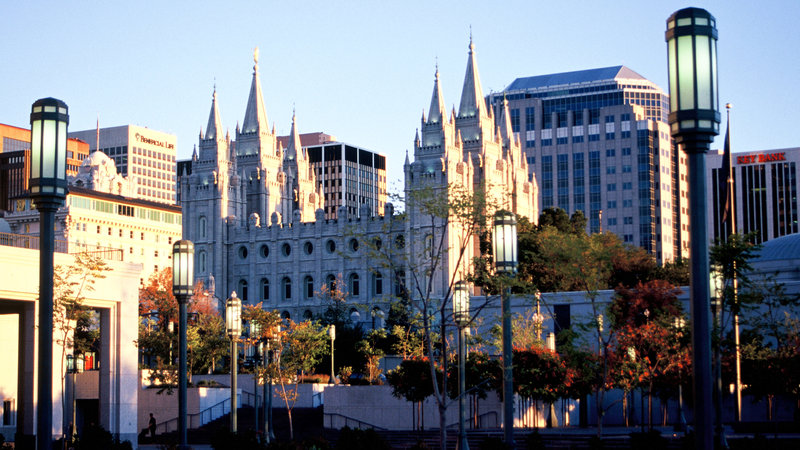 Courtesy of Visit Salt Lake / NA
Mormonism
Joseph Smith Jr., the son of a poor upstate New York farmer, is said to have received a visit in 1827 from the angel Moroni. Smith said the angel, who was the son of the prophet Mormon, entrusted him with golden plates inscribed with symbols, which Smith translated into the Book of Mormon.
The name of the church, which began in 1830, is The Church of Jesus Christ of Latter-day Saints, or LDS Church; "Mormon" is a nickname. Mormons believe that Jesus Christ is the son of God and that divine revelation did not end with the disciples but continues today. They place strong emphasis on the family and rely on the leadership of lay members rather than professional clergy.
Smith advocated polygamy and was a polygamist himself. Although only a fraction of the Mormon population practiced polygamy at any time, advocacy of it led to strife with non-Mormons wherever the Mormons settled. Smith had designated Missouri as Zion, but persecution there forced the Mormons to move to Illinois, where they established the city of Nauvoo. Smith was arrested and jailed in neighboring towns; in 1844 he was shot to death by a mob that stormed Carthage City Jail.
Soon after Smith's death the church split into two factions. Mormons who rejected polygamy formed a "Reorganized Church" and returned to Missouri. A larger group followed Brigham Young to Utah in 1847, establishing Salt Lake City. Although Utah Mormons applied for statehood as early as 1849, their request was not granted until 1896, after the church abolished polygamy.