Introduction
When you go to Savannah, take along a reverence for the past and a penchant for romance. You'll also want to pack a spirit of adventure, because Georgia's first city is full of surprises.
Savannah's 22 public squares are a source of civic pride. After losing two of the 24 original squares to development by the 1950s, preservationists stepped in to protect the remainder. Surrounded by lovely restored houses and dotted with monuments, statuary, fountains and relics, Savannah's lush pocket parks serve as outdoor museums, begging your patronage. Discover some of the prettiest along Bull and Abercorn streets.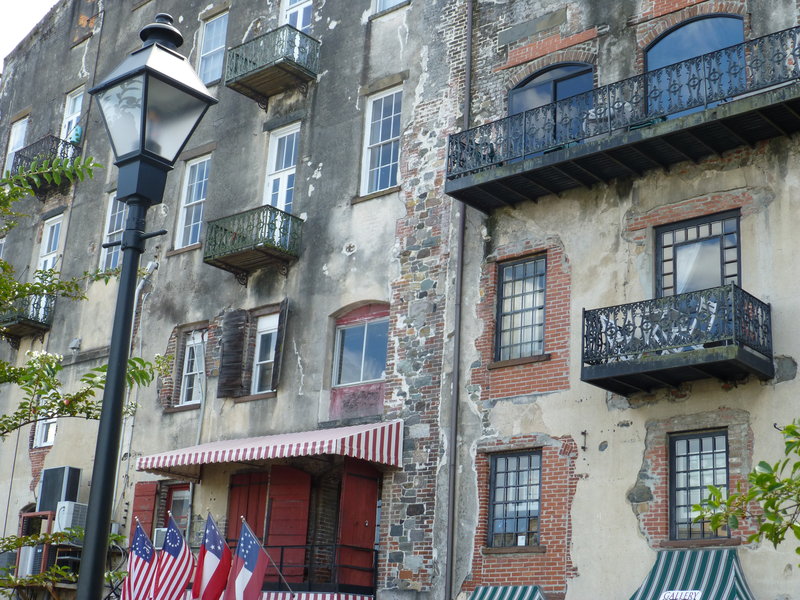 Michael L. Camarano / AAA
The city woos romantics to its doorstep with handsomely appointed historic inns that transport guests to another era. To complete the seduction, restaurant choices range from fine nouvelle Southern cuisine by candlelight to down-home-dining hot spots such as celebrity chef Paula Deen's The Lady & Sons. Horse-drawn carriage rides, riverboat cruises and trolley tours offer carefree sightseeing options, while museums of art, history and maritime heritage provide hours of casual browsing through outstanding exhibits and collections. Entertainment runs the gamut from live jazz at City Market to live theater at three performance venues.
If it's excitement you seek, nothing spikes the adrenaline like a ghost walk through a cemetery. Experts on paranormal activity rank Savannah high on their most-haunted-city lists. For history buffs, a world of discovery awaits at old forts, plantation sites and lighthouses. And those seeking outdoor activities have easy access to Tybee Island's natural resources for swimming, kayaking, fishing or ecotouring.
In Depth
Gen. James E. Oglethorpe and his settlers founded Savannah, England's 13th and last colony, in February 1733. Forgoing the usual village grid system, Oglethorpe and Col. William Bull laid out their new settlement in a series of wards in which commercial and residential buildings centered on a public square. This visionary plan has survived as the city's blueprint because of Oglethorpe's choice of location.
On a bluff overlooking the Savannah River, the new settlement soon prospered as a crossroads of trade with England and the new communities of the interior. Port traffic, begun in 1744, experienced a steady increase along with the plantation economy of tobacco and cotton.
Residents eagerly embraced the revolt against England, and Savannah was garrisoned by some 900 Colonial troops under Gen. Robert Howe. British forces captured the city by surprise in December 1778 and made it a base for their operations against the Colonies until their departure in 1782.
Nineteenth-century Savannah grew and flourished with King Cotton, becoming a vital port. In 1862 Union forces closed the port to all but blockade runners when they captured Fort Pulaski. Two years later Gen. William Tecumseh Sherman blazed a trail of destruction across Georgia to the city. Confederate forces fought stubbornly, but with the fall of Fort McAllister, Gen. William J. Hardee realized further resistance was futile and withdrew his troops to prevent the city's destruction. Sherman entered Savannah on Christmas Day 1864 and offered it to President Abraham Lincoln as a present.
Cotton again came to the rescue after the war as the city grew into a major trading center. The collapse of the cotton market at the beginning of the 20th century left Savannah languishing until just before World War II, when other industries began to develop. Almost lost to the wrecking ball, however, was what Sherman had spared some 100 years earlier: its squares, its houses and its heritage.
In a drive to reshape the city's skyline, developers began to tear down historic structures. The proposed demolition of the Davenport House, now a museum, sparked the founding of the Historic Savannah Foundation. This dedicated group of women organized one of the country's first and most successful urban restoration programs, buying hundreds of properties and selling them to private parties along with a covenant to restore and repair them.
Today 22 of Oglethorpe's original 24 squares survive, lined with handsome town houses, bedecked with fountains and statues and beautified by live oaks and azaleas. The success of the Historic Savannah Foundation's early efforts spawned other civic renewal projects.
The cleanup of the river and the restoration of the warehouses and cotton brokerage offices along Bay Street, Factors Walk and River Street revived the city's historic waterfront. Instead of the commerce associated with cotton trade buying and selling, these renovated 19th-century buildings now house specialty shops, restaurants and nightspots.
Notable landmarks include Solomon's Lodge No. 1, Free & Accepted Masons, in the 1886 Cotton and Naval Stores Exchange at 100 E. Bay St. The Masonic lodge, organized in 1734, is the country's oldest in continuous operation, and the old exchange is said to be the first building to straddle a public street according to the legal principle of air rights.
River Street's Waving Girl statue is evocative of Savannah's romantic character. In the early years of the 20th century the city light tender's sister, Florence Martus, became known to sailors all over the world for waving at every ship. One legend maintains that she promised her sweetheart to greet every ship until his return.
Another historic building is Christ Church, on Johnson Square at Bull and East St. Julian streets. The congregation—the first in the Georgia colony—organized in 1733, and in 1736 established what is believed to have been the first Protestant Sunday school for children in the New World. The present structure was built in 1838; the interior was renovated following a fire in 1895. The church is open to the public by appointment; phone (912) 236-2500.
Colonial Park, East Oglethorpe Avenue and Abercorn Street, is the site of the old Christ Episcopal Church cemetery, for many years the only public burying ground in the colony. Closed to interment in 1853, the cemetery suffered much damage when Gen. William Tecumseh Sherman's troops used it as a stabling ground.
Founded in 1755 by members of the Church of Scotland, Independent Presbyterian Church is at the corner of Bull Street and West Oglethorpe Avenue. The building and steeple were re-created after the original structure, built in 1829, was destroyed by an 1889 fire; the original was modeled after St. Martin-in-the-Fields Church in London's Trafalgar Square; phone (912) 236-3346.
First African Baptist Church
, at 23 Montgomery St., was established in 1775. The church is housed in a brick sanctuary built in 1859 by congregation members. It is reputedly North America's oldest African-American church and has a museum containing archives and memorabilia dating from the 18th century. Guided tours are available; phone (912) 233-6597.
Since 1839, the Georgia Historical Society Research Center library and archives has preserved state history. The collection includes more than 4 million manuscripts, 100,000 photographs, 30,000 architectural drawings, 15,000 rare books, and thousands of maps, portraits, and artifacts. Across from Forsyth Park at 501 Whitaker St., it is housed in an 1876 structure designed by American Institute of Architects founder Detlef Lienau. The library is open Wed.-Fri. noon-5, first and third Sat. 10-5; phone (912) 651-2128.
Writer Mary Flannery O'Connor was born in Savannah in 1925 and lived at 207 East Charlton St. on Lafayette Square until 1938. A more recent local celebrity is chef, restaurateur and cookbook author Paula Deen. Born in Albany but a longtime Savannah resident, the ebullient Deen owns a popular downtown restaurant.
As you might imagine, Savannah has a packed events calendar. In mid-February the
Savannah Irish Festival
is celebrated with traditional folk dances, music and food. The city dons green for its festive
St. Patrick's Day Festival
on River Street. The 4-day
Savannah Tour of Homes and Gardens
, during which numerous private houses are open to the public, begins the fourth Thursday in March; for more information phone (912) 234-8054.
The holidays are celebrated in festive style in November and December. Individual events include the Savannah Harbor Foundation Annual Boat Parade of Lights, Christmas on the River and the
Holiday Tour of Homes
; for more information contact the visitor information center.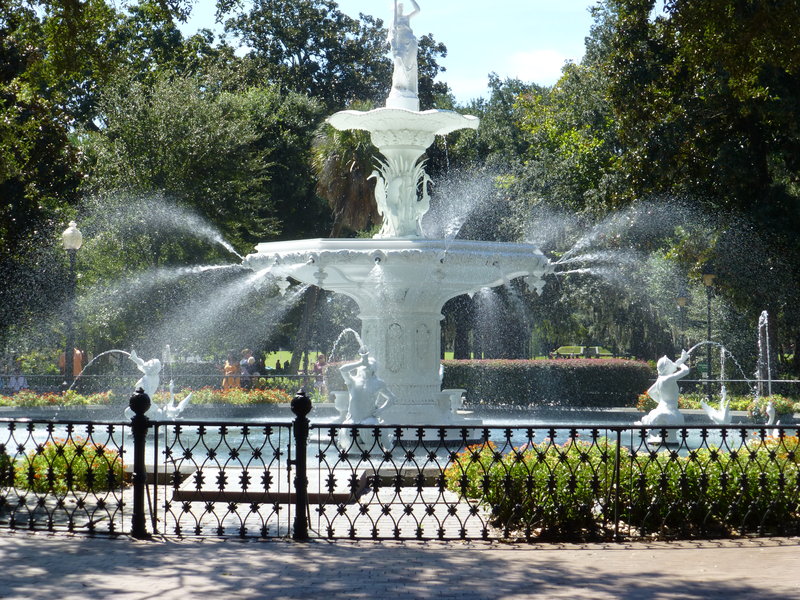 Michael L. Camarano / AAA
Put on your walking shoes. With 22 parklike public squares at two-block intervals, Savannah's historic district was made for strolling. Fountains, monuments, historical markers and statuary commemorate important people and events.
Pose for the camera in front of the ornate cast-iron fountain in Forsyth Park, one of Savannah's most photographed landmarks and an "extra" in many Hollywood films, including "Midnight in the Garden of Good and Evil."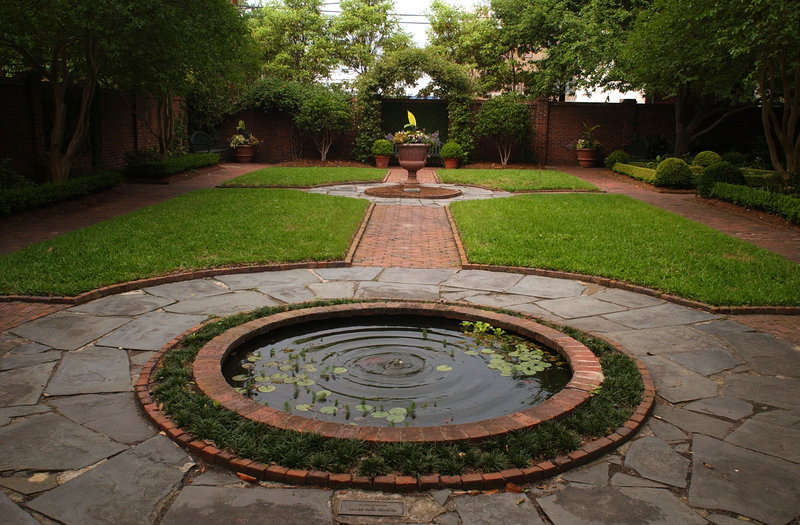 Courtesy of Davenport House Museum
Tour the historic homes of wealthy cotton kings and prominent citizens. Standouts include the
Owens-Thomas House
,
Davenport House
and the
Birthplace of Juliette Gordon Low
.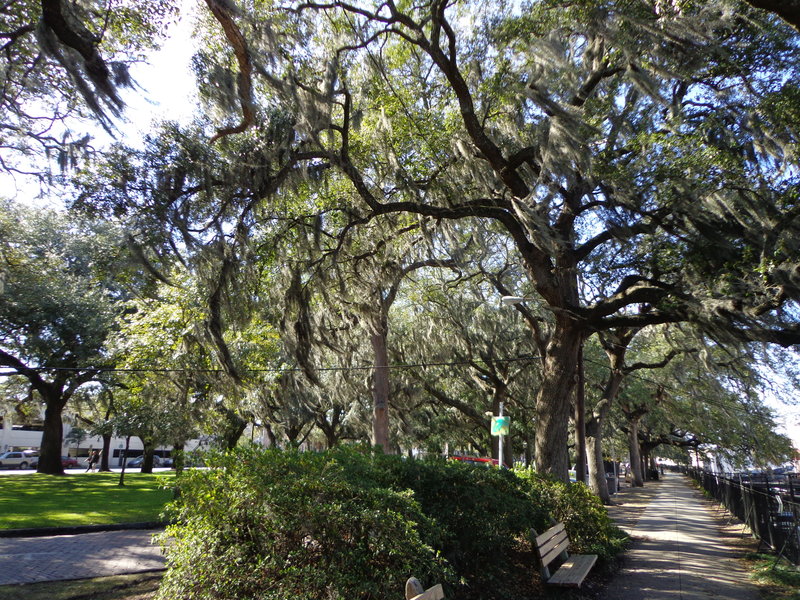 Find out for yourself if Savannah really is one of the nation's most haunted cities.
Southern Strolls Walking Tours
and
Carriage Tours of Savannah
spirit daring participants off on an evening tour of the city's dark side.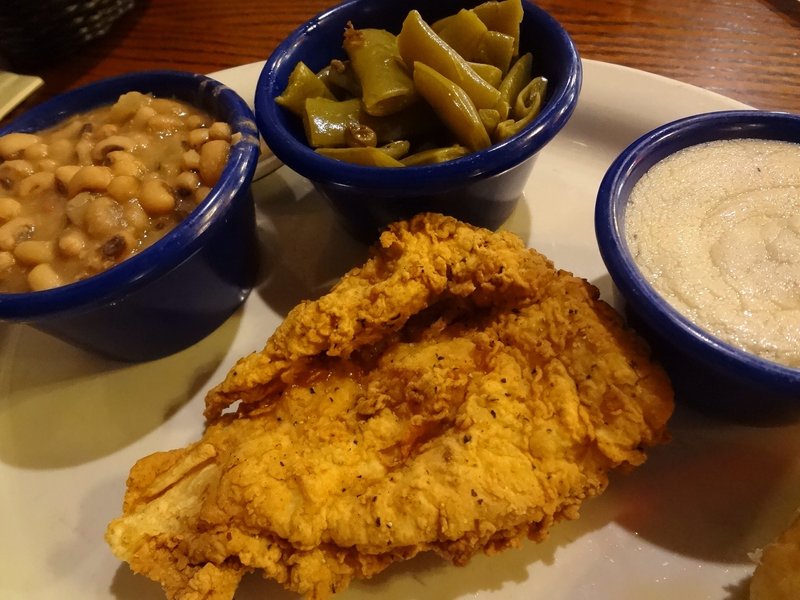 Sample Southern comfort food at Paula Deen's
The Lady & Sons
restaurant. Here, cuisine is as much about the cook as it is about the meal. See our Restaurants section for more favorite picks.
Discover River Street, Savannah's waterfront promenade. In addition to captivating scenery you will find gift shops, candy stores, eateries and pubs in a row of refurbished cotton warehouses known as
Factors Walk
.
Mingle with the locals in courtyards, watch artists at work in studios, listen to live music in clubs, dine in upscale restaurants, or nosh at European-style outdoor cafés at City Market. This Ellis Square gathering place has been a social and commercial hub since 1755.
Soak up a little Civil War history at
Old Fort Jackson
, in the downtown historic district, and at Fort Pulaski National Monument , on an island at the mouth of the Savannah River.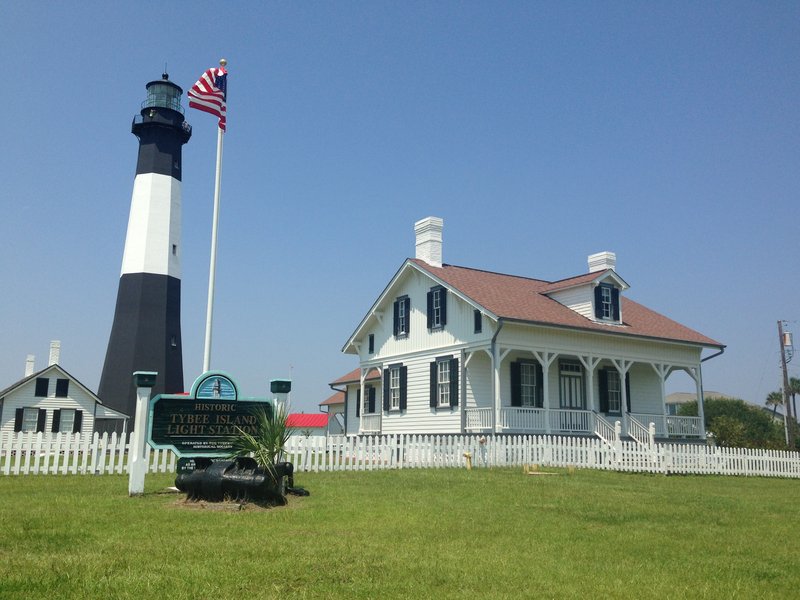 Photo submitted by Janet Brindle Reddick / AAA
Retreat to Tybee Island , Savannah's beach. You can explore historic sites, charter a deep-sea fishing boat, kayak on marsh inlets, dine on fresh-as-it-gets seafood or just plant a beach chair in the sand and think about it.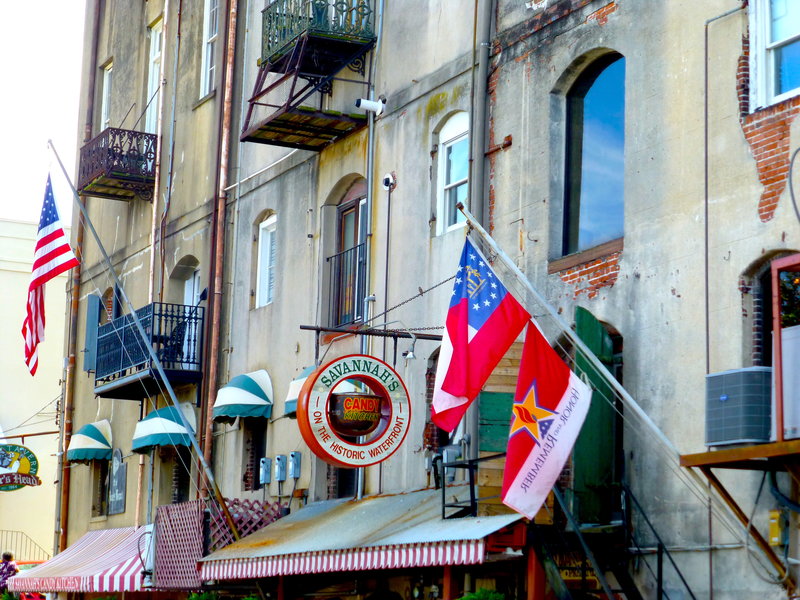 Michael L. Camarano / AAA
Shopping
Unless your heart is set on a classic mall, outlet mall or shopping center experience, you'll be more than content exercising your purchasing power within the boundaries of Savannah's walkable downtown historic district. While great places to swipe your credit card are found on nearly every street, there are a few areas you should definitely zero in on.
Sure, River Street is a tourist trap, but for good reason: This bustling waterfront promenade is easily navigable and has a little something for everyone. Formerly cotton warehouses, the multilevel 19th-century buildings lining the famed cobblestone street have been transformed into restaurants, bars, galleries, specialty stores and, as you'd expect, souvenir emporiums cluttered with T-shirts and pirate tchotchkes. Art aficionados should stop by Gallery 209 for a look at two floors' worth of local photography, sculpture, woodcrafts and other pieces as well as the chance to meet one of the artists. Suckers for sweets, take note: The aroma of fresh pralines and saltwater taffy wafting from the doors of confectioneries River Street Sweets and Savannah's Candy Kitchen makes it nearly impossible to pop in just for the free samples.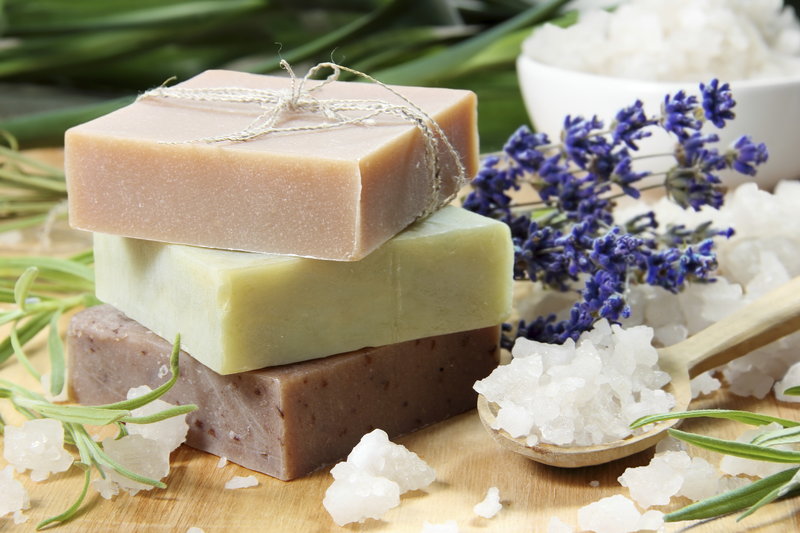 iStockphoto.com / Nataliiap
River Street Market Place, at the east end of the street, is an open-air bazaar of booths hawking everything from wind spinners to handcrafted jewelry. Situated on the level between River and Bay streets is Factors Walk, with its alleyways and network of cobblestone, iron and concrete walkways leading to antiques dealers, specialty shops and other businesses.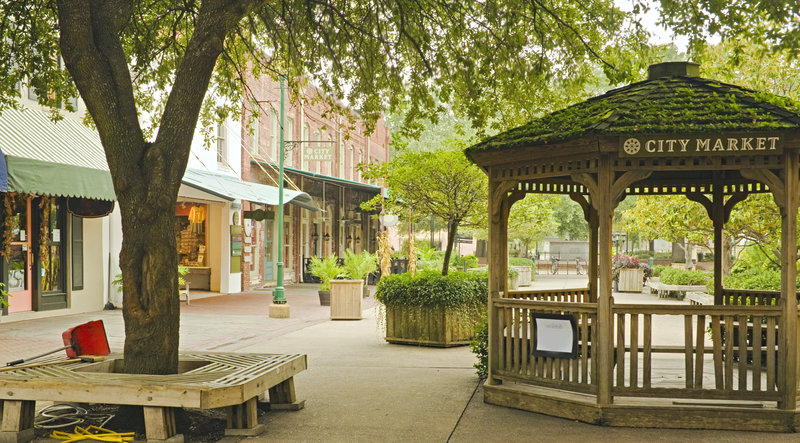 iStockphoto.com / alantobey
You'll notice the shopping scene gets less touristy the farther south from the Savannah River you go—that is, until you set foot in City Market . This four-block conglomeration of refurbished warehouses and storefronts between Ellis and Franklin squares has been a gathering place ever since the mid-18th century. Walking through the courtyard amid info kiosks and wooden planters, you'll see galleries, gift shops, sweets shops and eateries on each side. In the two-story Art Center, you can view and buy the works of more than 50 local artists, many of whom are on-site to chat with visitors.
At the Paula Deen Store , just south of City Market at 108 W. Congress St., fans of the local celebrity chef scope out her line of cookbooks, kitchen essentials and signature "Hey Y'all" mugs.
Those seeking to spruce up their homes and wardrobes with one-of-a-kind finds head to Whitaker Street, which runs parallel to Barnard. Known as the Downtown Design District, the segment between Charlton and Gaston streets is home to 20 or so indie retailers specializing in everything from antiques, folk art and vintage clothing to painted furniture, trendy lighting fixtures and fine linens. The exclusive boutiques, showrooms and galleries are definitely worth a peek inside, even if you've vowed to keep the credit card holstered.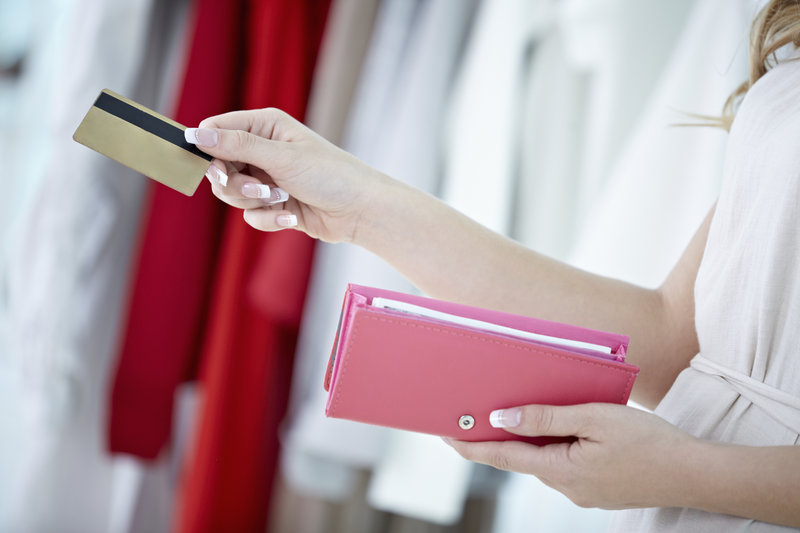 iStockphoto.com / mediaphotos
Going back north on Bull Street toward Liberty Street, you'll come across two noteworthy stops for discerning antique hounds: Alex Raskin Antiques , housed in a 12,000-square-foot 1860s Italianate mansion, and George Davis Antiques & Interiors . Another Bull Street highlight is the 1892 brick Savannah Volunteer Guards Armory building, which shopSCAD —a funky, colorful co-op gallery selling all sorts of items made by talented Savannah College of Art and Design (SCAD) students, faculty, staff and alumni—calls home. Nearby, bibliophiles can easily spend hours in two thoughtfully stocked independent bookstores: E. Shaver, Bookseller , 326 Bull St., and The Book Lady Bookstore , 6 E. Liberty St. Occupying the ground floor of a Greek Revival mansion on Madison Square, the former is beloved for its cheery atmosphere and excellent selection of local, regional, Civil War and children's reads. The latter, a cozy nook packed with 50,000-plus new, used and out-of-print texts, encourages customers to linger in its Wi-Fi café and reading garden.
Just a hop, skip and jump away from The Book Lady Bookstore is Fabrika Fine Fabrics , a true DIY fashion/interior designer's delight. This bright, fun little gem of a space offers sewing tools and equipment in addition to unique, high-quality textiles running the gamut from bridal silks to wools to cutesy-print cottons. Budget-minded fashionistas desiring the finished product procure super-chic looks for less at Red Clover , 244 Bull St. If you're searching for the perfect gift, Magnolia's of Savannah , 137 Bull St., carries holiday merch, old-school toys, candles, stationery and the like.
For more than a century, Levy Jewelers has dazzled Savannahians with its diamonds, watches, sterling silver and other precious pieces. In 2012 the family-owned retailer opened a new flagship location in a 20,000-square-foot midcentury modern building at the corner of Bull and E. Broughton streets. Also on E. Broughton is the exclusive Globe Shoe Company , which has helped hipsters complete their outfits since 1892. If you have a few bucks left after exploring the retail offerings on this side of Broughton, go ahead and indulge in an old-fashioned soda fountain fave at Leopold's Ice Cream, next to SCAD's Trustees Theater.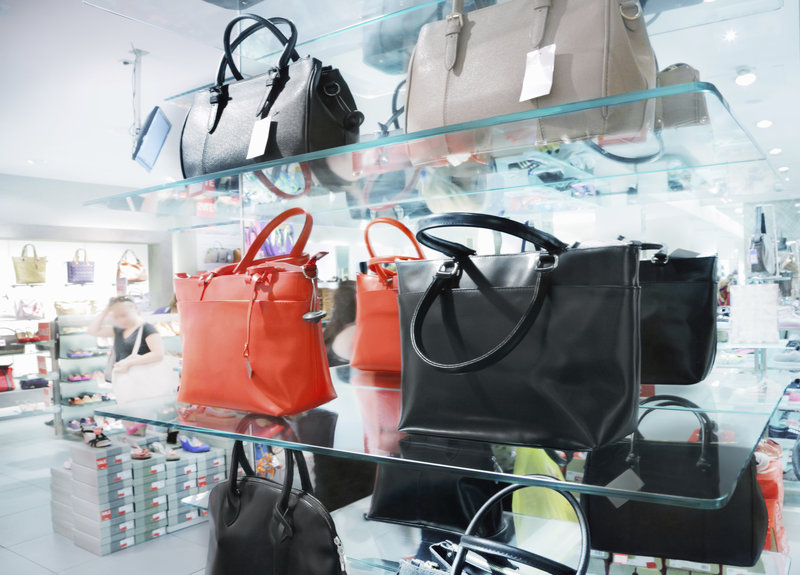 More shopportunities—from gourmet food stores to independent boutiques and interior design galleries to clothiers like GAP, Banana Republic, Urban Outfitters, Palm Avenue, Kate Spade and Free People—await you on W. Broughton Street. French flair and Southern charm come together at The Paris Market , a two-story emporium/coffee bar filled with tons of old and new treasures—bedding, estate jewelry, antique Egyptian chandeliers, English candles, baby items, you name it—inspired by the owner's travels. At Savannah Bee Company 's flagship store, you can peruse the selection of honey, body care products and bee-themed gifts; watch videos about bees; and let the kids play inside a giant faux hive.
Malls outside Savannah's downtown historic district offer the usual mix of nationally recognized department, clothing and specialty stores. Oglethorpe Mall , 7804 Abercorn Ext., is anchored by Belk, JCPenney, Macy's and Sears; Savannah Mall , 14045 Abercorn St., includes Dillard's, Bass Pro Shops Outdoor World and Burlington Coat Factory. One of the city's newer shopping complexes, Abercorn Walk (5525 Abercorn St.) counts Jos. A. Bank and J.Jill among its retailers. Bargain hunters bag discounted name-brand items at The Shoppes of Savannah , 11 Gateway Blvd.
William J Serson / flickr
Nightlife
Running the gamut from restaurant bars to cozy little neighborhood pubs to martini and dessert lounges to hot dance clubs, Savannah's nighttime entertainment options are primarily concentrated in the downtown historic district. The district's walkability makes barhopping easy, and for many, the lax open-container regulations make it more fun. Two pieces of safety-related advice for those who plan to hoof it after dusk: wear comfortable shoes (cobblestones, bricks and 4-inch stilettos just don't mesh well) and stay within the district's boundaries.
Inside
The Distillery
, (912) 236-1772, a sign above the front door explains in four simple words what this casual W. Liberty Street restaurant/bar is all about: "No Crap Just Craft." While you can't order a Bud at the long mahogany bar (which is usually jam-packed on weekends), you can take your pick of 100-plus craft beers, about two dozen of which are on tap. Almost as diverse as the suds selection is the clientele—artsy types, preppies, T-shirted twenty-somethings and everyone in between come here to bond over Fat Tires and Golden Monkeys.
Also hailed for its custom-crafted brews is
Moon River Brewing Company
, (912) 447-0943. Occupying a W. Bay Street space that originally served as a hotel, Savannah's only brewery attracts a multifarious crowd—and not just of the townie and tourist variety. Rumor has it that there's paranormal activity (and lots of it) here. Don't let that scare you away, though—the drinks and grub are definitely worth a try, and the 5,400-square-foot attached beer garden is a fun place to unwind if the weather's nice. A Moon River tradition since the 1990s, a weekend-welcoming toast takes place every Friday at 6 p.m.
Named for the first Irish Republican Army volunteer executed by the British during the War of Independence, Kevin Barry's Pub is a happening W. River Street hangout serving up not only Guinness, bangers and mash and other traditional Irish faves, but also nightly live Celtic tunes. Upstairs, a nicely done display of military memorabilia pays homage to members of the armed forces; phone (912) 233-9626.
Other good spots to grab a stout are
Molly MacPherson's Scottish Pub & Grill
, 311 W. Congress St., where you'll find kilted waiters and an outstanding selection of single malt whiskeys; and Six Pence Pub , a small, laid-back British tavern on Bull Street (you can't miss the old-school red telephone booth outside). Phone (912) 239-9600 for Molly MacPherson's and (912) 233-3151 for Six Pence.
WFIU Public Radio / flickr
For a bar experience that's sweet in every sense of the word, check out Lulu's Chocolate Bar , 42 Martin Luther King Jr. Blvd. The comfy, retro-chic joint entices all sorts of night owls looking for a slice or sip of heaven in the form of a dangerously delectable martini or homemade dessert. The prices can be on the steep side, but there are some great daily specials; phone (912) 480-4564.
You can also satiate your sweet tooth at Jen's and Friends , (912) 238-5367, which has more than 300 specialty martinis to choose from. This reasonably priced, eclectic Bull Street bar is a popular girls'-night-out destination, but take one glance at the extensive craft beer list and it's plenty obvious that the guys, too, are welcome here. Jen's and Friends' "Enter as Strangers, Leave as Friends" motto rings true, thanks not only to the glasses of strong, sugary goodness, but also to the friendly bartenders and the maximum seating capacity of 37.
Wet Willie's , (912) 233-5650, is the place to hang on sultry summer nights when ice cream just won't do the trick. The main draw of the brick-walled E. River Street location (there's a second location in City Market) is the rainbow of machines dispensing curiously named frozen drinks—from Attitude Improvement to Call a Cab. Be forewarned: these "adult Slurpees" are potent!
Gorgeous views of the Savannah River can be enjoyed at Rocks on the Roof , the
Bohemian Hotel Savannah Riverfront, Autograph Collection
's sexy rooftop lounge located at 102 W. Bay St. and accessible from River Street. You can sit inside at the bar or a table or sink into a cushioned wicker couch or chair on the deck amid potted trees ablaze with Christmas lights. When it's warm outside, the lively lounge's transparent roll-up doors stay open; on nippy nights, a fire pit takes the chill out of the air. Along with beer, wine and some killer cocktails, appetizers are served; phone (912) 721-3800.
iStockphoto.com / deepblue4you
Super-sexy nightlife options can also be found below street level, as Jazz'd Tapas Bar , 52 Barnard St., proves. After descending an outdoor staircase, you'll find yourself in a modern, colorfully lit and painted bar and dining area. Live blues, jazz and swing melodies fill the place 5 days a week, and dancing is always encouraged. You can order a variety of wines, martinis and other specialty drinks in addition to, of course, tapas; phone (912) 236-7777.
If doing JELL-O shots and bumping and grinding to Latin, Top 40 and house music under strobe lights sounds like a good time to you, then get dolled up, make sure you have some cash (there's a cover charge most nights) and head to Club 51 Degrees on W. Congress Street. Open Thursday through Saturday, this loud, raucous and usually packed dance club caters to an under-30 (but over-21) crowd and is split into three levels, each with its own DJ; phone (912) 234-7265.
If you didn't get to experience the majority of the trolley tour in the morning, hop back on at the nearest stop to catch what you missed.
When you leave the museum, take Jefferson Street north to City Market. The market's origins lie in the mid-18th century when farmers, fishermen and tradespeople congregated at this commercial and social hub. City Market is still a gathering place, but now you'll find art galleries and specialty shops as well as places to stop for gelato, ice cream and handmade candy. The demolition of the 1872 market building in 1954 escalated local preservationists' frustrations and led seven women to form the Historic Savannah Foundation. The first of the many houses the organization has been able to save was the Davenport House you toured yesterday.
Head down to the final level, which puts you on the lively and touristy River Street paralleling the Savannah River. This area hosts many of the city's special events, but it usually has a street festival feel on its own anyway. Restaurants, shops and galleries occupy the magnificent multistory 19th-century buildings, which are actually just the other sides of the ones lining Factors Walk, but now you can see all the stories at once instead of just the two in view from Bay Street. River Street Market Place on the east end of River Street features open-air shopping with vendors selling jewelry, art, Savannah souvenirs and items from other countries.
Walk north up Bull Street a few blocks and just south of Madison Square you can't miss the 1892 brick Savannah Volunteer Guards Armory with its corner towers and multitude of arches and wrought-iron balconies. It now serves as SCAD's welcome center and houses the popular shopSCAD boutique that sells works and designs by students, faculty, staff and alumni.
About 12 miles east stands Fort Pulaski National Monument . It was widely believed that this Confederate fort—surrounded by water and marsh and outfitted with extremely thick walls—was indestructible, which is why its 1862 surrender within only 30 hours after being attacked was so shocking. Thanks to the work of the Civilian Conservation Corps in the 1930s, the fort has been restored. The visitor center displays recovered objects, including uniforms, flags, bottles and personal items from the soldiers. As you tour the grounds, you might get to see a resident alligator in the moat.
Everyone knows about Savannah's beautiful public squares. But did you know that there are 22 of them laid out in a uniform grid pattern and spaced two blocks apart within the historic district? Founder Gen. James E. Oglethorpe conceived the unique city plan, one that has stood the test of time. Now, as then, Savannah's squares are common ground, places where residents come together to celebrate, socialize or just sit for a spell under shade trees. Through monuments and historical markers, these lush green spaces highlight important people and events in Savannah's history.
Make it a priority to pick up a walking-tour map at the Savannah Visitor Information Center in the historic Central of Georgia Railway station. Here you will find cordial service and free brochures and sightseeing information. The center is a stop on the dot Express Shuttle, a free minivan connecting downtown points of interest, and it serves as a departure point for several interesting guided tours.
Another option is CAT Bike, Savannah's bicycle-sharing system. Two-wheelers may be rented at two self-service kiosks downtown. A 24-hour rental, 7-day rental and other options are available; phone (912) 233-5767. A free passenger ferry also is available to Hutchinson Island.
Southern comfort food. A Lowcountry boil. Seafood plucked daily from coastal waters. These are the staples on Savannah's restaurant tables. Whether you prefer the old favorites or exciting new classics being created in Savannah's premiere culinary hot spots, deciding where to dine out is as simple as letting your taste buds pick for you.
See all the AAA Diamond-rated restaurants for this destination.
The First Girl Scout
Juliette Gordon was born in 1860, one of six children of wealthy Savannah lawyer, mayor and statesman William Washington Gordon II and Eleanor Kinzie, of a prominent Chicago family. A daughter of privilege, Juliette—or Daisy, as she preferred to be called—completed her education in Eastern boarding schools. At age 20, she was formally presented to Savannah society.
In 1886 Daisy married William Mackay Low, the son of a Georgia-born mother and a successful British merchant with significant Savannah holdings. The couple moved to England within a year, and Daisy discharged her duties as lady of the manor with great ease and aplomb. She was even presented at court. The Lows separated in 1902, and William died before divorce proceedings could be finalized, leaving the bulk of his estate to a mistress and just a token pension to his lawful wife. The rightful Mrs. Low, however, sued and won her inheritance, which included the Low family house in Savannah.
Single and independently wealthy, Daisy traveled the world for several years. While in England in 1911 she became friends with Sir Robert Baden-Powell, a British military hero and founder of the Boy Scouts, and quickly got involved with the group's female counterpart, the Girl Guides. Convinced that she had found her true calling, Daisy returned to Savannah the next year and—at age 51—assembled the first troop of Girl Guides in the United States. The name was changed to Girl Scouts the following year.
Even before her marriage failed, Daisy was well acquainted with adversity. In her early 20s she suffered permanent hearing damage in one ear after receiving poor treatment for an infection. Then, on her wedding day, a grain of rice thrown by a well-wisher lodged in her good ear, resulting in more injury. Daisy went through the rest of her life with diminished hearing. After being diagnosed with breast cancer in 1923, she continued to work tirelessly for the cause dearest to her heart—the Girl Scouts. Her closest associates were not even aware of her illness until very near the end. Daisy died on January 17, 1927. Ever the scout, she was buried in uniform.
Although Juliette Gordon Low had no children, she nurtured thousands—168,000 in fact, at the time of her death. She left her wealth and an enduring legacy to her beloved family, the Girl Scouts of the USA. To learn more, visit the
Birthplace of Juliette Gordon Low
and the
Andrew Low House
.