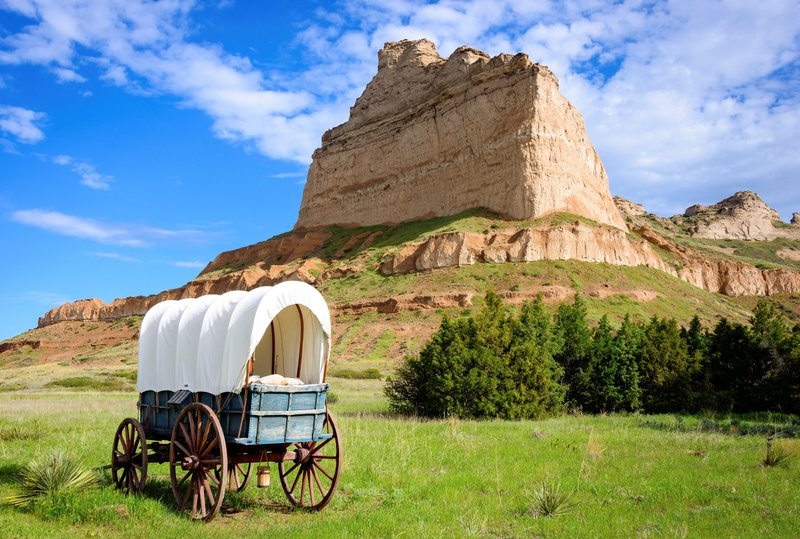 iStockphoto.com / zrfphoto
Description
Five miles southwest of Scottsbluff via SRs 71 and 92W, the 3,003-acre Scotts Bluff National Monument encompasses the escarpment that rises 800 feet above the North Platte River, or 4,659 feet above sea level.
The bluffs, named for trapper Hiram Scott, who reputedly died in the vicinity around 1828, were a prominent landmark on the Oregon and California trails. Pioneers abandoned the riverbank and cut through Mitchell Pass to avoid the rough terrain. Vestiges of the trail can still be seen.
An extension of the Wildcat Range, the wind-sculpted bluffs are composed of Arikaree sandstone, siltstone and volcanic ash. It is the hard caprock that has prevented erosion from leveling the bluff to the height of the surrounding plain.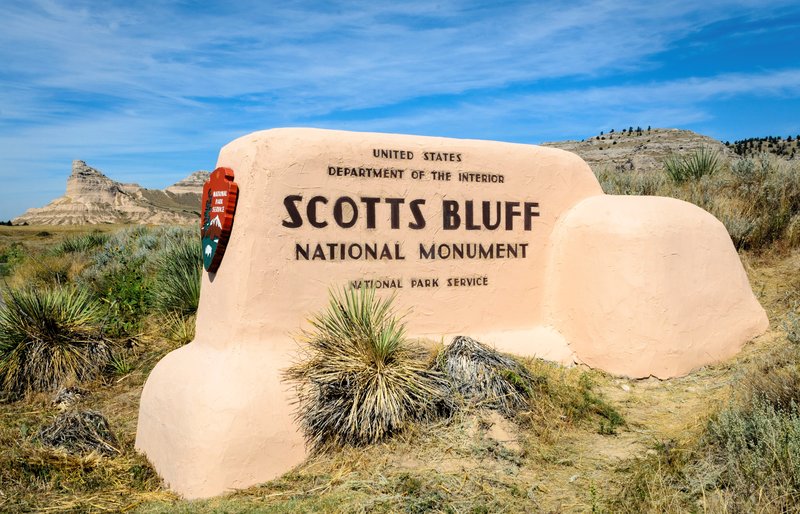 iStockphoto.com / zrfphoto
The monument visitor center is in the middle of the area on the Old Oregon Trail, which traverses the park. A 1.6-mile-long paved road passes from the headquarters through three tunnels to the summit of Scotts Bluff.
Note: Trailers and recreational vehicles over 25 feet long or over 11 feet, 7 inches tall are not permitted on the summit road. A shuttle offering regular trips to the summit is available by request. There also is a 1.6-mile hiking trail from the visitor center to the summit. Overlooks on the summit afford a panorama of the North Platte Valley and distant Chimney Rock and Laramie Peak.
A museum at the visitor center relates the history and art of the Oregon and California trails and Scotts Bluff. Interpretive talks and living-history programs are offered in the summer; more than 3 miles of paved hiking trails are available as well as a 1.2-mile bicycle trail. Visitors are cautioned to stay on the trails in order to avoid rattlesnakes and dangerous cliffs, and to preserve the natural landscape.
Park trails are open daily dawn-dusk. The visitor center is open daily 9-5. The summit road is open daily 9-4:30 (weather permitting). The visitor center and summit road are closed on federal holidays, Nov.-Feb. Admission is $5 per private vehicle; $3 (per person arriving by other means). For further information contact the Superintendent, Scotts Bluff National Monument, P.O. Box 27, Gering, NE 69341; phone (308) 436-9700.
GEM Description
Park trails and scenic overlooks offer striking views of the escarpment that rises 800 feet above the North Platte River.