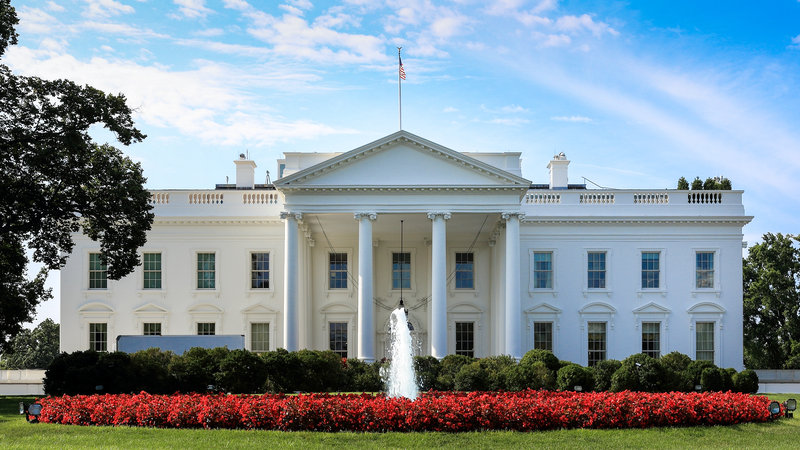 Martin Falbisoner / Wikimedia Commons
The nation's capital. It's a phrase that underscores Washington's global importance as a seat of government as well as its enormous appeal as a tourist destination. John F. Kennedy once said "Washington is a city of Southern efficiency and Northern charm," and although his tongue was no doubt firmly planted in cheek, there's no denying its twin roles: governing the nation while charming millions of visitors each year.
There's such an embarrassment of must-see riches here that putting together a sightseeing itinerary is one truly daunting task. The United States Capitol and the White House define the District of Columbia as jurisdictional entity. The Mall—that green swath stretching from the foot of Capitol Hill west to the awe-inspiring seated sculpture of Abraham Lincoln in the Lincoln Memorial—is where it's at for visitors, encompassing not only seven memorials (Franklin Delano Roosevelt, Korean War Veterans, Lincoln, Martin Luther King, Jr., National World War II, Thomas Jefferson and Vietnam Veterans), the Washington Monument and the National Gallery of Art, but many of the museums identified with one of the world's largest and most comprehensive educational organizations, the Smithsonian Institution.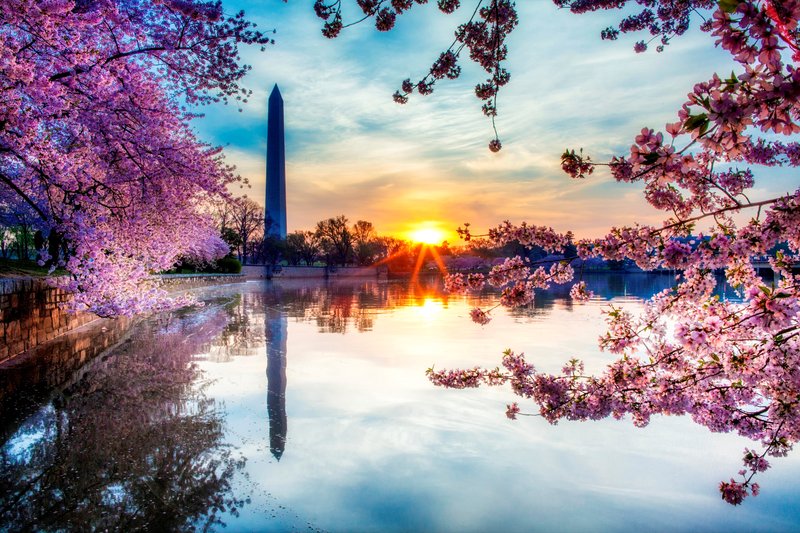 National Cherry Blossom Festival
But that's just part of the picture; Washington also is a city of vibrant neighborhoods, with a cultural diversity, a cosmopolitan energy and fine arts facilities second to none. With so much to see and do, springtime's cavalcade of cherry blossoms is simply the pale pink icing on top of a very special cake.
By Car
The Capital Beltway (I-495) encircles the District of Columbia and interchanges with all major approach routes. The eastern portion merges with I-95, which links Baltimore to the north and Richmond, Va., to the south. US 1 and the Gladys Spellman Parkway (also called the Baltimore-Washington Parkway or SR 295) approach the D.C. area from the north; US 50, SR 4 and SR 5 approach from eastern and southern Maryland. Entering the District from the south, via Alexandria and Arlington, Va., are US 1 and I-395.
The remainder of the beltway is intersected by US 29 from greater Baltimore; I-270 links the Washington metropolitan area with transcontinental I-70 at Frederick, Md. Coming from the west and interchanging with the Virginia portion of I-495 are I-66 and US 50; both converge at the Theodore Roosevelt Memorial Bridge crossing the Potomac River into the city.
Air Travel
Ronald Reagan Washington National Airport (DCA), Washington Dulles International Airport (IAD) or Baltimore/Washington International Thurgood Marshall Airport (BWI) serve the greater D.C. area. Reagan National, just across the Potomac from downtown Washington, is by far the most centrally located.
From terminals A, B or C, follow the exit signs and take the George Washington Memorial Parkway north to the 14th Street Bridge exit (officially, the Arland D. Williams Jr. Memorial Bridge northbound and the George Mason Bridge southbound). Once across the bridge you'll be on 14th Street N.W. To get to Arlington, Alexandria or other nearby Virginia suburbs, take the I-395 South exit off the parkway (just past the 14th Street Bridge exit).
Taxi fare from Reagan National into Washington averages about $16-$20 but depends on the length of the trip. Metrobus fare is $2. Metrorail base fare is also $2; fare is $2.25 during rush hours (Mon.-Fri. opening time to 9:30 a.m. and 3-7 p.m.) and depending upon the destination.
Washington Dulles International Airport is about 26 miles west of downtown Washington via I-66 and the Dulles Access Road (SR 267), just west of Herndon, Va. To reach downtown Washington, exit the airport terminal and take the Dulles Access Road east to I-66; continue east on I-66, entering the District via the Theodore Roosevelt Memorial Bridge to Constitution Avenue N.W. A taxi ride from Dulles to downtown will cost about $65.
Silver Line Express bus service is available between the Wiehle Reston East station on Metro's Silver line and Dulles. The buses, which offer baggage storage, depart every 15-20 minutes; one-way fare is $5, round trip $10. For additional Washington Flyer schedule and fare information phone (888) 927-4359.
Baltimore/Washington International Thurgood Marshall Airport is about 30 miles northeast via the Gladys Spellman Parkway (SR 295). From the airport terminal area, follow the exit signs to SR 295, then take the parkway west toward the Washington area. You can either exit east or west onto the Beltway or continue into the District, where the parkway becomes New York Avenue.
Taxi fare from BWI to downtown costs about $90, although it varies depending on the final destination. Amtrak service to BWI is available from Washington's Union Station. SuperShuttle provides van service from the D.C. metro area to all three airports. Making reservations at least 24 hours in advance is recommended; phone (800) 258-3826.
Various rental car agencies have offices at the airports. Hertz offers discounts to AAA members; phone (800) 654-3080.
Street System
Downtown Washington is basically laid out in a grid pattern. North-south streets are numbered; east-west streets are designated alphabetically by letters (with the exception of J, X, Y and Z). Major diagonal avenues named after states crisscross in both directions; where they intersect there are either traffic circles or rectangular squares or parks.
North, East and South Capitol streets and the National Mall divide the diamond-shaped District of Columbia into quadrants; the Capitol is the central starting point for the street numbering system. The quadrant initials—N.W., N.E., S.W. and S.E.—are an integral part of any Washington address; they determine which of four possible locations is correct.
Southwest is by far the smallest quadrant, encompassing the L'Enfant Plaza office building complex, the Tidal Basin, the Maine Avenue waterfront along the Washington Channel and Fort Lesley J. McNair, a major 19th-century U.S. weapons arsenal.
Many tourist attractions and the city's wealthiest neighborhoods are concentrated in Northwest. Also in Northwest are American, Georgetown, George Washington and Howard universities; the University of the District of Columbia; Rock Creek Park; and Walter Reed Army Medical Center. Most of Northeast and Southeast are residential, as is the upper part of Northwest.
North of W Street, east-west streets are assigned two-syllable alphabetical names (Belmont, Quincy, Randolph), then three-syllable names (Buchanan, Hamilton, Underwood). Above Whittier Street in upper Northwest, alphabetical names shift to trees and plants with two- (Aspen), three- (Butternut) or four-syllable (Geranium) names. At this point the District ends and Maryland begins, which no doubt delighted planners.
There also are irregularities that confuse even residents. Pennsylvania Avenue, for example, enters southeast Washington from suburban Maryland; is interrupted at Independence Avenue S.E. by the Capitol grounds; picks up again at 1st Street N.W.; is interrupted at 15th Street by the Ellipse; picks up again around the corner at the intersection of 15th Street and New York Avenue N.W.; and continues west past the White House into Georgetown, where it turns into M Street.
The speed limit is 25 mph or as posted; on major arteries it is usually 30 mph. A right turn on a red light is permitted unless otherwise posted. High-beam headlights are prohibited at all times.
The weekday afternoon backup on I-395 southbound out of the city begins early (particularly on Fridays and the beginning of holiday weekends), and traffic soon slows to a painful crawl. If you're visiting, staying in nearby Maryland or Virginia and driving, plan accordingly.
Also remember that carpooling regulations (HOV) govern the number of people in vehicles that use certain heavily traveled highways, such as I-66 and I-395 inside the Beltway. Signs denote designated HOV lanes; the restrictions apply during both morning (6:30 to 9 a.m.) and evening (4 to 6:30 p.m.) rush-hour periods.
Parking
Downtown parking is limited, particularly in the vicinity of the National Mall. Violations are strictly enforced; pay close attention to all signs in the vicinity of any space you're lucky enough to find.
Meters are closely monitored, so be aware of when the "expired" flag is due to pop up as vehicles with meter violations are quickly ticketed. Most meters run for up to 2 hours. Meters are not in force on Sundays and federal holidays, but there is usually a 2-hour parking limit.
Meter rates are $2.30 per hour. Nighttime parking enforcement hours are in effect until 10 p.m. in such neighborhoods/areas as Adams Morgan, Georgetown, Penn Quarter, the U Street Corridor and the National Mall.
Parking on residential streets in Capitol Hill is often reserved for residents, and a special zone sticker must be displayed on the front windshield. You can park on the street, but usually only for a 2-hour period. There are rush-hour parking restrictions along M Street and Wisconsin Avenue N.W. in Georgetown on weekdays from 7-9:30 a.m. and 4-6:30 p.m. Solar-powered meters in Northwest and Southwest accept credit and debit cards as well as coins.
Hours of operation, time limits and rates are displayed on a decal on each meter; check the information to make sure the parking space is valid before leaving your vehicle.
Parking is prohibited within 10 feet of a fire hydrant, 25 feet of a stop sign and 40 feet of an intersection. Statues are strictly enforced by tickets, but cars are generally towed only when they endanger public safety. If your vehicle is towed Friday after 7 p.m. or anytime on a weekend, you'll need to wait until the following Monday after 9 a.m. to retrieve it.
No Standing zones also are enforced; automobiles are not permitted in these areas except briefly to pick up or discharge passengers. For information about parking regulations, contact the District Department of Transportation's Traffic Services Division; phone (202) 673-6813.
Downtown commercial lots and garages can be expensive; many charge $13-$17 or more per day, with a discount if you arrive early in the morning or late in the afternoon. Downtown stores may offer shoppers a parking discount; inquire at the individual establishment. Many garages close by about 7 p.m., but parking facilities located near Capital One Arena, Nationals Park and Georgetown stay open later. For a cheaper and frequently more convenient alternative, use Metro.
Taxis & Limousines
Taxis in Washington are metered. The basic fare is $3.50 for the first 1/8 mile and 27c for each additional 1/8 mile. Other factors, from the amount of baggage to the time of day to the time spent below 10 mph in traffic, might increase the fare.
The rates quoted above are for cabs hailed on the street; rates increase by $2 when a cab is requested by phone and by $3 for cabs hired at the Ronald Reagan Washington National Airport taxi stand. Fares for trips to or from nearby points in Maryland and Virginia vary; determine the rate with the driver before setting off. Cabs with Virginia or Maryland license plates can transport passengers in and out of the District, but not between points within the District.
Cab companies include DC Taxi Transportation, (202) 398-0500; Diamond, (202) 387-6200 ($6 basic fare by phone, then $2.16 per mile); and Yellow, (202) 544-1212. Limousine service in and around Washington averages $50 per hour, excluding tax and tip.
Public Transportation
D.C. Metrobuses reach nearly every point in the metropolitan area. The regular fare for riders paying cash or using a plastic, reloadable SmarTrip farecard is $2; $1 (ages 65+, persons with disabilities and customers with a Medicare card and valid photo ID using a senior or reduced fare SmarTrip farecard). The fare for express buses using a SmarTrip card or paying cash is $4.25; $2.10 (ages 65+ and persons with disabilities).
Exact change is required if paying in cash. One or two children (ages 0-4) may ride free with an adult paying full fare.
Bus-to-bus transfers with a SmarTrip card are valid for free Metrobus connections within a 2-hour period. Metrobus-to-Metrorail or Metrorail-to-Metrobus transfers when using a SmarTrip card (not paying cash fare) are given a 50c discount within a 2-hour period beginning from the start of your first trip.
Metrobus operates 24 hours a day, 7 days a week, but service intervals vary by line, time of day and day of week. Go to the Washington Metropolitan Area Transit Authority (WMATA) website for information about Metrobus fares and schedules, trip planning services and information regarding Senior SmarTrip cards, or phone (202) 637-7000 or TTY (202) 638-3780.
Red, white, black and yellow DC Circulator buses take riders to many locations throughout the District of Columbia. They run every 10 minutes daily 7 a.m.-9 p.m., with extended hours for some routes on weekends and during the summer.
The regular fare is $1; 50c (senior citizens and the physically impaired); free (ages 0-4 with adult paying full fare). Exact cash fare is required. Free transfers between Circulator buses or from a Metrobus to a Circulator bus are available within a 2-hour period if paying with a SmarTrip card.
Transfers from Metrorail to Circulator buses or from Circulator buses to Metrobus, Metrobus Express, Metrobus airport shuttle or Metrorail receive discounted fares beginning at 50c if using a SmarTrip card. Unlimited ride 1-day ($3), 3-day ($7), 7-day ($11) and 1-month ($40) passes are available. For information about routes, fares and passes visit the DC Circulator website or phone (202) 962-1423.
The Metrorail subway system covers every part of the city as well as the nearby Virginia and Maryland suburbs. Nine transfer stations (Metro Center, Gallery Place-Chinatown, L'Enfant Plaza, Pentagon, Rosslyn, Stadium-Armory, King Street-Old Town, Fort Totten and East Falls Church) facilitate travel between lines and the system's more than 90 stations.
The Red Line runs from Glenmont, Md., to Shady Grove, Md., via downtown Washington. The Yellow Line runs from Fort Totten in the District to Huntington, south of Alexandria, Va., via Ronald Reagan Washington National Airport. During weekday morning and afternoon rush hours, the Yellow Line terminates at Mount Vernon Square. The Blue Line connects Largo Town Center in Prince George's County, Md., with the Franconia-Springfield, Va., station via downtown and Reagan National.
The Orange Line runs between the New Carrollton station in Maryland and Vienna-Fairfax, Va., via downtown. The Green Line extends from Greenbelt, Md., south to Branch Avenue in Prince George's County, Md., via downtown. The first phase of the Silver Line runs from the Wiehle-Reston East station in Fairfax County, Va., to Rosslyn and then through downtown, ending at Largo Town Center in Maryland. An extension connecting to Dulles International Airport and points west is under construction.
Maps at each station's entrance provide route information; station managers can assist with questions and concerns. A color-coded map of the system is also near the doors of each train car.
A reloadable plastic SmarTrip card is required to enter and exit station faregates. A surcharge of $2 is added to a new SmarTrip farecard purchase. You can reload value to the card at blue Fare Vending or black Add Value farecard machines located at the entrance to every station. Value also can be added to the card online by creating a SmarTrip online account; a major credit or debit card is required to pay for your order.
Fares depend on when and where you travel. A list of fares between stations is displayed near the farecard machines at station entrances. Peak fares with a SmarTrip card range from $2.25 (minimum) to $6 (maximum). Peak fares are in effect Mon.-Fri. from 5-9:30 a.m. and 3-7 p.m. and Fri.-Sat. midnight-closing. Off-peak fares range from $2 (minimum) to $3.85 (maximum). Fares are subject to change.
A 1-day SmarTrip card pass good for unlimited Metrorail travel costs $14.50; a 7-day pass costs $59.25. Passes can be added to an existing SmarTrip card at fare vending machines at station entrances or online if you have a SmarTrip account. New users can purchase a SmarTrip card pre-loaded with a pass by creating an online account.
Up to two children (ages 0-4) may ride free with an adult paying full fare. Senior citizens ages 65+, persons with disabilities and customers with a Medicare card and valid photo ID ride for half the peak fare if they pay with a senior or reduced-fare SmarTrip card. Senior and reduced-fare cards can be purchased at Metro sales offices and commuter stores (see below).
There are parking lots or pay garages at most suburban Metro stations, but they're often full by 8 a.m. on weekdays. Parking at Metro-operated lots is free on weekends and federal holidays. Parking fees can be paid using a SmarTrip card; major credit cards also are accepted at most parking lots.
Metrorail operates Mon.-Thurs. 5 a.m.-11:30 p.m., Fri. 5 a.m.-1 a.m., Sat. 7 a.m.-1 a.m., Sun. 8 a.m.-11 p.m. Hours are reduced on the following holidays: Jan. 1, Martin Luther King Jr. Day, Presidents Day, Memorial Day, July 4, Labor Day, Columbus Day, Veterans Day, Thanksgiving, Christmas and Dec. 31.
If Metro is your only means of transportation in the evening, check the scheduled departure time for the last train; it may depart before the station closes. Final departure times are posted at station entrance kiosks.
Intervals between trains vary by time and route but are usually between 5 and 20 minutes and are more frequent during rush-hour periods. For further information about routes and rates visit the WMATA website, or phone (202) 637-7000 or TTY (202) 638-3780.
In addition to farecard machines at Metro stations and online, SmarTrip cards can be purchased at Metro sales offices at the following locations: Metro headquarters, 600 5th St. N.W. (Mon.-Fri. 9-3); inside the Metro Center station at 12th and F streets N.W. (Mon.-Fri. 8-6); at the Pentagon Transit Center at the Pentagon station, upper level (Mon.-Fri. 7:30-11 and noon-3:30); and at the Northern Metrobus Garage at 4615 14th St. N.W. (Mon. and Sat.-Sun. 8:30-1).
In Virginia, SmarTrip cards can be purchased at Commuter Stores at the Crystal City Underground Mall, the Ballston and Rosslyn Metro stations and at Shirlington Station in Arlington, and at Connector Stores at the Tysons-West Park Transit Station in McLean, at Herndon-Monroe Park & Ride in Herndon, at the Reston Town Center Transit Station in Reston, at Wiehle-Reston East in Reston and at the Franconia-Springfield Metro Station in Springfield.
In Maryland, SmarTrip cards can be purchased at TRIPS Commuter Stores in Chevy Chase and Silver Spring, and at the Department of Finance/Division of Treasury in Rockville.
For additional information about SmarTrip cards phone (888) 762-7874, Mon.-Fri. 7 a.m.-8 p.m.
In the Attractions section, attraction listings include the nearest Metrorail stop if applicable.
Sales Tax
The District of Columbia's sales tax is 5.75 percent. Additional increments are attached when purchasing alcohol, restaurant meals, rental cars, commercial parking and hotel rooms. The higher tax rates range from 10 to 14 percent. The sales tax in neighboring Maryland and Virginia is 6 and 5.3 percent, respectively; lodging taxes vary by county.
Police (non-emergency)
311 in Washington, D.C., or (202) 727-9099
Newspapers
The major newspapers, both distributed in the morning, are The Washington Post and the Washington Times. The weekly Washington Afro-American is available at newsstands, as are various smaller dailies and weeklies. Events are listed in the City Paper, a free weekly, and the daily Style or Friday Weekend sections of the Post.
Radio
Washington radio station WTOP (1500 AM) is an all-news/weather station; WAMU (88.5 FM) is a member of National Public Radio.
Visitor Information
DC Chamber of Commerce 1133 21st St. N.W. Suite M200 WASHINGTON, DC 20036. Phone:(202)347-7201The center has brochures and is open Mon.-Fri. 9-5; closed major holidays.
Destination DC 901 7th St. N.W. 4th Floor WASHINGTON, DC 20001. Phone:(202)789-7000 or (800)422-8644
Air Travel
Visitors arriving by plane can land at Ronald Reagan Washington National Airport (DCA), Washington Dulles International Airport (IAD) or Baltimore/Washington International Thurgood Marshall Airport (BWI).
Rental Cars
Rental car agencies in Washington are numerous; most have conveniently located offices in the city and nearby Maryland and Virginia suburbs. Arrangements should be made before you leave on your trip. Your local AAA club can provide this service or additional information. Hertz offers discounts to AAA members; phone (800) 654-3080.
Rail Service
Trains pull into the Union Station Train Concourse at 1st Street and Massachusetts Avenue N.E. at all hours; phone (202) 289-1908. Amtrak trains travel to New York daily; the trip takes about 3 hours. Trains depart for Baltimore/Washington International Thurgood Marshall Airport at various times from about 3:15 a.m. to 10:30 p.m., and also run from the airport to Union Station; phone (800) 872-7245 for reservations.
Buses
The Greyhound Lines Inc. bus terminal is at 1st and L streets N.E.; phone (800) 231-2222.
Taxis
Taxicabs in Washington are metered.
Public Transportation
Transportation by bus or subway is available in Washington.
Essentials
Put a tour of the
United States Capitol
(1st Street and Independence Avenue S.W.) near the top of your must-see list. The Rotunda is filled with paintings, frescoes and an encircling frieze that together present more than 400 years of U.S. history. The Exhibition Hall gallery in the Capitol's visitor center tells the story of Congress' domed meeting place through interactive exhibits, architectural models and historic documents and artifacts.
Antique furnishings, presidential portraits and beautifully appointed decorations make the
White House
(1600 Pennsylvania Ave. N.W.) a treasure trove of Americana. George Washington is the only president who never governed from the Executive Mansion, but it is one of the few buildings in today's city he would recognize. If you aren't able to take the self-guiding tour (requests must be submitted up to 3 months in advance through your member of Congress), learn more about it at the
White House Visitor Center
(1450 Pennsylvania Ave. N.W.).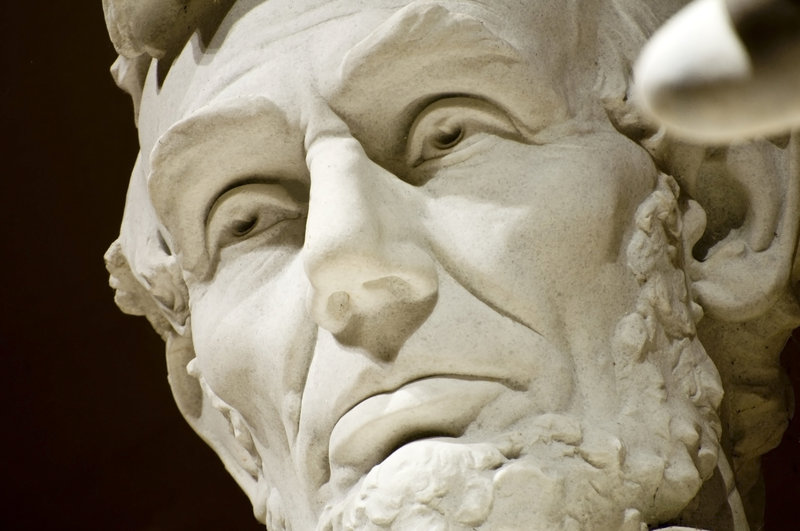 iStockphoto.com / mathieukor
Climb the steps of the
Lincoln Memorial
(2 Lincoln Memorial Circle N.W.) and contemplate Daniel Chester French's sculpture of the 16th president, seated in a colossal armchair. Then look to the east for an inspiring vista that takes in the Reflecting Pool, the green expanse of West Potomac Park and the Washington Monument.
Although the elevator that takes visitors to the observation room at the 500-foot level of the
Washington Monument
(15th Street and Constitution Avenue N.W.) is out of commission through spring 2019, you can still walk around the grounds and get an up-close view of this iconic D.C. landmark.
In late March or early April spring's arrival is announced by the blossoms of some 3,000 Japanese cherry trees, a 1912 gift from Japan. Their beauty is most fully appreciated on a walk around the Tidal Basin (part of West Potomac Park).
Peruse the superlative collection of paintings in the West and East buildings of the
National Gallery of Art
(4th Street and Constitution Avenue N.W.), then take a moment to relax by the fountain in the sculpture garden adjacent to the West Building.
Hang out in Georgetown (M Street and Wisconsin Avenue N.W.); D.C.'s oldest neighborhood has loads of trendy shops and restaurants. On a sunny afternoon, stroll the leafy residential streets lined with handsome brick town houses.
Let your imagination soar like the wondrous array of aircraft at the
National Air and Space Museum
(6th Street and Independence Avenue S.W.). You'll see the Wright Brothers' 1903 "flying machine"; Charles Lindbergh's transatlantic plane, the "Spirit of St. Louis"; and exhibition areas showcasing lunar rocks and other cosmic objects.
Take a break from sightseeing—and endless walking—at the
United States Botanic Garden
(100 Maryland Ave. S.W.). Wander among tropical plants and flowers, then cross Independence Avenue to lovely
Bartholdi Park
and admire the grand, cast-iron Bartholdi Fountain.
The eco-friendly theme continues at
Nationals Park
(1500 S. Capitol St. S.E.). Home to the Washington Nationals, it's the nation's first green stadium. If you're unable to catch a home game, take a stadium tour instead.
Under 13
The most fun museum for kids in D.C.? It's gotta be the
National Museum of Natural History
(1000 Constitution Ave. N.W.). From the trumpeting African elephant in the rotunda to the life-size humpback whale suspended in Ocean Hall, there's no shortage of things to ooh and aah at. Kids will love the up-close encounters with multicolored members of the order Lepidoptera at the Butterfly Pavilion.
The
National Mall
(Constitution and Pennsylvania avenues N.W.) is great for running off excess energy. The painted ponies at the carousel in front of the Smithsonian Institution Building (the Castle) may be faded, but this vintage merry-go-round, complete with calliope music, is an old-fashioned pleasure.
The
Rock Creek Park Nature Center and Planetarium
(5200 Glover Rd. N.W.) is a great place to learn about animals that inhabit the park's 2,000 wooded acres. The center's Discovery Room has plenty of hands-on activities, and a beehive behind glass on the back wall offers a first-hand view of these industrious insects at work.
Teens
Not just a final resting place for postmarked postage stamps, displays at the
National Postal Museum
(2 Massachusetts Ave. N.E.) let you create and send postcards or hop inside a mail-delivering stagecoach. For teens more accustomed to texting than letter writing, learning about the origin of mail delivery during the Colonial era will be eye-opening.
Georgetown will appeal to the fashion conscious. In addition to trendy clothes, Urban Outfitters (3111 M St. N.W.) has gift items like funky iPad stands and stick-on moustaches. Girls flock to Lucky Brand (3271 M St. N.W., at the corner of Potomac Street), for retro-style jeans, tank tops and other casual yet fashionable clothing items. Thomas Sweet (on P Street just off Wisconsin Avenue) is a fave stop for ice cream, frozen yogurt and sweet treats like chocolate-covered Oreos.
Burgers and fries come with the likes of Wiz Khalifa and One Direction at the Hard Rock Cafe (999 E St. N.W.). The memorabilia on display is mostly ancient history—Elvis, the Beatles—although there's a hat once worn by Fall Out Boy's Patrick Stump.
All Ages
Fun facts about the
Washington Monument
(15th Street and Constitution Avenue N.W.): Did you know that a lack of public funds in 1853 temporarily stalled construction at the 152-foot point? Or that inside there are 897 steps? Fortunately you normally don't have to climb them; an elevator whisks visitors to the landmark's observation room, although it's closed through spring 2019 for renovation.
The
National Air and Space Museum
(6th Street and Independence Avenue S.W.) has the Wright Brothers' flying machine along with futuristic-looking spacecraft like the Apollo 11 command module Columbia. At the How Things Fly gallery kids can build paper airplanes or sit in the cockpit of a Cessna 150.
The
National Cherry Blossom Festival
(various locations) celebrates springtime from late March into April, offering star-studded opening ceremonies, a parade with lavish floats and giant helium balloons, and of course the spectacle of Japanese cherry trees in full bloom (if the weather cooperates).
The
Lincoln Memorial
(2 Lincoln Memorial Circle N.W.) is a fitting tribute to the 16th president, who was assassinated just 6 days after Gen. Robert E. Lee's surrender ended the Civil War. The sculpture of a seated Abraham Lincoln is magnificent and moving. Stand at the top of the steps for a panoramic view looking east toward the Washington Monument.
Giant panda offspring Bao Bao is the current rock star at the
National Zoological Park
(3001 Connecticut Ave. N.W.), but there are a lot more animals to meet—like Ambika, an Asian elephant old enough to qualify for Social Security, and porcupines Quillby (ha!) and Maude. Giraffes, prairie dogs and the donkeys, goats and rabbits at Kids' Farm are other popular zoo residents.
Shopping
The nation's capital overflows with souvenir opportunities. For an "official" keepsake from the Executive Mansion stop at the gift shop in the White House Visitor Center (M: Federal Triangle), at the corner of 15th and E sts. N.W. Another place to purchase official souvenirs is the White House Historical Association, located at 740 Jackson Pl. N.W. (in one of the handsome town houses that border Lafayette Park).
A common sight along Constitution Avenue and other locations near the National Mall are the souvenir vendor trucks selling toys, trinkets and stuffed animals and festooned with D.C.-themed T-shirts and hats. Food trucks cater to sightseers on the go with hot dogs, soft pretzels, popcorn, pizza slices, ice cream and soft drinks.
Gift shops in the Smithsonian museums and the West and East buildings at the National Gallery of Art offer all sorts of quality merchandise, from framed reproductions of famous paintings to lovely note cards. Thumb through books about historic expeditions and famous artists, appraise jewelry from around the world, or delight kids with toy dinosaurs and cuddly "Teddy" Roosevelt commemorative teddy bears.
Hiding amid the usual retail chain suspects in the Penn Quarter district (M: Gallery Place-Chinatown)—Aveda, City Sports, Urban Outfitters—are some cool specialty stores. Peruvian Connection (950 F St. N.W.) has alpaca sweaters and leather jackets, while Mia Gemma (933 F St. N.W.) specializes in handmade jewelry. Then take a peek at the rock 'n roll merchandise in the Hard Rock Cafe, E and 10th streets N.W.
Items in the gift shop at the National Building Museum, on F Street between 4th and 5th streets N.W. (M: Judiciary Square), include architecture and design books as well as fun stuff like robot salt and pepper shakers. At the National Portrait Gallery, 8th and F streets N.W. (M: Gallery Place-Chinatown), you can purchase matted prints of well-known artworks and china modeled after pieces in the White House. Top-secret souvenirs at the International Spy Museum (800 F St. N.W.) include a document-scanning pen, mirrored rearview sunglasses and fake moustache kits.
Souvenir kiosks and a range of casual eateries are located in the soaring Main Hall at Union Station, just off Massachusetts Avenue N.W. on Capitol Hill (M: Union Station). The East Hall Gallery has a couple of shops offering art and gifts. There's also a two-level mall that has chains like H&M, L'Occitane, Nine West, Swarovski and Smithsonian, plus a food court on the lower level.
Chevy Chase straddles the D.C./Montgomery County border and is one of metropolitan Washington's most exclusive addresses. Chevy Chase Pavilion, situated above the Friendship Heights Metro station on Wisconsin Avenue, offers J. Crew and other mall-oriented stores. Directly across Wisconsin Avenue is four-level Mazza Gallerie, anchored by fashionable Neiman Marcus. Saks Fifth Avenue Men's Store and Williams-Sonoma are here as well.
Just a bit farther up Wisconsin Avenue is The Collection at Chevy Chase (M: Friendship Heights), a gaggle of high-end boutiques like Bulgari, Cartier, Christian Dior and Tiffany & Co. Nearby Lord & Taylor (5255 Western Ave. N.W. near Jenifer Street) is a name synonymous with upscale department store shopping.
A huge Bloomingdale's anchors another swanky Chevy Chase shopping destination, The Shops at Wisconsin Place (M: Friendship Heights). Here you'll find Bloomingdale's, Cole Haan and Sephora, among other stores. Head to Marshall's (5333 Wisconsin Ave. N.W.) for big savings on men's and women's designer threads, shoes, handbags and accessories.
Crowds, traffic congestion, a severe parking shortage and the absence of a convenient Metro station (the closest stop is Foggy Bottom-GWU on the Orange/Blue Line) don't keep shoppers from converging on
Georgetown
. The Banana Republic at the intersection of M Street and Wisconsin Avenue N.W. is as good a place as any to start.
Both Wisconsin and M are lined with stores and boutiques. Impeccable British tailoring is a hallmark of the high-end sportswear at Rag & Bone (3067 M St. N.W.). Violet Boutique (3289 M St. N.W.) has trendy clothes, jewelry and accessories at prices lower than you'll find at many other boutiques in the city. The D.C. branch of popular fine food purveyor Dean & DeLuca (3276 M St. N.W.) has regional specialties like Chesapeake Bay rockfish and sweet potato casserole as well as locally grown organic veggies.
The two-story designer showroom at Hu's Wear (2906 M St. N.W.) offers edgy couture from designers like Alexander McQueen. At A Mano (1677 Wisconsin Ave. N.W.), the whimsically painted tableware, fruit basket centerpieces and imported French stone fountains are like stepping into a European country garden. Along lower Wisconsin Avenue are reliable retailers like Ralph Lauren and Abercrombie & Fitch.
Upscale resale shop Inga's Once is Not Enough (4830 MacArthur Blvd. N.W.) has quality couture frocks and accessories by brands like Chanel, Gucci and Prada.
Georgetown Park, 3222 M St. N.W. adjacent to the Chesapeake and Ohio Canal, was once a major indoor mall, but in recent years the building has changed dramatically. It now contains a handful of chain retailers like Forever 21, T.J. Maxx/Home Goods, Anthropologie and Designer Shoe Warehouse.
Connecticut Avenue N.W. in the vicinity of Dupont Circle (M: Dupont Circle) is lined with classic retailers (Brooks Brothers, Talbots), as well as boutiques like Betsy Fisher. Second Story Books & Antiques (2000 P St. N.W.) offers more eclectic shopping.
Kramerbooks & Afterwords Café (1517 Connecticut Ave. N.W.) is not only a longtime D.C. hangout but one of the few bookstores where the aroma of sizzling burgers greets you when you walk in the door, courtesy of the sit-down restaurant at the back. There's also a bar where you can relax at a small table and peruse your literary purchases; phone (202) 387-1400.
Adams Morgan (M: Woodley Park-Zoo/Adams Morgan) is well known for its bars and nocturnal carousing masses, but it also has shops selling funky knickknacks, home decor, hookahs, and Caribbean- and African-inspired clothing. Many of them are on 18th Street N.W. between Florida Avenue and Columbia Road. The "architectural antiques" at The Brass Knob (2311 18th St. N.W.) include garden ornaments, stained glass and Gothic-style hanging lanterns.
The U Street Corridor (M: U Street/African-Amer Civil War Memorial/Cardozo), along U Street N.W. from Florida Avenue east to 13th Street, is another hot nightlife area that's also a good place to investigate offbeat shops occupying refurbished row houses. Red Onion Records & Books (1628 U St. N.W.) not only carries the latest CDs but buys, sells and trades what serious music aficionados are often on the lookout for—vinyl. GoodWood (1428 U St. N.W.) has pricey antiques in a mishmash of styles. Turquoise rings, hippie beads and other vintage jewelry can be found at Legendary Beast (1520 U St. N.W.), which is open weekends only.
Two worthy shopping destinations are a short hop from the District line. Just across the Potomac in Arlington, Va., is Fashion Centre at Pentagon City (M: Pentagon City), where a spectacular glass atrium encloses some 170 stores on four levels. In addition to anchors Macy's and Nordstrom, you'll find Armani Exchange, Henri Bendel, Brookstone and many others.
Just south of D.C., Old Town Alexandria is ideal for window shopping. From the King Street Metro station, hop on a DASH city bus to get around town (fare $1.60), or take the free King Street Trolley east toward the Potomac River waterfront. There are trolley stops every two to three blocks; get off at the last one to browse the paintings, handcrafted jewelry and ceramics at the Torpedo Factory Art Center and meet the artists responsible for these lovely wares.
Walk along King Street's brick-paved sidewalks, where Old Glory flaps in the breeze above galleries crammed with antiques, boutiques with an international selection of merchandise and stores featuring high-end housewares. Storefront windows are framed by colorful flower boxes and wooden shutters; inside Old Town shops you'll find everything from whimsical stationery and unusual trinkets to patriotic T-shirts and hand-woven Tibetan rugs.
On Saturday mornings year-round from 7 until noon the Old Town Farmers Market sets up at Market Square, 301 King St. This busy plaza next to City Hall, the steeple-topped brick edifice on King Street between Fairfax and Royal streets, is the site of one of the nation's oldest continuously operating farmers markets (George Washington sent Mount Vernon-grown produce here to be sold). Reconnect with Alexandria's past while browsing for local products or specialty items like hand-made cutting boards.
For a day of outlet shopping make the trek to Potomac Mills, 25 miles south of Washington just off I-95 (exit 156/Potomac Mills), about a 45-minute drive (depending on traffic). This huge mall, which draws busloads of D.C.-area shoppers and regional bargain hunters from as far away as Pennsylvania, bills itself Virginia's biggest tourist attraction. Snatch up bargains at Saks Fifth Avenue—OFF 5TH, Nordstrom Rack and the Banana Republic Factory Store.
Valerie Hinojosa / flickr
Nightlife
D.C. nightlife ranges from subdued to frenzied, depending on the neighborhood. At the unruly end is Adams Morgan (M: Woodley Park-Zoo/Adams Morgan), one of the city's most popular areas for clubbing and bar hopping. On Friday and Saturday nights the sidewalks of 18th Street N.W. are crowded with casually dressed locals congregating beneath colorful awnings and windows bedecked with glowing beer signs.
Take an early evening stroll and check out the neighborhood's plentiful artwork; several wall paintings embellish Columbia Road, which also is lined with cafes and bars. A large mural of French cabaret singer Aristide Bruant, a replica of a painting by artist Toulouse-Lautrec, graces a building wall at 2461 18th St. N.W., with Bruant seemingly relishing the scene unfolding around her.
If beers on tap are your thing hit the The Black Squirrel (2427 18th St. N.W.), a three-floor bar. The basement level has the most taps and offers regional brews like Chesapeake Pale Ale. The low-ceilinged space has atmosphere to spare—a 50-foot bar running along one wall, skateboards for shelves and lots of graffiti. Phone (202) 232-1011.
Nearby, a voluptuous red-haired maiden presides over the debauchery at Madam's Organ Blues Bar (2461 18th St. N.W.), a bawdy saloon offering live music nightly, free billiards and, in honor of "The Madam," half-priced draft beers for redheads; phone (202) 667-5370. In the same block (and a tad less rowdy) is The Diner, an open-fronted, surprisingly luminous 24-hour greasy spoon where you can people-watch from your seat.
At sister eatery Tryst Coffeehouse, 2459 18th St. N.W., pair a candy-colored cocktail with a spinach frittata sandwich or mushroom quiche. Phone (202) 232-8800 for The Diner or (202) 232-5500 for Tryst Coffeehouse. In addition, several of culturally diverse Adams Morgan's ethnic businesses transform into after-hours clubs clouded by hookah smoke and pulsing with languid reggae beats.
From around 15th Street to 9th Street N.W., jazz clubs, lounges and live music venues line the U Street Corridor (east of 11th Street the surroundings get gritty, however). U Street Music Hall , 1115 U St. N.W., is a basement dance club that alternates between DJ sets and live bands; phone (202) 588-1889.
The Lincoln Theatre , 1215 U St. N.W. (across from the U St./African-Amer Civil War Memorial/Cardozo Metro station), opened in 1922 and for years functioned as a movie theater and ballroom catering to Washington's middle-class black community. Closed after rioting in 1968, its refurbishment and reopening in 1994 sparked the U Street Corridor's revival. The performance schedule includes movies, concerts and stage shows; phone (202) 888-0050.
Next door is
Ben's Chili Bowl
, another U Street institution. Doling out chili-garnished hot dogs and half-smokes to an army of loyal patrons, Ben's hasn't changed much since its 1958 opening—and that's a good thing. During U Street's heyday as the "Black Broadway," jazz luminaries and top entertainers frequented this down-home eatery, and it's still the spot for late night eats, staying open until 4 a.m. on Fridays and Saturdays; phone (202) 667-0909.
Just a few hundred feet from "The Bowl" is a dramatic mural of Washington native Duke Ellington. The influential composer, pianist and bandleader regularly graced the area's music halls back in the day, and one venue that helped launch his career was The Howard Theatre , 620 T St. N.W. (M: Shaw-Howard U). This remodeled landmark features state-of-the-art acoustics and a concert schedule offering something for everyone; phone (202) 803-2899.
Relax over coffee and bestsellers during the day at Busboys and Poets , a bookstore/cafe at 2021 14th St. N.W. In the evenings it's a neighborhood gathering place, open until midnight Sunday through Thursday and 1 a.m. Friday and Saturday; phone (202) 387-7638. Policy , 1904 14th St. at T Street N.W. (M: U St/African-Amer Civil War Memorial/Cardozo), has a high-energy happy hour (5-7 Tues.-Fri.) and a lounge where DJs spin hip-hop and Top 40 hits Friday and Saturday nights; phone (202) 387-7654.
A block down 14th is the Black Cat (1811 14th St. N.W.), where you can bang your head while local indie bands and a sprinkling of national acts thrash about onstage. All-ages shows are held in two concert rooms as well as in the Red Room Bar, a dive (no cover!) where you can play pinball 'til your thumbs go numb and schmooze with Black Cat regulars over a variety of Belgian beers; phone (202) 667-4490.
The 9:30 Club , 815 V St. N.W. (M: U St/African-Amer Civil War Memorial/Cardozo), is a D.C. institution that opened as a tiny punk club on F Street in 1980 before moving to its present, larger location. Shows cover the indie-rock spectrum from local bands to name acts; phone (202) 265-0930.
There's also no shortage of nightspots in Georgetown. Challenge Georgetown University undergraduates to a buffalo wing-eating contest at local hangout The Tombs (1226 36th St. N.W.). Locals and tourists love
Clyde's of Georgetown
(3236 M St. N.W.), a neighborhood institution since 1963 known for its blend of upscale comfort food and a convivial saloon-style atmosphere. Phone (202) 337-6668 for The Tombs or (202) 333-9180 for Clyde's.
Just off Wisconsin Avenue below M Street N.W. is Blues Alley , an intimate supper club that's a great place to hear some chill jazz or neo-soul crooning against a backdrop of exposed brick walls. Make sure you get there early for the best seats; phone (202) 337-4141.
Hip, gay-friendly Dupont Circle offers everything from trendy lounges to after-hours dance clubs. Many places are along Connecticut Avenue, with the party stretching north to S Street and south to K Street.
The Eighteenth Street Lounge , 1212 18th St. (M: Dupont Circle), is one of the city's hottest nightclubs. This restored mansion's high ceilings, fireplaces and red velvet drapes lend a classy ambience; there are three different rooms, an outdoor terrace, live bands and guest DJs. You'll have to dress appropriately to get in; phone (202) 466-3922.
For something more casual try Barcöde, 1101 17th St. N.W. (M: Farragut North), a restaurant that morphs into a club around 11 p.m. The college crowd swarms this place on weekends; phone (202) 955-9001.
If your plans don't include all-night clubbing, just hang out at Kramerbooks & Afterwords Café (1517 Connecticut Ave. N.W.) and sip a foamy cappuccino or a Chocolate-Covered Cherry-tini. Phone (202) 387-3825.
In Penn Quarter (M: Gallery Place-Chinatown), blurring your vision even before you order is the ridiculously long tap list at R.F.D. Washington (810 7th St. N.W.). It spans the alphabet from Abita Amber, a lightly caramel-flavored Munich-style lager, to Zywiec, a brand of Polish beer. Phone (202) 289-2030. Or go next door and hoist a pint of Guinness at Fadó Irish Pub while cheering the simulcast rugby and Gaelic football matchups; phone (202) 789-0066.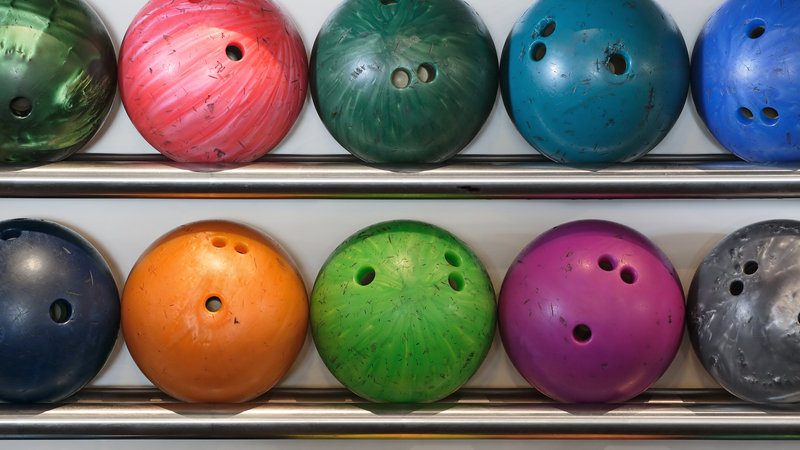 Ronald Sumners / Shutterstock.com
Lucky Strike Lanes & Lounge , 701 7th St. N.W. in Gallery Place, is not your typical humdrum bowling alley. Part urban sophistication and part unabashed kitsch, it has DJs spinning deafeningly loud music nightly for hipsters chilling by the vintage-inspired bar, pricey frou-frou drinks in hand, and alleys that shimmer with video screen images. It's more fun to come with a group. Also try to take advantage of Monday through Wednesday night all-you-can-bowl special rates, since the tab here can really add up. Phone (202) 347-1021.
On Capitol Hill, comfortable Mr. Henry's , 601 Pennsylvania Ave. S.E. (M: Eastern Market), has paneled wood walls, stained-glass windows and walls covered with British political cartoons. There's also a shrine to singer Roberta Flack, who got her start here back in the '60s. Bottled beers include such offerings as Smuttynose Old Brown Dog Ale. There's also a daily happy hour and "Margarita Tuesdays." Phone (202) 546-8412.
Another legendary hangout is the Tune Inn, 331 Pennsylvania Ave. S.E. (M: Capitol South), which has a lot of history (read about it on the menu). Decor runs to wall-mounted animal heads, booths are comfy and the bar food is deliciously greasy. Wisdom , 1432 Pennsylvania Ave. S.E. (M: Potomac Avenue), has a casual atmosphere—think Middle Eastern lamps, funky couches and two curtain-covered alcoves—and a drink menu heavy on creative cocktails. Phone (202) 543-2725 for the Tune Inn or (202) 543-2323 for Wisdom.
Note: Metro provides convenient public transportation (Georgetown is the exception). It operates until 3.a.m. Fri.-Sat., about midnight Sun.-Thurs. If you're a visitor heading into unfamiliar territory after dark, however, it's probably worth the peace of mind to spend a few extra dollars on a taxi rather than emerging from a subway station without a clear sense of direction.
Performing Arts
The John F. Kennedy Center for the Performing Arts is a major player in Washington's performing arts scene, but there are many other fine facilities. University groups, dinner theaters and open-air facilities like Virginia's Wolf Trap National Park for the Performing Arts offer live entertainment throughout the year.
Better yet, a number of performances are free. National Park Service military band concerts take place during the summer months at the United States Capitol, the United States Navy Memorial and the Sylvan Theatre on the Washington Monument grounds. The Library of Congress offers free chamber music concerts.
Weekend magazine, published in the Friday edition of The Washington Post, gives complete listings for current and upcoming cultural events in the D.C. area. Washington City Paper, a free weekly available at local bookstores, newsstands and curbside vending machines, also has detailed listings for theater, music, film, dance, gallery and performance art events.
Dance
Classical and contemporary works are presented by The Washington Ballet at the Kennedy Center Opera House as well as the Kennedy Center's Eisenhower Theater and other venues. Every December the company stages the holiday classic "The Nutcracker." Such renowned companies as the Bolshoi Ballet and the American Ballet Theater give frequent Washington performances. The Howard University Dance Ensemble focuses on modern dance. National and international dance troupes regularly appear at Smithsonian venues; for information phone (202) 633-1000.
Film
First-run movie theaters are plentiful in the District, although parking is not. The most readily available parking is at theaters on upper Wisconsin and Connecticut avenues. The AMC Loews Uptown 1, 3426 Connecticut Ave. N.W. (M: Cleveland Park), and the AMC Mazza Gallerie, 5300 Wisconsin Ave. N.W. (M: Friendship Heights), are good places to see current releases; phone (888) 262-4386.
The AFI Silver Theatre and Cultural Center, 8633 Colesville Rd. in Silver Spring, Md. (M: Silver Spring), includes a restored 1938 movie house and two contemporary stadium theaters providing state-of-the-art presentation facilities for classic and cult film showings, retrospectives and new releases; for recorded program information phone (301) 495-6700. The Avalon Theatre, 5612 Connecticut Ave. N.W. (M: Friendship Heights), shows arthouse fare as well as the occasional Hollywood blockbuster and is one of the city's few remaining old-school movie palaces. Phone (202) 966-3464.
Documentaries and experimental films are often shown at the Hirshhorn Museum and Sculpture Garden and the National Gallery of Art's East Building (M: Smithsonian); for information about programs, contact the individual museums.
Music
The Kennedy Center presents a variety of nationally and internationally acclaimed artists. Under the direction of Christoph Eschenbach, the National Symphony Orchestra performs in the center's spacious Concert Hall. The season runs from early September to early June. Chamber music societies, choral groups and symphony orchestras from around the world perform here as well; for information phone (202) 467-4600. In the summer months the orchestra performs outdoors at Wolf Trap National Park for the Performing Arts.
The George Washington University's Lisner Auditorium, 21st and H streets N.W. (M: Foggy Bottom-GWU), has a varied schedule of popular music concerts, classical recitals and sometimes opera and ballet. Phone (202) 994-6800.
One of Washington's best bargains is the series of free chamber music concerts presented at the Library of Congress (M: Capitol South or Union Station) at different theaters and auditoriums. For schedule and ticket information phone (202) 707-5502.
The airy West Garden Court in the National Gallery of Art's West Building (M: Smithsonian) is the scene of free concerts from early September to early November; for program information phone (202) 842-6941. The Jazz in the Garden concert series takes place on Fridays from 5-8:30 p.m., late May through early September, at the National Gallery of Art Sculpture Garden, 7th Street and Constitution Avenue N.W. Visitors can purchase food and beverages from the Pavilion Cafe or bring their own picnic. For schedule and performer information phone (202) 289-3360 or (202) 842-6941.
From October through May, Sunday afternoon chamber concerts take place in the paneled Music Room at The Phillips Collection museum, 1600 21st St. N.W. at Q Street (M: Dupont Circle). They begin promptly at 4 (early arrival is strongly recommended). Concert admission is $40 ($20 for members and students with ID); phone (202) 387-2151. From October through April, the Folger Consort, the resident Renaissance music ensemble at the Folger Shakespeare Library, presents a series of instrumental and vocal performances in the library's Folger Theatre, 201 E. Capitol St. S.E. (M: Capitol South or Union Station); phone (202) 544-7077.
The summer performance schedule at Carter Barron Amphitheatre, 16th Street and Colorado Avenue N.W. in Rock Creek Park (near the Maryland line) ranges from funk, jazz and blues bands to R & B, gospel, oldies groups and performances by dance companies and the National Symphony Orchestra. Some shows are free, but all require tickets; for information phone (202) 426-0486.
Wolf Trap National Park for the Performing Arts is the National Symphony Orchestra's summer home. About half of the seats in the Filene Center are covered; the stage and open-sided canopy are built to take advantage of a natural slope. Less expensive and unprotected seating is available on the lawn. Children's Theatre-in-the-Woods runs from late June through early August. These 45-minute family-friendly shows feature dance, music, puppetry, storytelling and theater and are presented Tuesdays through Saturdays at 10:30 a.m.; phone (703) 255-1868 or (877) 965-3872.
From early October to mid-May, performances move inside to the smaller The Barns at Wolf Trap, three-quarters of a mile south of the park at 1635 Trap Rd. The 382-seat theater features everything from chamber music and opera to folk, jazz, country and bluegrass. For ticket information phone the box office at (703) 938-2404. Wolf Trap tickets can be purchased by calling (877) 965-3872.
The U.S. Marines present a parade, including band, drum and bugle corps and a silent drill team, at the Marine Barracks, 8th and I streets S.E. (M: Eastern Market), on Fridays at 8:45 p.m. from May through August. Parking is available at Maritime Plaza, 12th and M streets S.E.; a free shuttle bus provides transportation from the plaza to the barracks and back. Reservations are not required but can be made online; visitors who don't have them must wait in line for any unclaimed seats. Phone (202) 433-6060 for recorded information.
For something less formal, the Marine Drum and Bugle Corps and Silent Drill Team present a 1-hour Sunset Parade Tuesdays at 7 p.m. from the first Tuesday in June to the last Tuesday in July, and at 6:30 p.m. the first two Tuesdays in August. It takes place at the Marine Corps War Memorial (M: Rosslyn); bring a blanket or lawn chair, as no seats are provided. Shuttle bus service to this free performance is provided from the parking lot next to the Arlington National Cemetery Visitor Center from 5:30-6:30 and 7:30-8:30 p.m.; the parking fee is $1.75 per hour for the first 3 hours, then $2.50 per hour.
Twilight Tattoo, another sunset parade, is performed by the U.S. Army Band and The 3rd U.S. Infantry at Fort Myer in Arlington, Va. Bleachers aren't available, so bring blankets and/or lawn chairs. The event takes place Wednesdays (weather permitting) at 7 p.m., early May through early August. Phone (202) 685-2888 to confirm schedule.
Another great deal is the free summer concert series given Memorial Day weekend through Labor Day weekend by military bands of the U.S. armed forces. Many of them take place on the steps of the United States Capitol. These traditional concerts feature occasional vocalists and include stirring patriotic marches as well as pops and classical selections.
The Navy performs Mondays, the Air Force on Tuesdays, the Marines on Wednesdays and the Army on Fridays. On holidays the National Symphony Orchestra performs. All concerts begin at 8 p.m. On Thursday evenings from June through August, the U.S. Marine band performs at the outdoor Sylvan Theatre, just off 15th Street N.W. near the Washington Monument (M: Smithsonian). For schedule information phone (703) 696-3718 (Army), (202) 433-2525 (Navy), (202) 433-4011 (Marines) or (202) 767-5658 (Air Force).
LIVE! On Woodrow Wilson Plaza takes place at 1300 Pennsylvania Ave. N.W. (M: Federal Triangle). The music ranges from Latin and jazz to Celtic folk songs and hip hop. Concerts are scheduled Mon.-Thurs. noon-1 (weather permitting), early June through September.
Opera
The opulent Kennedy Center Opera House has three levels and a stage curtain of gold and red Japanese silk. The plush setting is a backdrop for seasonal performances by the Washington National Opera from September to May. Standing-room-only tickets go on sale at the Kennedy Center box office on Saturday beginning at 10 a.m. for performances the following week. For performance and ticket information phone (202) 467-4600 or (800) 444-1324.
Theater
Small-scale dramas are presented at the Kennedy Center's Eisenhower Theater, while lavish musicals play at the 2,300-seat Opera House. In the evening the Theater Lab features the long-running play "Shear Madness," a humorous murder mystery that differs every performance.
The center's intimate Terrace Theater offers chamber music concerts, opera, choral recitals, comedy revues and theatrical offerings, along with solo performances from classical violinists to multimedia performance artists. For Kennedy Center show and ticket information phone (202) 467-4600 or (800) 444-1324.
The Warner Theatre, 513 13th St. N.W. between E and F streets (M: Metro Center), opened in 1924 as a vaudeville house, was an old-fashioned movie palace during the 1960s and functioned mainly as a rock concert venue in the 1970s and '80s. These days it provides an ornately decorative setting for dance performances, touring Broadway and off-Broadway shows, and popular headlining entertainers and musicians. For general information, phone (202) 783-4000 Mon.-Fri. 9-6.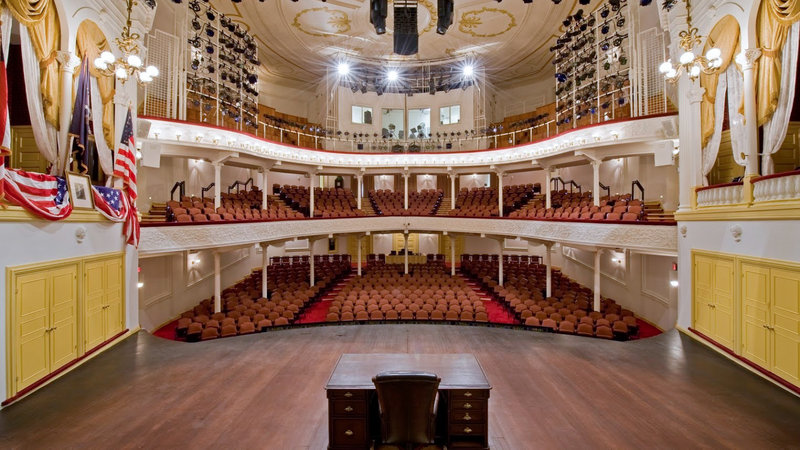 Courtesy of Ford's Theatre
Ford's Theatre presents a year-round schedule of contemporary plays and musicals. The theater is carefully restored to its original appearance, which means the 1860s-style chairs are of questionable comfort. Phone (202) 347-4833 for more information.
Razzle-dazzle hits appear at The National Theatre, 1321 Pennsylvania Ave. (M: Metro Center), which has operated continuously since 1835. It's the closest thing D.C. has to a big, Broadway-style theater. The theater's Helen Hayes Gallery hosts free family-friendly performances on Saturday mornings at 9:30 and 11, September through July. Seating is limited and tickets are distributed a half hour before the performance begins on a first-come, first-served basis (one ticket per person in line). Phone (202) 783-3372 to ticket and schedule information.
The Arena Stage at the Mead Center for American Theater, 1101 6th St. S.W. (M: Waterfront-SEU), is home to D.C.'s most lauded ensemble company. Founded by director Zelda Fichandler in 1950, the Arena over the years has nurtured the stage careers of such actors as Jane Alexander and James Earl Jones. New plays and emerging playwrights are emphasized during the September-to-June season. The facility has three stages: the Fichandler Stage, the Kreeger Theater, and the Arlene and Robert Kogod Cradle. For schedule and ticket information phone (202) 488-3300 Tues.-Sun. noon-8.
Productions of Shakespearean plays and other classical works by the Shakespeare Theatre Company are presented at the Lansburgh Theatre, 450 7th St. N.W. (M: Archives-Navy Memorial-Penn Quarter) and also in Sidney Harman Hall, 6th and F streets N.W. (M: Gallery Place-Chinatown). In addition to educational programs and various special events, the Shakespeare Theatre Company Free For All is a free production held in the summer. Tickets for regular performances sell out quickly; for performance information or tickets phone (202) 547-1122, (877) 487-8849 or TTY (202) 638-3863.
Beltway politics is the inspiration for the 1.5-hour theatrical comedy put on by the Capitol Steps Friday and Saturday evenings at 7:30 in the Ronald Reagan Building and International Trade Center, 1300 Pennsylvania Ave. N.W. (M: Federal Triangle). The troupe consists of many current and former Congressional staffers; phone (202) 397-7328 for ticket information.
Smaller professional resident theaters abound. Contemporary plays—including new productions—are presented at The Studio Theatre, 1501 14th St. N.W. (M: Dupont Circle). Phone (202) 332-3300 or TTY (202) 667-8436 for box office information.
The Woolly Mammoth Theatre Company, 641 D St. N.W. at 7th Street (M: Archives-Navy Memorial-Penn Quarter), has a reputation for staging some of the city's most artistically provocative productions. For ticket information phone the box office at (202) 393-3939. The GALA Hispanic Theatre, 3333 14th St. N.W. (M: Columbia Heights), presents works by classic and contemporary Latin and Latin-American playwrights; phone (202) 234-7174 for the theater or (800) 494-8497 for ticket information.
Productions at the Atlas Performing Arts Center, 1333 H St. N.E., bring to life African and African-American themes. The closest Metro station is Union Station (about a 20- to 25-minute walk). The X8 Metrobus runs along Maryland Avenue N.E. from Union Station to 13th Street; from there it's a 2-block walk to H Street. Phone (202) 399-7993 for the box office. The Round House Theatre has two locations—in Bethesda and Silver Spring, Md.—offering new plays as well as classics. Phone (240) 644-1100 for ticket information.
Sports & Rec
D.C. sports fans have five professional teams to cheer on: the NFL Washington Redskins, the MLB Washington Nationals, the NBA Washington Wizards, the WNBA Washington Mystics and soccer's D.C. United. Six area universities—American, Georgetown, George Washington and Howard in the District, George Mason University in Virginia and the University of Maryland—offer plenty of intercollegiate sports action.
Year-round recreational activities in the Washington metropolitan area are plentiful as well. And who knows—you may find yourself overtaking a congressional power broker while jogging along the Mall. Contact the D.C. Department of Parks and Recreation for information; phone (202) 673-7647.
Baseball
The Washington Nationals play ball at 41,418-seat Nationals Park (M: Navy Yard). The stadium site is bounded by Potomac Avenue, 1st Street and S. Capitol Street S.E. in a location called the Capitol Riverfront, or simply "the Front," a formerly gritty area that is transforming into a residential and business district. Single-game tickets range from around $12 for grandstand seats to $400 for the Delta Sky360 Club; phone (202) 675-6287 or (888) 632-6287.
Basketball
Four-time Eastern conference champs the Washington Wizards play at Capital One Arena, 601 F St. N.W. (M: Gallery Place-Chinatown). The action takes place from November to April; for ticket information phone (202) 628-3200 or (202) 661-5050.
Capital One Arena also is home to the WNBA Washington Mystics and NCAA champions the Hoyas, who hail from Georgetown University and are beloved by both hometown rooters and those who follow the Division IA circuit. Hoops fans also should check out the American University Eagles, the George Washington University Colonials, the Howard University Bison, the University of Maryland Terrapins (the Terps) and the George Mason University Patriots. Exhibition games are played at the D.C. Armory, 2001 E. Capitol St. S.E. (M: Stadium-Armory).
Football
The Washington Redskins—who won the Super Bowl in 1983, 1988 and 1992—have an army of followers notorious for their zeal. Hear that whooshing noise? It's the sound of fans sucking up every last home game ticket in town. They're more precious than gold; if you're interested in seeing the Skins play, try tracking down some preseason tickets instead.
FedEx Field is off I-495/I-95 exit 15A (Central Ave. East) or 17A (Landover Rd. East) in nearby Landover, Md. (M: Morgan Boulevard). It's packed with fans from September to December; phone (301) 276-6800 for ticket information.
The University of Maryland's football team, the Terrapins play home games at Capital One Field at Byrd Stadium; from the D.C. area, take I-95/495 exit 25B (College Park/US 1 South) to SR 193 (Greenbelt Road/University Boulevard), following signs. For ticket information phone (301) 314-7070 or (800) 462-8377.
Hockey
The Washington Capitals season runs from October through April; the team plays at Capital One Arena. For information regarding season ticket plans phone Capitals Guest Services at (202) 266-2350.
Horse Racing
Several tracks around the District offer horse racing. The closest track in the D.C. metro area is Laurel Park, off SR 198 in Maryland City, Md.; phone (301) 725-0400. All events are flat races unless otherwise noted. Dark days —days when no live racing is scheduled—are announced during the meets. For information about public transportation from downtown D.C. to area racetracks, contact the Maryland Transit Administration (MTA); phone (410) 539-5000, (866) 743-3682 or TTY (410) 539-3497 Mon.-Fri. 6 a.m.-7 p.m.
The season normally runs from early September through March at Laurel. At Pimlico, near Baltimore, it runs from mid-April to early June; phone (410) 542-9400. At Charles Town Race Track in Charles Town, W.Va. it runs from early January to mid-December; phone (800) 795-7001. Races also take place from late August to early September during the Maryland State Fair at Timonium, near Baltimore.
Note: Policies concerning admittance of children to pari-mutuel betting facilities vary. Phone for information.
Soccer
In June 2018, Major League Soccer's D.C. United will relocate from RFK Stadium to Audi Field, located at R and First streets S.W. at Buzzard Point. For ticket information contact D.C. United customer service; phone (202) 587-5000.
Bicycling
Two popular places to ride a bike are along the C&O Canal towpath and on trails in Rock Creek Park. The Washington and Old Dominion Trail (W&OD, or the "WOD" to locals) is a 45-mile paved, multiuse path that runs from I-395 at Shirlington near the Potomac River through Leesburg, Va., meandering through the cities of Falls Church, Vienna and Herndon, Va., to Purcellville, Va. Close to the city, the WOD overlooks busy I-66. The farther west you go the less crowded the trail becomes; past Herndon the rural landscapes and flat terrain offer great biking.
The paved, 18.5-mile multiuse Mount Vernon Trail runs south along the Potomac's banks from Theodore Roosevelt Island, past Ronald Reagan Washington National Airport and through Old Town Alexandria, ending at Mount Vernon, Va. This scenic riverside trail can get very crowded on weekends.
The partially paved, 11-mile multiuse Capital Crescent Trail runs north along the Potomac's banks from Georgetown to Bethesda, Md. The last 4 miles consist of crushed stone and continue to Silver Spring, Md. It once served as the right-of-way for the Baltimore and Ohio Railroad. For a free trail map, send a self-addressed, stamped envelope to Coalition for the Capital Crescent Trail, P.O. Box 30703, Bethesda, MD 20824.
The Metropolitan Branch Trail (MBT) runs from Union Station to Silver Spring, Md. About half of the 8-mile route consists of on-road portions, although the goal is to eventually create an entirely off-road trail. The route follows the former B&O Railroad's Metropolitan Branch line.
Bicycles (along with kayaks, rowboats, canoes and fishing tackle) can be rented at Fletcher's Boathouse, at the intersection of Reservoir and Canal roads N.W. It is open from mid-March through October; phone (202) 244-0461. Another in-town outlet is Thompson's Boat Center, Rock Creek Parkway and Virginia Avenue N.W. in Georgetown. Bikes can be rented from March through November; phone (202) 333-9543.
Bike and Roll D.C. and Bike and Roll Alexandria rent bikes, children's bicycle trailers and strollers, and also offer guided tours. Safety equipment is included. Rental hours vary by location and season; phone (202) 842-2453 for information.
Fishing
The best fishing is outside the D.C. metro area—Chesapeake Bay, the Atlantic Ocean and the mountain streams within Shenandoah National Park. Locally, anglers cast lines along the Maryland shore of the Potomac River from the Wilson Bridge south to Fort Washington Park. A trip to Fletcher's Cove, on the Potomac about a mile above Key Bridge, or to the rocky gorge at Chain Bridge, a viaduct that crosses the Potomac at Little Falls, makes for a relaxing day away from the city and might also net a catch of white shad or herring.
Golf
There are three public golf courses within the District. Tee times are on a first-come, first-served basis. Langston Golf Course is at 2600 Benning Rd. N.E.; phone (202) 397-8638. East Potomac Golf Course, 972 Ohio Dr. S.W., has two nine-hole courses and one 18-hole course; phone (202) 554-7660. Rock Creek Public Golf Course, 6100 16th St. N.W., has one 18-hole course that can also be played individually as two nine-hole courses; phone (202) 882-7332 for greens fees.
Outside the District, public 18-hole golf courses include: Falls Road Golf Course, 10800 Falls Rd., Potomac, Md., (301) 299-5156; Greendale Golf Course, 6700 Telegraph Rd., Alexandria, Va., (703) 971-6170; Herndon Centennial Golf Course, 909 Ferndale Ave., Herndon, Va., (703) 471-5769; Redgate Municipal Golf Course, 14500 Avery Rd., Rockville, Md., (240) 406-1650; Reston National Golf Course, 11875 Sunrise Valley Dr., Reston, Va., (703) 620-9333; and the University of Maryland Golf Course, 3800 Golf Course Rd., College Park, Md., (301) 314-4653.
Horseback Riding
There are shady bridle paths in the northern portion of Rock Creek Park. Guided rides are given by the Rock Creek Park Horse Center, 5100 Glover Rd. N.W.; phone (202) 362-0117 for fees and schedule.
Jogging and Walking
One of the most popular places to jog in the nation's capital is the National Mall—specifically the rectangle between 3rd and 14th streets and Constitution and Independence avenues N.W. Joggers also use the sidewalks along the Memorial Bridge between the Lincoln Memorial and Arlington National Cemetery.
The Mount Vernon Trail provides two running courses. The shorter one begins near the pedestrian walkway leading to Theodore Roosevelt Island and runs south past Reagan National Airport (this stretch is about 6.5 miles) to Old Town Alexandria (an additional 3 miles). For the truly fit, a delightfully scenic 9-mile path follows the Potomac's banks from Old Town south to Mount Vernon. Another riverside path is the 11-mile Capital Crescent Trail from Georgetown north to Silver Spring, Md.
The 15 miles of trails crisscrossing Rock Creek Park offer a peaceful natural setting in the middle of a busy city. One of the best runs is a 4-mile stretch paralleling the creek from Georgetown to the National Zoological Park. The gravel- and dirt-packed C&O Canal towpath offers a serene, wooded setting for short runs (about 4 miles round trip between Georgetown and Fletcher's Boathouse) or really serious training—well into Maryland, if you are so inclined.
About 4 miles of the 8-mile Metropolitan Branch Trail—which goes from Union Station to Silver Spring, Md.—are off-road paths.
Tennis
National Park Service courts, which do not require permits but charge a fee, are at Hains Point in East Potomac Park, 1090 Ohio Dr. S.W., (202) 426-6841, and in Rock Creek Park near 16th and Kennedy streets N.W., (202) 722-5949. Reservations are suggested.
For a complete list of court locations and information about fees and permits, contact the D.C. Department of Parks and Recreation, 3149 16th St. N.W., Washington, D.C. 20010; phone (202) 673-7647.
Water Sports
Boats and canoes for Potomac River excursions can be rented at Fletcher's and Thompson's boathouses (see the Bicycling section). At Key Bridge Boathouse, 3500 K St. in Georgetown (beneath the intersection of Key Bridge and the Whitehurst Freeway) the rental season is April through October; phone (202) 337-9642. Paddleboats can be rented on the east side of the Tidal Basin in front of the Thomas Jefferson Memorial.
Riding the rapids of Great Falls as they course between Virginia and Maryland will appeal to those with an adventurous side. Although no river wild, the Potomac does work up quite a bit of white water at this location. The bluffs above the river offer a fine vantage point for those who would rather watch than participate. For information, contact the ranger station at Great Falls, Va.; phone (703) 285-2966.
The D.C. Department of Parks and Recreation operates indoor aquatic centers, outdoor swimming pools and several spray parks. Local YMCA and YWCA branches also have facilities. For more information, contact the department's Aquatics Division at (202) 671-1289. Summer swimmers with more time on their hands can journey to Chesapeake Bay or Maryland's Atlantic Ocean beaches, a 3- to 4-hour drive.
Winter Sports
When sightseeing becomes a bone-chilling proposition on occasional frigid winter days, go ice-skating. At the National Gallery of Art Sculpture Garden Ice Rink, on Constitution Avenue between 7th and 9th streets N.W., skaters have a view of the Mall while listening to music from a state-of-the-art sound system. The rink is open Mon.-Thurs. 10-9, Fri.-Sat. 10 a.m.-11 p.m., Sun. 11-9, mid-Nov. to mid-Mar. (weather permitting). Two-hour sessions, beginning on the hour, are $8; $7 (ages 0-12, ages 50+ and students with ID). Skate and locker rentals are available; phone (202) 216-9397.
Sightseeing
Sightseeing tours cover the city and most major suburban points of interest. Your local AAA office can provide information about tours of embassies, houses and gardens that occur periodically. For more information visit one of the AAA Mid-Atlantic offices. Visitors can obtain access to some services and tours by contacting their U.S. senators or representatives before leaving home.
Boat Tours
C&O Canal Boat Trips
Potomac Riverboat Co.
Bus, Limo, Trolley Tours
Individually operated limousine tours are sold by the drivers near the various information kiosks. Most taxi companies also can provide sightseeing services. Bus tours range in price from about $15 to $65, depending on length of tour and itinerary, and include trips around Washington, Mount Vernon and all stops in between.
Food Tours
The following tour is presented for informational purposes as a service to members.
Guided Walking Tours
Washington Walks offers a variety of walking tours. Docents highlight such locales as U Street, Dupont Circle, Embassy Row and Georgetown, and most tours depart April through October. From late June to early November the National Mall Memorials tour showcases the Thomas Jefferson; Lincoln; Vietnam Veterans; District War; Martin Luther King, Jr.; and World War II memorials as well as the Washington Monument. Allow 2 hours for each tour. Tours are given regardless of weather, and reservations are not required. Tours cost $15-$20; free (ages 0-3). Phone ahead for departure locations and tour schedules. Phone (202) 484-1565.
The United States Capitol Historical Society offers 2-hour tours of the exterior of the Capitol building. Trained guides discuss the domed structure's history and architecture. The tour costs $10 (cash only) and departs the Union Station Metro station (near the top of the Massachusetts Avenue exit escalators) Mon. at 10, Mar.-Nov.; phone (202) 543-8919, ext. 17.
Self-guiding Tours
For those exploring the Dupont Circle area, the "Dupont-Kalorama Museum Walk" brochure outlines a walking tour of museums and historic buildings near the circle. Pick up a copy at participating museums, including The Phillips Collection, Anderson House, the National Museum of American Jewish Military History, Dumbarton House and the Woodrow Wilson House.
The Black History National Recreation Trail consists of various Washington, D.C., neighborhoods that played an important role in the community from the time of slavery to the mid-20th century. Contact the National Park Service at National Capital Region, Office of Public Affairs, 1100 Ohio Dr. S.W., Washington, D.C. 20242; phone (202) 619-7023.
Cultural Tourism DC, (202) 661-7581, offers information about a variety of self-guiding tours. The African American Heritage Trail guide includes attraction and tour information highlighting 98 of the more than 200 sites representing African-American history in Washington, D.C. Civil War to Civil Rights: Downtown Heritage Trail is marked by 25 signs throughout downtown. The organization also has developed 17 other Neighborhood Heritage Trail tours; poster-size signs along the routes offer information and maps. Visitors can easily follow the routes from these signs, but free downloadable PDF guides on the organization's website will enhance the experience.
By Greg Weekes
Note: A timed ticket is required to enter the Butterfly Pavilion, and the wait can be up to an hour. Popular Dinosaur Hall is closed for a complete renovation and will remain closed until sometime in 2019.
From the sculpture garden, walk back up the Mall toward the Smithsonian Castle. If museum fatigue threatens—or you have kids in tow and they're starting to get antsy—you're in luck. Vendor trucks park regularly along Constitution Avenue and the streets that bisect the Mall. Refuel with a hot dog, soft pretzel, ice cream or a popsicle. Equally ubiquitous are the souvenir trucks, where you can pick up plenty of mementos.
If you've still got energy to burn, hang out in Penn Quarter. This touristy shopping and dining district, roughly between H Street and Pennsylvania Avenue and 4th and 10th streets N.W., is centered around Capital One Arena, home to the NBA's Washington Wizards.
Lucky Strike (701 7th St. N.W. in Gallery Place) is a bowling alley in name only—more to the point, it's a place to see and be seen while sipping pricey drinks and perhaps rolling a ball or two down alleys with a backdrop of video screens. You could also hoist a pint of Guinness at Fadó Irish Pub (808 7th St. N.W.) alongside enthusiastic locals watching ruby matches on TV. Or if the weather's pleasant, head back to the Mall for a leisurely sunset stroll.
If you've got time, include the National Museum of African American History and Culture on your morning itinerary. The Smithsonian's newest museum, occupying 5 acres between the Washington Monument and the National Museum of American History, celebrates the diversity and rich cultural expression of the African American experience.
A couple of tips: If you're visiting in late March or early April, the Japanese cherry trees in full bloom along the Tidal Basin are quite a lovely sight. You'll have to time it carefully, though, since the delicate flowers only last a few days and Mother Nature can play havoc with the schedule. Another inspiring view is from the top of the Lincoln Memorial steps looking east toward the Capitol.
There are lots of bars and clubs in the area where Connecticut Avenue, 18th Street and M Street N.W. all meet. Dupont Circle, a few blocks north, also has a hopping club scene. Lucky Bar (1221 Connecticut Ave. N.W. at 18th Street), has a mix of live and DJ music and TVs tuned to soccer matches and college football games. Kramerbooks & Afterwords Café (1517 Connecticut Ave. N.W.) is a D.C. institution, a bookstore that doubles as an evening hangout since there's both a restaurant and a bar on the premises.
Turn right on Constitution Avenue and then turn left on Delaware Avenue, which will take you to Union Station, a grand Beaux Arts building that bustled with rail travel in the 1930s and now serves as a hub for Amtrak. Check out the soaring barrel-vaulted ceiling in the Main Hall and browse the souvenir kiosks before having lunch at one of the hall's fast-food eateries or at the food court on the lower level.
Spend the rest of the day in Georgetown, Washington's oldest residential neighborhood and one of the most popular places in the city to shop, eat or just hang out. The closest Metro stations are Foggy Bottom-GWU (Orange/Blue line) and Dupont Circle (Red line); from each station it's a leisurely 20-minute walk.
The DC Circulator offers a Georgetown-Union Station route daily 7 a.m.-9 p.m.; buses arrive approximately every 10 minutes on the bus level of the Union Station parking garage (accessible from the mezzanine level) and make several stops along Wisconsin Avenue N.W. in Georgetown. The fare is $1.
You also can have dinner at Blues Alley (1073 Wisconsin Ave. N.W., below M Street), but most people go for the music. D.C.'s premier jazz club is another local institution, and the list of artists who have played here is legendary. The look is worn around the edges, but that's what makes it a classic. Seating is first-come-first-served, and reservations are essential; phone (202) 337-4141.
Most of Georgetown's bars are the friendly saloon type. Mr. Smith's of Georgetown (3205 K St. N.W.) has a piano player who draws an appreciative crowd of regulars. The Tombs (1226 36th St. N.W.) is an ultra-casual hangout frequented by Georgetown University undergraduates.
Metrorail operates until midnight Sun.-Thurs. and 3 a.m. Fri.-Sat., but the last train may depart before the system closes; final departure times are posted at the stations. (Note: The 3 a.m. Fri.-Sat. closing time is scaled back to midnight for the duration of the 2016-17 Metro rebuilding project.)
By Greg Weekes
The National Museum of African American History and Culture, the Smithsonian's 19th museum, tells an American story through an African American lens. The 12 inaugural exhibitions explore such themes as community, cultural expression, music and visual arts, and cover historical periods from African origins and slavery to the civil rights era and into the 21st century. The museum opens Sept. 24, 2016.
Arlington National Cemetery , yet another GEM attraction, is just across the Potomac River from Washington. Row upon row of simple white headstones on more than 600 acres of rolling Virginia hills are interspersed with imposing stones and monuments that honor groups and significant individuals. Two presidents, Sen. Robert F. Kennedy, William Jennings Bryan, and numerous military leaders and servicemen are buried here.
If you have extra time for sightseeing, don't miss AAA GEM attractions in Alexandria, Chantilly, Great Falls, Leesburg, Lorton, Mount Vernon and Vienna (nearby Virginia) and Largo (nearby Maryland), all within a 30-mile radius of Washington.
Even when Mother Nature's timing is off, however, there are plenty of activities and cultural offerings to enjoy—music, dance and martial arts demonstrations, walking tours, a lantern-lighting ceremony and a Japanese street festival. The cherry trees in the vicinity of the Jefferson Memorial are illuminated at night during the peak bloom period, providing a breathtaking sight. The grand finale is a parade along Constitution Avenue N.W. with marching bands, floats and giant balloons.
Following the ceremony, the national tree and the Pathway of Peace—smaller, decorated trees representing each of the 50 states, plus five territories and the District—can be seen daily through Jan. 1; the tree lights are turned on each evening from dusk until 11 p.m. Street parking is very limited in the vicinity, so taking public transportation is recommended.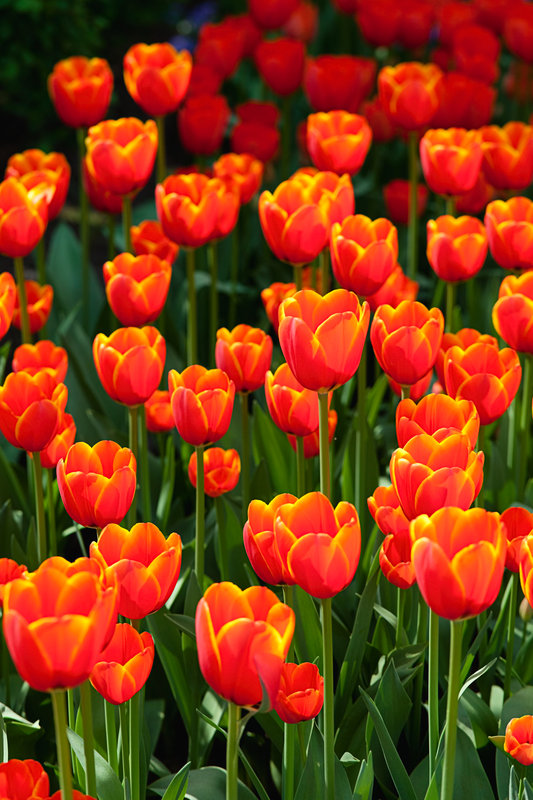 iStockphoto.com / IlonaBudzbon
DC Explorer Pass
The
Washington, DC Explorer Pass
is an all-access sightseeing pass allowing visitors to save on admission to more than 15 top area attractions. Depending on the number of attractions selected, it can save travelers up to 40 percent off combined admission prices. Attractions include the International Spy Museum; Madame Tussauds Washington, D.C.; George Washington's Mount Vernon; a riverboat cruise of Washington monuments; a hop-on, hop-off city bus tour; and a behind-the-scenes tour of Nationals Park, home of the Washington Nationals. The Washington, DC Explorer Pass is available online or by calling (800) 887-9103.
House and Senate Passes
The Senate and House galleries are open to visitors whenever either legislative body is in session. Tours of the United States Capitol do not include the galleries, but visitors who want to observe a session can obtain passes from the offices of their senators or representative. To contact your legislator, phone the United States Capitol main switchboard at (202) 224-3121 or visit www.House.gov or www.Senate.gov. In addition to gallery passes, your legislators can provide tickets for tours of other attractions in the District. Sites vary per office.
Same-day gallery passes are usually available and may also be obtained from your legislator's office. International visitors may inquire about gallery passes at the House and Senate appointment desks on the upper level of the Capitol Visitor Center.
Lines to enter the galleries may be long when popular topics are being debated, and time limits may be given to accommodate all guests.
When the House of Representatives is not in session, visitors with passes may visit the gallery Mon.-Fri. 9-4:15 (except holidays), but it may close without notice. When the Senate is not in session, the gallery is open during scheduled recesses of 1 week or more Mon.-Fri. 9-4:15 (except holidays).
The National Mall
As far as tourists are concerned, the National Mall is hands down the epicenter of the nation's capital. On any given day—even in the dreary depths of winter—its crisscrossing gravel paths are thronged with sightseers, strollers, joggers and cyclists, a seemingly ceaseless parade of humanity. While the crowd includes a fair share of Washingtonians and day trippers from the nearby Virginia and Maryland suburbs, most are visitors from around the country and around the world. The broad swath of green between the United States Capitol and the Washington Monument is a national common with global representation.
In his 1791 blueprint for the future city of Washington, D.C., Pierre L'Enfant envisioned a "grand avenue" lined with gardens running between the Capitol building and the White House. The Mall as it looks today began to take shape around the turn of the 20th century, when an open, grassy space bordered by rows of planted American elms replaced a railroad station, market and other commercial businesses. The Mall's gravel pathways were completed in the 1970s.
The Washington Monument grounds divide the Mall into two distinct sections. To the east are the United States Capitol, the United States Botanic Garden, the National Gallery of Art and Smithsonian museums. To the west are the Lincoln, Vietnam, Korean War Veterans and World War II memorials, Constitution Gardens and the Reflecting Pool. The distance between the steps of the Lincoln Memorial and the Capitol building is approximately 2 miles.
A secondary axis intersects the Mall—also at the Washington Monument grounds—extending from the White House south to the Thomas Jefferson Memorial. All told, many of Washington's major attractions are either on this cross-shaped greensward or just a short walk from it.
Parking in the vicinity of the Mall is notoriously scarce, so taking public transportation is a must. Walking is also a given, and comfortable shoes are highly recommended. Fortunately for the legions Mall walkers, a couple of Metro stations are located just a block or two away, and the Smithsonian station's Mall exit (Orange/Blue lines) will deposit you right in the middle of the action.
The Smithsonian
Congress puzzled for more than a decade over what to do with James Smithson's strange and unprecedented bequest; a wealthy British scientist, Smithson willed his entire fortune of a half-million dollars to a country he had never visited, "to found at Washington, under the name of the Smithsonian Institution, an Establishment for the increase and diffusion of knowledge… ." Some congressmen argued against accepting the gift at all; others proposed a university, an observatory, a school for teachers or a library. What they agreed to in 1846 was a natural history museum and attendant research center, an institutional seedling that has since grown remarkably in size and scope.
Nearly all of the buildings on the National Mall are Smithsonian museums. They include Freer/Sackler: The Smithsonian's Museums of Asian Art; the Hirshhorn Museum and Sculpture Garden; the National Air and Space Museum; the National Museum of African Art; the National Museum of American History; the National Museum of Natural History; the National Museum of the American Indian; the S. Dillon Ripley Center; and the Smithsonian Institution Building (the Castle), the original building, completed in 1855. Next door to the Castle, the Arts and Industries Building is open sporadically for special events.
Standing on a 5-acre site adjacent to the Washington Monument grounds is the newest Smithsonian museum, the National Museum of African American History & Culture. Other Smithsonian facilities in D.C. include the Anacostia Community Museum, the National Portrait Gallery, the National Postal Museum, the Renwick Gallery, the Smithsonian American Art Museum and the National Zoological Park. The National Air and Space Museum's Steven F. Udvar-Hazy Center is located near Washington Dulles International Airport in nearby Chantilly, Va.
The vast collection of objects in these museums chronicle nearly every facet of human endeavor from the masterful to the mundane, and give visitors a staggeringly comprehensive look at the natural world. The Smithsonian also encompasses research installations, observatories, libraries and facilities for preserving and restoring artifacts, and offers publications, lectures, classes and other educational programs.
A good first stop, especially if you're a first-time visitor, is the Smithsonian Visitor Center in the Castle (open daily 8:30-5:30; closed Christmas). While there, be sure to give thanks to James Smithson; his tomb—rescued in 1903 by Alexander Graham Bell from an endangered cemetery in Genoa, Italy—lies in a crypt off the north entrance. It is a final resting place of which Smithson would no doubt approve, just as he would the multifarious institution he helped found for "the increase and diffusion of knowledge."
GW Memorial Parkway
A scenic drive showcasing the natural beauty of the Potomac River as well as a tribute to the nation's first president, the George Washington Memorial Parkway was designed to bring people closer to nature and connect them with history. Built on land acquired by the federal government in order to protect the Potomac shoreline, preserve its historic features and provide public recreation areas, the parkway functions as a major commuter route but is first and foremost a park.
By the time he became president in 1789, George Washington owned some 8,000 acres of land along the Potomac in Virginia, and one of his dreams for post-Revolutionary America was to make the river the commercial gateway to the West. Washington lobbied to build the Patowmack Canal, which would route boats safely around the "great falls" 30 miles upriver from his estate—today the site of popular Great Falls Park.
Other points of interest have a connection to the founding father as well. Fort Hunt Park is located on what once was part of Washington's extensive tidal Potomac farmlands. Arlington House, The Robert E. Lee Memorial was the home of Washington's step-grandson George Washington Parke Custis and where Custis' daughter Mary and her husband, Robert E. Lee, lived until the Civil War broke out. Two other U.S. presidents, Theodore Roosevelt and Lyndon Johnson, are honored at Theodore Roosevelt Island and Lyndon Baines Johnson Memorial Grove.
The 16-mile Mount Vernon Memorial Highway between Arlington Memorial Bridge and George Washington's Mount Vernon opened in 1932, the bicentennial of Washington's birth. Renamed the George Washington Memorial Parkway by Congress, it was extended northward in the 1950s and '60s. The 7-mile Clara Barton Parkway in Maryland was completed in 1970. Approximately 7,600 acres of national parkland protect the native habitat of the Potomac shoreline.
The 25-mile Virginia section of the parkway follows the Potomac River from Mount Vernon north to the junction with I-495 exit 43. The Maryland section also follows the river from Chain Bridge in Washington, D.C., to a point north of I-495 exit 41. Entrances to parks, wildlife preserves, attractions and other points of interest are directly off the parkway. Several scenic pull-offs are on the northbound side of the Virginia section north of the Francis Scott Key Memorial Bridge.
North of the District the Virginia side of the parkway was constructed high above the Potomac, winding through heavily wooded terrain that is particularly lovely in spring and fall. South of the District, after passing through downtown Alexandria, Va. (where it becomes Washington Street within the city limits) the parkway runs along the river, which at this point is much wider. Here paved, tree-lined Mount Vernon Trail, a popular cycling and jogging route, overlooks the Potomac's broad reaches.
Parkway speed limits range from 25 to 50 mph. Some stretches are narrow and winding. Signs designate points of interest and intersecting highway interchanges. For more information contact the George Washington Memorial Parkway c/o Turkey Run Park, McLean, VA 22101; phone (703) 289-2500.
Blossom Clouds
By Greg Weekes
After slogging through the occasional winter snowstorm, icy rains, often-gray skies and chilly temperatures, Washingtonians heave a collective sigh of relief at the arrival of spring. And no harbinger of the season is quite as definitive—or as glorious—as the blooming of the city's Japanese cherry trees.
Four different varieties of flowering cherry bloom in the city. Most predominant is the Yoshino; these are the trees that encircle the Tidal Basin and spill over onto the
Washington Monument
grounds. They produce a profusion of delicate, single white blossoms that in mass present the dreamlike illusion of banked clouds. Mingled among the Yoshinos are a few Akebono cherry trees, their pale pink blossoms providing a lovely contrast.
The Kwanzan cherry grows primarily in East Potomac Park, the elongated sliver of land just south of the Tidal Basin between the Potomac and Washington Channel. Single trees also can be seen in various locations throughout the city (several Kwanzan cherry trees flank the marble steps leading up to the U.S. Supreme Court building). Blooming approximately 2 weeks after the Yoshino variety, the Kwanzan—named after a Japanese mountain—has strong branches laden with heavy clusters of double pink flowers. Weeping Japanese cherry trees, which on average bloom about a week before the Yoshino, have gracefully arched branches and flowers ranging from single to double and dark pink to white.
Enjoying nature's glory to the utmost hinges on determining when peak bloom occurs (defined as the time when 70 percent of the Yoshino cherry blossoms are fully open). This is not a scientific process, dependent as it is on the whims of weather. The National Park Service starts inspecting the trees once flower buds begin to expand in late February or early March, closely monitoring their development and issuing a prediction for the expected bloom period—hopefully coinciding with the
National Cherry Blossom Festival
.
Based on park service records, the long-term average peak blooming date is April 5 for the Yoshino trees and April 22 for the Kwanzan trees. Peak blooming date has been as early as March 15 and as late as April 18. All told, the last week of March and the first week of April together offer a very good window for seeing at least some blossoms. In good weather the flowers stay on the trees up to a week, although the blustery winds of spring storms can play havoc with their fragile beauty.
And where is the loveliest place in the city during peak bloom? For our money, it's the steps of the
Thomas Jefferson Memorial
, looking out over the Tidal Basin, where you'll behold clouds of blossoms and the pastel greens of new spring leaves.
Travel Tips
Summers are warm and humid, and during spells of sweltering weather, high temperatures can hover between 95 and 100, accompanied by steamy humidity. Washingtonians anticipate the occasional brief burst of refreshing weather in July and August—sunny, breezy afternoons around 80 degrees, with low humidity and blue skies.
Washington winters can be raw, with a few nights plunging into the single digits and blustery days when the thermometer fails to rise above freezing. Some winters have practically no snow, while others can deal out several snowfalls and the occasional near blizzard. The District also is susceptible to ice storms. For winter driving, make sure your vehicle is equipped with snow tires.
Spring and fall are short but exceedingly pleasant, with daytime highs in the 60s and 70s and nighttime lows in the 40s and 50s. April, May and October are the nicest months of the year, with sunny days and low humidity.
Casual clothes are fine for sightseeing. Comfortable walking shoes are essential. Sunglasses and a hat come in handy in summer, a hat and gloves in winter. A jacket and tie may be required or advised at some of the finer restaurants.