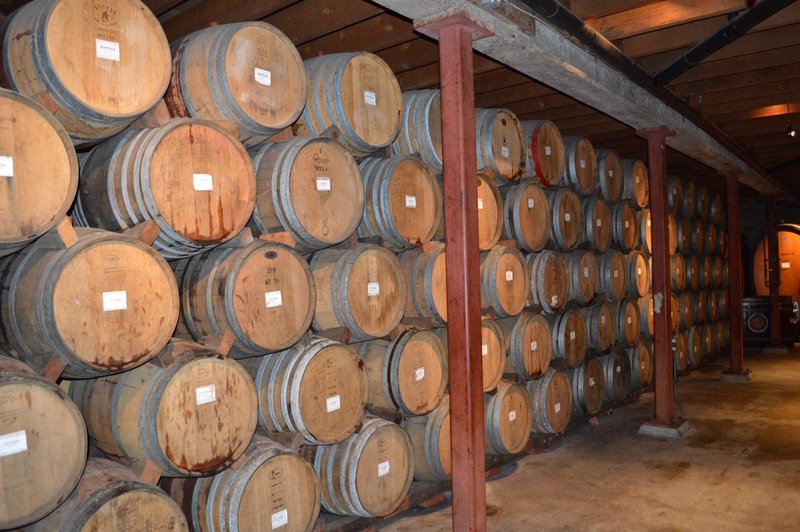 Essentials
First and foremost, tour a winery; there are more than 400 of them in Wine Country, from small operations to expansive estates that have been in business for more than a century. Whether you opt to visit a specialized boutique operation or one of the prestigious name wineries that produce classic vintages, you'll get an inside look at the production process, from vine to wine.
Shutterstock.com / Africa Studio
Do some wine tasting. Jump right in to that sacred yet fun ritual of swirling and sniffing the contents of your glass prior to sampling a new release. Tasting rooms run the gamut from downright elegant—fine art and crystal chandeliers—to subterranean caves with medieval-inspired stone walls.
Stay at a B&B; both the Napa and Sonoma valleys offer numerous choices. Cordial hosts will gladly offer tips regarding must-visit wineries and sightseeing recommendations. Bountiful breakfasts, afternoon tea and cookies, and wine tastings are frequently part of the package.
Take a serene drive through Wine Country's bucolic countryside. Dry Creek Valley in the vicinity of Healdsburg features lush vineyards, while the Alexander Valley from Cloverdale north to the Mendocino County coast is a beautiful rural drive past rolling, oak-covered hills and more vineyards. Narrow, serpentine SR 1, the Pacific Coast Highway, offers spectacular views of craggy cliffs towering above the ocean north to Mendocino and beyond.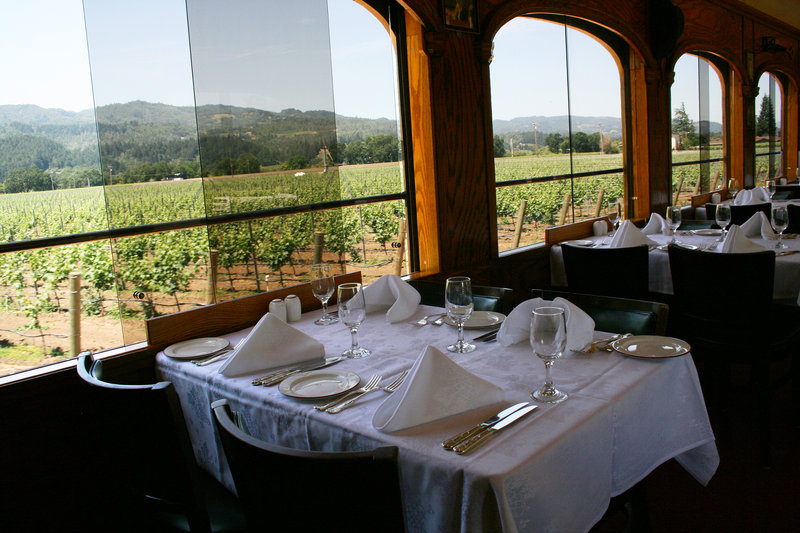 Courtesy of Napa Valley Wine Train / NA
Hop aboard a train. The
Napa Valley Wine Train
is a relaxing way to view the valley's scenic glories from the comfort of an elegantly restored train car. A gourmet meal prepared by a team of on-board chefs is icing on this sightseeing cake.
Savor delicious California cuisine that takes full advantage of locally grown and sourced organic products. You can also count on Wine Country restaurateurs pairing outstanding wines with their innovative culinary creations. Yountville in particular boasts restaurants that appear on many a serious foodie's wish list.
Play in the mud. Calistoga is famous for spas that offer mud bath treatments; wallowing in the steaming black concoction pampers skin and reputedly does wonders for sore muscles.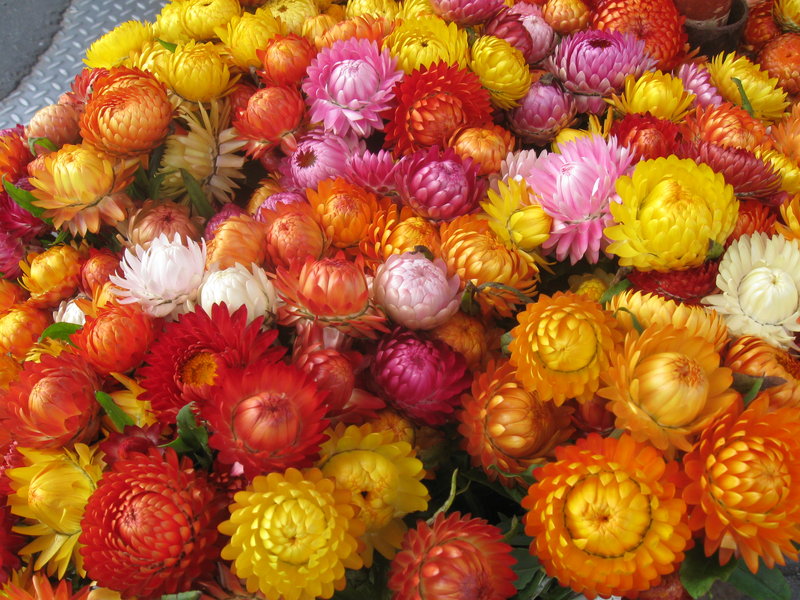 Stroll around one of Wine Country's charming town squares. Antique sellers often set up shop in downtown Healdsburg , a short hop away from the farmers market that operates May through November. Snack at one of the inviting cafés that border Sonoma 's quaint central quad, or hang out in downtown Napa 's pretty, tree-shaded Town Center park before browsing the boutiques and specialty retailers along First Street.
Visit the Culinary Institute of America in St. Helena , a training ground for student chefs eager to embark on a culinary arts career. Take a wine appreciation class, observe a cooking demonstration, check out the Vintners Hall of Fame or sample succulent creations at one of the institute's on-site restaurants. For more information, phone (707) 967-1100.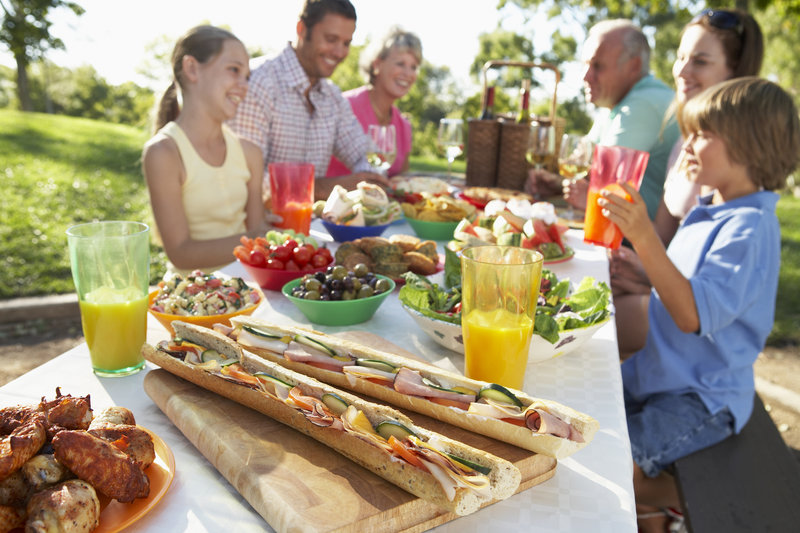 iStockphoto.com / monkeybusinessimages
Put together a picnic. Load up on tempting fixings—everything from sandwiches to old-fashioned potato salad—at the Dry Creek General Store in Healdsburg. Then spread your feast on one of the store's outdoor picnic tables, head to nearby Lake Sonoma or search for a spot under the trees on the grounds of a local winery. Some wineries allow the use of their patio as long as you make a wine purchase.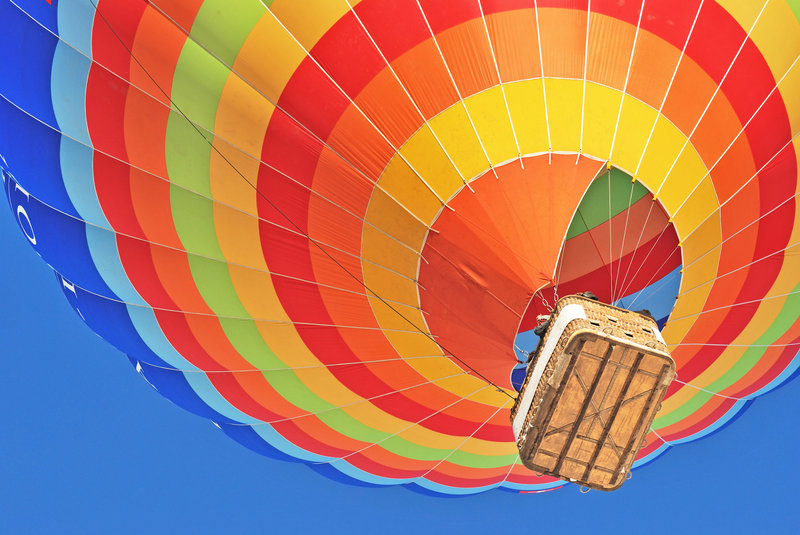 Experience a hot air balloon ride. Thrill to the amazing bird's-eye perspective as you peacefully drift high above endless rows of grapevines, tree-speckled hills and verdant farmland.
By Greg Weekes
The Napa and Sonoma valleys are famed for the pastoral countryside that provides a backdrop for all those thriving vineyards, but take time to explore Wine Country's wilder side—namely the grandly scenic wilderness, coastal mountain ranges and Pacific shoreline in Sonoma and Mendocino counties.
See all the AAA recommended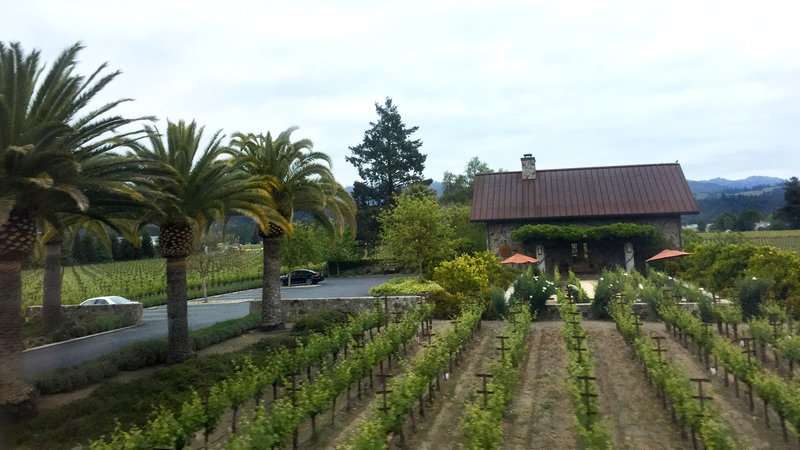 Nancy Jones / AAA. Photo submitted by Nancy Jones
Through the Grapevine
By Suzanne Lemon
Winery hopping can be fun, but unless you have unlimited time, you'll want to whittle down your list. Not all wineries have the same style or mood, and employing a diversified sightseeing approach will provide you with a well-rounded perspective of what the region offers.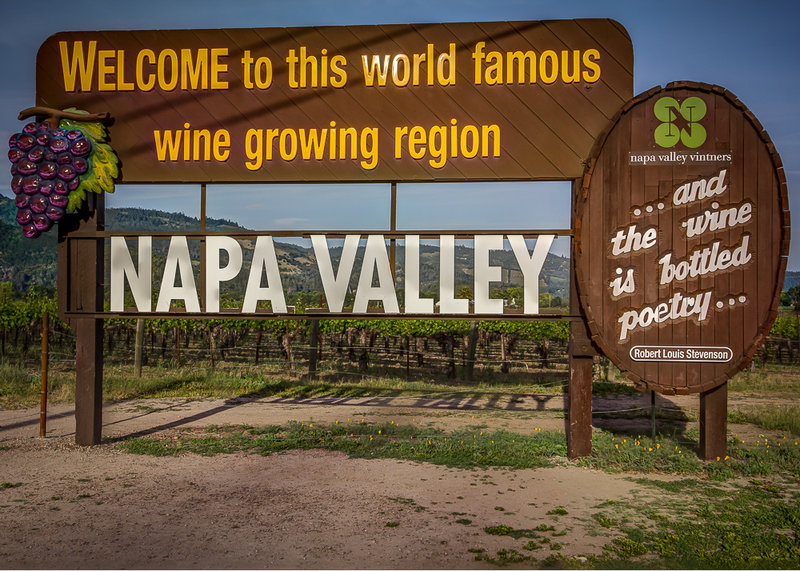 Some wineries are known for their impressive art collections. Masterful images adorn Imagery Estate's wine bottles and their Glen Ellen winery lives up to this standard by exhibiting one of the world's largest assortments of artistic wine labels. A passion for art as well as for wine is evident at The Hess Collection in Napa. Contemporary works grace the ivory-draped building's interior, and best of all, you can see the museum-quality display free of charge.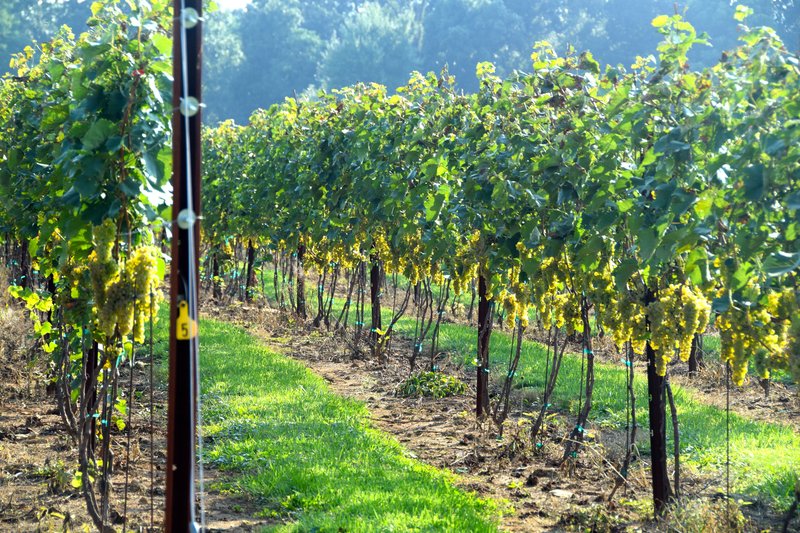 A few wineries have that "special something" that makes them stand out in the pack. At
Inglenook
(formerly Rubicon Estate and before that Niebaum-Coppola), it's the assortment of movie memorabilia, including Vito Corleone's desk from "The Godfather." As you probably surmised, the owner is Hollywood director Francis Ford Coppola, whose Oscars also occupy hallowed space inside the painstakingly restored château in Rutherford. The awe-inspiring gardens at Ferrari-Carano in Healdsburg will have you thinking that you're in a botanical park as opposed to a winery, while an aerial tram transports you to the gleaming white villa that is
Sterling Vineyards,
nestled on a hilltop offering pristine panoramas of Calistoga and Napa Valley.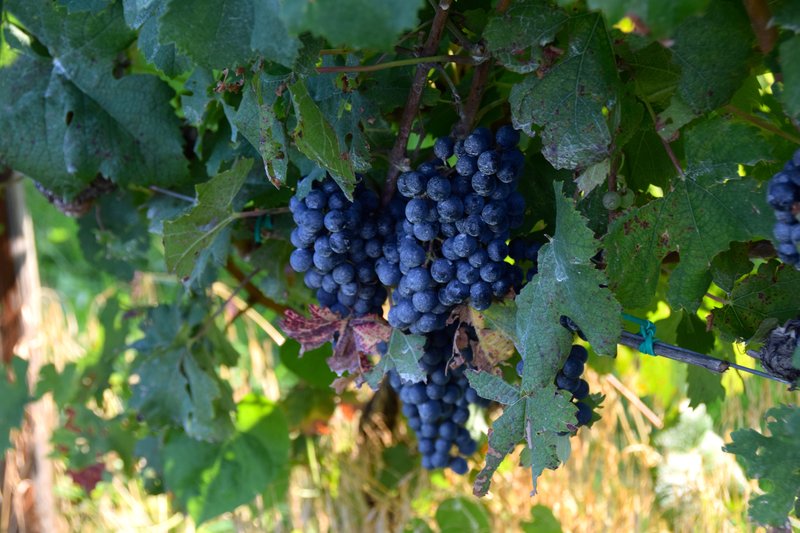 Distinctive architecture is the hallmark at Opus One, a regal palace with an intriguing blend of classical and contemporary styles. Though you must have an appointment to tour this Oakville winery, you can experience the effects just by driving past it. Housed in a structure reminiscent of a French château, Napa's
Domaine Carneros
grandly resides on a mount dotted with lush vineyards—the elegant décor complements the light sparkling wines produced within. You can't help but do a double take when you drive by the 1884 Rhine House at
Beringer Vineyards
in St. Helena. The stylish mansion, which rests amid lovely landscaped grounds, beckons passersby to the Old Winery Tasting Room.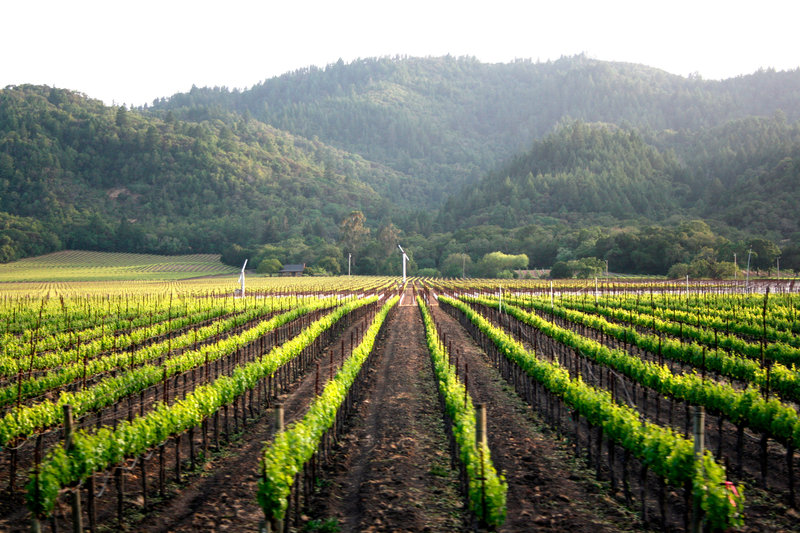 Courtesy of Napa Valley Wine Train / NA
Several wineries present tours that are educational as well as entertaining; fees range depending on meal and tasting options.
Robert Mondavi Winery
in Oakville provides a general tour following the life of a grape from the vineyard to the finished product. Guides offer a firsthand look at the growing, fermentation, aging and bottling processes. If you're interested in learning about such farming practices as biodynamic winemaking, take the tour at Glen Ellen's
Benziger Family Winery.
A passenger tram snakes past vineyards and gardens on gorgeous grounds, accented by a charming old farmhouse. You'll also be spirited by the grape-crushing equipment en route to the underground caves and tasting room. For a different twist, head to
Domaine Chandon
in Yountville for a first-rate explanation of the methodology used to create sparkling wines. You can always sample the bubbly afterward.
These are but a few of the extraordinary sightseeing opportunities afforded by area wineries. You'll have a good time making your own discoveries and sharing them with friends and family.