---
close
Ignore the "Don't Mess with Texas" bumper stickers—San Antonio's a great place to mess around in while seeing the sights. Indulge in a hearty Mexican breakfast (huevos rancheros, anyone?), then take in a few of the city's serene old missions or a world-class art collection housed in a Spanish Colonial mansion. A crossroads to southern Texas and Mexico, this city is Tex-Mex at its best—complete with local sidewinders wearing ten-gallon hats and mariachi songs spicing up balmy spring evenings. Plus, there's amazing countryside peppered by oak, mesquite and cacti to boot. Bienvenidos to Fiesta City!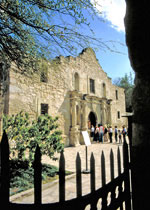 Remember the Alamo? In this famous 1836 skirmish, Mexican soldiers tried to mess with you-know-what. Erected as a mission centuries ago, the Alamo—the cornerstone of San Antonio's proud cultural heritage—stands in the middle of town. After visiting this sacred Texan site, take a stroll along San Antonio's other must-see, the River Walk (in Spanish, Paseo del Río). Tranquil parks, hip cafés and plenty of shops line this stretch of the San Antonio River, which winds through the heart of the city.
While you're here, don't miss some of the best tacos, enchiladas and guacamole this side of the Río Grande. Some restaurants never close, so as you're winding down a night of partying on the River Walk, you can sample a tamale at 2 a.m.
Mess with Texas, indeed. Olé!
Touted as Texas' top travel destination, San Antonio reels in more than 20 million visitors annually. Those who journey to this southwestern urban center come in search of everything from terrific Tex-Mex cuisine to exhilarating SeaWorld and Six Flags thrill rides. But San Antonio's appeal doesn't end at fajitas and roller coasters.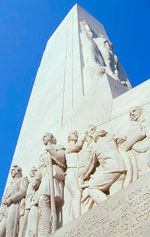 The Alamo, a source of pride for Texans, remains the city's shining star. The former Spanish mission, the first built along the San Antonio River, changed hands many times before misfortune elevated it to iconic status.
When the Texas Revolution barreled into the compound in 1836, the Alamo was a makeshift garrison manned by Texians, the local inhabitants fighting for independence from Mexico. Seeking control of San Antonio de Béxar (modern-day San Antonio), Mexico's dictator, Gen. Antonio López de Santa Anna, sent a large army to overtake the fort. The Alamo's defenders, a vastly outnumbered band of fewer than 200, fought valiantly to their deaths, staving off their attackers for nearly a fortnight.
With its soldiers proclaiming "Remember the Alamo!" the Texian Army eventually defeated Santa Anna's troops at the short-lived Battle of San Jacinto. Perhaps inspired by this rallying cry, the Daughters of the Republic of Texas began their own crusade to protect the Alamo around the turn of the 19th century, using personal funds and donations to save the historic site. In 1939, just outside walls so bravely protected, the Texas Centennial Commission erected the exquisitely carved, grey Georgia marble Alamo Cenotaph as a memorial to the outpost's slain guardians.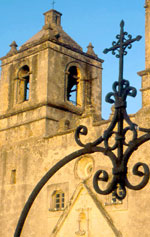 Arriving by the busload, reverent travelers now stroll the site hoping for a glimpse of heroes who gave their lives in pursuit of liberty. Displayed in the old chapel, where many of the last freedom fighters fell, are some of their belongings: co-commander William B. Travis' ring, a period hunting knife like the one wielded by Jim Bowie, and Davy Crockett's buckskin vest. Steps away, in a courtyard graced by flowering trees and cacti, docents attempt to separate fact from fiction while detailing events that occurred more than a century prior.
"Alamo City" also goes by the nickname "River City" thanks to its other prized possession, the River Walk. Like the Alamo, this picturesque stretch came into being after a period of heartache—in 1921, the San Antonio River overflowed during a violent storm, killing 50 people.
To prevent future tragedies, city officials wanted to create a giant storm drain by paving over the section of the untamed river cutting through downtown. Thankfully, the women of the San Antonio Conservation Society fought this idea, turning the tide in favor of a flood-control program. Soon afterward, architect Robert H. H. Hugman began advocating his plan for a waterside urban park that included a system of dams and channels, footbridges and street-access stairways.
Hugman's vision became a reality in 1941, and today, sightseers looking for food and fun easily find both beside the sun-flecked San Antonio River. At the water's edge, majestic bald cypresses shade preening ducks, while the colorful umbrellas of Casa Rio, the River Walk's oldest restaurant, provide shelter to leisurely margarita-sipping patrons. Passing barge captains detail the history of the canal-like waterway, ferrying an estimated 1 million people through this downtown oasis each year.
The city's Catholic Hispanic traditions are the highlight of San Antonio Missions National Historical Park. At the park's four well-worn Spanish missions, contemporary worshipers carry out age-old rituals, along with newer customs.
After spirited Sunday services, locals crowd festive Market Square, the largest Mexican marketplace north of the border. Like other area attractions and locales, this colorful bazaar takes on new life during such special events as April's 11-day Fiesta San Antonio .
---