On April 4, 2019, sisters Amy and Marlenne Lorenzo walked their usual route along a tree-lined commercial street to their school in South Los Angeles. One block from their destination, the two girls, ages 12 and 14, stopped at an intersection and waited for the traffic light to turn green before stepping off the curb and into the crosswalk. They never made it to the other side.
The driver of a big rig, dirt-hauling truck that was stopped beside them made a right turn, hit both of the girls, and dragged them several feet. The driver, who was viewing a music video while stopped at the light, admitted he never saw the girls. He later told police he felt the first thump, but not the second. He braked only when he saw a girl (Marlenne's friend) waving for him to stop.
Detective Moses Castillo, now retired after 30 years with the Los Angeles Police Department (LAPD), says he'll never forget the crash scene: "I saw the cracked pencil box belonging to one of the girls on the street, with the pencils all smashed into pieces. That was symbolic," he says. "The driver did the same thing to those young lives."
Paramedics rushed the two young girls to the nearest trauma center, but it was too late; doctors were unable to save them. Marlenne died that day; Amy was placed in a medically induced coma and died 18 days later.
"This is a permanent injury to our hearts," says Tony Lorenzo, the girls' uncle. "Amy and Marlenne were full of dreams and goals. They both sang in the church choir, and Marlenne was becoming a lead singer."
Distracted Driving Epidemic
Their deaths have devastated their family, which includes their parents, Francisco Lorenzo and Angelina Nicolas, and five siblings. "We are always going to feel it," Tony Lorenzo says. "On holidays like Thanksgiving, we have two empty seats at the table, to honor them."
Amy and Marlenne are victims of what Castillo calls a distracted driving epidemic. On average, nine people a day in the U.S. are killed in motor vehicle crashes involving drivers reported by police as being distracted, according to the National Highway Traffic Safety Administration. And the number of people killed in distracted driving crashes increased by 10 percent in 2019 compared with 2018.
The Lorenzo family feels strongly about trying to prevent others from suffering the pain they've experienced, so they are devoting themselves to the fight against distracted driving. In October 2019, in Long Beach, California, family members joined a Walk to End Distracted Driving, sponsored by the Auto Club of Southern California, and they continue to participate in other safe-driving events.
The city of Los Angeles has implemented some changes at the intersection of Broadway and 37th Street, where the crash occurred. A memorial sign has been erected that reads: yield to pedestrians—in memory of marlenne & amy lorenzo. And city engineers installed a delayed pedestrian sensor at the intersection where the girls were struck. Before the light turns green, pedestrians now have a three-second head start while vehicle traffic waits.
"If that had been in place when Amy and Marlenne were crossing the street, they might be alive today," Castillo says.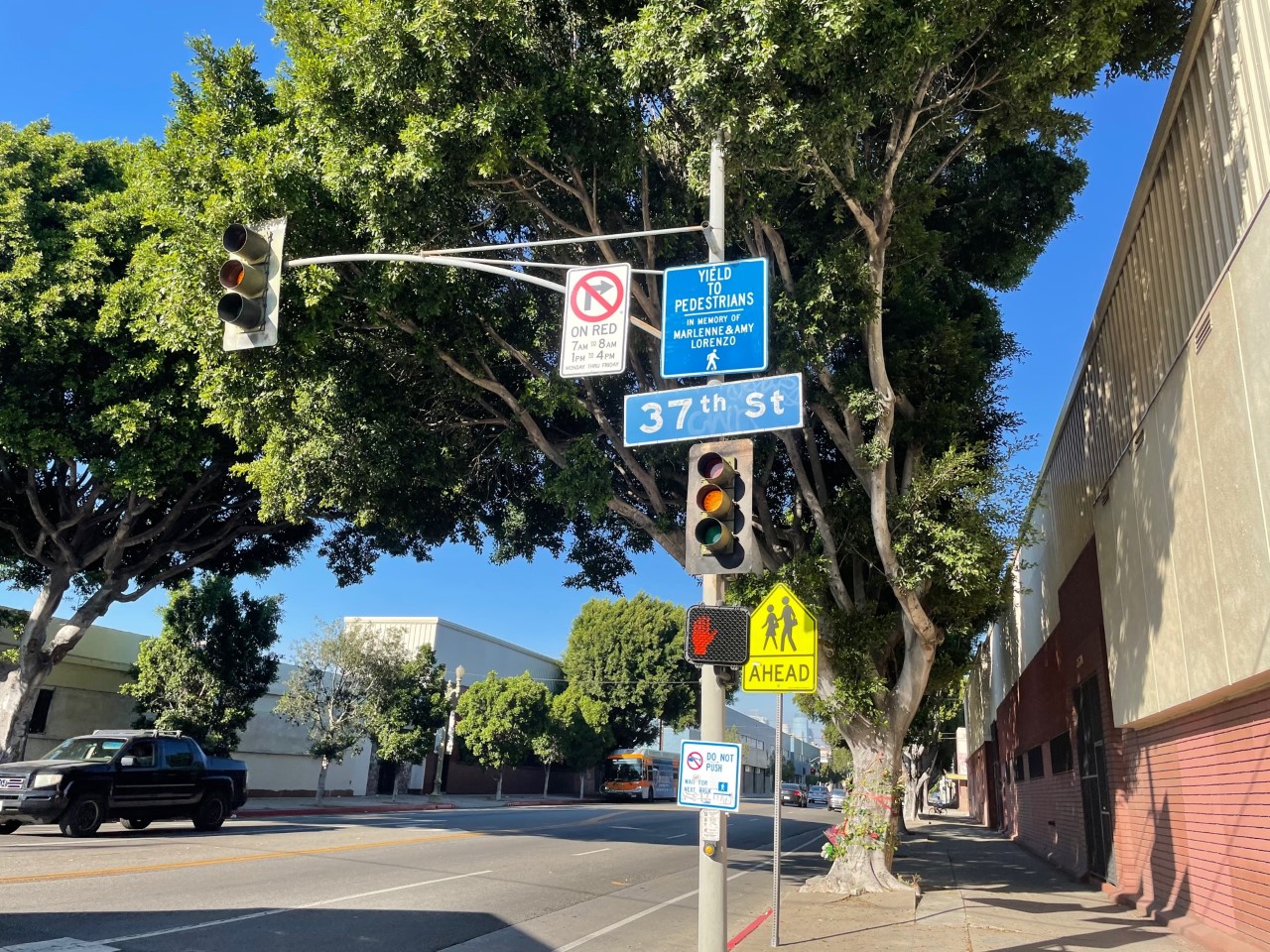 A sign at the crash site (above) reminds vehicles to yield, while the Lorenzo family fights to raise awareness of the dangers of distracted driving.
"These types of collisions are 100 percent preventable."
To Castillo, who now works as chief investigator for a law firm, incidents like this are not accidents. "These types of collisions are 100 percent preventable," he says. He tells his three sons, all of whom are of driving age: "Your vehicle is a deadly weapon. It can kill someone else or you—treat it with respect."
But a recent Auto Club online survey assessing motorists' attitudes and behaviors toward distracted driving reveals many people still don't grasp the dangers. In the survey, 51 percent of drivers admitted they text and/or email when they are alone in a vehicle. And despite the danger, 26 percent said they feel it's okay to use a cell phone if they're at a complete stop and not carrying any passengers.
Those survey results suggest some drivers may not be aware of what's called the "hangover effect:" A study by the AAA Foundation for Traffic Safety in 2015 found that minds stay distracted for up to 27 seconds after using a smartphone or other device. "This is a dangerous situation that could lead to inattention blindness, where you're looking at the road but not seeing what's in front of you," says John Boyle, Auto Club president and CEO..
If the big rig driver had had his eyes on the road instead of on his phone, Amy and Marlenne might have made it to school alive that day. Instead, the Lorenzo family is grieving, and the driver has been charged with two misdemeanor counts of vehicular manslaughter; his case is scheduled for 2022.
Meanwhile, the Lorenzo family is hoping the girls' memory will resonate for generations to come and make a difference. Says Tony Lorenzo, "I've seen how Marlenne and Amy's story can reach people and save lives." That's at least some comfort for a loss that can never be recovered.
As seen in Westways. ® Copyright © 2021. Automobile Club of Southern California. All rights reserved. Reproduced by permission only.