2023 AAA Car Guide
Chapter 1: Buying Your Next Car
We help you sort through the brands, body styles, and powertrains of today's cars and light trucks to find the right vehicle for you.
Read more about different vehicle types in Chapter 1 of the 2023 AAA Car Guide
Chapter 2: The True Cost of Ownership
How to calculate what it really costs to own and drive a car--plus important tips for keeping your vehicle in top shape.
Read more about vehicle maintenance in Chapter 2 of the 2023 AAA Car Guide
Chapter 3: How Safe Is Your Car?
The latest advanced safety features: how they work and their limitations.
Read more about vehicle safety in Chapter 3 of the 2023 AAA Car Guide
Chapter 4: Back to the Future
Dozens of new cars will be unveiled in the next few years. Here are some of the most exciting.
Read more about future vehicles in Chapter 4 of the 2023 AAA Car Guide
Chapter 5: How AAA Tests and Ranks Vehicles
The Auto Club of Southern California's Automotive Research Center uses more than a dozen criteria to determine which vehicles perform best. Here's how we do it.
Read more about the testing and ranking of vehicles in Chapter 5 of the 2023 AAA Car Guide
2023 Car Guide Winners
Car Guide Winner: 1st Place
SUV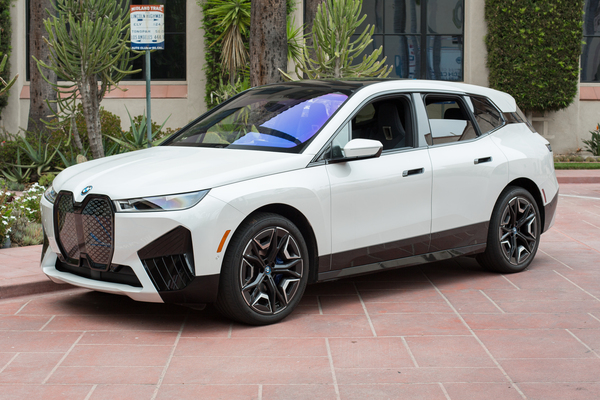 Price as Tested:
$102,070
The iX, BMW's first all-electric SUV, is an impressive vehicle. It delivers dramatic styling, performance, comfort, and technological sophistication in spades. An example of the latter: The iX makes extensive use of carbon fiber–reinforced plastic in its frame. About the size of the X5, the iX looks more substantial, largely because of its bold, hunky shape (including its somewhat polarizing grille). Equipped with two electric motors (516 hp), the iX's drivetrain supplies plenty of power, including abundant low-end torque. The steering provides ample feedback, and the optional adaptive air suspension nicely balances a compliant ride with responsive, sporty handling. Smooth regenerative and traditional friction braking deliver strong stopping power. All-wheel drive is standard. The iX's cabin features plenty of space front and rear, plus interior storage compartments and cargo room aplenty. Both the exterior and interior materials and fit and finish are first-rate. The iX's EPA-estimated range is high (324 miles), as is its fuel efficiency (86 MPGe). Prospective buyers should be prepared to pay handsomely for this largesse, however. The iX's starting MSRP is $84,100, and that number rises quickly with options, of which there are plenty. Other negatives worth noting: an unintuitive infotainment system, poor rear visibility, and annoying glare from reflective interior controls and instrumentation. Finally, some ADAS features (adaptive cruise control, for example) are extra-cost options, not standard.
Car Guide Winner: 1st Place
Large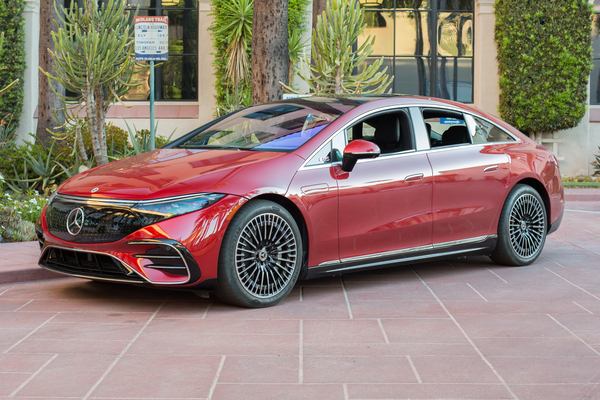 2022
Mercedes-Benz
EQS 580 4MATIC Sedan
Car Guide Winner: 1st Place
Large
More Details
Price as Tested:
$140,800
The EQS 580, the electric equivalent of Mercedes-Benz's iconic S-Class sedan, is an impressive car that demonstrates the automaker's level of commitment to an EV future. The EQS is Mercedes' first model from its all-electric EQ sub-brand. The 580, with 2 electric motors and all-wheel drive, sits in the middle of the EQS lineup, above the 450+ single-motor version and below the AMG EQS. It overflows with all the luxurious appointments, in-car tech, and ADAS features typical of the brand and that any buyer shelling out $140,000 has a right to expect. Not everyone is onboard with the EQS's exterior styling, but there's no disagreement about its performance capabilities. Its efficient drivetrain produces excellent acceleration and power, with lots of low-end torque. The ride quality is comfortable, smooth, and silent; hardly any road noise enters the cabin. MPGe ratings are good, and the overall EV range is a strong 340 miles. Unfortunately, overall handling, and drivability fall below that of the S-Class sedan. Simply put, the EQS is uninspiring to drive.
Car Guide Winner: 1st Place
Pickup
2022
Rivian
R1T Adventure
Car Guide Winner: 1st Place
Pickup
More Details
Price as Tested:
$101,050
IIHS / NHTSA:

The Rivian R1T is an innovatively designed, versatile electric pickup with lots of power and many clever features. Our test truck came with a powerful and responsive quad-motor setup--a single motor per wheel--good for more than 800 hp and 4-wheel drive. The R1T's cabin provides plenty of room for passengers. The steering has a good overall feel, and the adaptable air suspension delivers a comfortable ride--rare among pickups. Unique features include Camp Mode, Pet Comfort Mode, and Soft Sand Mode. An excellent lineup of ADAS features is standard. Road and drivetrain noise intrude into the cabin, however. The EV range is good--more than 300 miles if you're not towing a heavy load, but the large 135-kWh battery requires long Level 2 charging times. Other clever features include a gear tunnel between the cabin and bed, suitable for snowboards, camping gear, and the like; an automated, camera-based security system; a power-retractable tonneau cover; and a good-size front trunk. The auto self-leveling suspension provides a level camping surface atop uneven terrain. The R1T's enormous 16-inch infotainment screen can prove distracting, however. And, oddly, Apple CarPlay and Android Auto connectivity are unavailable. We also noticed a fair amount of squeaks and rattles during our testing, indicative of early build-quality issues. Finally, the panoramic sunroof has no shade option, and rear visibility could be better.
Car Guide Winner: 1st Place
Midsize
The i4 is BMW's all-electric version of its 4 Series Gran Coupe sedan. The M version, from BMW's high-performance division, adds an electric motor, adaptive suspension, more powerful brakes, and other similar goodies. It's a good-looking compact sedan—with the exception of its overly prominent grille. Its hatchback design makes it easy to load and unload cargo - although the small rear window limits visibility. Simply put, the i4 M50 is one serious, refined sport sedan. Its dual-motor setup (up to 536 hp) delivers lightning-fast acceleration and power, complemented by sporty handling - credit the adaptive suspension and high-performance tires. The i4's drivetrain is inefficient (80 MPGe), however, and its range (227 miles) won't earn you any bragging rights. The interior is nicely appointed, with good fit and finish and plenty of legroom and headroom. (However, it's a little tight in the backseat, and entry and exit there can be difficult). The i4 is loaded with the latest ADAS tech, most of it standard. A large, curved instrument panel and infotainment screen are intuitive and easy to use. All of this comes at a price, of course, and BMW will never be accused undercharging for its cars. Optional packages added almost $11,000 to the bottom line, much of it for features - heated front seats and steering wheel, wireless device charging - one might expect to be standard equipment in a vehicle with a $65,900 base price.
Car Guide Winner: 1st Place
Minivan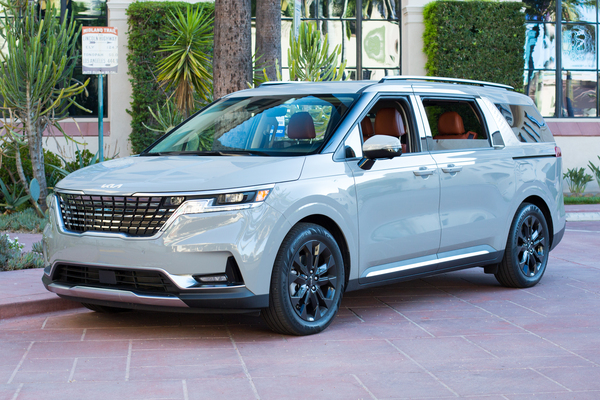 IIHS / NHTSA:

In 2022, Kia replaced its venerable Sedona minivan with a new model, the Carnival. With handsome SUV-like styling, a roomy, minivan-esque interior, and a pair of sliding side doors for easy access, the Carnival does a nice job of straddling the line between the 2 divergent body styles. The Carnival's comfortable cabin seats up to 8 passengers and can haul nearly 87 cubic feet of cargo behind the second row. As with all Kia models, there's a long list of standard features and available niceties, including, on our test vehicle, 3-zone automatic climate control, heated and ventilated front seats, and a rear-seat entertainment system. Under the hood, the Carnival gets a strong V6 engine (versus the trend toward turbocharged inline 4-cylinder engines by many automakers). Fuel-economy numbers are just so-so, and there's a bit of throttle lag, but this powertrain has the muscle to tow trailers up to 3,500 pounds. On the road, the Carnival's ride quality is a bit bumpy over bad pavement, and steering feedback and braking effort feel less than responsive. Nonetheless, a suite of standard advanced safety features and a 5-year/60,000-mile bumper-to-bumper warranty make the Carnival a strong value proposition.
Car Guide Winner: 1st Place
Small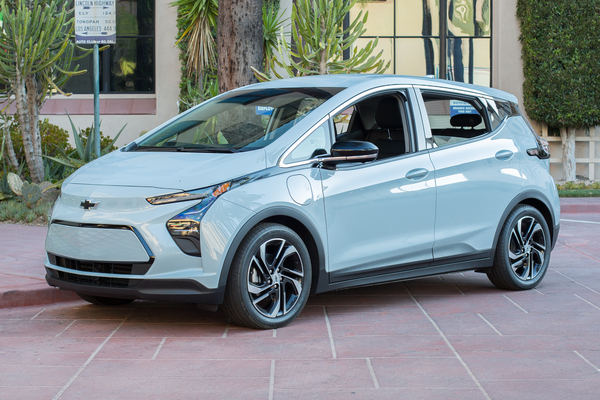 2022
Chevrolet
Bolt EV 2LT
Car Guide Winner: 1st Place
Small
More Details
The Chevrolet Bolt, introduced in 2017, is an EV stalwart - a no-nonsense, practical electric vehicle with many admirable qualities. The Bolt has a powerful electric drivetrain and smooth transmission, giving it quick acceleration and zippy low-end torque. It's also highly efficient, producing solid fuel-efficiency numbers (120 MPGe) and a decent, 259-mile range. Regenerative braking makes one-pedal driving a convenient option. The cabin has been upgraded, with comfortable front seats, an intuitive infotainment interface (including Apple CarPlay and Android Auto compatibility) and lots of standard ADAS and tech features, such as LED headlights. Getting in and out of the front seats is easy, and there's plenty of legroom. Forward and side visibility is good, as well. Some of the Bolt's shortcomings are inevitable, given its size limitations and price point - but other features could be improved. For instance, in the performance department, the suspension feels harsh over bumps, and the stiff tires are noisy and lack grip. Behind-the-backseat cargo space is lacking, as is interior storage. And unless they're kids, backseat passengers will experience tight accommodations and stiff, uncomfortable seats. Finally, the transmission shift pattern is a bit quirky and DC fast-charging rates are slow.
IIHS Top Safety Pick Vehicles: