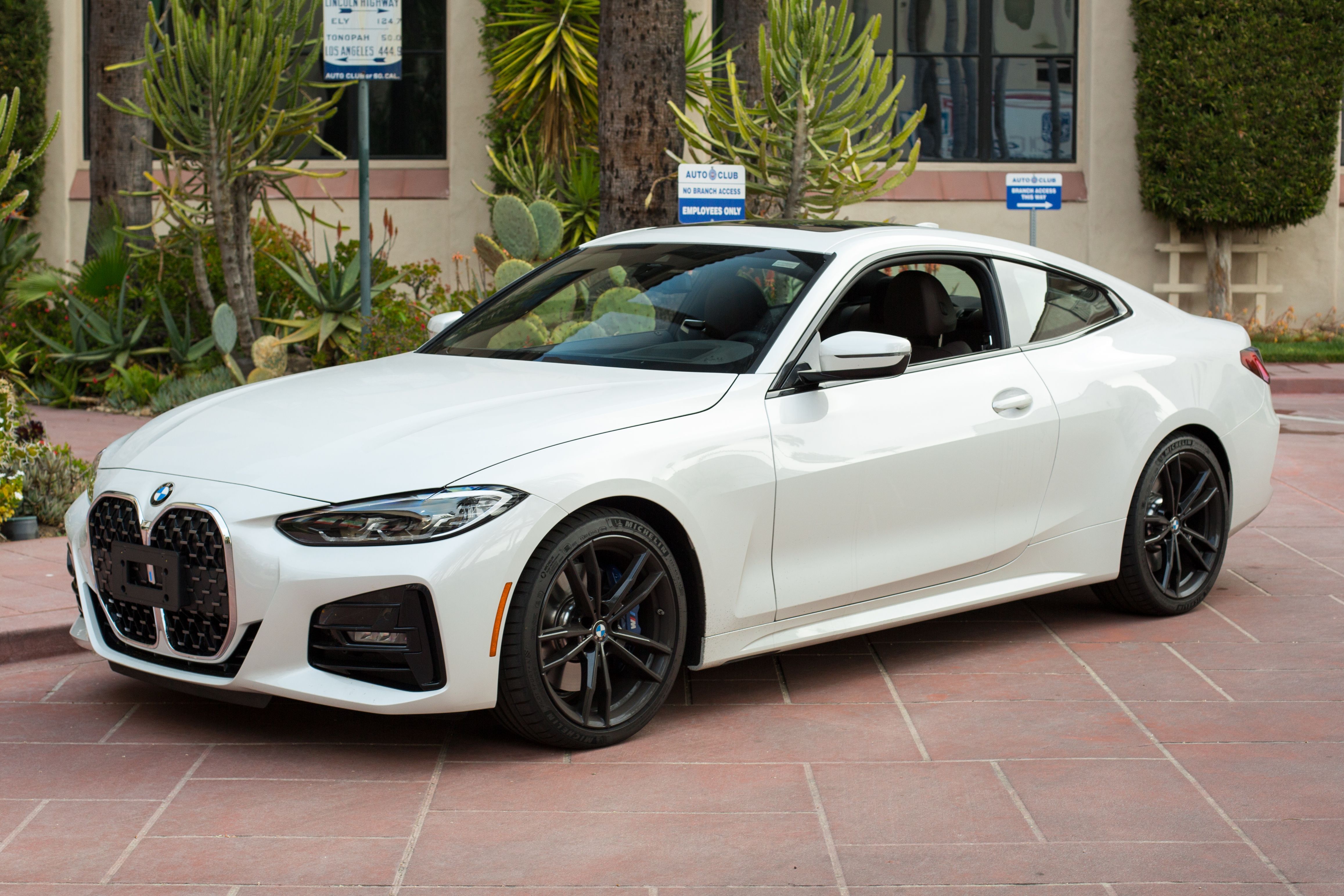 Vehicle Type:
Small Gasoline
Fuel Information
Fuel Capacity (gal):
15.6
Advanced Safety Features
Advanced Headlights [S]

Automatic Emergency Braking [S]

Blind-Spot Warning [S]

Driver Monitoring [S]

Forward-Collision Warning [S]

Lane-Departure Warning [S]

Lane-Keeping Assistance [O]

Rear Cross-Traffic Warning [S]

[S] Standard, [O] Optional
Overall Observations
As BMW aficionados know, the automaker produces a seemingly endless variety of vehicles—nearly 20 models in all. The 4 Series coupe is basically a 2-door version of the popular 3 Series sedan, with the same 2.0-liter turbocharged 4-cylinder engine (255 hp) and 8-speed automatic transmission; it's also available as a convertible. Redesigned for 2021, the current 430i picked up a few horsepower, and, most noticeably, a huge new grille that evokes an immediate love-it-or-hate-it response. The modern interior features a fully digital instrument cluster, and straightforward controls, including an iDrive infotainment system that's easy to manipulate. In the performance department, the 430i checks most of the important boxes—a powerful engine and tight handling. Nits to pick? Value, for one. To get luxury basics like heated front seats, lumbar support, and keyless entry, for example, you have to shell out $3,200 for a Premium Package—this in a car with a base price north of $45,000. However, a suite of advanced safety features is standard, and 3 years/36,000 miles of maintenance is complimentary
Want to buy this car?
Strengths and Weaknesses
Strong Points
Strong acceleration andbraking
Sporty styling
Excellent fit and finish
Fully digital instrumentcluster and infotainmentsystem
Weak Points
Polarizing grille design
Lack of interior room andstorage for passengers
Expensive, yet not fullyloaded
Vehicle Specifications
Number of passengers (F/R):
2/2
Curb weight (lbs):
3660.0
Exterior L / W / H (in):
187.9 / 72.9 / 54.6
Warranty (months/miles):
48/50,000
Tire manufacturer and model:
Michelin Pilot Sport 4S
Front and rear tire size:
225/40 R19
Max towing capacity (lbs):
Not recommended
Transmission type:
Auto 8-speed
Drivetrain type:
Rear wheel
Engine/motor:
2.0L 4-Cyl. turbo
Engine horsepower @ RPM:
255 @ 5000
Test Data
Test Vehicle Scores
Advanced Safety Features:
8.00
EPA Emissions Score:
7.00
Easy of Entry and Exit:
5.75
Car Search Results:

2021

Volkswagen

ID.4 1st Edition

More Details

SUV/Minivan

Electric

104/89

$45,190

82

2021

Ford

Mustang Mach-E Premium AWD

Car Guide Winner: 1st Place

SUV/Minivan

More Details

SUV/Minivan

Electric

96/84

$56,200

89

2021

Volvo

XC40 Recharge P8 AWD

More Details

SUV/Minivan

Electric

85/72

$59,630

86

2021

Audi

e-tron Sportback quattro

More Details

SUV/Minivan

Electric

76/78

$90,640

85

2021

Lincoln

Aviator Grand Touring AWD

More Details

SUV/Minivan

Hybrid

22/25

$89,600

81
IIHS Top Safety Pick Vehicles: