Car Guide Winner: 1st Place
Midsize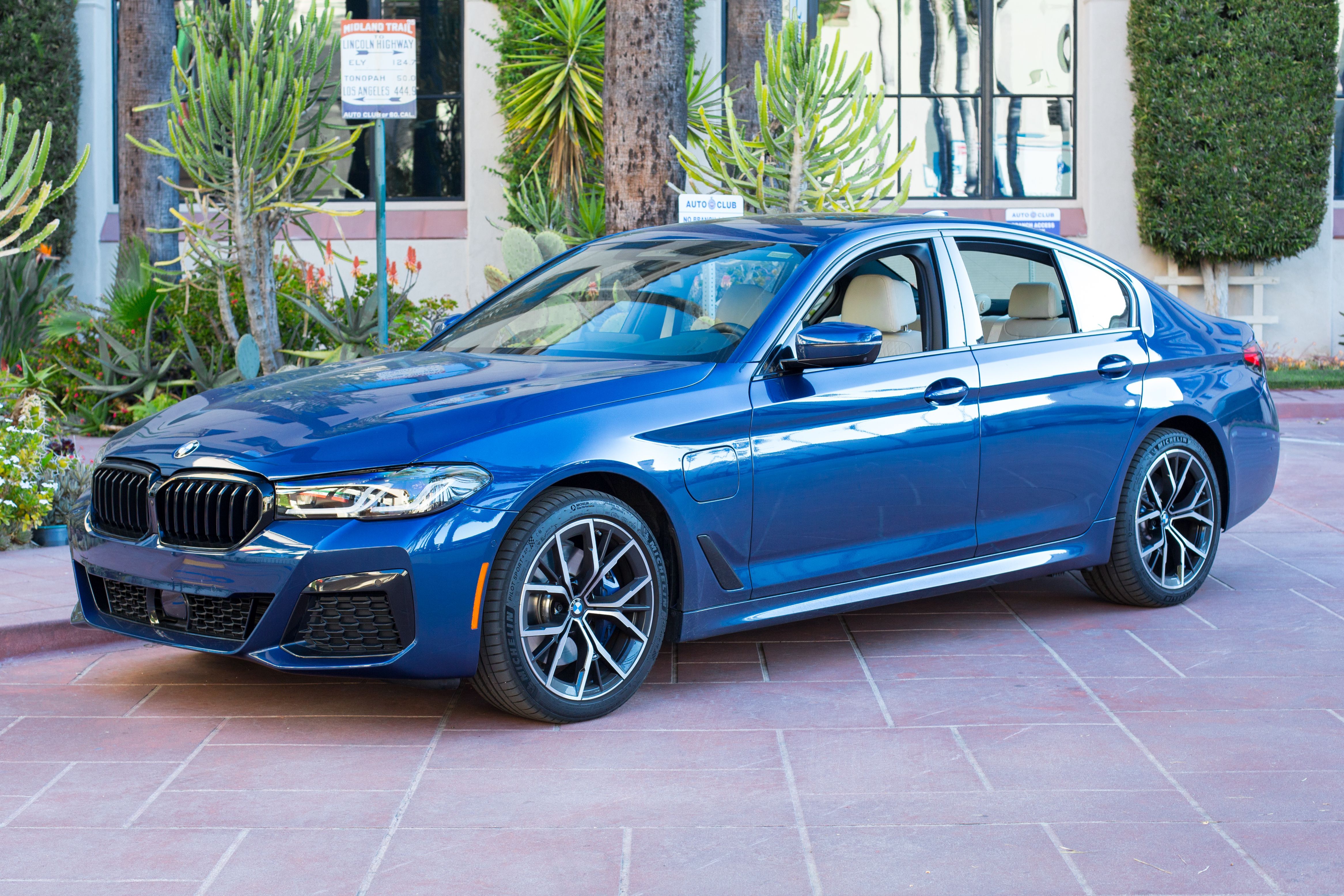 Vehicle Type:
Midsize Hybrid
Fuel Information
Fuel Type:
Electricity/midgrade
Fuel Capacity (gal):
12.1
120V Charge Time:
2.7 miles per hour
240V Charge Time:
7 miles per hour
EPA-Est. Electric Range (mi):
21
Advanced Safety Features
Adaptive Cruise Control [O]

Advanced Headlights [S]

Automatic Emergency Braking [S]

Blind-Spot Warning [S]

Driver Monitoring [O]

Forward-Collision Warning [S]

Lane-Departure Warning [S]

Lane-Keeping Assistance [O]

Rear Cross-Traffic Warning [S]

Reverse Automatic Emergency Braking [O]

[S] Standard, [O] Optional
Overall Observations
The BMW 5 Series, an iconic sports sedan now in its seventh generation, last received a redesign in 2017. For 2021, it received minor tweaks, including a larger grille and touch screen and improved voice controls. The 530e plug-in hybrid is powered by a 2.0-liter turbocharged 4-cylinder engine (181 hp) and an electric motor (107 hp). In 2021, it got a 40-hp increase (288 hp total), courtesy of XtraBoost, a feature that provides extra power when the driver floors the accelerator. Driving the 530e is a satisfying experience, nicely combining strong acceleration, smooth braking, responsive handling, a comfortable ride, and a roomy, quiet cabin with upscale materials. Fuel efficiency (26 mpg, 64 MPGe) is decent. On the downside, the 530e's electric-only range is low (21 miles). And, as with many BMWs, numerous items that are standard on other luxury cars—including some advanced safety features—cost extra on the 530e. Counterpoint: The 530e is eligible for a $5,836 federal tax credit, which brings its base price in below that of a standard 530i.
Want to buy this car?
Strengths and Weaknesses
Strong Points
Strong power andperformance
Responsive handling
Large infotainment display,with good usability
Lots of safety features,though not all are standard
Weak Points
Steep price with alloptions
Low EV range
Lane-keeping assistancesystem is too aggressive
Small, shallow trunk
Vehicle Specifications
Number of passengers (F/R):
2/3
Curb weight (lbs):
4320.0
Exterior L / W / H (in):
195.8 / 73.5 / 58.4
Warranty (months/miles):
48/50,000
Tire manufacturer and model:
Michelin Pilot Sport 4 ZP
Front and rear tire size:
245/40 R19
Max towing capacity (lbs):
Not recommended
Transmission type:
Hybrid drive
Drivetrain type:
Rear wheel
Engine/motor:
2.0L 4-Cyl. turbo
Engine horsepower @ RPM:
181 @ 6500
Electric motor horsepower:
107
Combined system horsepower:
288
Test Data
Test Vehicle Scores
Advanced Safety Features:
8.80
EPA Emissions Score:
7.00