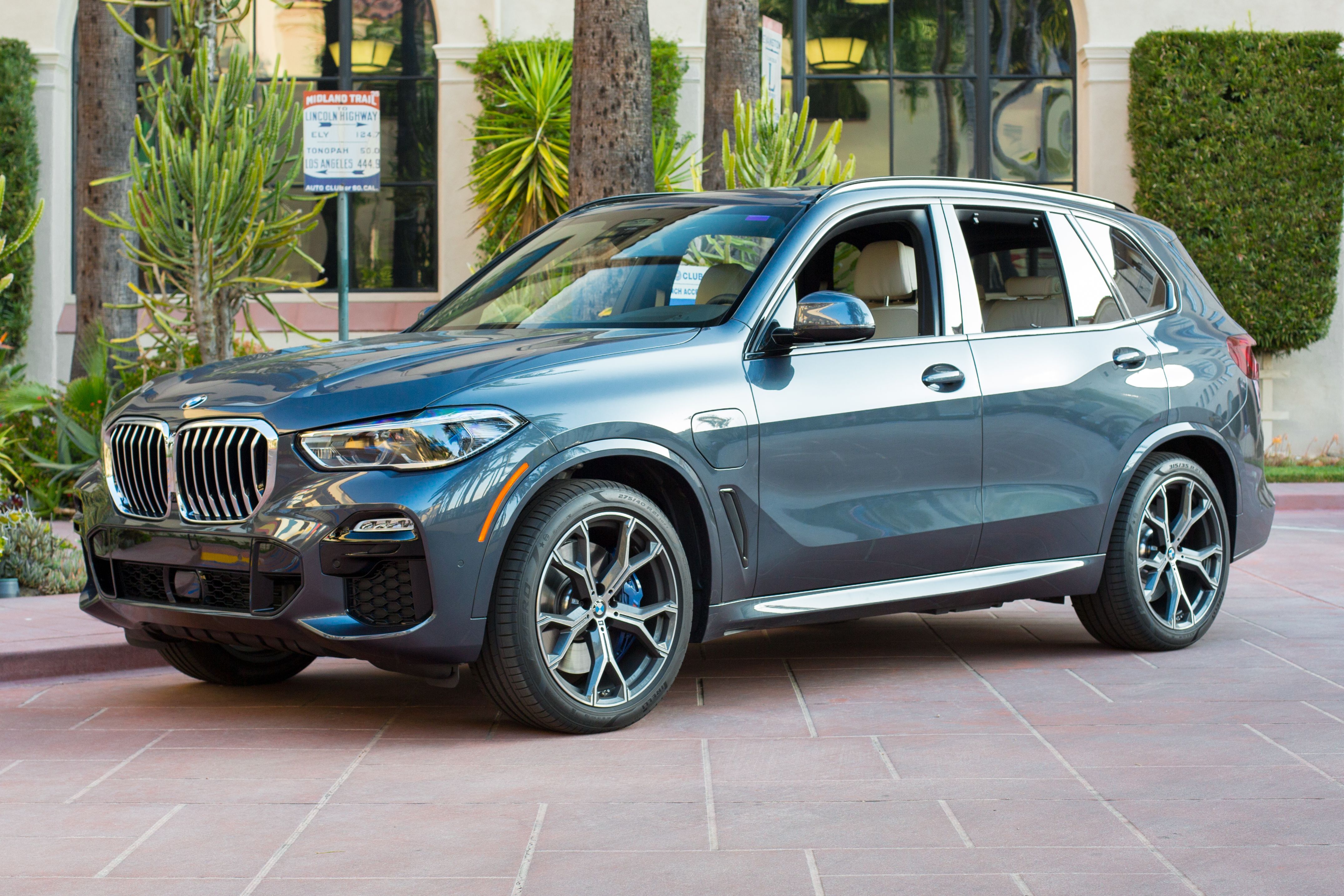 Vehicle Type:
SUV/Minivan Hybrid
Fuel Information
Fuel Type:
Electricity/midgrade
Fuel Capacity (gal):
18.2
120V Charge Time:
2.3 miles per hour
240V Charge Time:
6 miles per hour
EPA-Est. Electric Range (mi):
30
Advanced Safety Features
Adaptive Cruise Control [O]

Advanced Headlights [S]

Automatic Emergency Braking [S]

Blind-Spot Warning [S]

Driver Monitoring [S]

Forward-Collision Warning [S]

Lane-Departure Warning [S]

Lane-Keeping Assistance [O]

Rear Cross-Traffic Warning [S]

[S] Standard, [O] Optional
Overall Observations
The highly popular BMW X5 midsize luxury crossover has been traveling U.S. roads for more than 2 decades; the fourth generation debuted in 2019. In 2021, BMW brought back a plug-in hybrid variant, the xDrive45e, with an all-electric range of 30 miles. The 45e is powered by a 3.0-liter turbocharged inline-6 (282 hp) and an electric motor (111 hp), good for 389 hp total and 443 lb-ft of torque. This gives the 45e a 0 - 60 time of about 5.3 seconds - quick for a heavy SUV - and the brakes do a good job of bringing it to a stop. The X5's exterior remains unchanged; the roomy cabin features headroom aplenty and comfortable, heated front and rear seats. BMW's attractive digital instrument cluster and infotainment system are a big improvement over earlier iDrive systems. Our test vehicle featured a nice package of advanced safety features, including optional adaptive LED headlights with high-beam assist and trafficjam assist. The xDrive45e could be a compelling alternative to the standard X5, especially if you drive most of your daily miles on electricity. Additionally, a $7,500 federal tax credit drops the PHEV's base price to more than $5,000 below that of the standard X5 xDrive40i.
Want to buy this car?
Strengths and Weaknesses
Strong Points
Plug-in hybrid powertrain
Plenty of advancedsafety features
Sporty, bold-lookingexterior design
Weak Points
Some cheap interiorplastic
Expensive, even thoughnot fully loaded
Lane-keeping system istoo aggressive
Vehicle Specifications
Number of passengers (F/R):
2/3
Curb weight (lbs):
5820.0
Exterior L / W / H (in):
194.3 / 78.9 / 68.7
Warranty (months/miles):
48/50,000
Tire manufacturer and model:
Pirelli P-Zero
Front and rear tire size:
275/40 R21
Max towing capacity (lbs):
7200
Transmission type:
Hybrid drive
Drivetrain type:
All wheel
Engine/motor:
3.0L Inline-6 turbo
Engine horsepower @ RPM:
282 @ 5000
Electric motor horsepower:
111
Combined system horsepower:
389
Test Data
Test Vehicle Scores
Advanced Safety Features:
8.40
EPA Emissions Score:
7.00
Easy of Entry and Exit:
7.02
Car Search Results:

2021

Lincoln

Aviator Grand Touring AWD

More Details

SUV/Minivan

Hybrid

22/25

$89,600

81

2021

Audi

e-tron Sportback quattro

More Details

SUV/Minivan

Electric

76/78

$90,640

85

2021

Volvo

XC40 Recharge P8 AWD

More Details

SUV/Minivan

Electric

85/72

$59,630

86

2021

Ford

Mustang Mach-E Premium AWD

Car Guide Winner: 1st Place

SUV/Minivan

More Details

SUV/Minivan

Electric

96/84

$56,200

89

2021

Volkswagen

ID.4 1st Edition

More Details

SUV/Minivan

Electric

104/89

$45,190

82
IIHS Top Safety Pick Vehicles: