Car Guide Winner: 1st Place
Pickup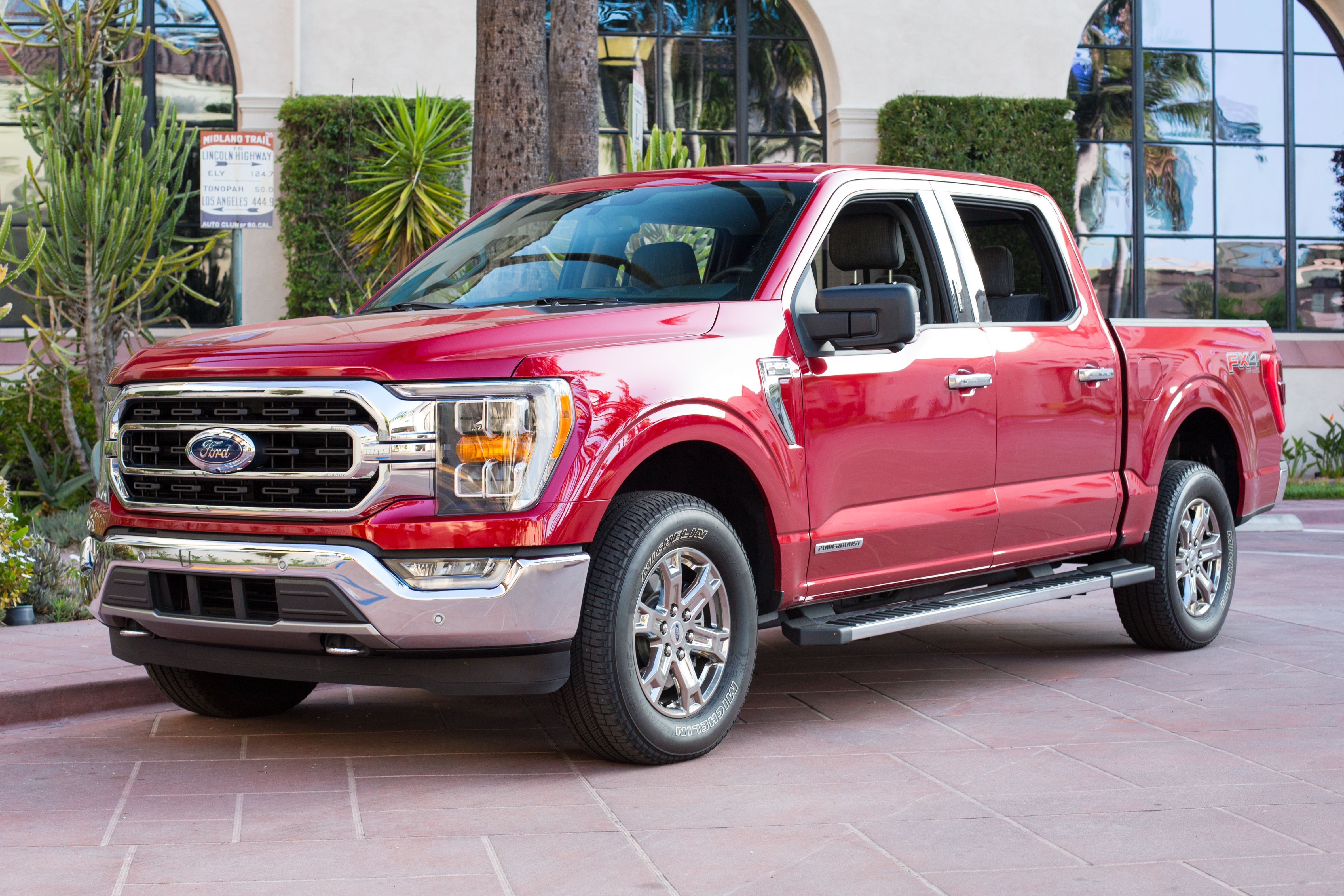 2021 Ford F-150 4X4 Supercrew Hybrid
Vehicle Type:
Pickup Hybrid
Fuel Information
Fuel Capacity (gal):
30.6
Advanced Safety Features
Adaptive Cruise Control [O]

Advanced Headlights [O]

Automatic Emergency Braking [O]

Blind-Spot Warning [O]

Driver Monitoring [O]

Forward-Collision Warning [O]

Lane-Departure Warning [O]

Lane-Keeping Assistance [O]

Rear Cross-Traffic Warning [O]

Reverse Automatic Emergency Braking [O]

[S] Standard, [O] Optional
Overall Observations
Introduced in 1948, the Ford F-Series has been the most popular vehicle sold in the U.S. for 4 decades. The 14th-generation F-150, new for 2021, is less revolutionary than some previous redesigns, with one exception—the addition of a hybrid powertrain. Called PowerBoost, the hybrid system consists of a 3.5-liter V6 (400 hp), electric motor (47 hp), 1.5-kWh battery, and 10-speed automatic transmission, good for 430 hp total and 570 lb-ft of torque. The hybrid system provides a 4-mpg (20%) increase in gas mileage, and every hybrid model comes standard with Pro Power Onboard, a 2.4-kW generator (a 7.2-kW unit is optional). The F-150's spacious interior has great legroom and headroom front and rear, and the infotainment system is nicely sized and easy to use. Our test truck's safety features included LED headlights with auto high beams, a 360-degree camera with parking sensors, and a blind-spot warning system that adjusts for trailer length. But not everything came up smelling like roses. The F-150's ride was rougher than we'd like—even for a pickup. Transmission shifts sometimes slipped, especially at low speeds. And the transitions between electric and gasoline power frequently were jarring.
Want to buy this car?
Strengths and Weaknesses
Strong Points
Powerful hybriddrivetrain
Standard onboardgenerator
Plentiful interior space,with ample legroom andheadroom
Easy-to-use, nicely sizedinfotainment system
Weak Points
Rough, bumpy ride
Jerky, sluggishtransmission and hybriddrivetrain
Poor gas-electric transitions
Vehicle Specifications
Number of passengers (F/R):
3/3
Curb weight (lbs):
5800.0
Exterior L / W / H (in):
231.7 / 79.9 / 77.2
Warranty (months/miles):
36/36,000
Tire manufacturer and model:
Michelin Primacy XC
Front and rear tire size:
275/65 R18
Max towing capacity (lbs):
12700
Transmission type:
Hybrid drive
Drivetrain type:
Four wheel
Engine/motor:
3.5L V6 PowerBoost
Engine horsepower @ RPM:
430 @ 6000
Test Data
Test Vehicle Scores
Advanced Safety Features:
7.00
EPA Emissions Score:
5.00
Easy of Entry and Exit:
8.04
Car Search Results:

2021

Ford

Mustang Mach-E Premium AWD

Car Guide Winner: 1st Place

SUV/Minivan

More Details

SUV/Minivan

Electric

96/84

$56,200

89

2021

Lincoln

Aviator Grand Touring AWD

More Details

SUV/Minivan

Hybrid

22/25

$89,600

81

2021

Volkswagen

ID.4 1st Edition

More Details

SUV/Minivan

Electric

104/89

$45,190

82

2021

Volvo

XC40 Recharge P8 AWD

More Details

SUV/Minivan

Electric

85/72

$59,630

86

2021

Audi

e-tron Sportback quattro

More Details

SUV/Minivan

Electric

76/78

$90,640

85
IIHS Top Safety Pick Vehicles: