Car Guide Winner: 1st Place
SUV/Minivan
& Overall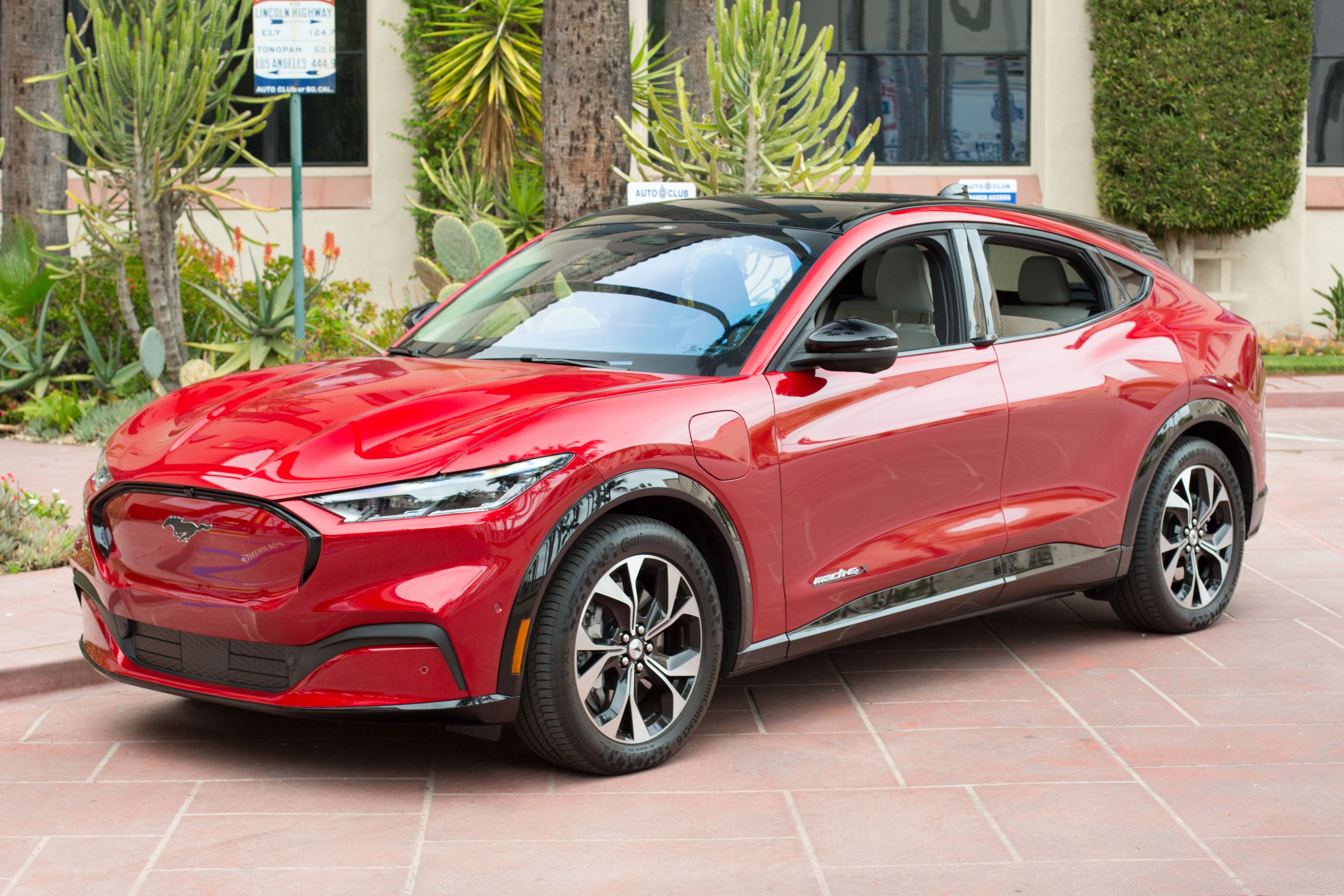 2021 Ford Mustang Mach-E Premium AWD
Vehicle Type:
SUV/Minivan Electric
Fuel Information
120V Charge Time:
3.5 miles per hour
240V Charge Time:
25.2 miles per hour
DC Fast Charger:
10% to 80% in 45 minutes
EPA-Est. Electric Range (mi):
270

Advanced Safety Features
Adaptive Cruise Control [S]

Advanced Headlights [S]

Automatic Emergency Braking [S]

Blind-Spot Warning [S]

Driver Monitoring [S]

Forward-Collision Warning [S]

Lane-Departure Warning [S]

Lane-Keeping Assistance [S]

Rear Cross-Traffic Warning [S]

Reverse Automatic Emergency Braking [S]

[S] Standard, [O] Optional
Overall Observations
The Mustang Mach-E isn't just a car, it's a phenomenon: America's oldest car company has put the moniker of the original pony car—introduced in 1964—on a dedicated electric crossover. The Mach-E is a great-looking car—unmistakably a Mustang, but new from the ground up. Our Premium AWD test vehicle had 2 motors (346 hp) and the larger 88-kWh battery, which provides plenty of power and range (an EPA-estimated 270 miles). It's powerful, quick, and fun to drive. The roomy cabin is quiet; Ford's full suite of advanced safety features, Co-Pilot360, is standard. Still, Ford has a few wrinkles to iron out. The ride is fine on smooth pavement but can be jarring on uneven or potholed streets. The braking and acceleration could be smoother at low speeds and in stop-and-go traffic. The tablet on the center console is huge (nearly 16 inches), but some menus are unintuitive and require multiple steps for simple tasks. Finally, the plain interior styling, absent any Mustang cues, doesn't match the flair of the Mach-E's sheet metal.
Want to buy this car?
Strengths and Weaknesses
Strong Points
Sharp exterior styling
Good range
LED headlights
Weak Points
Throttle and braking lacksmoothness
Bouncy ride
Long charging time
Plain-looking interior
Vehicle Specifications
Number of passengers (F/R):
2/3
Curb weight (lbs):
4840.0
Exterior L / W / H (in):
185.6 / 74.1 / 64.0
Warranty (months/miles):
36/36,000
Tire manufacturer and model:
Continental PremiumContact 6
Front and rear tire size:
225/55 R19
Max towing capacity (lbs):
Not recommended
Transmission type:
Auto 1-speed
Drivetrain type:
All wheel
Engine/motor:
AC perm-magnet synchronous
Electric motor horsepower:
346
Test Data
Test Vehicle Scores
Advanced Safety Features:
10.00
EPA Emissions Score:
10.00