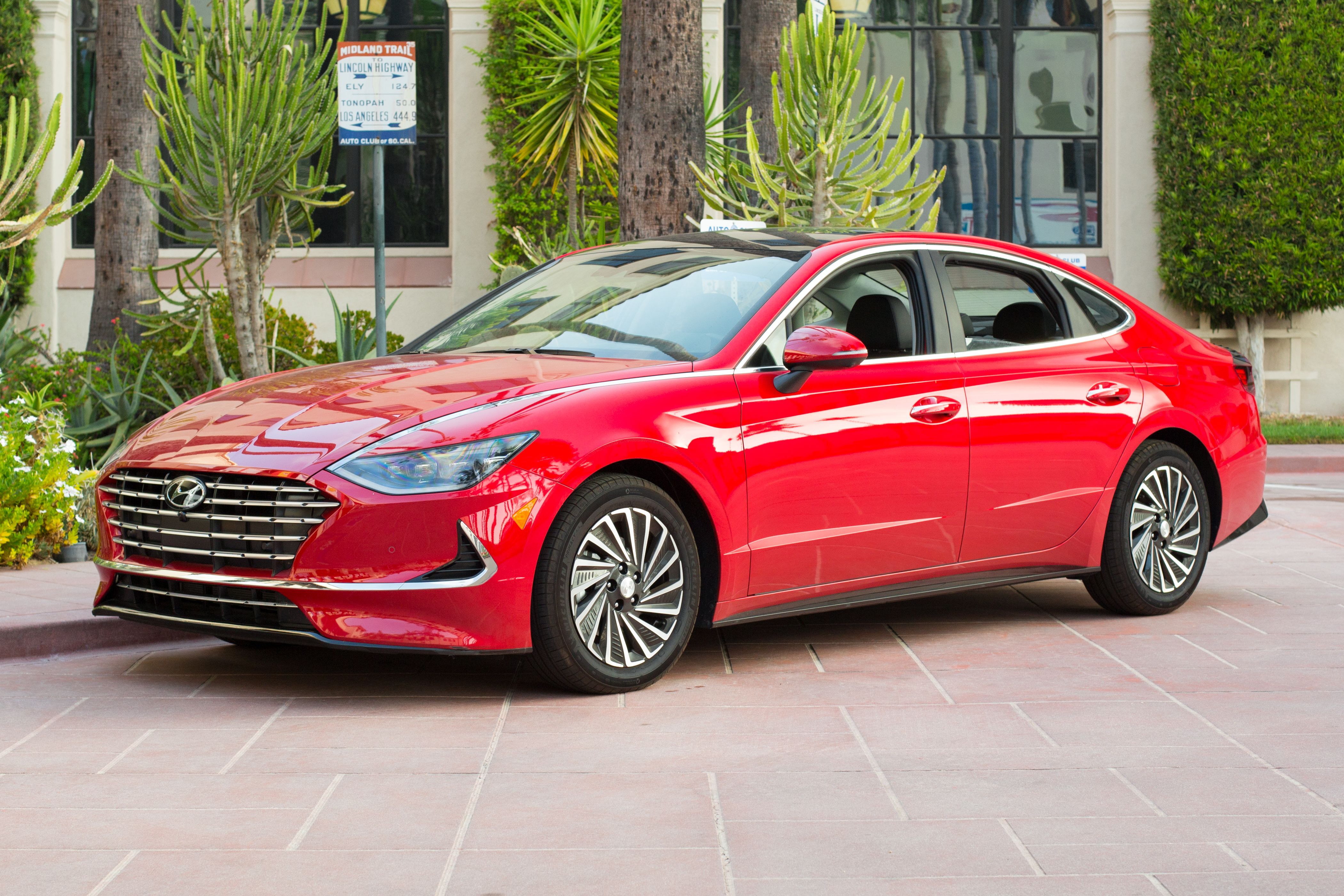 2021 Hyundai Sonata Hybrid Limited
Vehicle Type:
Midsize Hybrid
Fuel Information
Fuel Capacity (gal):
13.2

Advanced Safety Features
Adaptive Cruise Control [S]

Advanced Headlights [S]

Automatic Emergency Braking [S]

Blind-Spot Warning [S]

Driver Monitoring [S]

Forward-Collision Warning [S]

Lane-Departure Warning [S]

Lane-Keeping Assistance [S]

Rear Cross-Traffic Warning [S]

Reverse Automatic Emergency Braking [O]

[S] Standard, [O] Optional
Overall Observations
The Hyundai Sonata Hybrid, redesigned for 2020 and now in its seventh iteration, stands out in a crowd. Its bold styling may be a bit polarizing, but there's no arguing it's a head-turner, especially with its unique solar-panel roof. The Sonata Hybrid's 192-hp gasoline-electric hybrid powertrain delivers impressive EPA fuel-economy numbers—an excellent 47 mpg in combined driving. Acceleration is sufficient, although shifts from the transmission can feel a bit harsh under load. On the road, the suspension provides a smooth ride. Handling feels confident, though no one will mistake the Sonata for a sports sedan. The Sonata's cabin features an attractive design, although it can feel a bit snug compared to similarly sized sedans. That's especially true in the rear, where a lack of headroom can be an issue for taller passengers. Also, it would be nice to have actual knobs and buttons to manage the infotainment system. Overall, however, the Sonata Hybrid's pluses far outweigh its minuses, and it stands out as a good value in a midsize sedan
Want to buy this car?
Strengths and Weaknesses
Strong Points
Good overall value
Good everydayhandling and ridequality
Good fuel-economyratings and overallrange
Attractive interior styling
Weak Points
Harsh transmission shiftsduring acceleration
Smaller-than-expectedinterior room for amidsize sedan
Lack of physicalknobs and buttons forinfotainment controls
Vehicle Specifications
Number of passengers (F/R):
2/3
Curb weight (lbs):
3460.0
Exterior L / W / H (in):
192.9 / 73.2 / 56.9
Warranty (months/miles):
60/60,000
Tire manufacturer and model:
Michelin Primacy A/S
Front and rear tire size:
215/55 R17
Max towing capacity (lbs):
Not recommended
Transmission type:
Hybrid drive
Drivetrain type:
Front wheel
Engine/motor:
2.0L 4-Cyl. GDI
Engine horsepower @ RPM:
150 @ 6000
Electric motor horsepower:
51
Combined system horsepower:
192
Test Data
Test Vehicle Scores
Advanced Safety Features:
9.70
EPA Emissions Score:
7.00
Easy of Entry and Exit:
6.84
Car Search Results:

2021

Lincoln

Aviator Grand Touring AWD

More Details

SUV/Minivan

Hybrid

22/25

$89,600

81

2021

Ford

Mustang Mach-E Premium AWD

Car Guide Winner: 1st Place

SUV/Minivan

More Details

SUV/Minivan

Electric

96/84

$56,200

89

2021

Volkswagen

ID.4 1st Edition

More Details

SUV/Minivan

Electric

104/89

$45,190

82

2021

Volvo

XC40 Recharge P8 AWD

More Details

SUV/Minivan

Electric

85/72

$59,630

86

2021

Audi

e-tron Sportback quattro

More Details

SUV/Minivan

Electric

76/78

$90,640

85
IIHS Top Safety Pick Vehicles: