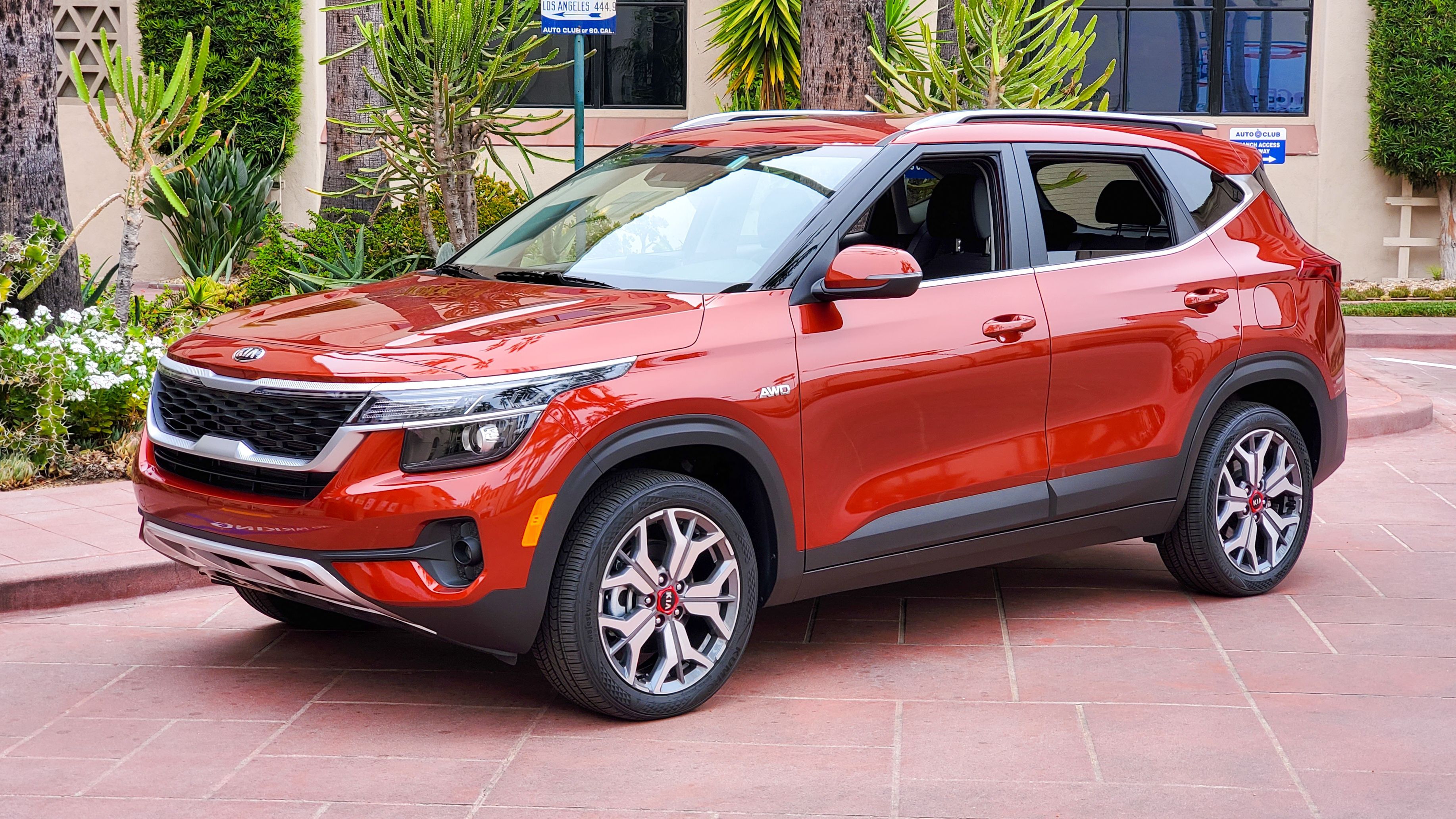 2021 Kia Seltos S Turbo AWD
Vehicle Type:
SUV/Minivan Gasoline
Fuel Information
Fuel Capacity (gal):
13.2

with optional front crash prevention and specific headlights built after August 2020
Advanced Safety Features
Advanced Headlights [O]

Automatic Emergency Braking [O]

Blind-Spot Warning [O]

Driver Monitoring [O]

Forward-Collision Warning [O]

Lane-Departure Warning [O]

Lane-Keeping Assistance [O]

Rear Cross-Traffic Warning [O]

Reverse Automatic Emergency Braking [O]

[S] Standard, [O] Optional
Overall Observations
For 2021, Kia added the Seltos subcompact crossover to its lineup, slotting it in between the Soul and Sportage models. The Seltos sticks to Kia's value formula, offering class-leading competitors' features at a lower price point. Practicality is part of that formula, as well: The Seltos offers lots of interior room, especially good headroom and cargo space, plus good visibility from the driver's seat. Our test car's 1.6-liter turbocharged engine—standard on the midlevel Turbo S trim—and 7-speed automatic transmission produced surprisingly quick acceleration and additional power. All-wheel drive, for improved bad-weather traction, and added advanced safety features are included on the S Turbo trim, as well. Unfortunately, the Seltos, of necessity, has to cut corners and comes up short in a few important areas: poor driving dynamics, with noticeable turbo lag; a jerky transmission; and lackluster steering-wheel feedback. Also, lots of engine and tire noise gets into the cabin, and the quality of the interior materials feels substandard. Finally, the halogen headlights provide insufficient visibility; LED headlights come only on the top-trim SX version.
Want to buy this car?
Strengths and Weaknesses
Strong Points
Spacious passenger andcargo areas
Lots of features for arelatively low price
Many available driverassistancefeatures
Good visibility from thedriver's seat
Weak Points
Jerky transmission, turbolag
Excessive engine and tirenoise
Cheap interior materials
Substandard halogenheadlights and rearviewcamera
Vehicle Specifications
Number of passengers (F/R):
2/3
Curb weight (lbs):
3240.0
Exterior L / W / H (in):
172.0 / 70.9 / 64.2
Warranty (months/miles):
60/60,000
Tire manufacturer and model:
Kumho Majesty 9 Solis
Front and rear tire size:
235/45 R18
Max towing capacity (lbs):
Not recommended
Transmission type:
Auto 7-speed
Drivetrain type:
All wheel
Engine/motor:
1.6L 4-Cyl. turbo
Engine horsepower @ RPM:
146 @ 6200
Test Data
Test Vehicle Scores
Advanced Safety Features:
6.60
EPA Emissions Score:
5.00
Easy of Entry and Exit:
6.94
Car Search Results:

2021

Volkswagen

ID.4 1st Edition

More Details

SUV/Minivan

Electric

104/89

$45,190

82

2021

Ford

Mustang Mach-E Premium AWD

Car Guide Winner: 1st Place

SUV/Minivan

More Details

SUV/Minivan

Electric

96/84

$56,200

89

2021

Volvo

XC40 Recharge P8 AWD

More Details

SUV/Minivan

Electric

85/72

$59,630

86

2021

Audi

e-tron Sportback quattro

More Details

SUV/Minivan

Electric

76/78

$90,640

85

2021

Lincoln

Aviator Grand Touring AWD

More Details

SUV/Minivan

Hybrid

22/25

$89,600

81
IIHS Top Safety Pick Vehicles: