Car Guide Winner: 1st Place
Large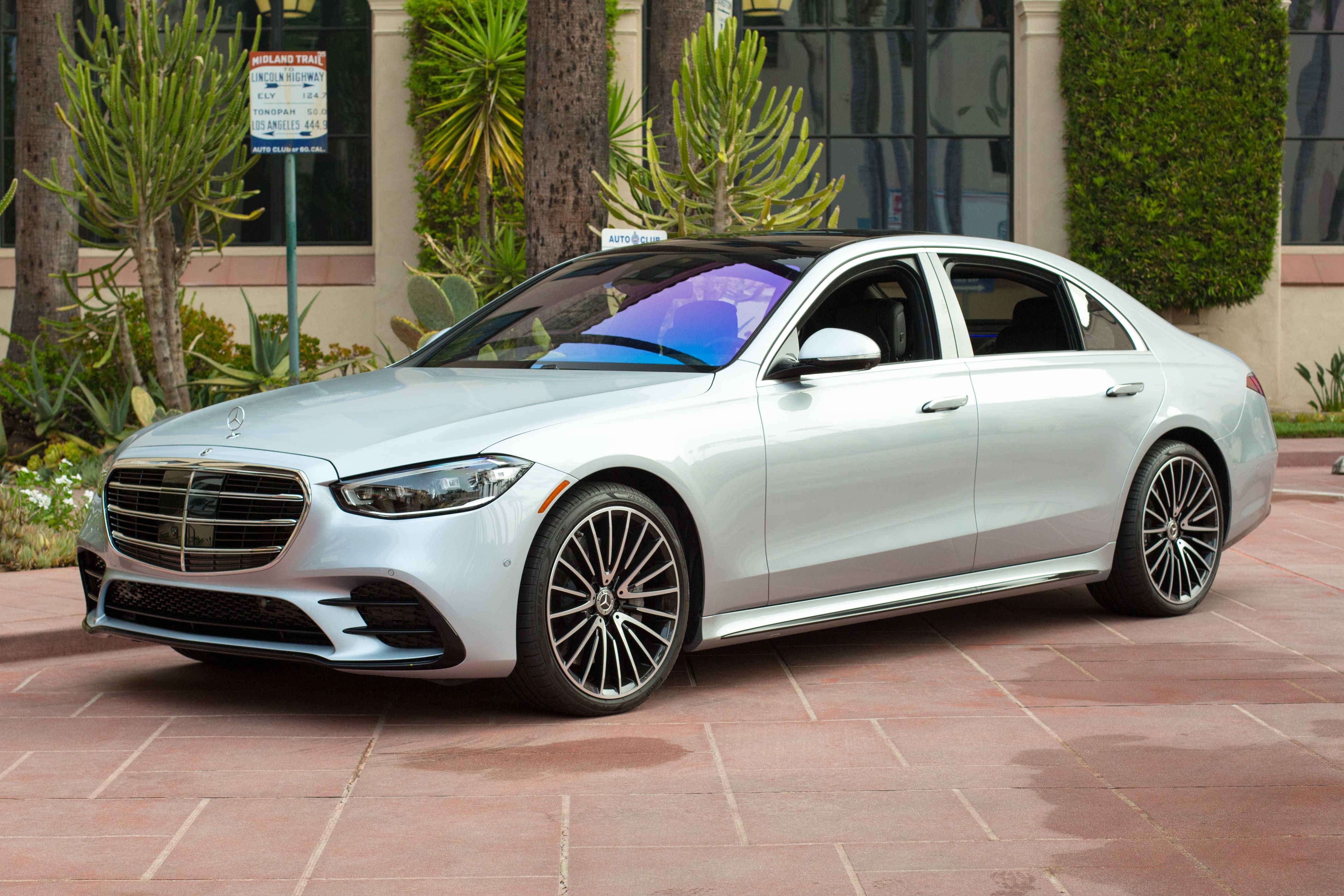 2021 Mercedes-Benz S580 Sedan 4MATIC
Vehicle Type:
Large Gasoline
Vehicle Price
Price as Tested:
$140,130
Fuel Information
Fuel Capacity (gal):
22.1
Advanced Safety Features
Adaptive Cruise Control [S]

Advanced Headlights [S]

Automatic Emergency Braking [S]

Blind-Spot Warning [S]

Driver Monitoring [S]

Forward-Collision Warning [S]

Lane-Departure Warning [S]

Lane-Keeping Assistance [S]

Rear Cross-Traffic Warning [S]

[S] Standard, [O] Optional
Overall Observations
Mercedes-Benz's handsome S-Class sedan, redesigned for 2021, has a lot to offer—as should any car whose price tag easily crests $100K. For one thing, this full-size flagship sedan is as pleasurable to drive or ride in as any car on the road. The 4.0-liter twinturbocharged V8 (496 hp) and integrated electric motor, which can power all 4 wheels depending on driving conditions, proved both responsive and refined. The standard adaptive air suspension makes for a remarkably smooth ride. Our test car's optional rearwheel steering setup added to the S 580's agile handling. Inside, the S 580 is the epitome of opulence and style. The design is elegant, and the hushed passenger cabin is lined with the finest materials. Technology abounds, from a 3D augmented-reality head-up display to massaging seats (10-way programmable) to dynamic ambient lighting. It's here that the S 580 stumbles a bit—it's a car clearly designed by engineers who asked "Can we add (insert feature)?" rather than "Should we?" Examples include a complex infotainment system, hard-to-use steering-wheel controls, and numerous in-vehicle driver distractions, such as tutorial videos on driver fatigue.
Want to buy this car?
Strengths and Weaknesses
Strong Points
Ultra-smooth ride quality
Excellent acceleration
Unique dynamicambient interior lighting
Weak Points
Steep infotainmentsystemlearning curve
Hard-to-use steeringwheel touch-pad controls
Numerous in-vehicledriver distractions
Vehicle Specifications
Number of passengers (F/R):
2/3
Curb weight (lbs):
4980.0
Exterior L / W / H (in):
208.2 / 76.9 / 59.2
Warranty (months/miles):
48/50,000
Tire manufacturer and model:
Pirelli P Zero
Front and rear tire size:
255/35 R21
Max towing capacity (lbs):
Not recommended
Transmission type:
Auto 9-speed
Drivetrain type:
All wheel
Engine/motor:
4.0L V8 Biturbo w/ EQ Boost
Engine horsepower @ RPM:
496 @ 5500
Electric motor horsepower:
20
Test Data
Test Vehicle Scores
Advanced Safety Features:
9.00
EPA Emissions Score:
5.00
Easy of Entry and Exit:
7.73
Car Search Results:

2021

Lincoln

Aviator Grand Touring AWD

More Details

SUV/Minivan

Hybrid

22/25

$89,600

81

2021

Audi

e-tron Sportback quattro

More Details

SUV/Minivan

Electric

76/78

$90,640

85

2021

Volvo

XC40 Recharge P8 AWD

More Details

SUV/Minivan

Electric

85/72

$59,630

86

2021

Ford

Mustang Mach-E Premium AWD

Car Guide Winner: 1st Place

SUV/Minivan

More Details

SUV/Minivan

Electric

96/84

$56,200

89

2021

Volkswagen

ID.4 1st Edition

More Details

SUV/Minivan

Electric

104/89

$45,190

82
IIHS Top Safety Pick Vehicles: