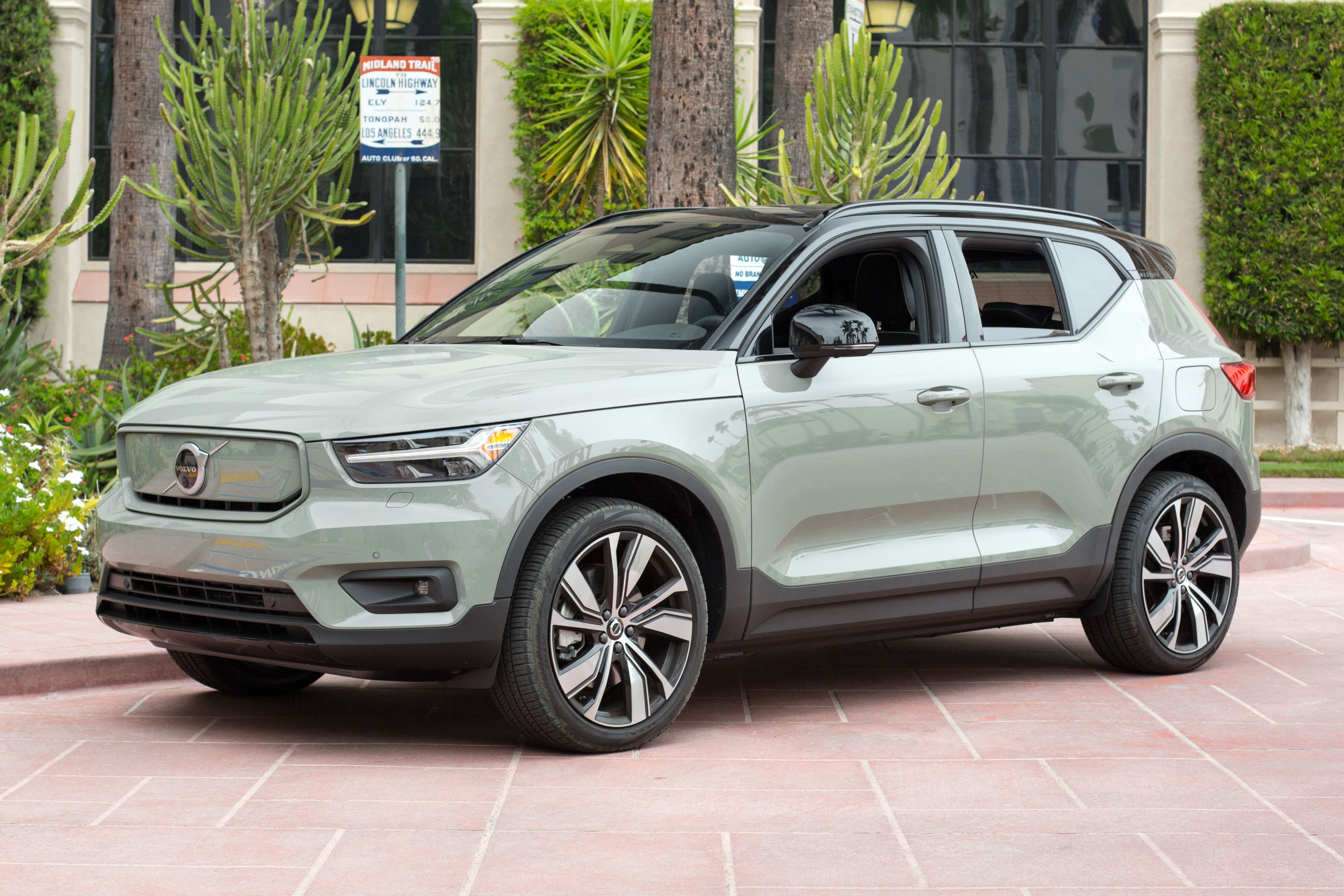 2021 Volvo XC40 Recharge P8 AWD
Vehicle Type:
SUV/Minivan Electric
Fuel Information
120V Charge Time:
3.4 miles per hour
240V Charge Time:
26 miles per hour
DC Fast Charger:
0% to 80% in 40 minutes
EPA-Est. Electric Range (mi):
208

Advanced Safety Features
Adaptive Cruise Control [O]

Advanced Headlights [S]

Automatic Emergency Braking [S]

Blind-Spot Warning [S]

Driver Monitoring [S]

Forward-Collision Warning [S]

Lane-Departure Warning [S]

Lane-Keeping Assistance [S]

Rear Cross-Traffic Warning [S]

Reverse Automatic Emergency Braking [S]

[S] Standard, [O] Optional
Overall Observations
The XC40 Recharge, Volvo's first EV, is an electrified version of the small XC40 luxury crossover, which debuted in 2019. It's a good-looking vehicle, unmistakably a Volvo but not at all stodgy. It's available in just one trim level but with several option packages. The Recharge's powertrain consists of 2 electric motors (402 hp total, 486 lb-ft of torque), a single-speed transmission, and a 78-kWh lithium-ion battery, good for an EPA-estimated range of 208 miles - not bad, but less than some of its competitors. Adaptive LED headlights with auto high beams, all-wheel drive, and 1-pedal driving (via regenerative braking) are standard. For a small SUV, there's plenty of storage space and decent cargo capacity. The XC40 Recharge is fun to drive. It accelerates quickly and smoothly - Volvo claims a 0-to-60 time under 5 seconds—with plenty of power, decent handling, and a good overall ride quality. But its minimalist interior isn't to everyone's taste, and some materials feel less than premium. Recharging rates are on the slow side, and the wide rear pillar creates a blind spot.
Want to buy this car?
Strengths and Weaknesses
Strong Points
Smooth, quickacceleration
Good-looking exteriorstyling
Excellent storage spaceand cargo capacity
Weak Points
Slow charging rates
Sparse, minimalistinterior with some cheaplookingmaterials
Large rear support postcreates a blind spot
Vehicle Specifications
Number of passengers (F/R):
2/3
Curb weight (lbs):
4820.0
Exterior L / W / H (in):
174.2 / 73.7 / 65.0
Warranty (months/miles):
48/50,000
Tire manufacturer and model:
Pirelli Scorpion
Front and rear tire size:
235/45 R20
Max towing capacity (lbs):
2000
Transmission type:
Auto 1-speed
Drivetrain type:
All wheel
Engine/motor:
Dual perm-magnet synchronic
Electric motor horsepower:
402
Test Data
Test Vehicle Scores
Advanced Safety Features:
9.70
EPA Emissions Score:
10.00