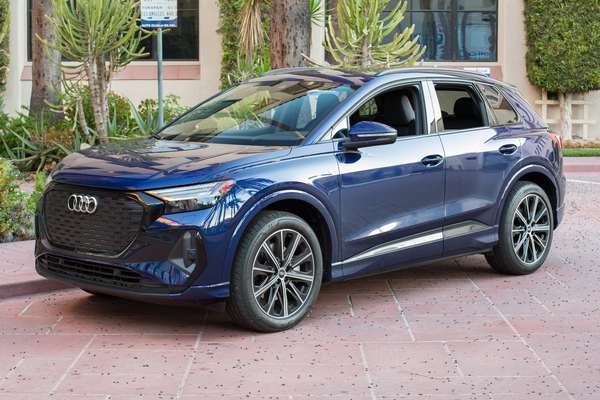 2022 Audi Q4 50 e-tron quattro
Vehicle Type:
SUV Electric
Fuel Information
120V Charge Time:
3.4 miles per hour
240V Charge Time:
26.8 miles per hour
DC Fast Charger:
5% to 80% in 38 minutes
EPA-Est. Electric Range (mi):
241

Advanced Safety Features
Adaptive Cruise Control [O]

Advanced Headlights [S]

Automatic Emergency Braking [S]

Blind-Spot Warning [S]

Forward-Collision Warning [S]

Lane-Departure Warning [S]

Lane-Keeping Assistance [S]

Rear Cross-Traffic Warning [S]

[S] Standard, [O] Optional
Overall Observations
The Q4 e-tron EV, new for 2022, shares a platform and some mechanicals with VW's ID.4. It comes in single-motor (rear-wheel drive) and dual-motor (all-wheel drive) configurations. A compact, entry-level luxury SUV, the Q4 is a handsome vehicle, available in SUV and sloped-roof ("Sportback") designs. Our Q4 tester had the dual-motor setup, which provides plenty of power and low-end responsiveness. The drivetrain has a strong fuel-efficiency rating (95 MPGe), too, although at 241 miles, the range is unexceptional. The Q4 delivers a comfortable ride, albeit on the firm side. Overall, the Q4's cabin has Audi's typical high-quality fit and finish - except for some black plastic trim - but the design is a bit bland. There's plenty of room inside for all passengers, plus decent cargo space. The back window is small, though, and rear visibility is poor. Then there's the value question - paying extra for what you'd expect to be standard. For example, a decent number of convenience and advanced safety features come standard, including advanced LED headlights. But others - adaptive cruise control, an auto-dimming rearview mirror, and a power front-passenger seat, among others - require the purchase of a $6,300 package. In sum, the Q4 e-tron has numerous qualities to recommend it but comes up short in a few key areas.
For more information on AAA Car Guide licensing:
Click Here
Want to buy this car?
Strengths and Weaknesses
Strong Points
• Powerful EV drivetrain
• Comfortable (though firm) ride quality
• Strong suite of ADAS features
• Good interior space for passengers and cargo
Weak Points
• Lots of extra-cost features
• Only average EV range
• Limited rear visibility
• Plain, bland interior
• Inconsistent charging times
Vehicle Specifications
Number of passengers (F/R):
2/3
Curb weight (lbs):
4980.0
Exterior L / W / H (in):
180.7 / 73.4 / 64.7
Warranty (months/miles):
48/50,000
Tire manufacturer and model:
Bridgestone Alenza Sport A/S
Front and rear tire size:
235/50 R20
Max towing capacity (lbs):
2,646
Transmission type:
Auto 1-speed
Drivetrain type:
All wheel
Engine/motor:
Dual electric motors
Electric motor horsepower:
295
Test Data
Test Vehicle Scores
Advanced Safety Features:
7.70
EPA Emissions Score:
10.00
Quality and Drivability:
7.88
Easy of Entry and Exit:
7.37
Car Search Results:

2022

Hyundai

Ioniq 5 Limited AWD

More Details

SUV

Electric

110/87

$55,920

98

2022

Rivian

R1S Launch Edition

More Details

SUV

Electric

73/65

$101,050

99

Car Guide Winner: 1st Place

SUV

More Details

SUV

Electric

86/85

$102,070

102

2022

Rivian

R1T Adventure

Car Guide Winner: 1st Place

Pickup

More Details

Pickup

Electric

73/65

$97,800

100

2022

Mercedes-Benz

EQS 580 4MATIC Sedan

Car Guide Winner: 1st Place

Large

More Details

Large

Electric

91/98

$140,800

102
IIHS Top Safety Pick Vehicles: