Car Guide Winner: 1st Place
SUV
& Overall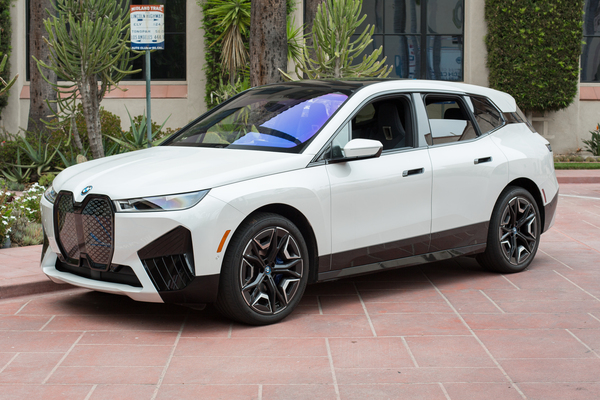 Vehicle Type:
SUV Electric
Vehicle Price
Price as Tested:
$102,070
Fuel Information
120V Charge Time:
3.4 miles per hour
240V Charge Time:
26.3 miles per hour
DC Fast Charger:
10% to 80% in 40 minutes
EPA-Est. Electric Range (mi):
315
Advanced Safety Features
Adaptive Cruise Control [O]

Advanced Headlights [S]

Automatic Emergency Braking [S]

Blind-Spot Warning [S]

Driver Monitoring [S]

Forward-Collision Warning [S]

Lane-Departure Warning [S]

Lane-Keeping Assistance [O]

Rear Cross-Traffic Warning [S]

Reverse Automatic Emergency Braking [O]

[S] Standard, [O] Optional
Overall Observations
The iX, BMW's first all-electric SUV, is an impressive vehicle. It delivers dramatic styling, performance, comfort, and technological sophistication in spades. An example of the latter: The iX makes extensive use of carbon fiber–reinforced plastic in its frame. About the size of the X5, the iX looks more substantial, largely because of its bold, hunky shape (including its somewhat polarizing grille). Equipped with two electric motors (516 hp), the iX's drivetrain supplies plenty of power, including abundant low-end torque. The steering provides ample feedback, and the optional adaptive air suspension nicely balances a compliant ride with responsive, sporty handling. Smooth regenerative and traditional friction braking deliver strong stopping power. All-wheel drive is standard. The iX's cabin features plenty of space front and rear, plus interior storage compartments and cargo room aplenty. Both the exterior and interior materials and fit and finish are first-rate. The iX's EPA-estimated range is high (324 miles), as is its fuel efficiency (86 MPGe). Prospective buyers should be prepared to pay handsomely for this largesse, however. The iX's starting MSRP is $84,100, and that number rises quickly with options, of which there are plenty. Other negatives worth noting: an unintuitive infotainment system, poor rear visibility, and annoying glare from reflective interior controls and instrumentation. Finally, some ADAS features (adaptive cruise control, for example) are extra-cost options, not standard.
For more information on AAA Car Guide licensing:
Click Here
Want to buy this car?
Strengths and Weaknesses
Strong Points
• Smooth, responsive drivetrain
• Spacious passenger compartment and cargo area
• High range, MPGe numbers
• Compliant ride quality
• Sporty, responsive handling
Weak Points
• Difficult-to-use infotainment system
• Price rises quickly with options
• Not all ADAS features are standard
• Poor rear visibility
Vehicle Specifications
Number of passengers (F/R):
2/3
Curb weight (lbs):
5720.0
Exterior L / W / H (in):
195.0 / 77.4 / 66.8
Warranty (months/miles):
48/50,000
Tire manufacturer and model:
Bridgestone Alenza
Front and rear tire size:
275/40 R22
Max towing capacity (lbs):
Not recommended
Transmission type:
Auto 1-speed
Drivetrain type:
All wheel
Engine/motor:
Dual electric motors
Electric motor horsepower:
516
Test Data
Test Vehicle Scores
Advanced Safety Features:
9.10
EPA Emissions Score:
10.00
Quality and Drivability:
8.34
Easy of Entry and Exit:
7.91
Car Search Results:

2022

Rivian

R1S Launch Edition

More Details

SUV

Electric

73/65

$101,050

99

2022

Hyundai

Ioniq 5 Limited AWD

More Details

SUV

Electric

110/87

$55,920

98

2022

Rivian

R1T Adventure

Car Guide Winner: 1st Place

Pickup

More Details

Pickup

Electric

73/65

$97,800

100

2022

Mercedes-Benz

EQS 580 4MATIC Sedan

Car Guide Winner: 1st Place

Large

More Details

Large

Electric

91/98

$140,800

102

Car Guide Winner: 1st Place

SUV

More Details

SUV

Electric

86/85

$102,070

102
IIHS Top Safety Pick Vehicles: