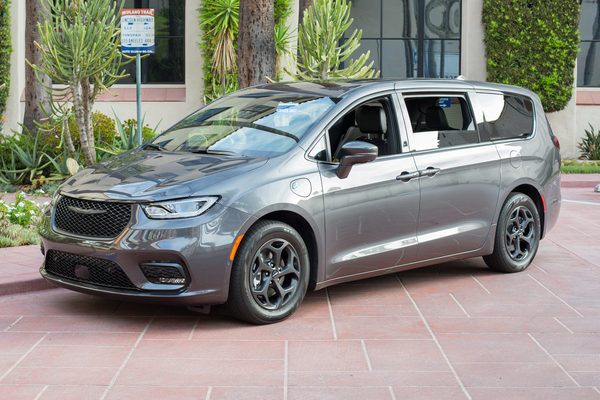 2022 Chrysler Pacifica Hybrid Limited
Vehicle Type:
Minivan Hybrid
Fuel Information
Fuel Type:
Electricity/regular
Fuel Capacity (gal):
16.5
120V Charge Time:
3.5 miles per hour
240V Charge Time:
16 miles per hour
EPA-Est. Electric Range (mi):
32

Advanced Safety Features
Adaptive Cruise Control [S]

Advanced Headlights [S]

Automatic Emergency Braking [S]

Blind-Spot Warning [S]

Forward-Collision Warning [S]

Lane-Departure Warning [S]

Lane-Keeping Assistance [S]

Rear Cross-Traffic Warning [S]

Reverse Automatic Emergency Braking [S]

[S] Standard, [O] Optional
Overall Observations
Introduced in 2017, the Chrysler Pacifica Hybrid was - and remains - the industry's only plug-in hybrid minivan. A fuel-efficient, family-friendly vehicle, it's powered by a V6 engine and 2 electric motors and has a useful all-electric range of 32 miles. The drivetrain is smooth and efficient but underpowered and noisy. The Pacifica Hybrid gets an EPA-estimated 30 mpg combined in hybrid mode; total range is about 520 miles. Front-wheel drive is standard; all-wheel drive isn't available. There's plenty of room inside for people and cargo, although the overall look to the cabin is a mixed bag - Nappa leather seats juxtaposed with piano-black plastic trim, for example. Powersliding side doors and a low sill make rear access easy. The ride is comfortable for the most part, but it can be bouncy over bumps and pavement. The steering feels light and disconnected, and the brakes feel soft and spongy. The Pacifica has plenty of useful standard tech, including a comprehensive suite of ADAS safety features. Comfort and convenience features include wireless Apple CarPlay and Android Auto, tri-zone automatic climate control, heated and ventilated front seats, and Chrysler's easy-to-use Uconnect 5 infotainment system. An available Uconnect Theater Family Group provides videos, movies, and games on rear-seat screens, and the system's dash-mounted FamCam lets front-seat occupants check on kids in the backseat.
For more information on AAA Car Guide licensing:
Click Here
Want to buy this car?
Strengths and Weaknesses
Strong Points
• Smooth, efficient PHEV drivetrain
• Useful 32 miles of electric range; 520-mile overall range
• Full suite of advanced safety features
• Plenty of legroom and headroom for up to 7 passengers
• Lots of available family-friendly entertainment features
Weak Points
• Underpowered, noisy drivetrain
• Ride quality is occasionally unsettled
• Varied quality of interior materials
• Light, disconnected feel to the steering
Vehicle Specifications
Number of passengers (F/R):
2/5
Curb weight (lbs):
5100.0
Exterior L / W / H (in):
204.3 / 79.6 / 69.9
Warranty (months/miles):
36/36,000
Tire manufacturer and model:
Nexen Npriz RH7a
Front and rear tire size:
235/60 R18
Max towing capacity (lbs):
Not recommended
Transmission type:
Hybrid drive
Drivetrain type:
Front wheel
Engine/motor:
3.6L V6 Pentastar eHybrid
Engine horsepower @ RPM:
220 @ 5,050
Electric motor horsepower:
Motor A: 84, Motor B: 114
Combined system horsepower:
260
Test Data
Test Vehicle Scores
Advanced Safety Features:
9.00
EPA Emissions Score:
7.00
Quality and Drivability:
6.67
Easy of Entry and Exit:
8.31
Car Search Results:

2022

Hyundai

Ioniq 5 Limited AWD

More Details

SUV

Electric

110/87

$55,920

98

2022

Rivian

R1T Adventure

Car Guide Winner: 1st Place

Pickup

More Details

Pickup

Electric

73/65

$97,800

100

2022

Rivian

R1S Launch Edition

More Details

SUV

Electric

73/65

$101,050

99

Car Guide Winner: 1st Place

SUV

More Details

SUV

Electric

86/85

$102,070

102

2022

Mercedes-Benz

EQS 580 4MATIC Sedan

Car Guide Winner: 1st Place

Large

More Details

Large

Electric

91/98

$140,800

102
IIHS Top Safety Pick Vehicles: