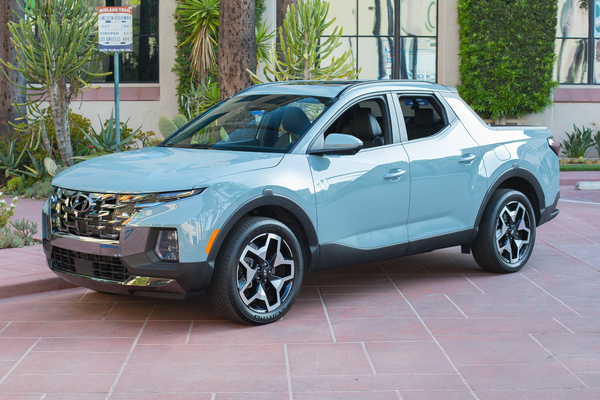 2022 Hyundai Santa Cruz Limited AWD
Vehicle Type:
Pickup Gasoline
Fuel Information
Fuel Capacity (gal):
17.7

Advanced Safety Features
Adaptive Cruise Control [O]

Advanced Headlights [S]

Automatic Emergency Braking [S]

Blind-Spot Warning [O]

Driver Monitoring [S]

Forward-Collision Warning [S]

Lane-Departure Warning [S]

Lane-Keeping Assistance [S]

Rear Cross-Traffic Warning [O]

Reverse Automatic Emergency Braking [O]

[S] Standard, [O] Optional
Overall Observations
New for 2022, the much-anticipated, hot-selling Santa Cruz can perhaps best be described as a snazzy-looking compact pickup with the DNA of an SUV; it shares a platform with the compact Hyundai Tucson. Available in a crew-cab configuration only, the Santa Cruz has a carlike ride and handling and a spacious interior in both rows. Standard equipment includes a self-leveling rear suspension, a strong suite of ADAS features, a composite bed, and a locking tailgate. Hyundai's sophisticated HTRAC AWD system for improved traction, automatic LED headlights with high-beam assist, heated and ventilated front seats, and a retractable, lockable tonneau bed cover are a few of its optional features. Despite its small bed (about 4 feet square) and limited payload and towing capacity, the Santa Cruz may be versatile enough to satisfy folks who don't require a brawnier vehicle - if they can overlook some of its negative qualities. For starters, the standard engine is underpowered and has noticeable throttle hesitation; it's linked to a jerky and harsh-shifting 8-speed automatic transmission. (A more powerful, turbocharged engine is standard on the top 2 trim levels.) In addition, the infotainment controls are distracting and hard to use, and the backseat is uncomfortable, with an awkward seating position. Rear and side visibility is poor because of the Santa Cruz's high beltline, and fuel efficiency (22 mpg in combined city/highway driving) is subpar.
For more information on AAA Car Guide licensing:
Click Here
Want to buy this car?
Strengths and Weaknesses
Strong Points
• Carlike ride and handling qualities
• Spacious interior front and rear
• Strong suite of ADAS features
• Excellent overall utility
Weak Points
• Underpowered drivetrain with throttle hesitation
• Jerky, harsh-shifting transmission
• Distracting, hard-to-use infotainment controls
• Uncomfortable backseat, awkward seating position
Vehicle Specifications
Number of passengers (F/R):
2/3
Curb weight (lbs):
4120.0
Exterior L / W / H (in):
195.7 / 75.0 / 66.7
Warranty (months/miles):
60/60,000
Tire manufacturer and model:
Michelin Primacy LTX
Front and rear tire size:
245/50 R20
Max towing capacity (lbs):
3,500
Transmission type:
Auto 8-speed
Drivetrain type:
All wheel
Engine/motor:
2.5L I4 turbo
Engine horsepower @ RPM:
281 @ 5,800
Test Data
Test Vehicle Scores
Advanced Safety Features:
8.80
EPA Emissions Score:
5.00
Quality and Drivability:
6.50
Easy of Entry and Exit:
6.89
Car Search Results:

2022

Rivian

R1T Adventure

Car Guide Winner: 1st Place

Pickup

More Details

Pickup

Electric

73/65

$97,800

100

2022

Hyundai

Ioniq 5 Limited AWD

More Details

SUV

Electric

110/87

$55,920

98

2022

Rivian

R1S Launch Edition

More Details

SUV

Electric

73/65

$101,050

99

Car Guide Winner: 1st Place

SUV

More Details

SUV

Electric

86/85

$102,070

102

2022

Mercedes-Benz

EQS 580 4MATIC Sedan

Car Guide Winner: 1st Place

Large

More Details

Large

Electric

91/98

$140,800

102
IIHS Top Safety Pick Vehicles: