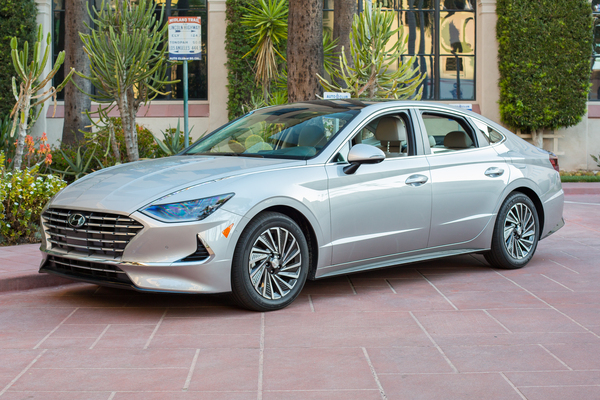 2022 Hyundai Sonata Hybrid Limited
Vehicle Type:
Midsize Hybrid
Fuel Information
Fuel Capacity (gal):
13.2

Advanced Safety Features
Adaptive Cruise Control [S]

Advanced Headlights [S]

Automatic Emergency Braking [S]

Blind-Spot Warning [S]

Driver Monitoring [S]

Forward-Collision Warning [S]

Lane-Departure Warning [S]

Lane-Keeping Assistance [S]

Rear Cross-Traffic Warning [S]

Reverse Automatic Emergency Braking [S]

[S] Standard, [O] Optional
Overall Observations
The midsize Sonata Hybrid, now in its seventh generation, has been around seemingly forever (actually only since 2011 as a hybrid). It's a fixture in the midsize sedan category, alongside its perennial rivals, the Honda Accord Hybrid and Toyota Camry Hybrid. The Sonata Hybrid has a lot going for it. Possibly its strongest quality is a smooth, comfortable ride accompanied by seamless gaselectric drivetrain transitions. The Sonata also gets excellent marks for fuel efficiency - 47 mpg in combined city/highway driving for our top-trim Limited test vehicle (and 52 mpg for the base Blue trim). It also delivers good value based on its numerous standard features, such as a large infotainment display, LED headlights, dual-zone automatic climate control, and advanced driver-safety systems - e.g., an active intervention element in its blind-spot warning feature, which automatically steers the car back into its lane if the driver tries to change lanes while a car is in the vehicle's blind spot. Unfortunately, the Sonata Hybrid lacks refinement in several key areas. The interior has an excess of piano-black plastic on the instrument panel and center console, creating a cut-rate ambience. Also, the brakes are grabby, the throttle is touchy, and the steering has an artificially light feel. Rear visibility is hampered by a high rear deck, and the exterior design—a mélange of sharp angles and crease - is polarizing. And the hands-free trunk opener of our test vehicle didn't function well.
For more information on AAA Car Guide licensing:
Click Here
Want to buy this car?
Strengths and Weaknesses
Strong Points
• Good value, lots of standard features
• Smooth, comfortable ride
• Solid mpg ratings
• Seamless hybrid drivetrain transitions
Weak Points
• Cheap-looking interior fit and finish
• Touchy brake and throttle response
• Restricted rear visibility because of high rear deck
• Polarizing exterior design
Vehicle Specifications
Number of passengers (F/R):
2/3
Curb weight (lbs):
3460.0
Exterior L / W / H (in):
192.9 / 73.2 / 56.9
Warranty (months/miles):
60/60,000
Tire manufacturer and model:
Michelin Primacy A/S
Front and rear tire size:
215/55 R17
Max towing capacity (lbs):
Not recommended
Transmission type:
Hybrid drive
Drivetrain type:
Front wheel
Engine/motor:
2.0L I4 GDI Hybrid
Engine horsepower @ RPM:
150 @ 6,000
Electric motor horsepower:
51
Combined system horsepower:
192
Test Data
Test Vehicle Scores
Advanced Safety Features:
10.00
EPA Emissions Score:
9.00
Quality and Drivability:
6.94
Easy of Entry and Exit:
6.63
Car Search Results:

2022

Hyundai

Ioniq 5 Limited AWD

More Details

SUV

Electric

110/87

$55,920

98

2022

Rivian

R1S Launch Edition

More Details

SUV

Electric

73/65

$101,050

99

Car Guide Winner: 1st Place

SUV

More Details

SUV

Electric

86/85

$102,070

102

2022

Rivian

R1T Adventure

Car Guide Winner: 1st Place

Pickup

More Details

Pickup

Electric

73/65

$97,800

100

2022

Mercedes-Benz

EQS 580 4MATIC Sedan

Car Guide Winner: 1st Place

Large

More Details

Large

Electric

91/98

$140,800

102
IIHS Top Safety Pick Vehicles: