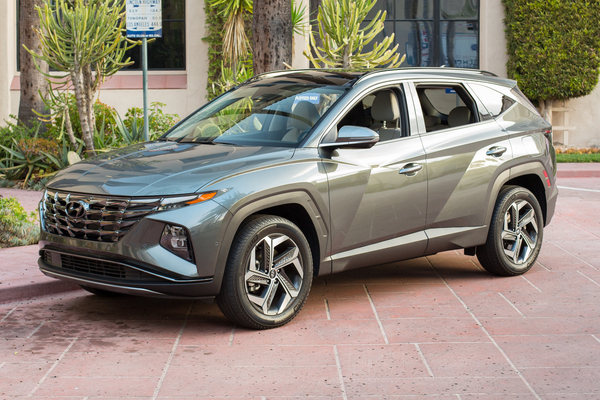 2022 Hyundai Tucson Limited AWD
Vehicle Type:
SUV Gasoline
Fuel Information
Fuel Capacity (gal):
14.3

Advanced Safety Features
Adaptive Cruise Control [S]

Advanced Headlights [S]

Automatic Emergency Braking [S]

Blind-Spot Warning [S]

Driver Monitoring [S]

Forward-Collision Warning [S]

Lane-Departure Warning [S]

Lane-Keeping Assistance [S]

Rear Cross-Traffic Warning [S]

Reverse Automatic Emergency Braking [O]

[S] Standard, [O] Optional
Overall Observations
Hyundai completely redesigned its Tucson compact crossover for 2022, giving it bolder styling, more tech, new engines, and a new transmission. The Tucson was Hyundai's best-selling vehicle in 2022 and delivers good value for the money. The cabin has a generous amount of space, with plenty of headroom and legroom, and its height makes it easy to get in and out of. There's good interior storage, and its cargo space is among the best for small SUVs. The Tucson has a lot of convenience features, too. The front seats are heated and ventilated, and the rear seats are heated. Interior lighting is good, and the center-stack layout and controls are easy to access. All trim levels have basic ADAS features, and higher trims offer more sophisticated ones, such as a surround-view camera. Unfortunately, there are negatives as well. The Tucson's only engine (185 hp) feels underpowered, with a lagging initial throttle response and nonlinear throttle surge. The brake feel is spongy, and the brakes sometimes squeak. The Tucson's ride is comfortable on smooth roads but turns harsh on rough pavement. The seats are too firm and lack adjustability. Most controls are operated via the touch screen and don't provide feedback - some hard buttons and knobs would be an improvement. Finally, large rear roof pillars obstructs visibility
For more information on AAA Car Guide licensing:
Click Here
Want to buy this car?
Strengths and Weaknesses
Strong Points
• Good value for the money
• Spacious interior with abundant headroom and legroom
• Excellent storage and cargo space
• Easy to enter and exit
Weak Points
• Underpowered drivetrain, lagging throttle response
• Ride quality is harsh on uneven pavement
• Seats are too firm and lack adjustability
Vehicle Specifications
Number of passengers (F/R):
2/3
Curb weight (lbs):
3720.0
Exterior L / W / H (in):
182.3 / 73.4 / 65.6
Warranty (months/miles):
60/60,000
Tire manufacturer and model:
Michelin Primacy A/S
Front and rear tire size:
235/55 R19
Max towing capacity (lbs):
2,000
Transmission type:
Auto 8-speed
Drivetrain type:
All wheel
Engine/motor:
2.5L I4 GDI
Engine horsepower @ RPM:
187 @ 6,100
Test Data
Test Vehicle Scores
Advanced Safety Features:
9.70
EPA Emissions Score:
5.00
Quality and Drivability:
6.54
Easy of Entry and Exit:
7.54
Car Search Results:

2022

Hyundai

Ioniq 5 Limited AWD

More Details

SUV

Electric

110/87

$55,920

98

2022

Rivian

R1S Launch Edition

More Details

SUV

Electric

73/65

$101,050

99

Car Guide Winner: 1st Place

SUV

More Details

SUV

Electric

86/85

$102,070

102

2022

Rivian

R1T Adventure

Car Guide Winner: 1st Place

Pickup

More Details

Pickup

Electric

73/65

$97,800

100

2022

Mercedes-Benz

EQS 580 4MATIC Sedan

Car Guide Winner: 1st Place

Large

More Details

Large

Electric

91/98

$140,800

102
IIHS Top Safety Pick Vehicles: