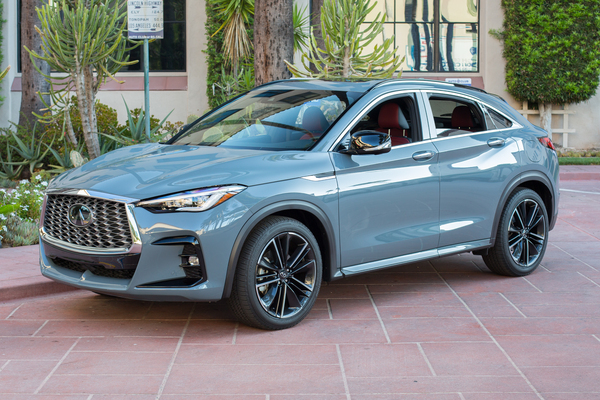 2022 Infiniti QX55 Sensory AWD
Vehicle Type:
SUV Gasoline
Advanced Safety Features
Adaptive Cruise Control [S]

Advanced Headlights [S]

Automatic Emergency Braking [S]

Blind-Spot Warning [S]

Forward-Collision Warning [S]

Lane-Departure Warning [S]

Lane-Keeping Assistance [S]

Rear Cross-Traffic Warning [S]

Reverse Automatic Emergency Braking [S]

[S] Standard, [O] Optional
Overall Observations
In the past decade, luxury automakers such as Audi, BMW, and Mercedes-Benz have created sedans and SUVs distinguished mainly by their fastback rooflines, dubbed 4-door coupes. Which brings us to the QX55, a more-stylish version of the QX50 small SUV, with which it shares a platform and most components. The QX55 has much to recommend it: For openers, its turbocharged 4-cylinder engine (268 hp) delivers strong power throughout its range, and the ride is smooth and compliant. Its luxurious interior is elegant and tasteful, providing good front legroom and headroom and easy entry and exit. The center stack is nicely designed, with well-integrated buttons and a high degree of usability. Last but not least, it's loaded with tech, including lots of standard ADAS features. On the other hand, the QX55 also comes up short in a number of annoying ways. First, the driving experience is diminished by the QX55's CVT transmission; a 9- or 10-speed automatic, which most competitors use, would have been a much better choice. Second, despite the CVT and a variable-compression-ratio engine, the QX55's fuel efficiency is middling - 25 mpg in combined city/highway driving - and the engine/CVT combo is noisy, to boot. Final complaints include poor overall rear visibility and a dated, low-resolution infotainment screen.
For more information on AAA Car Guide licensing:
Click Here
Want to buy this car?
Strengths and Weaknesses
Strong Points
• Stylish interior and exterior
• Luxurious interior; excellent fit and finish
• Smooth, comfortable ride
• Lots of standard ADAS features
Weak Points
• CVT/powertrain are noisy, makes driving less enjoyable
• Poor MPG ratings
• Low-res screens, outdated infotainment system
• Poor rearview camera quality and overall rear visibility
Vehicle Specifications
Number of passengers (F/R):
2/3
Curb weight (lbs):
4200.0
Exterior L / W / H (in):
186.3 / 74.9 / 63.8
Warranty (months/miles):
48/60,000
Tire manufacturer and model:
Bridgestone Ecopia
Front and rear tire size:
255/45 RF20
Max towing capacity (lbs):
Not recommended
Drivetrain type:
All wheel
Engine/motor:
2.0L I4 turbo
Engine horsepower @ RPM:
268 @ 5,600
Test Data
Test Vehicle Scores
Advanced Safety Features:
9.00
EPA Emissions Score:
6.00
Quality and Drivability:
6.84
Easy of Entry and Exit:
7.07
Car Search Results:

2022

Hyundai

Ioniq 5 Limited AWD

More Details

SUV

Electric

110/87

$55,920

98

2022

Rivian

R1S Launch Edition

More Details

SUV

Electric

73/65

$101,050

99

Car Guide Winner: 1st Place

SUV

More Details

SUV

Electric

86/85

$102,070

102

2022

Rivian

R1T Adventure

Car Guide Winner: 1st Place

Pickup

More Details

Pickup

Electric

73/65

$97,800

100

2022

Mercedes-Benz

EQS 580 4MATIC Sedan

Car Guide Winner: 1st Place

Large

More Details

Large

Electric

91/98

$140,800

102
IIHS Top Safety Pick Vehicles: