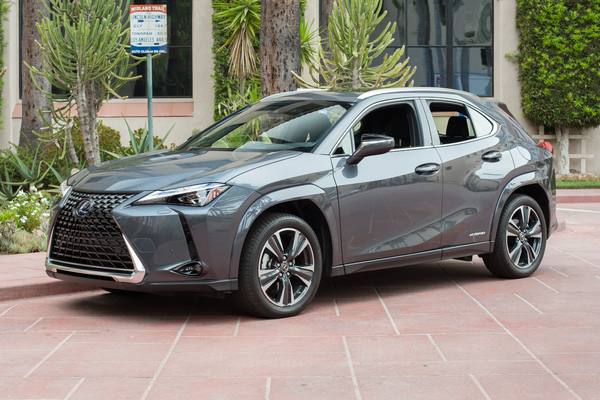 2022 Lexus UX 250h Luxury
Fuel Information
Fuel Capacity (gal):
10.6

Advanced Safety Features
Adaptive Cruise Control [S]

Advanced Headlights [S]

Automatic Emergency Braking [S]

Blind-Spot Warning [S]

Driver Monitoring [S]

Forward-Collision Warning [S]

Lane-Departure Warning [S]

Lane-Keeping Assistance [S]

Rear Cross-Traffic Warning [S]

Reverse Automatic Emergency Braking [O]

[S] Standard, [O] Optional
Overall Observations
The UX 250h is Lexus' smallest SUV. It has a number of attractive qualities and several irritating ones - irritating because remedying them would markedly improve the vehicle. Let's start with the good stuff. For openers, the UX 250h looks the part. Its exterior design mimics its NX and RX cousins - but with a smaller, more attractive grille. Its sporty interior makes use of high-quality faux leather and copious amounts of textured and soft-touch materials. The UX's ride is balanced and comfortable, with a nice weight to the steering for everyday driving. It's equipped with Lexus' excellent Safety System+ 2.0 suite of ADAS features, and its triple-beam LED headlights cast a good light pattern on the road. And, of course, the little SUV's fuel efficiency shines: 39 mpg in combined driving. However, the UX has two significant shortcomings. First, its underpowered, noisy hybrid drivetrain transmits vibration throughout the cabin. Second, its clumsy touchpad-based infotainment system is difficult to use. Reportedly, the outmoded system will be replaced with a touch-screen-based system for 2023. Several lesser hiccups include rough operation for some ADAS features (abrupt acceleration and deceleration for the adaptive cruise control, for example) plus a tight interior and cramped entry and exit for all passengers. Finally, rear visibility is poor, due to a small rear window and thick rear roof pillars.
For more information on AAA Car Guide licensing:
Click Here
Want to buy this car?
Strengths and Weaknesses
Strong Points
• Efficient drivetrain, high mpg ratings
• Luxurious fit and finish inside and out
• Comfortable ride
• Excellent set of ADAS features
Weak Points
• Noisy, underpowered drivetrain
• Outdated, hard-to-use infotainment system
• Cramped interior, tight entry and exit
• Poor rear visibility
Vehicle Specifications
Number of passengers (F/R):
2/3
Curb weight (lbs):
3640.0
Exterior L / W / H (in):
176.97 / 72.44 / 60.63
Warranty (months/miles):
48/50,000
Tire manufacturer and model:
Bridgestone Turanza EL450
Front and rear tire size:
225/50 R18
Max towing capacity (lbs):
Not recommended
Transmission type:
Hybrid drive
Drivetrain type:
All wheel
Engine/motor:
2.0L I4 VVT-I DOHC
Engine horsepower @ RPM:
181 @ 6,000
Test Data
Test Vehicle Scores
Advanced Safety Features:
9.70
EPA Emissions Score:
7.00
Quality and Drivability:
6.59
Easy of Entry and Exit:
6.22
Car Search Results:

2022

Hyundai

Ioniq 5 Limited AWD

More Details

SUV

Electric

110/87

$55,920

98

2022

Rivian

R1S Launch Edition

More Details

SUV

Electric

73/65

$101,050

99

Car Guide Winner: 1st Place

SUV

More Details

SUV

Electric

86/85

$102,070

102

2022

Rivian

R1T Adventure

Car Guide Winner: 1st Place

Pickup

More Details

Pickup

Electric

73/65

$97,800

100

2022

Mercedes-Benz

EQS 580 4MATIC Sedan

Car Guide Winner: 1st Place

Large

More Details

Large

Electric

91/98

$140,800

102
IIHS Top Safety Pick Vehicles: